The US held and participated in a summit in Warsaw today. It was originally supposed to be solely about Iran and held at the urging of Israel. Where you see Israel in that sentence, read Israeli Prime Minister Benjamin "Bibi" Netanyahu. The US's allies, especially our EU and NATO allies, pushed back and made it clear they weren't on board for an anti-Iran summit and they were still displeased that the US unilaterally pulled out of the JCPOA. Then Bibi decided to tweet and open his mouth.
This first tweet was deleted and replaced with the second one: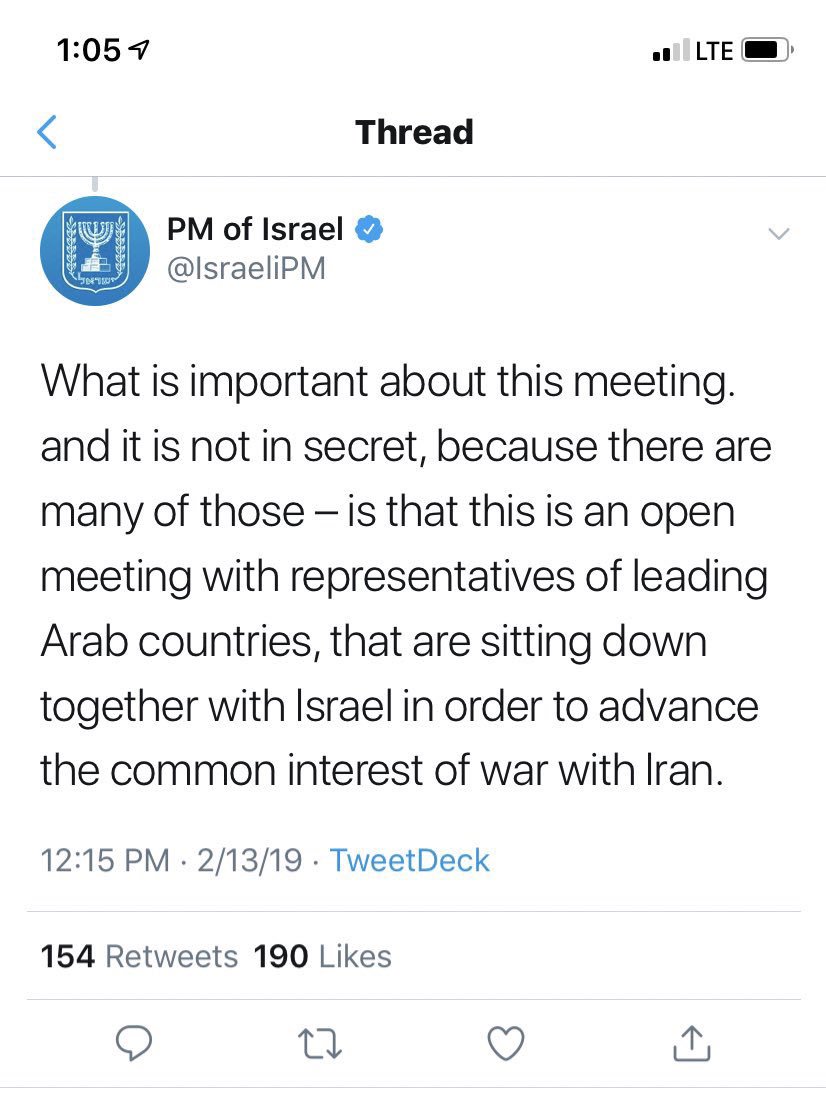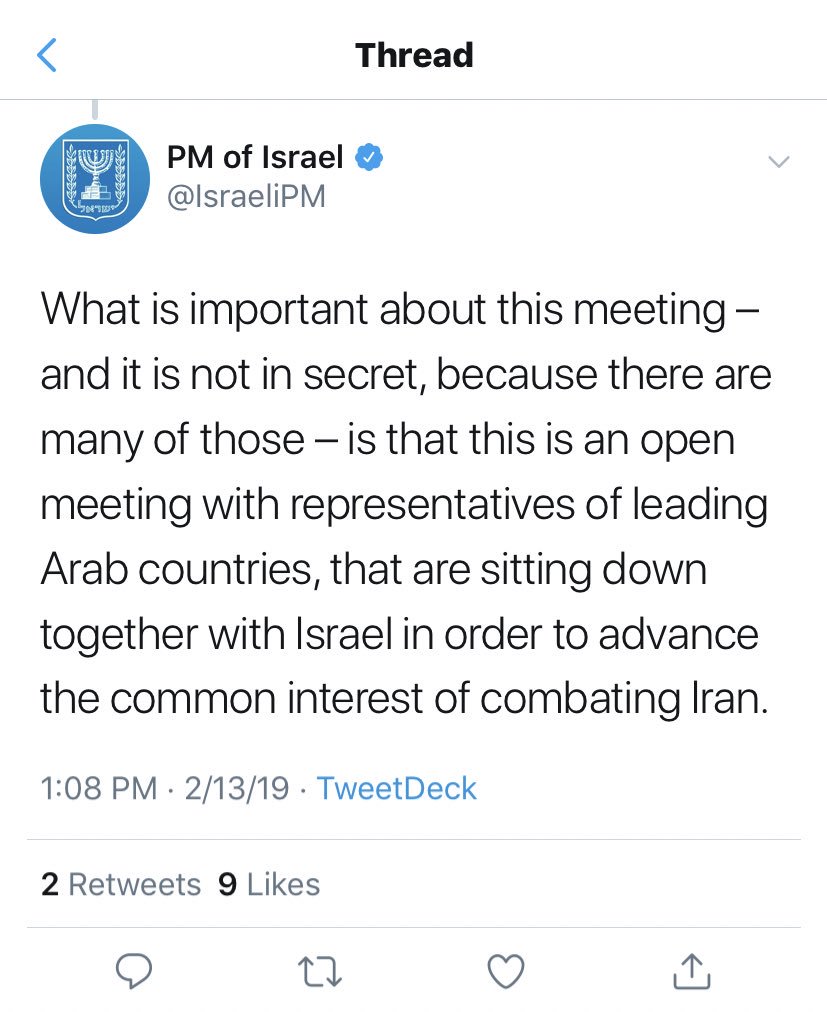 The Hebrew word for war is milchamah. The Hebrew word for combat is lichimah. For those non-Hebrew speakers/readers here, Hebrew is based around three letter roots. So milchamah and lichimah share the same three letter root of a lamed (l sound), chet (ch/guttral "h" sound), and mim (m sound). They're obviously linguistically related and they're not normally interchanged, though sometimes they are just as we will sometimes interchange war and combat. However, when we do this in English we almost always do it within the context of an actual war. And while I've never had this discussion with a native Hebrew speaker, I'd expect it would work the same way in Hebrew. The Israelis, as reported by Andrea Mitchell at MSNBC, are claiming this is a matter of a bad translation in the tweets. I find this hard to believe given that Netanyahu is a fluent English speaker as he lived in the US for a significant amount of time growing up. (Full disclosure: I used to be non-native fluent in Hebrew and non-native functional in Arabic. I have used neither language in a very long time and I'm lucky to be fluent in English on a good day!)
The problem here is that when Bibi made remarks tot he press he specifically used milchamah (war) in his spoken remarks to the press (emphasis mine):
Netanyahu made the comments during an off-the-cuff interview with reporters on a Warsaw street, shortly after meeting Oman's foreign minister.

"From here I am going to a meeting with 60 foreign ministers and envoys of countries from around the world against Iran," Netanyahu said.

"What is important about this meeting — and this meeting is not in secret, because there are many of those — is that this is an open meeting with representatives of leading Arab countries, that are sitting down together with Israel in order to advance the common interest of war with Iran," he added.

Although Netanyahu used the Hebrew word "milchama," or war, his office later changed its official translation and said he was referring to a "common interest of combatting Iran."

He has long used tough language against Iran. But his latest comments, which appeared to include a call for war, went beyond his standard rhetoric. Netanyahu's office later issued a clarification, saying his remarks had been mistranslated.
I don't think this was an accident and I don't buy the explanation of the walk back. I think Bibi knew exactly what he was doing. That during the week of the 40th anniversary of Iran's Islamic revolution, he was attempting to create a provocation. His word choices and uses here, including the walk back, are a feint to see if he can draw Iran into doing something that can be declared to be offensive.
Bibi Netanyahu is very willing to actually fight a war against Iran until there are no Americans left to die for his warmongering, megalomaniacal monomania. He is perfectly willing to sacrifice as much American blood and treasure as necessary to achieve his goals against Iran and within the region. As are Crown Prince Muhammad bin Salman of Saudi Arabia and Crown Prince Muhammad bin Zayed of the United Arab Emirates to achieve theirs. Of course, other than destroying Iran, those regional objectives are at odds. The Israelis and the Saudis both seek to be the regional hegemon, which is one of the reasons that Iran must be destroyed because it also aspires to regional hegemony. As does Erdogan in Turkey.
The President's point man on the Middle East is his son in law, who appears to be an asset of Netanyahu from long time familial connections, as well as bin Salman and bin Zayed.  Jared is an idiot from a family with a lot of money, money that was used to buy his educational credentials. Unfortunately he thinks he's a world historic and world history making figure.
Also, Rudy Giuliani is at this summit because he's a paid agent for the Mujahedin al Khalq (MEK), which positions itself as the legitimate government of Iran in exile. In reality it is a cult and a terrorist group.
No good will come of any of this.
Open thread.
ETA at 3:55 PM:
In case anyone, like the President, the Vice President, Congressman McCarthy, etc, was unclear, I'm Jewish and yes, I'm criticizing Israel's prime minister and, at least, one of his and Israel's current government's policies. This is not anti-Semitic. If you think it is or that I am or are considering stating that I am, you can go fuck yourselves sideways with a hanukiah!