We've now covered the insanity surrounding Congresswoman Omar extensively, from my initial post on Friday night through to Cole's post this morning. I think, though, that there is something important that needs to be recognized and focused on here and it is, by and large, not Congresswoman Omar's remarks last Thursday night at Busboys and Poets. Speaking of which, before I go further, in case anyone actually wants to see and hear what she actually had to say, here's the actual video from Busboys and Poets Facebook page (because of how WordPress handles embeds, you'll still likely have to click through):
TONIGHT: Congressional Progressive Caucus co-chairs Reps. Pramila Jayapal and Mark Pocan, and Reps. Rashida Tlaib and Ilhan Omar join us for a Progressive Issues Town Hall at #Busboys14th.

Posted by Busboys and Poets on Wednesday, February 27, 2019
Congresswoman Omar gives a very long and very detailed answer beginning at the 28:30 mark in the video that is, perhaps, one of the best assessments and critiques I've ever seen an elected or appointed American official make of US foreign policy, including the national security portions of it. She is clearly informed, she's clearly given this a lot of thought, and what she's saying is both accurate and something that needs to be heard. And you'll notice that she references consulting with Secretary Albright! It is at the 45:30 mark that she lays down her first marker by stating that "you may want to see me as a Somali-American, but I am a member of Congress". This establishes the foundation for her later remarks about allegiance. Omar's remarks that have caused so much sturm and drang begin at 59:26 and follow Congresswoman Tlaib's remarks for thanking Jewish allies for standing up and being supportive of both the broad call for human rights and the specific one regarding doing something to improve the current existence of the Palestinians. I recommend that everyone who has not actually watched the video to take a moment and watch at least Congresswoman Omar's remarks that begin at 59:26 if not both of her extended remarks. She didn't say anything anti-Semitic. In fact she goes out of her way to contextualize her remarks so that they aren't. You'll also notice that her colleagues Congresswoman Jayapal and Congressman Pocan aren't reacting negatively in real time to her remarks. Congresswoman Omar also made it clear in her remarks that she was anticipating the response that she has received.
Why is this important, what does this have to do with the 2020 election? Here's why:
Representative Ilhan Omar is again under fire for her terrible comments concerning Israel. Jewish groups have just sent a petition to Speaker Pelosi asking her to remove Omar from Foreign Relations Committee. A dark day for Israel!

— Donald J. Trump (@realDonaldTrump) March 5, 2019
The President just said the quiet parts out loud again: Jewish=Israeli. The President just made it perfectly clear that Jewish Americans allegiance is to Israel because he just equated Judaism, which is a religion, with Israel, which is a country where the majority are adherents of Judaism. And this is important because this is going to be one of five major themes that the Republicans have already rolled out for the 2020 presidential elections. They are:
Appropriate oversight and investigation of the President is harassment and an attempt to overthrow the results of the 2016 election. This is being done to set the conditions to claim that any outcome of the 2020 election that does not see the President reelected is part of a coup undertaken by the Democrats, Special Counsel Mueller, the DOJ the FBI, and the US Intelligence Community. And despite the fact that there is an actual election involved!
That the Democrats are seeking to overthrow America and establish socialism.
That the Democrats want to legalize infanticide. This was initially going to be rolled out last month, using New York's and Virginia's attempts to revise their laws pertaining to third trimester therapeutic abortions of non-viable fetuses to preserve the health and life of the mother as a result of serious complications, and/or both. The roll out, however, got overtaken by Governor Northam's blackface and Klan costume mess. It is now back in full force.
Illegal immigrants are streaming into the US, are going to kill us all, and the Democrats want it to happen because they want those illegal immigrants to vote for Democratic candidates. This will be rolled into the first theme/line of attack.
Democrats are anti-Semitic because some of the most junior members of the Democratic majority in the House are challenging the long standing US domestic politics that have prevented any evolution of US policies regarding the Israeli-Palestinian dispute, as well as the strategies to achieve them.
I also think there is likely to be a sixth prong to the Republican and conservative information warfare campaign: The President has to be reelected in order to keep the Supreme Court conservative and to continue to remake the Federal district and appellate courts as well.
Why do I know that these will be the five or six lines of attack of Republican and conservative information warfare as part of the 2020 presidential, congressional, state, and local elections? Because Republicans and conservatives have already begun deploying them. We saw it in the insanity of CPAC. We saw it in the initial, then paused, then turned back on responses to New York's and Virginia's attempts to legislatively revise the rules regarding third trimester therapeutic abortions. And we've seen it now with Congresswoman Omar. Here's the White House Press Secretary's statement from yesterday: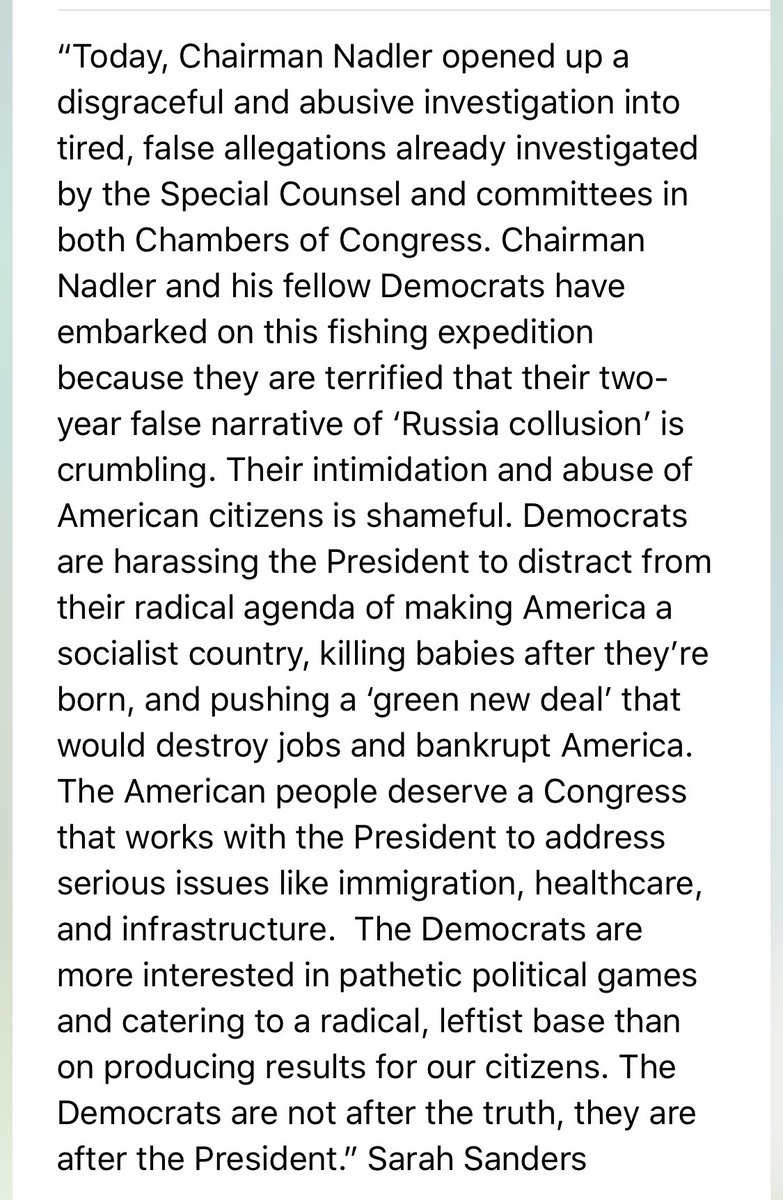 She got the first three in there. And, as noted above, the President came through this morning to pile on to the faux scandal being generated around Congresswoman Omar by actually doing what she is being accused of: equating Judaism with Israel.
This is all important because in order to be successful in 2020, the Democrats need to be clear about what they are actually facing. No matter what Speaker Pelosi does tomorrow or Thursday regarding the faux scandal being generated around Congresswoman Omar, as the reporting indicates she will, it will not put the matter to rest. Even if Congresswoman Omar never makes another public statement about Israel and/or the Palestinians. All that will happen is that a new line of attack will be opened up. The GOP and conservatives will just switch from screaming that Speaker Pelosi and the Democratic leadership must denounce Congresswoman Omar's remarks and anti-Semitism to calling for her to be stripped of her committee assignments. That will be followed with calls for her to be censured. There will be calls by the GOP minority in the House to revisit the House rules pertaining to wearing headgear in the House chambers to remove the exception that was created so she could wear her hijab. Finally, there will be calls for the Democrats to expel her from Congress to demonstrate their zero tolerance for anti-Semitism and show their support for Israel.
And all of this will go on as the GOP and conservatives try to gin up a religious war by equating palliative care for babies who are born in a terminal condition with infanticide. I cannot state this emphatically enough: the attempt to equate providing palliative care to terminally ill babies who are either born premature or full term with infanticide and then equate that with abortion is GOING TO GET PEOPLE KILLED!!!!!! Just as the insanity they've created in regard to immigrants in general and asylum seekers and undocumented immigrants in specific has already led to people getting killed. And the attempts to undermine the American electoral system in order to set the conditions to challenge electoral outcomes that don't go the way that Republicans and conservatives want is also going to get people killed. All of this is related. All of them are lines of attack in a coordinated information war. And nothing, no action, no statement, nothing at all will mollify or placate Republicans and conservatives on any of these issues. This information war, as well as the entire 2020 election, is going to be fought. The question that has yet to be answered is whether it will be fought on the ground that the Republicans and conservatives choose or terrain of the Democrats, center left to left of center and liberals to progressives choose.
Open thread!