BREAKING: The House Judiciary Committee is told to expect notification by 5pm that the Mueller report has been delivered to Barr

— Ellen Nakashima (@nakashimae) March 22, 2019
https://twitter.com/ktbenner/status/1109199280408092677
From The New York Times:
WASHINGTON — The special counsel, Robert S. Mueller III, has delivered a report on his inquiry into Russian interference in the 2016 election to Attorney General William P. Barr, according to the Justice Department, bringing to an apparent close an investigation that has consumed the nation and cast a shadow over President Trump for nearly two years.

Mr. Barr will decide how much of the report to share with Congress and, by extension, the American public. The House voted unanimously in March on a nonbinding resolution to make public the report's findings, an indication of the deep support within both parties to air whatever evidence prosecutors uncovered.

Since Mr. Mueller's appointment in May 2017, his team has focused on how Russian operatives sought to sway the outcome of the 2016 presidential race and whether anyone tied to the Trump campaign, wittingly or unwittingly, cooperated with them. While the inquiry, started months earlier by the F.B.I., unearthed a far-ranging Russian influence operation, no public evidence has emerged that the president or his aides illegally assisted it.

Nonetheless, the damage to Mr. Trump and those in his circle has been extensive. A half-dozen former Trump aides have been indicted or convicted of crimes, mostly for lying to federal investigators or Congress. Others remain under investigation in cases that Mr. Mueller's office handed off to federal prosecutors in New York and elsewhere. Dozens of Russian intelligence officers or citizens, along with three Russian companies, were charged in cases that are likely to languish in court because the defendants cannot be extradited to the United States.

Even though Mr. Mueller's report is complete, some aspects of his inquiry remain active and may be overseen by the same prosecutors once they are reassigned to their old jobs within the Justice Department. For instance, recently filed court documents suggest that investigators are still examining why the former Trump campaign chairman Paul Manafort turned over campaign polling data in 2016 to a Russian associate whom prosecutors said was tied to Russian intelligence.

Mr. Mueller looked extensively at whether Mr. Trump obstructed justice to protect himself or his associates. But despite months of negotiations, prosecutors were unable to personally interview the president.

Those who know Mr. Mueller, a former F.B.I. director, predicted a concise, legalistic report devoid of opinions — nothing like the 445-page treatise that Kenneth W. Starr, who investigated President Bill Clinton, produced in 1998. Operating under a now-defunct statute that governed independent counsels, Mr. Starr had far more leeway than Mr. Mueller to set his own investigative boundaries and to render judgments.

The regulations that govern Mr. Mueller, who is under the supervision of the Justice Department, only require him to explain his decisions to either seek or decline to seek criminal charges in a confidential report to the attorney general. The attorney general is then required to notify the leadership of the House and Senate judiciary committees.

During his Senate confirmation hearing, Mr. Barr promised to release as much information as possible, saying "the country needs a credible resolution of these issues." But he may be reluctant to release the part of Mr. Mueller's report that may be of most interest: who the special counsel declined to prosecute and why, especially if Mr. Trump is on that list.
As of now no one knows anything more than they did 10 minutes ago before Special Counsel Mueller delivered his report to the Attorney General. So we will have a long weekend of fevered and feverish speculation about what is or is not in the report. About what information will and will not be released from the report to Congress or the American people.
Remember: NO ONE KNOWS ANYTHING MORE THAN THEY DID TEN MINUTES AGO!!!!!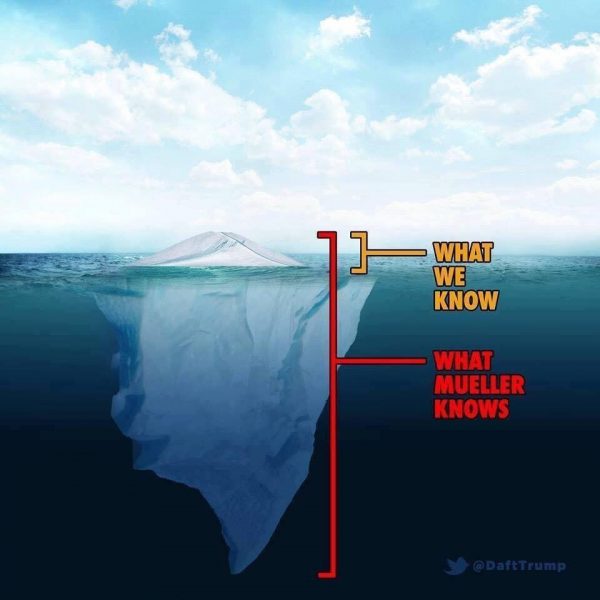 Updated at 5:30 PM EDT
Here is Attorney General Barr's letter to the chairs and ranking members of the House and Senate Judiciary Committees: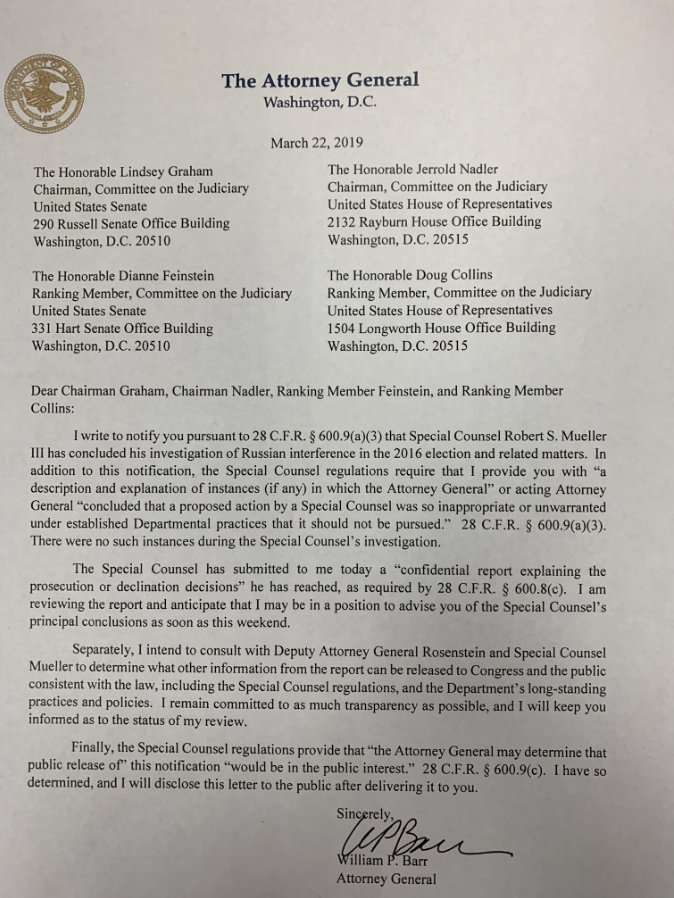 Update at 5:56 PM EDT
Speaker Pelosi and Senate Minority Leader Schumer have responded to Attorney General Barr's notification to the House and Senate Judiciary Committees that Special Counsel Mueller has turned in his report:
Pelosi, Schumer Joint Statement On Special Counsel Mueller's Report

MARCH 22, 2019

Washington, D.C. – Today, House Speaker Nancy Pelosi and Senate Democratic Leader Chuck Schumer released the following statement regarding Special Counsel Robert Mueller's report to Attorney General William Barr:

"Now that Special Counsel Mueller has submitted his report to the Attorney General, it is imperative for Mr. Barr to make the full report public and provide its underlying documentation and findings to Congress.  Attorney General Barr must not give President Trump, his lawyers or his staff any 'sneak preview' of Special Counsel Mueller's findings or evidence, and the White House must not be allowed to interfere in decisions about what parts of those findings or evidence are made public.

"The Special Counsel's investigation focused on questions that go to the integrity of our democracy itself: whether foreign powers corruptly interfered in our elections, and whether unlawful means were used to hinder that investigation.  The American people have a right to the truth.  The watchword is transparency."
Updated at 6:47 PM EDT
Principal conclusions of the special counsel's report will be made public when it is delivered to Congress, according to officials at @TheJusticeDept.

— Steve Herman (@W7VOA) March 22, 2019
Open thread!