Despite the fact that we already know the origins of how a counterintelligence investigation was established in mid 2016 into Russian interference in the 2016 election. Specifically because it was covered in the released, redacted Mueller Report; testimony by multiple senior DOJ and FBI officials to both the House Permanent Select Committee on Intelligence and the Senate Select Committee on Intelligence; even the execrable Nunes' FISA memos give us the details. The President has authorized Attorney General Barr to have full declassification authority, as if he was the original classification authority, over any and/or all classified information and materials pertaining to the origins of the counterintelligence investigation into Russian interference in the 2016 election.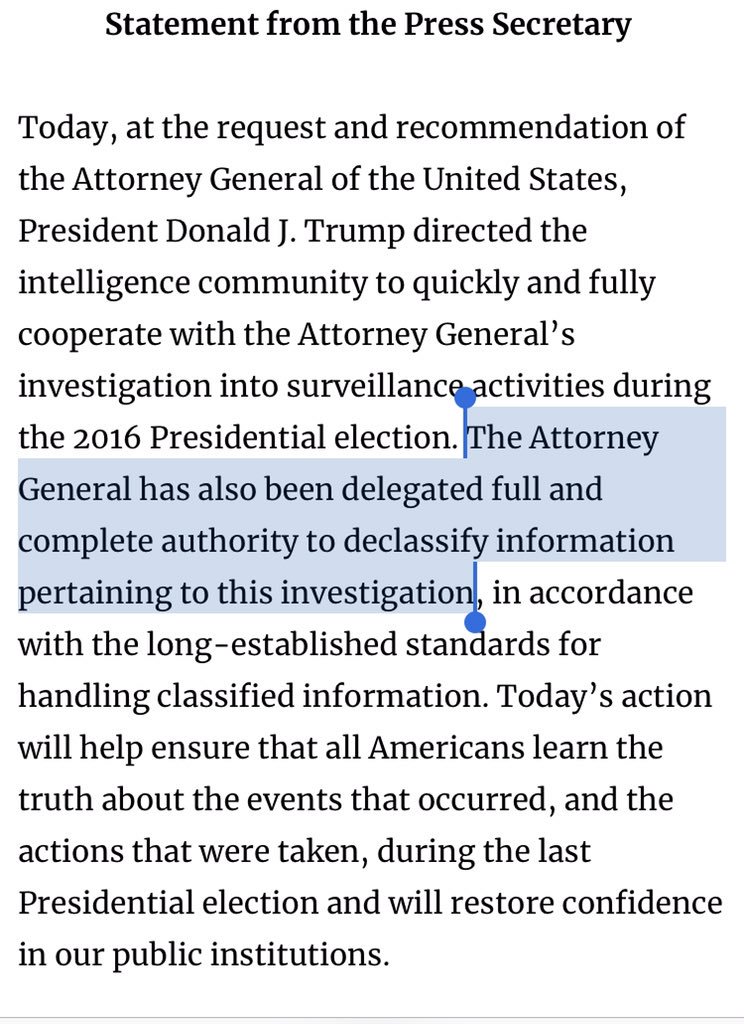 What this means is that Attorney General Barr can declassify whatever he wants pertaining to this matter whether or not Director of National Intelligence Dan Coats, and his subordinates responsible for declassification at the Office of the Director of National Intelligence, or Director of Central Intelligence Gina Haspell, and her subordinates responsible for declassification at the Central Intelligence Agency, or the Director of the National Security Agency GEN Paul Nakasone, and his subordinates responsible for declassification at the National Security Agency, or Director Wray, and his subordinates at the Federal Bureau of Investigation agree or disagree with his decisions. And this reality is both important to keep in mind and very, very scary because it is now being reported that Attorney General Barr wants to know about the CIA's sources in Russia and what they know about the origins of the counterintelligence investigation into Russia's interference.
Barr wants to know more about the CIA's informants in Russia and what they passed along about the 2016 interference. Sources are among the CIA's most closely held secrets https://t.co/hoamrzDYia

— Amy Fiscus (@amyfiscus) May 24, 2019
One of the first thing authoritarians try to do once they feel they have consolidated enough power is to ferret out the human sources who were working against them prior to their attaining power. In this case it appears that AG Barr wants to start with the human sources that the CIA's National Clandestine Service has cultivated and established in Russia. I can guarantee that the CIA's leadership in general and that of the National Clandestine Service in specific are not happy about this!
I cannot stress enough how NOT NORMAL this is!!!!! Normally the Attorney General would not be fully read on to a counterintelligence investigation because they are completely compartmented. And the CIA not being able to control access to information about their sources and methods is completely abnormal! Same for the inevitable requests that will go to the NSA regarding the electronic and signals intelligence. Usually requests for this information by one agency would be zealously fought, in regard to institutional prerogatives, by the agency with the classified information.
Here's what I think are the four most likely things that will happen now. And they are not all mutually exclusive.
1) He'll do a review and then based on discussions with DNI Coats and DCI Haspell and Director Wray, he'll declassify nothing and just let the IG and the two US Attorneys (Utah and Connecticut) do their thing. I think this is highly unlikely given what we know of Attorney General Barr, his career, and his ideological priors and assumptions regarding the power of the president.
2) He'll actually do a by the book review, rather than  putting both thumbs on the scale. I don't think he will actually do this, in fact I think he's constitutionally incapable of doing so.
3) DNI Coats and DCI Haspell will simply refuse to read him on as they know he's not an honest broker. I think there is a real possibility that one or both of them do this either by just slow walking everything or outright refusing.
4) Barr is read on. He then barbers, like he did with his framing summary memo of Special Counsel Mueller's report, what he declassifies to make it look like there was a criminal conspiracy starting in 2016 to a) steal the election from Trump by fabricating the Russian interference and b) use that fabrication to drive Trump from office once he was elected when, in fact, this is not the case. We all know it is not the case because of what is in the Mueller Report and the materials in Nunes' FISA memos from last year. At that point the Intelligence Community starts leaking to damage Barr.
If I had to guess, I expect the Intelligence Community to do at least one selective warning leak, like they did with Sessions to get him to recuse and Whitaker to get him to stop trying to poke around, as a warning shot across Barr's bow. The question at that point isn't whether Barr is smart enough to recognizing the warning for what it is and the danger that it signifies, but whether he actually cares. And this is tied into just how confident he is that he has now achieved his life's ideological work of establishing an extreme unitary executive as reality. That the President is now, essentially, an elected king and therefore Barr as the elected King's man in charge of the enforcement of the law on the investigation and prosecutorial side, is empowered to determine what is and is not legal.
Barr is very likely to use this new authority to selectively weaponization the information he declassifies to try to ratfuck the 2020 election. Remember, it was Barr who was leaning on the US Attorney in Little Rock to investigate then Governor Clinton regarding the Whitewater Savings & Loan scam in order to dirty Clinton up in advance of his general election campaign against Barr's boss, President George H. W. Bush. Here's Cory Lewandowski trying to connect Vice President Biden to the creation of the Steele Dossier on tonight's Lou Dobbs' show for an audience of one – the President, who I'm sure will be tweeting it out tomorrow.
Trump Advisor Lewandowski: Biden behind Steele Dossier; Comey, McCabe, Strzok and Page will all be on trial "March or April of the next year." pic.twitter.com/cDVU3rnYXd

— Josh Marshall (@joshtpm) May 24, 2019
We are way, way, way off the looking glass and through the map!
Open thread.