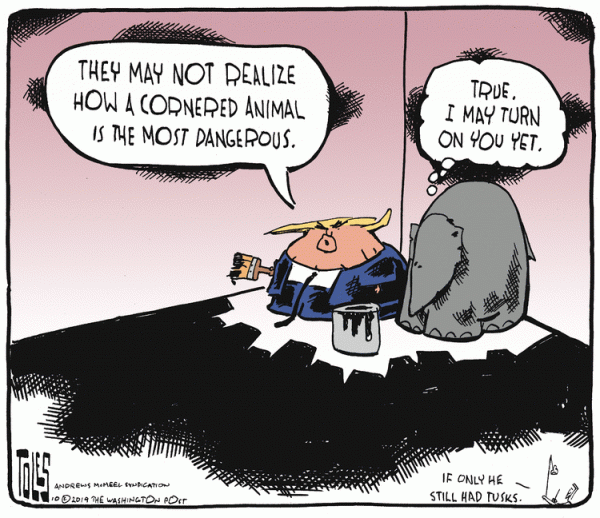 From the Washington Post, paper of record for the company town where the monopoly industry is natioanl politics:
House Democrats said Monday that the House will vote Thursday to formalize procedures for the next phase of the impeachment inquiry into President Trump.

Democrats said the move would "ensure transparency and provide a clear path forward" as the inquiry continues.

The White House responded by taking a swipe at Democrats. Press secretary Stephanie Grisham accused them of "conducting an unauthorized impeachment proceeding" and declined to comment fully until the text of the resolution is released.

House Intelligence Committee Chairman Adam B. Schiff (D-Calif.), meanwhile, said that a former deputy national security adviser had "no basis in law" to skip a deposition Monday and that his failure to appear was further evidence of Trump's efforts to obstruct Congress…
Elsewhere in the Post, "'It feels like a horror movie': Republicans feel anxious and adrift defending Trump":
Republican senators are lost and adrift as the impeachment inquiry enters its second month, navigating the grave threat to President Trump largely in the dark, frustrated by the absence of a credible case to defend his conduct and anxious about the historic reckoning that probably awaits them.

Recent days have delivered the most damaging testimony yet about Trump and his advisers commandeering Ukraine policy for the president's personal political goals, which his allies on Capitol Hill sought to undermine by storming the deposition room and condemning the inquiry as secretive and corrupt.

Those theatrics belie the deepening unease many Republicans now say they feel — particularly those in the Senate who are dreading having to weigh their conscience against their political calculations in deciding whether to convict or acquit Trump should the Democratic-controlled House impeach the president.

In hushed conversations over the past week, GOP senators lamented that the fast-expanding probe is fraying their party, which remains completely in Trump's grip. They voiced exasperation at the expectation that they defend the president against the troublesome picture that has been painted, with neither convincing arguments from the White House nor confidence that something worse won't soon be discovered…

For Republicans, the political conundrum is a problem of their own making, argued William A. Galston, a senior fellow in governance at the Brookings Institution. "They normalized a president whose conduct they are now being asked to judge as so abnormal as to warrant his removal from office," he said.

"To the extent that they quietly harbor conscientious objections to what the president is doing — or, even more spectacularly, how he's doing it — they have to weigh the calling of conscience against political considerations," Galston added. "There's a reason why 'Profiles in Courage' is a very short book. Courage is not the norm. It's the exception."…
(This longish read is particularly worth a click; the details are schadenfreude-licious.)
Obvious conclusion: BOO HARDER, everybody!