I don't post about football games here anymore because I got sick of all the whining and trolling. But here we have a college football story that intersects with politics and free speech on campus, so I'm making an exception.
As you may have heard, Trump, having been thunderously booed at the Nats game and then again at some sort of cage match combat thingie at Madison Square Garden, is flying around the country on the taxpayers' dime in search of a sporting event he can crash without being publicly humiliated.
The Heart of Dixie would seem a good bet, no? So Trump is crashing a high-stakes SEC game this weekend: the University of Alabama Crimson Tide vs. the Louisiana State University Tigers. Should be a helluva game, football-wise.
But the University of Alabama Student Government Association must've seen a weekend forecast with a chance of boos because they sent this around: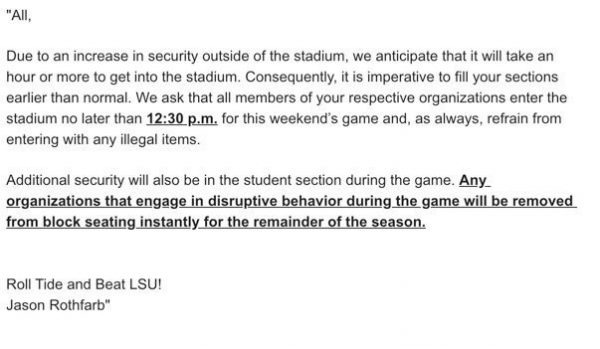 I went to an SEC football school and have attended games in SEC stadiums virtually every year since college, and I have never seen non-disruptive behavior in the student section. Disruptive is normal, is what I'm saying. But apparently security will be deployed throughout the student section to ensure no one hurts Twitler's extra-dainty feelings, on pain of losing their tickets for the season.
Surely the people who meep endlessly about PC thought police on campus will stand up for these students' right to self expression, right? **crickets** **crickets** **crickets**
Anyhoo, I'm hoping Tigers and Tide alike can link arms in unity and boo the ever lovin' fuck out of Trump before one team seizes control of the SEC West. The campus cops can't kick them all out. To paraphrase some Twitter wag, let Trump seek a hero's welcome at the Gutbucket, Arkansas Tractor Pull and Hawg Wallop.
Open thread!