All's Well That Ends Well: A Story of Bella, and Pepper and Avalune and, Finally, Leto
by Avalune
"Don't get a dog while I'm gone."
This is Leto, preparing to leave for Iraq. I give him a look that says "who me?" But don't go as far as batting my eyelashes. And I didn't set out to ignore his only request. In fact, I still blame my supervisor, who very helpfully pointed out that he couldn't "kill me" for bringing home the tiny bundle of eyeballs because he wasn't here.
I was working at a long term psychiatric treatment facility for adolescents when one of the school teachers brought in a litter of black and tan puppies. "Huntin' dogs" she said. I didn't want the cuddling of the smallest girl to end – so it didn't.
?? Jingle Bells ??
It is almost Christmas and I named her Jingle Bell, or "Bella" for short. I start sending Leto pictures of this tiny creature curled up on my desk. Giant, slightly alien eyeballs, and fur.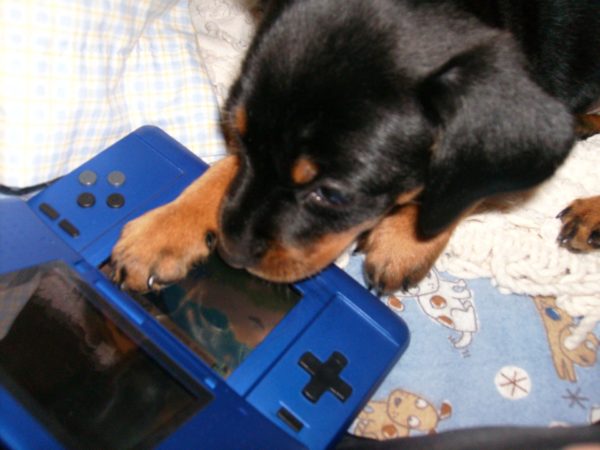 "What. Is. That?"
"What is what?"
This is how he is introduced to Bella.
The drive to South Carolina to visit with the in-laws for the holidays is a good solid 10 hours, if you only stop as often as you must for fuel. Bella is uncontainable unless I let her curl up on my thigh, so that is how we make the drive.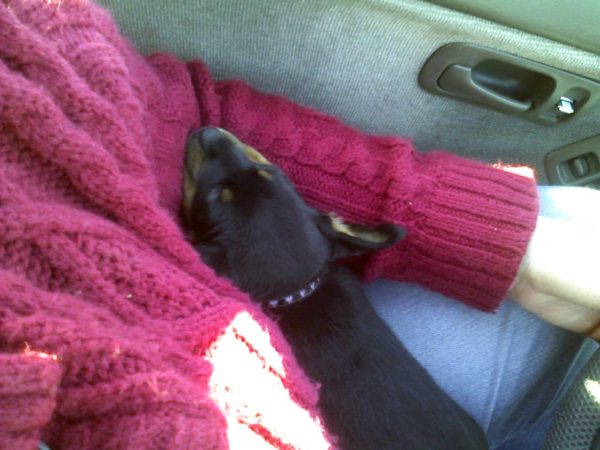 The first two nights in the kennel are abysmal for everyone with the howling and crying and thrashing, so eventually I try putting the kennel next to my bed and this calms her. She isn't eating well, so Leto's mother and I go find puppy milk and other soft foods to try. Bella doesn't eat any of them. One morning, my father in law hands me a plate of eggs and Bella crawls straight up the side of the arm of the couch like a furry Spider-Man and when she's reached the summit, launches herself into my plate of eggs. We watch her scarf them down with wonder.
?
Eggs huh? Eggs it is then.
We fix her plates of eggs for a couple days until I make the drive back home and take her to the vet.
"Look at these gums," the vet tells me, prying her lips away from her teeth. They are stark white, like her sharp little teeth. He checks her tail to tip and gives her some shots. He tells me she's riddled with worms as he snaps off his gloves. "Ah, they swore she was wormed" I tell him. He assures me the medicine will do the trick.
And it does. Her appetite burgeons. Her energy abounds. She little spoons our older Labrador, Pepper, who looks at me with those long suffering lab eyes while ducking errant stick ends or other trash Bella seems to prefer to toys. She is all teeth and sass and finally starting to grow into her huge eyes.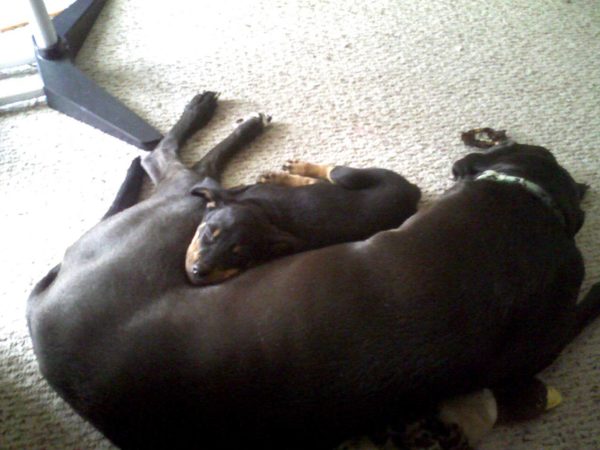 She likes to play with the in-law's boxer. Her favorite game is to hide under furniture where Chelsea can't squeeze her broad chested body or jowly face. Bella pops out like a Dune sand worm, biting biting, then retreating back to her hole. It's an unfair game but Chelsea is determined.
Pepper mostly ignores them both.
Leto is resistant. She is clearly my dog. But her expansive personality is hard to ignore. Where Pepper is well behaved and predictable, Bella is curious and clever and opinionated.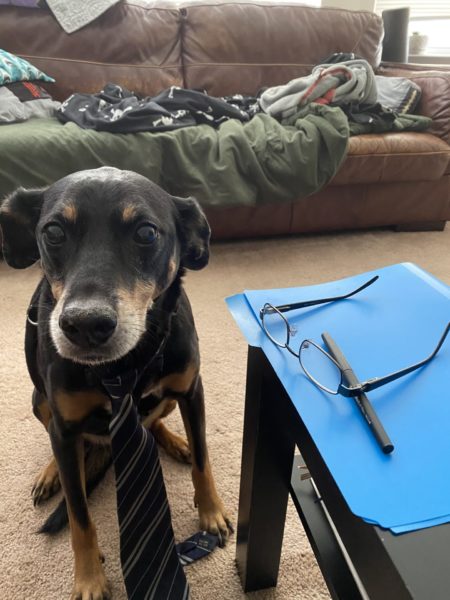 We eventually decide she must be a Manchester Terrier. Also sometimes called a Manchester Terrorist – by cat owning friends, or at least she was before there was a Manchester Terrorist and it seemed insensitive. She exhibits classic terrier behaviors, what we call "dog brain" in which all sense, common or otherwise, is completely abandoned when she catches a scent or sees something interesting.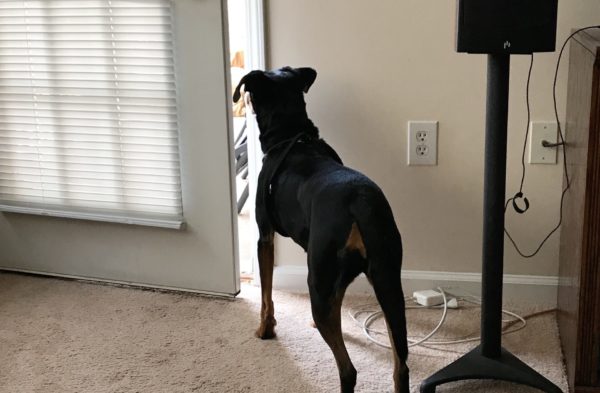 She's too large to be a purebred terrier – the normal size of the non-toy breed being around 25-30lbs, while she is 40-45lbs. Manchester Terriers or "Manchies" are a lightning combination of whippet and rat terrier. Usually the ears are clipped to be upright, so their prey have less to latch onto. As a testament to the breed, she pulls when she walks, too eager to poke her face into anything remotely resembling a hole in the ground and races towards any lump on the ground that might indicate the shape of say, a hedgehog or a bunny rabbit – even if it proves to be the same rock over and over again. When she isn't chasing rock buns, she likes to snuggle in covers, or pillow forts in the manner of a whippet.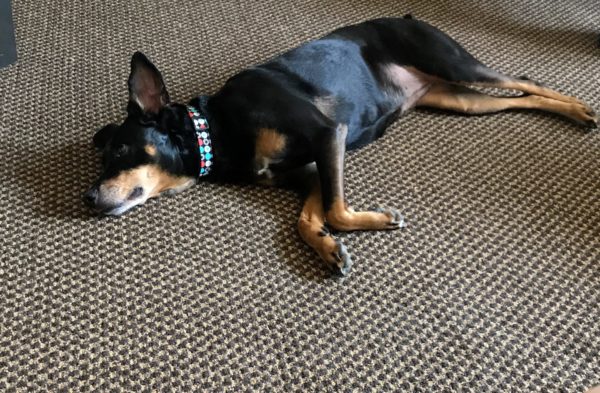 ???????
She is patriotic but respectful of the host country, howling through the entirety of God Save the Queen and the Star Spangled Banner at precisely 5pm every weekday in England. She knows several Italian words, many of which she ignores, such as basta, piano, cattiva.
Bella has an entire language of growls and whines and barks which she deploys mostly to plead her case for an extra treat, or to talk back when she is in disagreement. She is moody sometimes and will show teeth and growl/grunt making her sound like a gator. Unfortunately, it's too adorable to take seriously, and so is generally ignored up until the nose wiggling involved in her show of teeth required eventually results in a sneezing fit. We stop whatever has earned her ire – usually petting – and laugh and point. She does not like to be pointed at.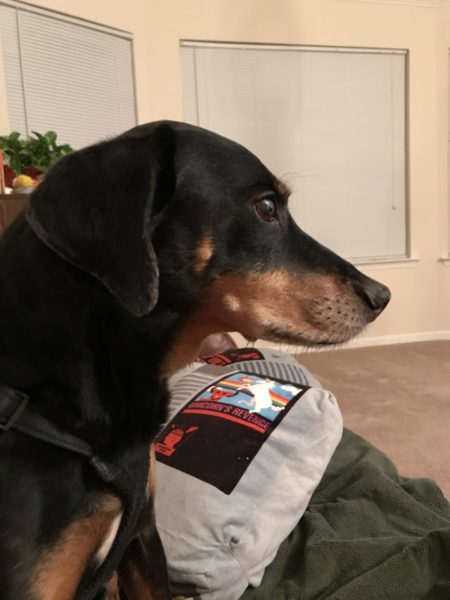 The only thing she hates more than being pointed at is getting a raspberry on her belly. Though dangerous with the flailing legs and teeth, completely worth doing periodically, because it winds her up like nothing else. After a raspberry, she runs circles and barks indignantly before demanding compensation for her insulted ego.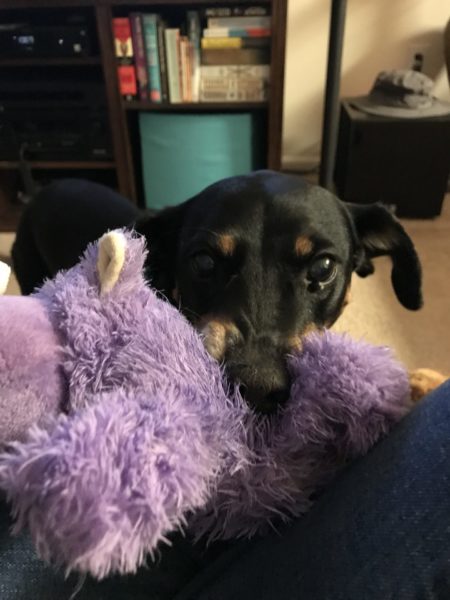 She is immensely protective of me – launching herself at anyone who gets too close, comes up on us too suddenly, or has the gall to tell me good morning. And Bella is slow to warm up to strangers, though strangers will often try to bribe her. She will accept the treat and then kindly tell them to fuck off. In the case of strangers we invite inside, she will tolerate a pat but growl and bear her teeth at them. Should they stop patting, due to the intimidation, she pushes her head into their hand, as if to say I have not released you. Once she has decided she likes you, she will throw herself at you when you arrive, with such gusto she cannot be resisted.
Leto could not resist either but the next dog, he says, has to be his dog.
***
Update: Bella "singing along" with one of the anthems.