Update from Mel and Pixie on Tuesday at 2:15 pm
An update on Pixie. She hasn't responded to the pain meds and stronger laxative, and is not improving, so she is heading to the specialist for a CT this afternoon. We are just torn to bits that we haven't been able to get answers and get relief for her yet. Her vitals are still good, so the vets are not sure what the root cause(s) of this are. We have to find out to see if there is a safe snd comfortable way forward to healing for het, or if we have to make that awful decision to say goodbye. I am sick just thinking about life without her sweet little self here with us.

Thank you and everyone at BJ from the bottom of our hearts for the love and good energy sent her way. Please keep her in your prayers as we get the imaging and hopefully get a positive outcome for our baby.
Update an hour later on Tuesday:
Pixie just got up of her own accord, and walked and stretched a little bit. This might be a good sign. Hope, hope, hope!!! We are still taking her for her specialist visit as no pooping has happened yet, and she is still off het food.

Praying that maybe the anti-inflammatories and the strong lax might be the answer after all, and that she's just taking linger to respond b/c of her age and her megacolon.
🧚‍♀️
One of our BJ peeps is asking for our help.  She doesn't need our time or our money, but she could use us to jump in the boat and join her in sending all good thoughts to her very special beloved kitty, Pixie.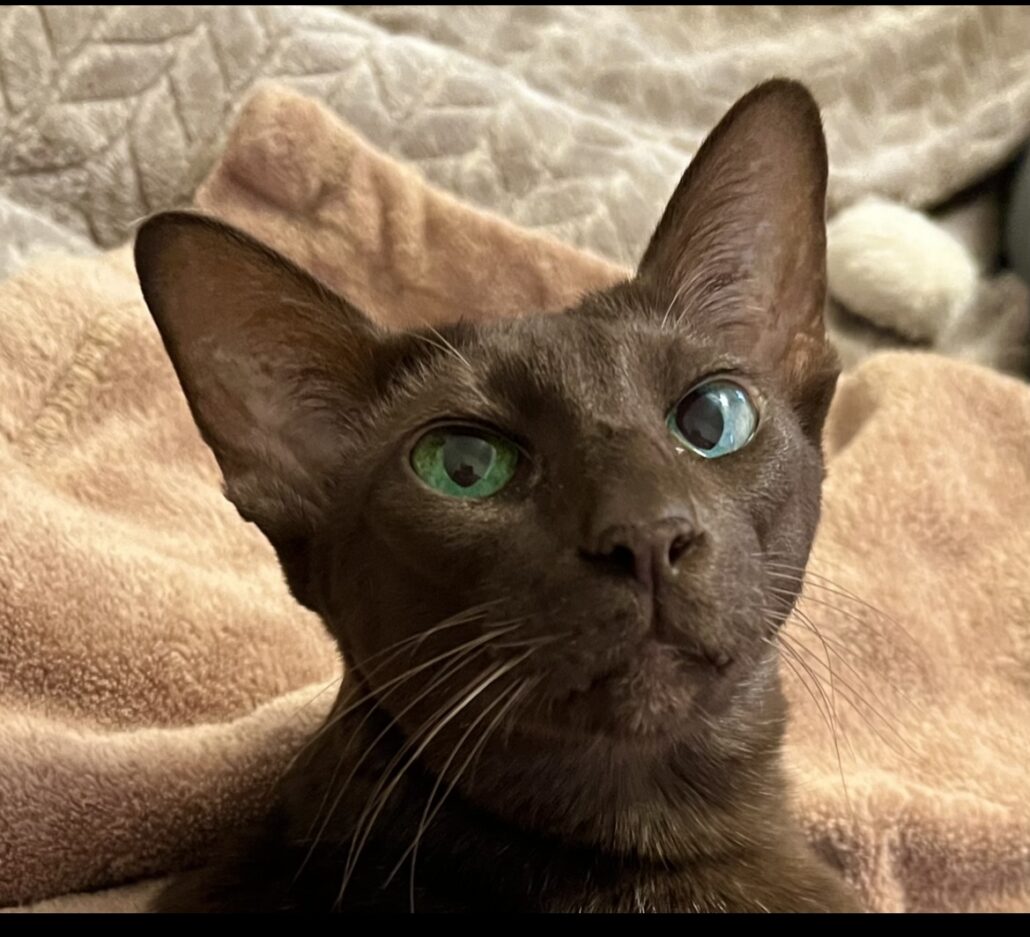 Here's the note from Melissa:
I don't know if this would be okay or not, and if not I completely understand, but I wonder if you would be able to put out a request for some good energy / prayers/ whatever good thoughts folks here could send out into the universefor a very special but very sick kitty.

My little Pixie has been my companion for almost fourteen years. She's just the sweetest girl ever, and so full of love and so gentle.
She has been here with me through more scary health emergencies than I can count, comforted two dear old kitties when they reached their end of life, and immediately became a loving snd infinitely patient Auntie, despite her age, to the two goofy, rambunctious boys we adopted a couple of years ago.

She has been by my side during the pandemic isolation – unfortunately, because of my illness and immunosuppressed state, I have been isolated for coming up on three years now. It has been unspeakably lonely and challenging, but her companionship has been a lifeline and more comfort than I can ever express.

She is seriously ill now, and is right now at the emergency vet with my hubby (I can't even be with her there, because nobody is masking), after two vet visits late last week with no answers yet as to what is causing her to feel so ill. It hurts so to see her ill, and as anyone who has ever loved their critter knows far too well, it is such an awful, helpless feeling to not be able to make them better, to not know how to fix things for them.

I have had pets all my life, but this little kitty is that special one. Any prayers, good thoughts, good energy that could be sent out into the universe for my sweet little green eyed girl would be so appreciated.

Sincerely,
Melissa