On Sunday afternoon, Major Major Major Major mentioned that he had a story coming out that is part of an anthology.  So I dropped him a note, and it turns out that he does have a personal story in the anthology, but he also has four co-authored stories in the book, as well!
That seems like kind of a big Joe Biden deal to me, so I wrote to Major Major and asked if he could be talked into either Medium Cool or a Celebrating Jackals post.  He graciously agreed, so I'll let him take it from here – telling us about the stories,  about how he came to be a part of this, and how he came to start writing in the first place.
*****
Adventures in Writing: Five Authors and 15 Stories, by Major Major Major Major
Hello jackals!
As some of you know, I've taken creative writing fairly seriously for the last few years. Like so many people I'd always loved the idea of "being a writer"; also like many people, it wasn't until my fourth decade that I had something worth saying, and the diligence to learn how to say it. I understand this isn't easy for anybody, but I must be doing something right – I'm excited to say that I have five short stories in an anthology that was just released, under my real name of J. Tynan Burke.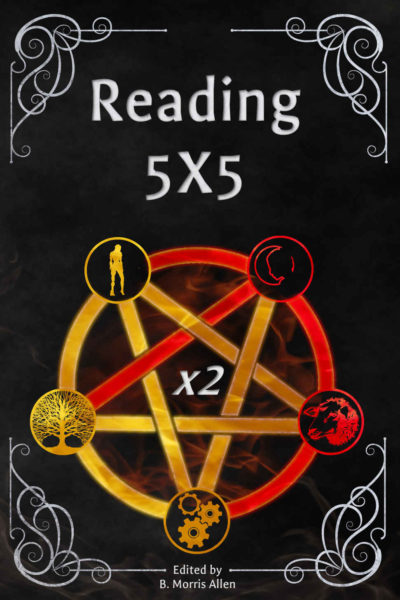 Last year, the editor, B. Morris Allen, reached out to some writers he'd worked well with in the past. He had an intriguing idea: five authors writing five stories each, with one being a solo work, and four coming from round-robin pairings with the other authors. The result is fifteen stories about love and longing, ghosts and robots, growing trees in space, and much more. It was a great experience, even if some collaborations went more smoothly than others. If you'd like, I'd be happy to get into the nuts and bolts of this in the comments. Each pairing was unique.
Being a depressive artist type, I did a quick re-read before writing this, and can happily confirm that the stories are good. It is also interesting as an artifact; you can see how each author's style and preferences manifest with different co-authors and across genres.
To pique your interest, here is a brief note about each of my contributions:
My solo story, Sudden Oak Death, is probably my best work to date. It tells of an arborist who works in a space station orbiting Saturn's moon Enceladus. It explores what it's like when your vocation is not your passion–and never will be, since you are ill-suited for your passion. For this story I consulted with an arborist, as well as an astrobiologist at NASA's Jet Propulsion Laboratory, which was super fun.
Its spiritual companion piece is Project Blackbook, written by myself and David Gallay. In the near future, an Internet Of Things project for a 'smart' daytimer goes awry. A corporate tendency to promote 'rockstar' developers, while ignoring stodgy engineering standards, dooms the project–and possibly all of mankind. This story is told via a collection of recovered documents, including software version control logs, which was–you guessed it–super fun.
Boro Boro, written with Evan Marcroft, follows Brad, an artist living in a small town on California's central coast. It's a tale of the spiritual, and ghostly, issues raised by cultural appropriation and gentrification.
Infernal® Policies and Procedures Have Changed, written with Douglas Anstruther, is a fun take on literal corporate Hell, and the determination of those who dream.
In The Relic, written with L'Erin J. Ogle, we meet Yishma, who is rescued by an alien starship after a horrible accident that took the life of his wife. But where are the aliens? And how can he get home before radiation poisoning claims his life too?
I'll be around in the comments, if you have any questions or… comments.
~Major Major Major Major
*****
The anthology is titled Reading 5X5 x2: Duets
If you're a fan of sci-fi and/or fantasy, you should check out M4's book. (Yeah, okay, there might be some other people involved, too, but still…)
I love the cover.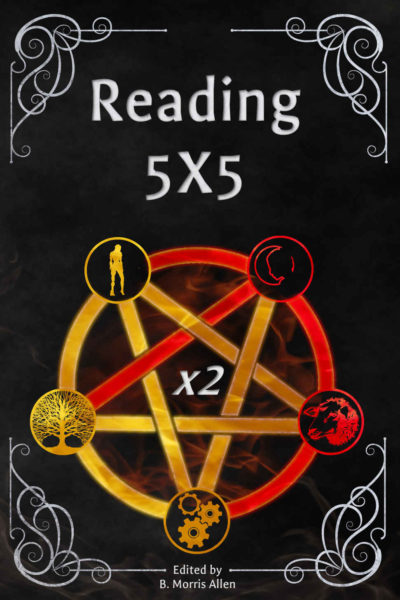 If you get the book, and like it, I'll bet Major Major would greatly appreciate some Amazon reviews!
One final note: the distributor for the hardcover edition is screwed up due to COVID; if you would like your book in a determinable amount of time, please get the paperback or Kindle edition.