A week ago, I put up a post called What We Can Do: 85 Days, 85 Things and asked you to help come up with a list of 85 things we can do for the 85 days that were left.
We are up to 77 things on that list; the full list is included below.  
Today we are featuring the action group INDIVISIBLE.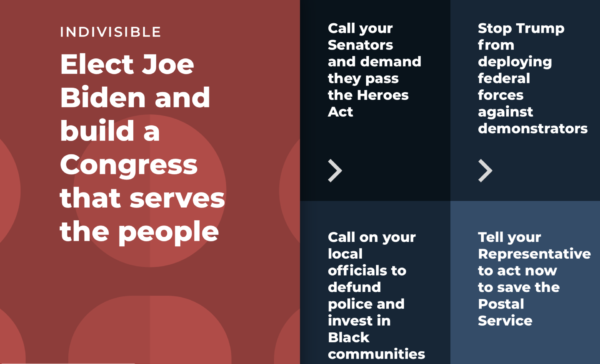 Indivisible (information supplied by SusieC)
There are approximately 6000 Indivisible groups in the United States.  There should be one near every BJ member.
Our group – Indivisible OH 12 – holds weekly Thursday Action Group meetings (now via Zoom) to write postcards, brainstorm, plan future activism, and boost each other's spirits. I used to attend the in-person meetings but not the Zoom meetings.  However, our group leader puts together a recap of each meeting and it is heartening to read about so much dedicated activism going on.
Our 4,400 members – just in the Ohio District 12 alone – have made a difference:
collectively sent out thousands of postcards in support of candidates and voter registration.
 supported our local post office, which is consistently sold out of postcard stamps
 registered more than 30,000 new Democrats
As a result, our candidate for OH-12, Alaina Shearer, has a real chance of unseating Troy Balderson.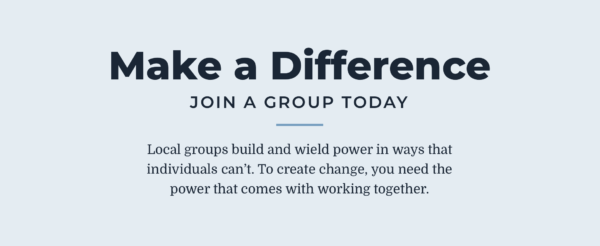 To give you an idea of the scope of things you can do with Indivisible, here's a heavily redacted email message about one particular action group meeting
What actions are you all taking to make a big win in November possible?  If you have suggestions for other items that can go on this list, chime in with a comment.
You can skim the email below to get a feel for the scope  of what the Indivisible group in Ohio District 12 is up to.  What they are doing sounds really impressive.
*****
Hi All –
Please join us for another Thursday Action Group meeting on Thursday, August 13 at NOON.
Please don't be intimidated by the large number of opportunities for action. Some require very little time or effort, so even if you're extremely busy, you can make a contribution. Thanks for all you do!
Basic format for this week's meeting:
1) We'll continue writing postcards while we catch up again this week.
** Please note: If you're not a fan of postcard writing, please don't let that stop you from joining us on Thursday! No need for any advance preparation; you can join the meeting at the last minute or while you're eating lunch. All are welcome, and discussions are lively.
2) Review highlights of Indivisible events/actions, and catch each other up on action steps you've taken, or plan to take in the coming week.
3) Sharing: If time, attendees can choose to share one of the following: 1) the strangest dream you've ever had; 2) something you've experienced that defied explanation.
Upcoming Events and Action Opportunities:
OH12 East Weekly Chat! 
Postcard writing is accessible to nearly everyone, and we certainly appreciate the efforts of our postcard writers. But interactive conversations – by phone or text while COVID keeps us from knocking doors – are the best way to persuade voters. Share what you're doing, help compile a list of opportunities, and let's think about how to make phone banking as enjoyable as in-person canvassing! 
Licking County Democratic Club Biden Campaign Kickoff
Indivisible Delaware Postcard Party and Happy Hour
Alien Trivia with John Russell
Where In The District is Mark Carr?
Black Lives Matter Events in Central Ohio: Please click on this link for upcoming events:
https://docs.google.com/spreadsheets/d/10TBIKLPiFfCx7TV1dAPsoDELwy5b2voCdTzmUDtB2aU/htmlview?fbclid=IwAR2ZTpobUprcmoeuXW-imnbgaM2Vzcs3joh-bCU4Ri8J_UixsO0vtSqKpkI
Voter Registration
The pandemic has created challenges, but Indivisible has figured out ways to register voters outside and in relative safety. For example, one idea that's been proposed is to do VR at the Columbus schools' daily food giveaway locations. Members of the Thursday Action Group could, for example, adopt one spot; someone could hand out forms at the beginning of the food line, and another person could collect them at the end of the line. Since these giveaways only operate at breakfast and lunchtime, those who are working won't be able to provide this outreach. If you're interested, please check out this sign-up genius, which includes many different tabs: https://www.signupgenius.com/go/9040f44aaaf2fa3f58-bronzeville.
All of the daily food giveaways are listed, and VR materials are available from [us].
Donations:  If you would like to contribute monetarily to Indivisible efforts, please consider these opportunities:
1) Right now the national Indivisible organization will double donations up to $350. Anything you want to give is much appreciated! To donate, go to https://secure.actblue.com/donate/indivisiblefoh388450292?fbclid=IwAR3NczHVaYMuOCQFiiy5RE0vODBX_q6W_cj9gF3thc1-WiiGMXIH2nviT2o
Direct donations of cash or stamps also appreciated.
2) Consider donating directly to Indivisible OH-12-endorsed candidate campaigns (see list above).
Calls to Action:
1) Ohio Voter Rights Coalition: Friend-to-Friend Texting Program and Phonebank
2) Tell Ohio Secretary of State Frank LaRose to implement the following:
Prepaid postage for all election mail.
On-line ballot applications for all future elections.
Encourage all Boards of Election to use multiple drop boxes for mail-in ballots.
Ensure safe in-person voting by avoiding polling place closure and consolidation.
Take action to protect the November election:  https://action.redistrictingaction.org/co/contact-frank-larose
Call LaRose directly at 614.466.3899 or 614-466-2585.
3) Make Elections Safer and More Accessible: Actions You Can Take
                  *** Tell Portman to FUND OUR ELECTIONS ***
Call Senator Portman to tell him to pass federal funding so that all Ohioans can vote safely in November. This includes adequately funding our postal service:
Expanded vote-by-mail
Extra early voting hours
Online voter registration
Funding to save the U.S. Postal Service, a lifeline for millions of Americans.
Increased 2020 Census funding to ensure communities get the representation & resources they deserve.
4) Gun Violence. Vote NO on SB 317! CALL your state senator, and the members of the Senate Government Oversight and Reform Committee—especially Sen. Coley, the bill sponsor and Chair—and tell them to vote NO on SB 317 because we don't need untrained armed teachers in our schools.
For updates or information on submitting testimony for the next hearing, contact [us].
5) Black Lives Matter / Solidarity: Black lives matter. We stand in solidarity with those who are speaking up for racial justice. You can find anti-racist resources and national calls to action on Indivisible's website: https://indivisible.org/resource/taking-action-solidarity-black-lives.
End of sample email
*****
Here's the list of some Things We Can Do:
The list is in the sidebar under Featuring, and in the hamburger menu on mobile.
When you read or read something or hear Trump has done that enrages you or makes you feel sick, find one thing on this list and do it.
Do not panic.
Request an absentee ballot (or similar) for yourself to keep open the option of voting by mail.
Talk to everyone you know about voting in person vs. requesting an absentee ballot (or similar).
Sign up to Adopt a State at Vote Save America.
Donate directly to candidates and organizations that are organizing in targeted areas, such as Texas.
Write postcards.
Make calls to voters.
Get involved in a texting campaign for your preferred candidate.
Get involved in "literature drops" where you drop off literature, but don't knock on doors.
Donate to one of DougJ's fundraisers – they are all listed in the sidebar under Political Fundraising.
Update your voter registration signature.
Contribute to a fund for helping Florida felons pay off their fines.
Make calls to congress.
Take action to help save the post office.
Contact a media outlet about their bullshit coverage.
Contribute resource information to these threads.
Try to enlist one friend or family member to take up the fight for the next 85 days.
If you feel hopeless or helpless, change something up.  Making just one change can help.
Share the things you have done in one of these threads. You can add inspiring other people to your list of contributions.
Make sure your voter registration is current.  Check every week or two.
Apply to be an election judge, if you feel that would be safe for you.  (training + pay)
Apply to be a poll worker, who works the election but is a less position that judge.  (training + pay)
Sign up to be a registered poll watcher, who can represent a political party or political organization.
Attorneys can offer their services for election day. (Not sure what the process is for that.)
Hold Mike Bloomberg's feet to the fire on donations he promised.
Join efforts to help with voter education for filling out ballots by mail, so ballots don't get invalidated.
Research all 50 states re: voter education for filling out ballots by mail, and share the info with all of us.
Figure out how to get more drop boxes for ballots or join efforts that are already in progress.
Contact the campaign of your choice and ask them how you can help.
Join your local Indivisible group.
Write up something about an organization you are working with for spotlighting in a future What We Can Do post.
Fill out the 2020 census!  (if you haven't already)
Does your state have a Student Election Page program?  (VA does)  If so, get word out to high school civics departments/teachers.
Research the Student Election Page program, find out which states have that, and share the info with all of us.
Know someone who could write postcards to voters, but doesn't have $ for stamps?  Buy forever stamps for their postcards.
Go to the Run For Something candidate directory (there are ~500 young progressive candidates running at all levels of gov't) and find someone running nearby and see if there's something you can do to help them out.
Know any American citizens who live in other countries? Hook them up with votefromabroad.org to make sure they request their ballots.
Investigate whether drop-off ballots are available in your area.  Investigate for extended family, as well.  Democrats only.
Post Office: return all pre-paid envelopes, empty, so the Post Office gets the revenue.
Post Office: reduce your mail through the post office in the run-up to the election to help reduce the need for overtime.
Post Office: buy a batch of Forever stamps for someone on a fixed income.
Post Office: complain to your senators and representatives about the intentionally imposed delays, which result in prescriptions not arriving in time & late fees and bad credit scores because your bill payments are not arriving within a reasonable amount of time.
Post Office: complain to media outlets about their lack of coverage of the intentionally imposed delays, which cause prescriptions not arriving in time & late fees and bad credit scores because your bill payments are not arriving within a reasonable amount of time.
Volunteer with SPLC Action Power Hours – the first one is August 13 from 7-8 Eastern Time.
Donate or get involved with Democracy Docket to safeguard vote by mail.
Donate or get involved with The Brennan Center.
Donate or get involved with Fair Fight.
Donate or get involved with Let America Vote.
Donate or get involved with VoteRiders.  They have state by state info on in-person and vote by mail, plus assists with voter ID if your state requires it for registration or voting.
Donate or get involved with NDRC (Obama / Eric Holder National Democratic Redistricting).
Donate or get involved with the ACLU.
Donate or get involved with the Southern Poverty Law Center.
Donate or get involved with Juanita Jean's Help Flip Texas.
Donate or get involved with No Democrat Left Behind (rural democrats).
Election Day: Hand out chilled water or order pizza to be delivered for people in long lines.
Election Day: Hand out individually packaged chips and snacks to people who are in long lines.
Election Day: Hand out a list of the nearest bathroom and offer to hold place in line.
Election Day: Bring portable music.
Election Day: Bring masks and cotton gloves, hand sanitizer for folks who might not have them.
Know this and share it: When Absentee/Mail Ballot Processing and Counting Can Begin in every state.
Vote Save America has links to every state with voter information– registration deadlines, absentee vote requests.  Check it out and share the information with every voter you know.
Know your state.  If early voting is scanned into the machines and reported along with the election day results, when polls close on election day, consider early voting if you feel it is safe.  Share that information with others.
Know what your state handles it if a mail in or absentee ballot is rejected.  A surprisingly high percentage of mail ballots rejected, so it's important to know what happens in your state. (We can collect this for states if you share info here.)
Tell us what you know about the organization Turnout 2020.  Should they be recommended, or not?
Get informed about the candidate's record and virtues. Then broadcast them far and wide when an attack comes, whether it's from a relative or on social media. Avoid referencing the attack if you can.
Kamala Harris: ProgressivePunch.org rates Kamala as one of the top progressive legislators in the Senate
Read Margaret Sullivan's very good column about how the media should respond to Kamala Harris. There are ideas there for all of us to think about in our communications.
Watch Joe Biden and Kamala Harris for inspiration.
Learn how to assist Native voters in registering to vote and in being able to register/get to the polls with the Native Vote Toolkit and this article For some Native voters no home address means no vote.
Make a voting plan, and help everyone you know make one, too.
If you participate in NextDoor or something similar, post something about Voting by Mail in your area: whether you can track your ballot from start to finish, and share the rules for when they can start counting mail-in ballots, etc.
Read this LGM post about voting options.
Donate or write postcards Flip The West.
Sign up for Women's March Action text banking on Tuesdays.