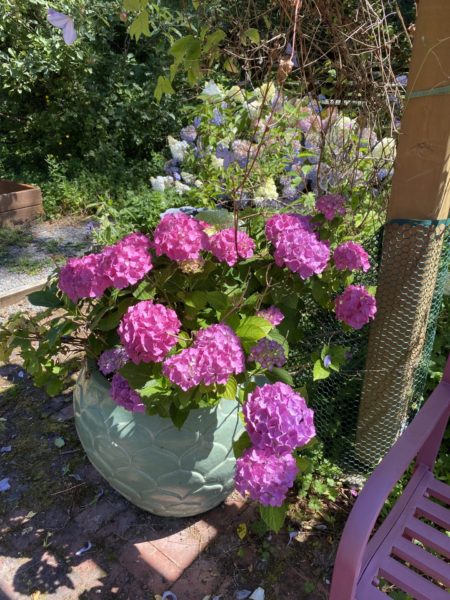 Eye-candy wrap-up from master gardener OpieJeanne:
The pink hydrangea [top photo] was a "rescue" plant, $5 at Home Depot five years ago.

This hydrangeas photo was shot when the big plant at the left wasn't at its best because of a few days of heat, but there is also a light blue clematis hanging down from the arbor.

The centaurea is bigger member of the cornflower/bachelor button family. They have naturalized really nicely in parts of the garden we don't want to worry about, and they tend to crowd out buttercup which is a pain in the butt, but they don't invade the beds where we don't want them.
***********
Bonus content, via commentor Germy, from last week's Garden Chat:
One farmer is using her farm to fight against racial injustice, health disparities and inequalities in the food system.@errolbarnett spoke to activist Leah Penniman about how @soulfirefarm is helping families eat healthier and opening doors for the next generation of farmers. pic.twitter.com/r7YxblsoKR

— CBS This Morning (@CBSThisMorning) August 20, 2020
What's going on in your garden(s), this week?