Yesterday conservative news, social, and digital media, as well as the President's campaign went into freakout mode because the US Attorney (USAO) for the Middle District of Pennsylvania, David Freed, issued a statement that nine absentee ballots submitted by members of the US military voting for the President had been first lost and discarded and then discovered by election officials in Luzerne County, PA. It didn't take long for that statement to be withdrawn; the actually pulled it off of the DOJ website. Then a revised statement was issued and finally a final revised statement was posted (emphasis mine).
Department of Justice

U.S. Attorney's Office

Middle District of Pennsylvania

---

FOR IMMEDIATE RELEASE                                                                

Thursday, September 24, 2020

Letter to Luzerne County Bureau of Elections

Shelby Watchilla, Director of Elections of Luzerne County Bureau of Elections

Dear Ms. Watchilla:

On Monday, September 21, 2020, at the request of Luzerne County District Attorney Stefanie Salavantis, the Office of the United States Attorney along with the Federal Bureau of Investigation, Scranton Resident Agency, began an inquiry into reports of potential issues with a small number of mail-in ballots at the Luzerne County Board of Elections.

Since Monday, FBI personnel have conducted numerous interviews and recovered and reviewed certain physical evidence.  While at this point the inquiry remains active, based on the limited amount of time before the general election and the vital public importance of these issues, I will detail the investigators' initial findings.

The FBI has recovered a number of documents relating to military ballots that had been improperly opened by your elections staff, and had the ballots removed and discarded, or removed and placed separately from the envelope containing confidential voter information and attestation.  Specifically, a total of nine (9) military ballots were discovered to have been discarded.  Seven (7) of those ballots when discovered by investigators were outside of any envelope.  Those ballots were all cast for presidential candidate Donald Trump.  One (1) of those seven (7) ballots was able to be identified to an envelope that was recovered, and thereby potentially tied to a specific voter. Two (2) military ballots that had been discarded were previously recovered by elections staff, reinserted into what appeared to be their appropriate envelopes, and then resealed.  Therefore, the votes cast on those two (2) ballots are unknown.  Thus, is appears that three (3) of the nine (9) recovered ballots can be potentially attributed to specific voters.  Six (6) of the ballots were simply removed and discarded, and cannot be attributed to a specific voter at this time.

In addition to the military ballots and envelopes that were discarded and recovered as detailed above, investigators recovered four (4) apparently official, bar-coded, absentee ballot envelopes that were empty. Two (2) of those envelopes had the completed attestations and signatures on the reverse side.  One (1) envelope with a handwritten return address was blank on the reverse side.  The fourth empty envelope contains basic location information and the words "affirmation enclosed" on the reverse side.  The majority of the recovered materials were found in an outside dumpster.

As you know, the appropriate method for processing received military ballots is to securely store the ballot, unopened, until such time as ballot pre-canvassing can begin, which is in no event earlier than 7:00 a.m. on Election Day.  Opening a military or overseas ballot, or an absentee or mail-in ballot for that matter, violates the controlling statutes and is contrary to Pennsylvania Department of State guidance.  The preliminary findings of this inquiry are troubling and the Luzerne County Bureau of Elections must comply with all applicable state and federal election laws and guidance to ensure that all votes—regardless of party—are counted to ensure an accurate election count.   Even though your staff has made some attempts to reconstitute certain of the improperly opened ballots, there is no guarantee that any of these votes will be counted in the general election.  In addition, our investigation has revealed that all or nearly all envelopes received in the elections office were opened as a matter of course.  It was explained to investigators the envelopes used for official overseas, military, absentee and mail-in ballot requests are so similar, that the staff believed that adhering to the protocol of preserving envelopes unopened would cause them to miss such ballot requests.  Our interviews further revealed that this issue was a problem in the primary election–therefore a known issue–and that the problem has not been corrected.

While the assigned investigators are continuing their work including reviewing additional discarded materials, it is imperative that the issues identified be corrected.  District Attorney Salavantis and I would be happy to meet with you at a mutually convenient time to discuss this matter. Please be assured that the investigators will carefully preserve all documents collected in connection with this investigation.  Our goal, that I am sure you share, is to ensure that every properly cast ballot is counted.

Sincerely,

DAVID J. FREED

UNITED STATES ATTORNEY

cc:       David Pedri, Luzerne County Manager

Tim McGinley, Luzerne County Council Chair

Stefanie Salavantis, Luzerne County District Attorney
This wasn't some sort of criminal conspiracy, but human error. Specifically good faith human error caused by the Luzerne County officials wanting to ensure that these members of the military did actually get absentee ballots during the primary. That's right, these aren't general election ballots, they were for the primary. That doesn't make it right, but it means that no one has stolen nine votes from the President's tally in Pennsylvania for the general election. Frankly, that human error was created because of the confusion that Pennsylvania Republican officials, members of the President's campaign, and the campaign and RNC attorneys, and the GOP majority on the Pennsylvania Supreme Court have created by constantly taking every good faith attempt to ensure a safe and fair election during the pandemic to court.
Here's what the Pennsylvania election website says about these Special Write-In Absentee ballots: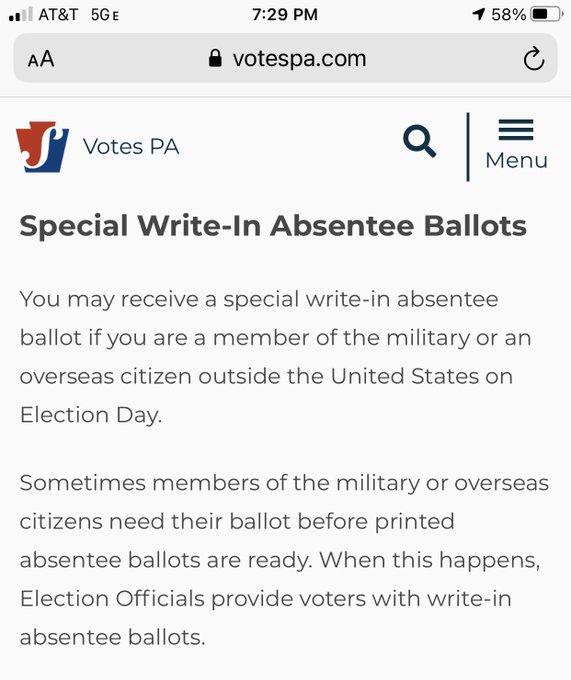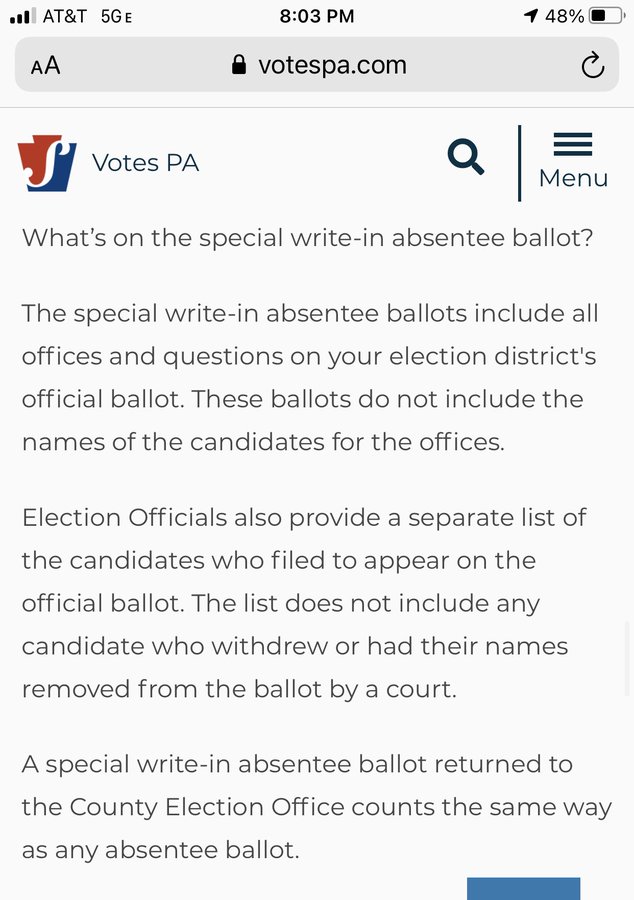 What actually happened, which is nothing really out of the ordinary expect some Luzerne County election officials opened envelopes as it was unclear what was in them because they weren't sent back in the Pennsylvania Supreme Court mandated security envelopes. This led the county officials to think they were absentee ballot requests, not the Special Write-In Absentee Ballots that Pennsylvania sends to military voters before they finish printing the actual primary and general election absentee ballots.
Yup. From the latest DOJ statement, it seems like:

9 military voters sent write-in absentee ballots to Luzerne.

Because these letters weren't in SC-mandated privacy envelopes, Luzerne officials thought they were *requests* for absentee ballots. They opened them, spoiling them. https://t.co/WsAJw9gBg1

— Tim Alberta (@TimAlberta) September 25, 2020
8 hours later, the Trump spokesman's instigating tweet—"Democrats are trying to steal the election"—is still posted, with 67,000 retweets/likes and counting.

This sort of disinformation is going to get innocent people hurt. pic.twitter.com/xGOb8WICHT

— Tim Alberta (@TimAlberta) September 25, 2020
The whole thing is AG Barr's USAO in Harrisburg trying to make something out of nothing because AG Barr knows that the initial reporting is all that matters, not the corrections. By now everyone who watches Fox News, listens to right wing talk radio, follows the President, his campaign spokespeople, and his other surrogates in social media, and get their news from conservative news and digital news sites, as well as from closed information silos on Facebook, believe that Pennsylvania election officials are trying to steal the election from the President. And this is part of the Democratic plot to use mail in ballots to steal the election. None of that is true, it was just a good faith error caused by confusing requirements and instructions imposed by multiple Pennsylvania state authorities.
That's the play with this sort of thing. It is to create misinformation, disinformation, and agitprop and then get it pushed to people like those in the video below, people who only get their news from sources that are not reliable because they've already been indoctrinated to the belief that these unreliable sources are the only reliable ones, who will then further disseminate the misinformation, disinformation, and agitprop. Having a US Attorney push the misinformation and agitprop just makes it that much better because the intended audience for this stuff already believe that AG Barr, on orders from the President, is working behind the scenes with only trusted members of the Department of Justice to root out the illegal and un-American activities of Vice President Biden, his campaign, his supporters, and Democrats through things like USAO Durham's re-review of AG Barr's previously ordered re-review of what the DOJ and FBI and the US Intelligence Community did in 2016 in investigating Russian interference in the 2016 election. Russian interference, part of a war that Russia began against the US no later than 2014, that is still ongoing!
Open thread!
Update at 5:15 PM EDT
Based on reviewing the most recent reporting it is very unclear if these were primary ballots or general election ballots. So I have made some revisions to the original post to strike through the references to these being primary ballots.