Thank someone's, anyone's Deity or Deities, or if you're an atheist, no one's Deity or Deities, that that is over!!!
And now for your post debate enjoyment, I give you the most specialist operator to ever operate operationally!!!!
Dummy here used up the entire 2nd Amendment. pic.twitter.com/jPEa5SLlZ0

— ?????? ???? (@Sundae_Gurl) October 17, 2020
Here's the full pic: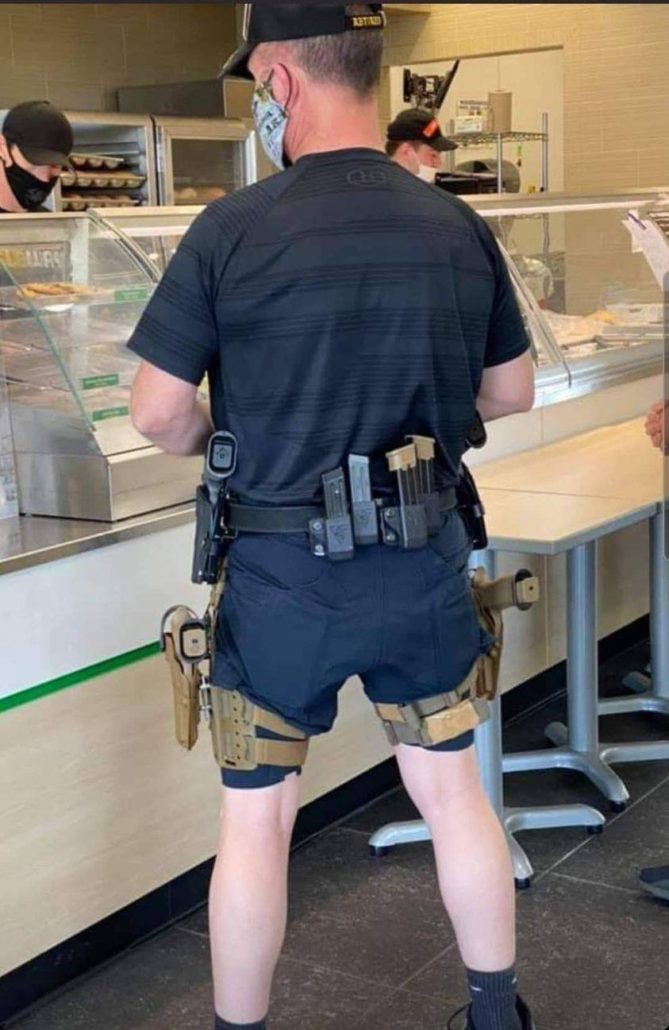 This must be the world's most dangerous Subway! Honestly, I used to go to the Subway on FOB Hammer, which is where my Brigade Combat Team was based out of in Iraq, a couple of times a week and get a sub. Sure, we were on the forward operating base, so inside the wire, but it was still a Subway in a war zone during a war albeit one that was in the Phase IV conventional/Phase VII unconventional phase of war, so post major combat operations. I don't remember ever having more than my M9 (Beretta 92) and two extra magazines with me. Most of the time my sidearm staid in the armory and I checked it out for when I was operating off the FOB, which was about 50 to 60 percent of my deployed time. And even then, depending on what type of Engagements I was doing, I left my sidearm in the armory rather than carry it because of what not carrying it conveyed to the Iraqis I was interacting with.
The specialist operator to ever operate operationally here, however, is just WOW!!!!
This guy is carrying 4 full size SIG P320s, though the desert tan ones in the drop holsters appear to be an attempt to make it look like he's carrying the military version, which is known as the M17.
He's got two fill size mags in the black P320s, so that's 17 rounds in each. 18 in each if he's got one in the chamber in each gun. It looks like he's got the 21 round extended mags for the desert tan ones. Let's stipulate he's got one in the pipe in all four guns. So that's 80 rounds in the guns and he's got two more full size and two more extended mags in the mag carriers in the small of his back. That's 72 more rounds. Provided he doesn't have more rounds or even more guns around front set up for cross draw or appendix carry or in his pockets, he's got 152 rounds to get a $5 footlong!
Each of this pistols, brand new, out the door, is between $440 to $650 depending on what he's actually bought. They all look to be the X grip configuration, so those are bit more expensive. The spare mags are $49.99 apiece. At the going rate of ammunition, if you can even find it right now, provided he's got quality self defense ammo in the guns and the back up magazines, he's got between $152 (Speer Gold Dots) to $228 (Federal HST) worth of ammunition on his waist and hips. Throw in another $200 to $250 for the drop holsters, the belt holsters, the gun belt, and the magazine carriers. So he's spent between $3,000 and $4,000 to feel safe getting a $5 sandwich!
Personally I'd just go to a sandwich shop in a better neighborhood. Like Iraq.
Open thread!