I don't go into town much these days, but on my last three grocery runs, I encountered a mini-Trump rally each time: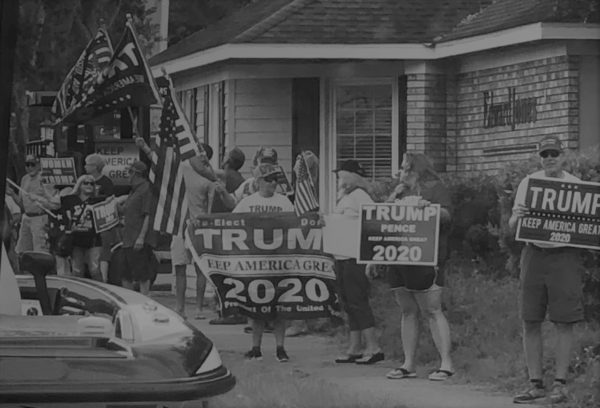 The folks above were at the downtown stoplight a few weeks back. Saturday, I saw two or three dozen waving signs on a somewhat desolate stretch of highway. Last week, there was a small crowd by the roadside waving signs and flags at passing cars and a Trump boat parade underway on the lake.
It wasn't a very impressive boat parade, maybe a dozen or so pontoon and bass boats. But boat parades have become Republican shorthand for "Trump will win because of enthusiasm." Peggy Noonan is hedging her bets with a nod toward the enthusiasm at Trump's battleground state super-spreader events:
"You might say, 'The Democrats aren't having rallies because they are more careful about the virus.' Fair enough, but in a lifetime watching politics, sometimes up close, I have never seen crowds keep away from someone they love."
Noonan, who once fantasized in print about cradling Ronald Reagan's foot in her arms, has never covered politics during a pandemic until this year. But the "enthusiasm gap" is real in a sense: there's a cult of personality around Trump that is unparalleled in modern American politics, as far as I know.
The Trump "movement" is remarkable to me primarily because its object is such a petty, peevish vulgarian. That said, Noonan could consult her own wingtip-deification experience to see how this works in her party. Republicans are almost always more enthusiastic because they're motivated by spite. Even in a losing year for them, Republicans went ga-ga for that empty-headed numpty from Alaska — allowing her to briefly reach escape velocity from her home state as a D-list celebrity.
Trump has made us the spite voters. I'm not saying there isn't genuine enthusiasm for Biden — plenty of commenters at this very blog are fans, and as the candidate himself might say, God love ya. But I sense a different quality than the Democratic enthusiasm for then-candidate Obama in 2008. There's more of a "fuck you" to Trump and his enablers. When people — even in his own campaign — enumerate Biden's best qualities, it's an implicit rebuke of Trump: Biden is decent, kind and competent; he believes in science.
Rich "Starbursts" Lowry of National Review says Trump is the "only middle finger left" that conservatives can raise against the "cultural Left." Well, tens of millions of us are marking our ballots for Biden as a gigantic FUCK YOU to Lowry and the MAGA hordes. Some of us are temporarily swallowing misgivings we may have about Biden's "don't spook the middle" strategy so that the FUCK YOU might be as big as Texas. Literally, as the candidate himself might say.
I've seen an un-Democrat-like discipline this year that rivals the focus of gun fanatics and anti-choice zealots. What Democrats seem to have in 2020 is the "determination" edge. This year, you can see the determination when people stand in hours-long lines to vote in Texas and Georgia. I got lucky; I didn't have to wait in line when I brought my defective mail-in ballot to an early voting location and exchanged it for a crisp new one.
But as I filled in the oval next to "Joseph R. Biden Jr. and Kamala D. Harris" on my ballot, I was never so goddamned determined in my life. While methodically obliterating every trace of white inside that oval, I wished my pen could scribble out the last four years, extirpate the harm, annihilate the stupidity, eradicate the fecklessness and wipe out the deadly incompetence. But what's done cannot be undone. So I completed my ballot, fed it into the machine, collected my sticker and went home.
"Enthusiasm" isn't the right word to describe that feeling. It's too weak and rah-rah-sports-adjacent a word, so the Trump assholes are welcome to it. Voting this year felt more like a harrowing but necessary task, more a rescue in a stormy sea than a water-borne political rally on a sunny day. We'll see which translates into more votes, but I suspect determination beats boat parades, eight days a week.
Open thread.