On the Road is a weekday feature spotlighting reader photo submissions.
From the exotic to the familiar, whether you're traveling or in your own backyard, we would love to see the world through your eyes.
Uncle Ebeneezer
Angkor Wat was every bit as amazing as it is hyped, but it does get very crowded. So after 2-3 hours, just as the crowd was getting a bit too dense, we finished our tour and began to head towards the multiple temples at Angkor Thom.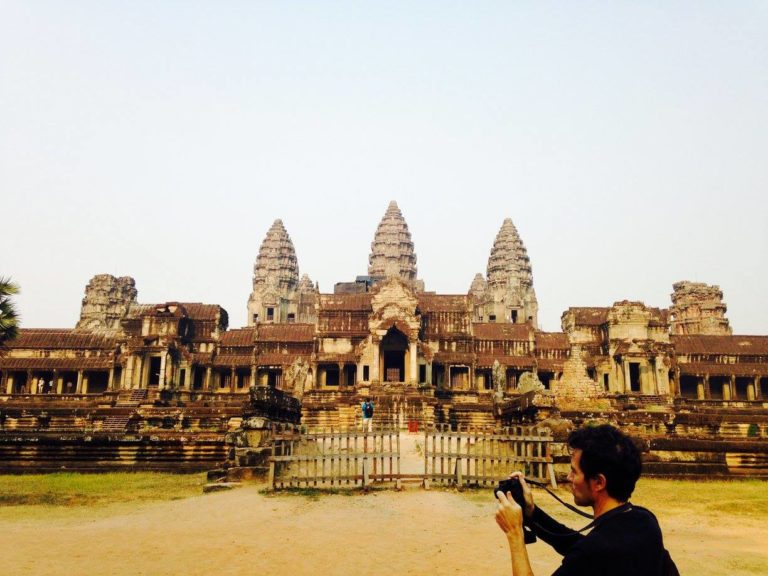 Siem Reap, Cambodia
February 19, 2016
Having started at the Westgate, we finished our tour of Angkor Wat with one last look at the temple complex and the Eastgate, before hopping on our bikes and heading to Angkor Thom. It was very, very hot.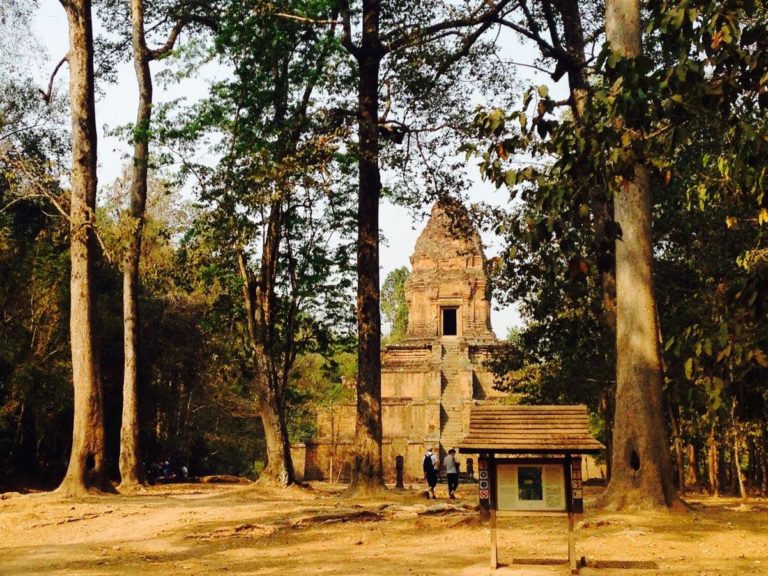 Siem Reap, Cambodia
February 19, 2016
The road to Angkor Thom, thankfully had a decent amount of trees and shade, which we were very happy for after baking in the sun in the grounds of Angkor Wat for nearly 2-3 hours. Just before hitting the main entrance to Angkor Thom, we stopped at a small Hindu temple named Baksei Chamkrong.
"The name "Baksei Chamkrong" means "The Bird Who Shelters Under Its Wings" and comes from a legend. In it, the king tried to flee Angkor during a siege and then a huge bird landed and sheltered him under its wings."
It was a little off the beaten path so much less crowded, which was a nice change of pace after the thick crowds at Angkor Wat.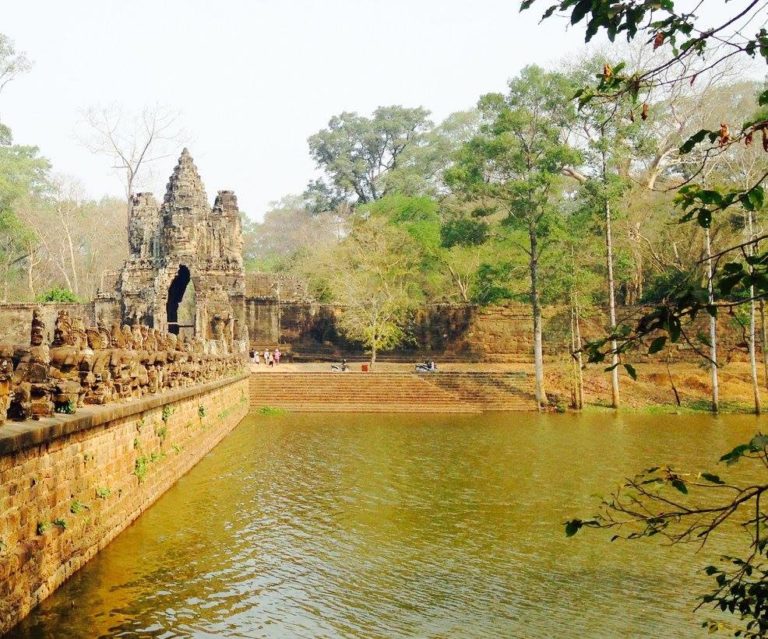 Siem Reap, Cambodia
February 19, 2016
We finally arrive at the North Gate of Angkor Thom. Here you can see the bridge that crosses the 100-meter moat that surrounds Angkor Thom.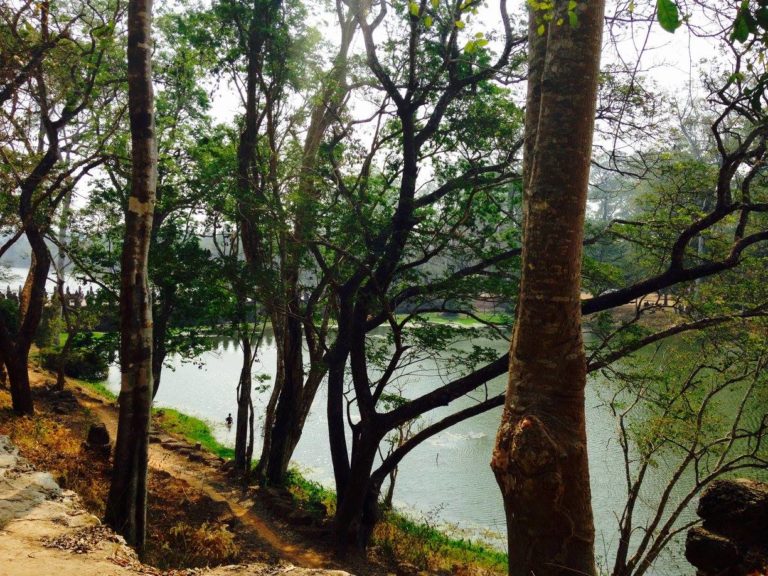 Siem Reap, Cambodia
February 19, 2016
After a quick stop at the North Gate, we high-tailed it on our bikes onto a path that ran along the wall that protects the temple complex. Here you can see our view of the moat, looking down. The moat was probably 15-30 feet below us. This was where doing a bike tour really turned out to be a great choice. Getting away from the crowds and into the complex/jungle, was so cool!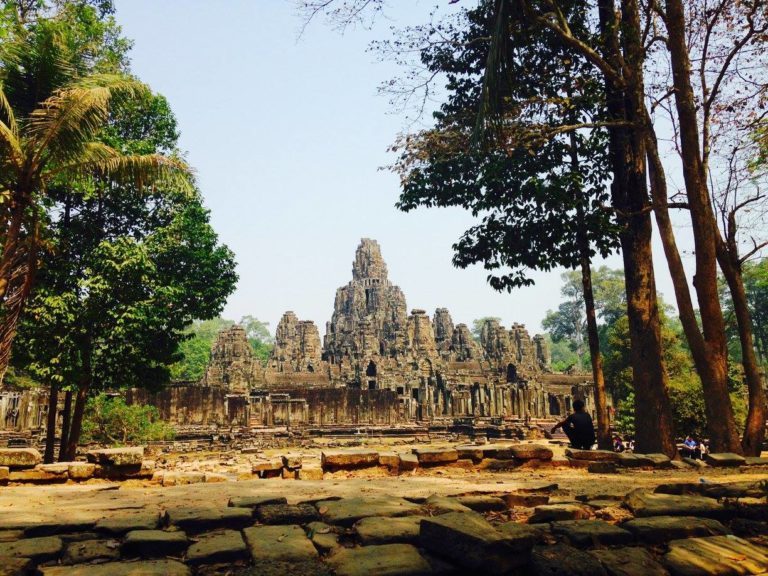 Siem Reap, Cambodia
February 19, 2016
After riding through the jungle, including small villages with lots of stray dogs, we finally arrived at Bayon, one of the major Buddhist temples of the complex. After exploring the temple quickly (it was hot and not much shade) we sat down for a snack of fresh fruit and washed our faces with cool towels provided by the tour. As we were eating a prayer ritual began with the local monks banging prayer bells which caused all the stray dogs to start howling and barking. It was quite surreal.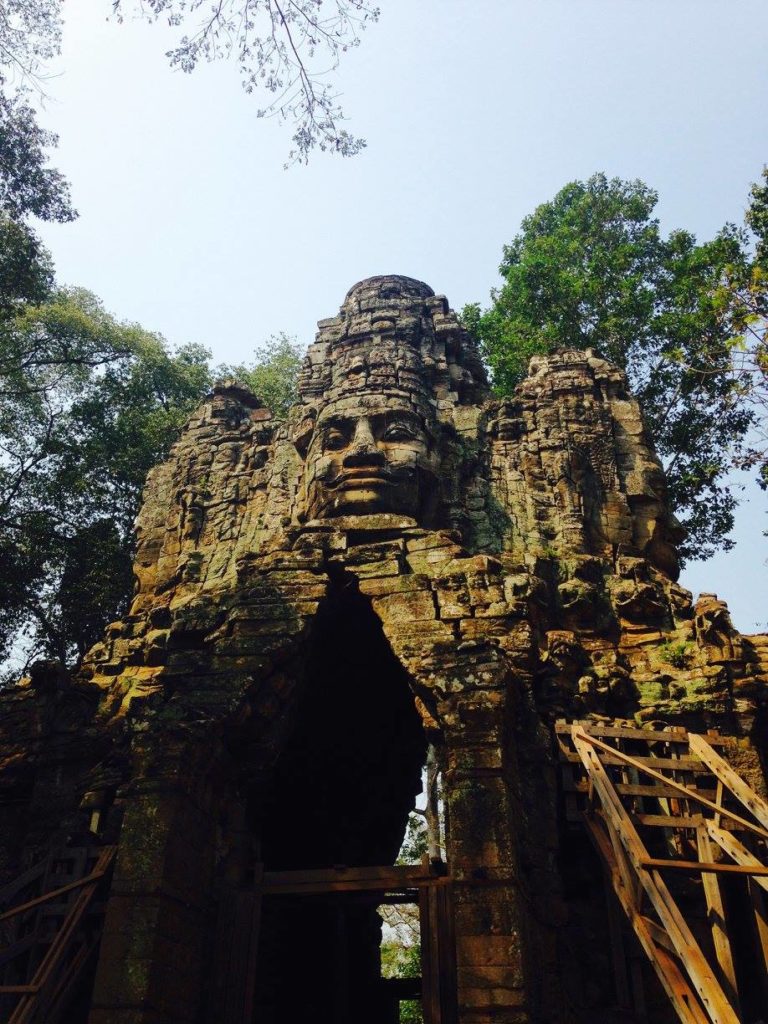 Siem Reap, Cambodia
February 19, 2016
After our snack break we hopped on our bikes again, cruised through more jungle villages until finally reaching the WestGate (pictured here) at the end of the main complex of Angkor Thom.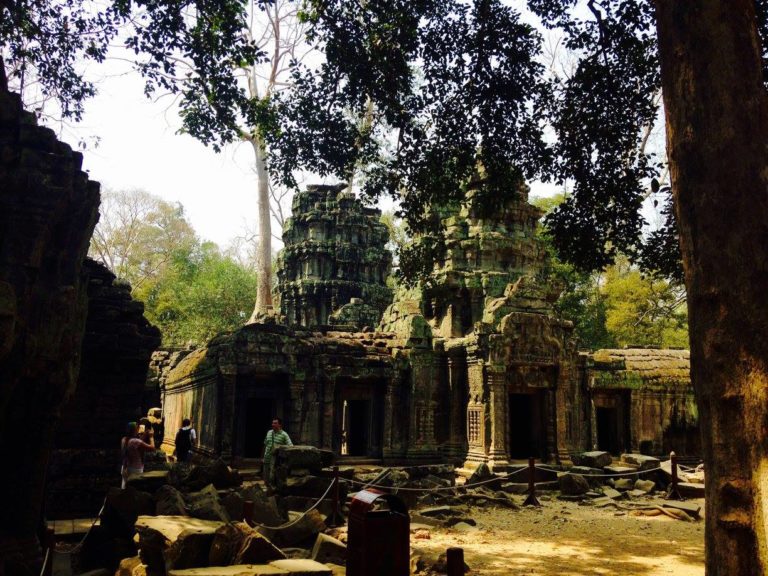 Siem Reap, Cambodia
February 19, 2016
After leaving the Angkor Thom complex we crossed the moat and stopped at Chau Say Tevoda, a 12th-Century Hindu temple.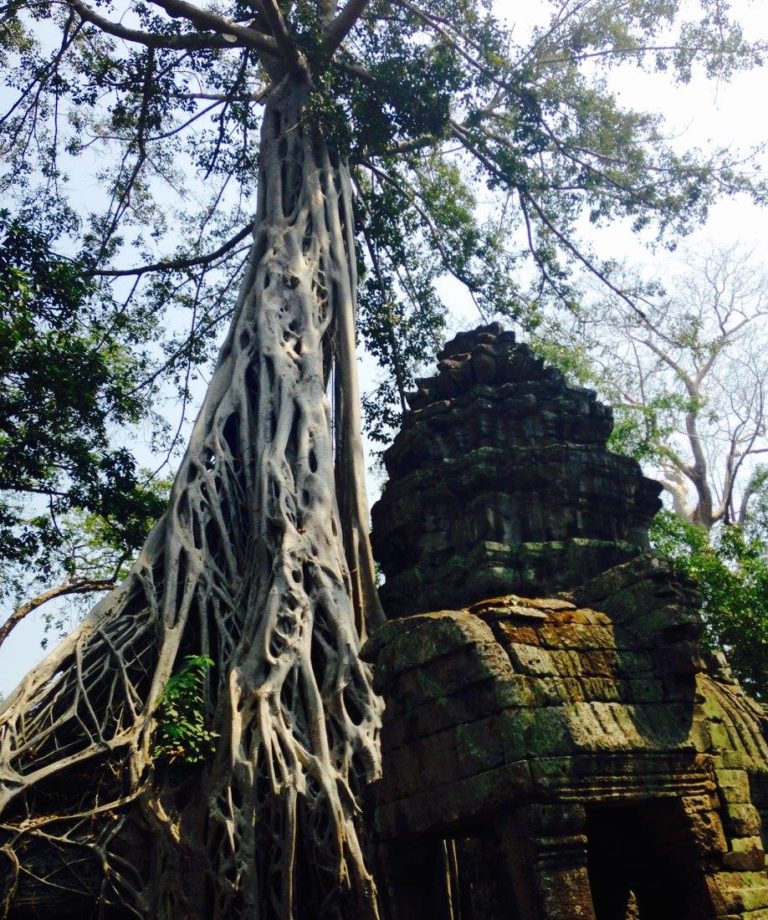 Siem Reap, Cambodia
February 19, 2016
Our final temple stop on the tour was at Ta Prohm, a very popular temple made famous by the movie Tomb Raider. It's most recognizable feature are its' trees:
"The trees growing out of the ruins are perhaps the most distinctive feature of Ta Prohm, and "have prompted more writers to descriptive excess than any other feature of Angkor."[6] Two species predominate, but sources disagree on their identification: the larger is either the silk-cotton tree (Ceiba pentandra) or thitpok Tetrameles nudiflora,[11] and the smaller is either the strangler fig (Ficus gibbosa).[12] or gold apple (Diospyros decandra).[11] Angkor scholar Maurice Glaize observed, "On every side, in fantastic over-scale, the trunks of the silk-cotton trees soar skywards under a shadowy green canopy, their long spreading skirts trailing the ground and their endless roots coiling more like reptiles than plants."[13]"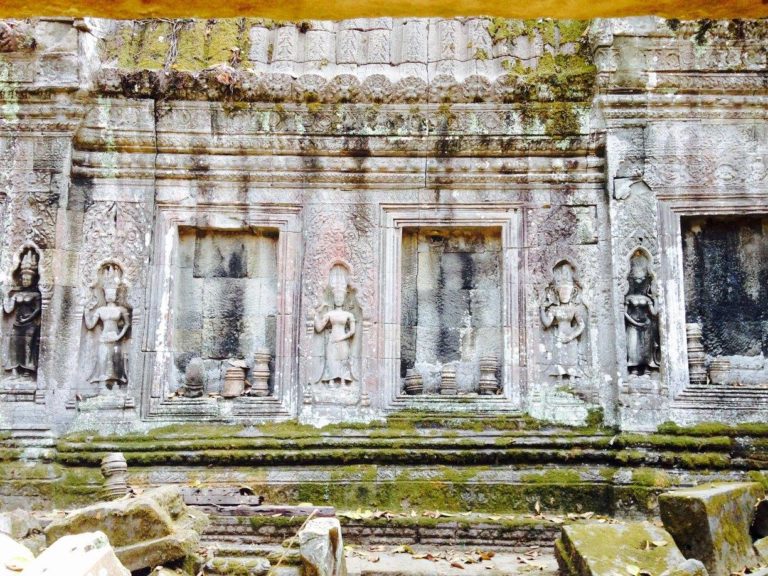 Siem Reap, Cambodia
February 19, 2016
Ta Prohm also features a lovely bas-relief of some minor deities.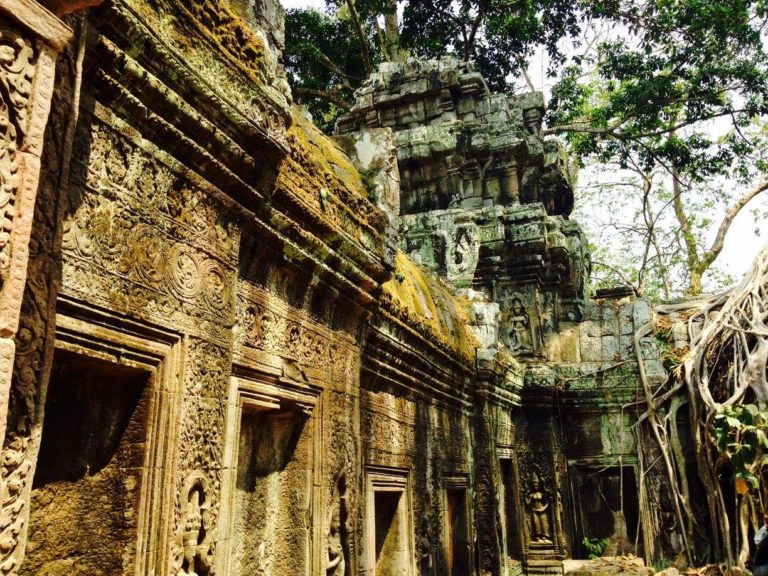 Siem Reap, Cambodia
February 19, 2016
Ta Prohm is super cool, but be warned: it gets very crowded. And it's tiny compared to the grounds of Angkor Wat so you can't really escape the crowds by wandering around.
This was the last stop of our tour. After leaving Ta Prohm, our tour finished up with a delicious meal of Khmer food for lunch. Having been up since about 4 am, and being out in that heat biking 10 kms or so, we were pretty exhausted by that point. The day ended with dinner at a 5-star, world-renowned restaurant that was way to pretentious and fancy for our tastes. Honestly, we had much better meals at our hotel, various small restaurants and street food vendors. All in all though, this was one amazing day!!