Key Senate lawmakers said they had agreed on a framework to continue funding coronavirus vaccines, antiviral treatments and other supplies for Americans, but that would drastically cut plans to help vaccinate millions of people around the world. https://t.co/k2RRQww4ae

— The Washington Post (@washingtonpost) March 31, 2022
'Key lawmakers' — Republicans, Manchin, Democrats. Once again, the GOP Death Cult will be responsible for death on a global scale, but 'Congress', aka Democrats, will bear the blame. And we'll take the deal, because the alternative is worse!
… "We've reached an agreement in principle on all the spending and all of the offsets," said Sen. Mitt Romney (R-Utah), who has led negotiations for Republicans after they balked at the need for $15 billion in new funds, and House Democrats raised concerns about a planned compromise.

If passed in its current form, the $10 billion deal would represent a significant disappointment for the White House, which had publicly campaigned for at least $22 billion in new funds and would probably be forced to scale back elements of its planned response. But lawmakers are facing a rapidly approaching deadline, with Congress soon taking a two-week break, and administration officials warning that they are effectively out of cash for urgent coronavirus needs. The federal government has already begun to wind down a program to cover the costs of health-care providers that give coronavirus tests, treatments and vaccinations to uninsured Americans, an initiative that officials said has cost about $2 billion per month.

Senate Minority Leader Mitch McConnell (R-Ky.) told The Washington Post he was "optimistic" a final deal would be reached, a stance echoed by Senate Majority Leader Charles E. Schumer (D-N.Y.) in remarks on the Senate floor…

About half of the money would go for covid therapeutics, while the other half would be at the "discretion" of the secretary of the Department of Health and Human Services, Sen. Roy Blunt (R-Mo.) told reporters. A Republican aide said that $750 million was being eyed for research and development of new vaccines and treatments.

Several GOP lawmakers said about $1 billion in funding would be set aside to support global vaccinations — down from the White House's $5 billion request for global aid. But that number appeared to be in flux, with several Democrats on Thursday arguing for considerably more and lawmakers acknowledging that they were still negotiating…

For weeks, the White House has publicly sought more than $22 billion for the response, although Biden officials in early January had privately concluded that they needed as much as $80 billion in additional covid aid for vaccines, therapeutics and other supplies.

By early March, congressional leaders had settled on about $15.6 billion and sought to attach that to a broader package to fund the government, an effort to ensure passage of the coronavirus aid…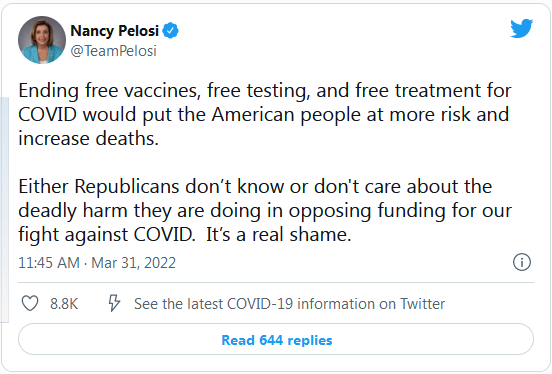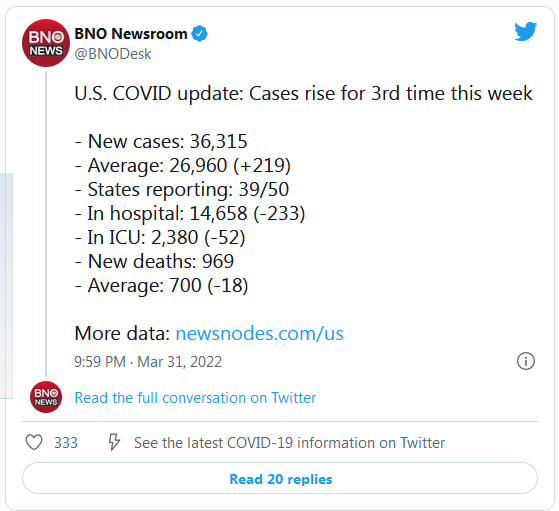 He's absolutely righthttps://t.co/Ai3ngEmpA3 @GawandeUSAID @PostOpinions
"The virus is not waiting on Congress to negotiate; it is infecting people and mutating as we speak." pic.twitter.com/ao00YwBZEr

— Eric Topol (@EricTopol) March 31, 2022
======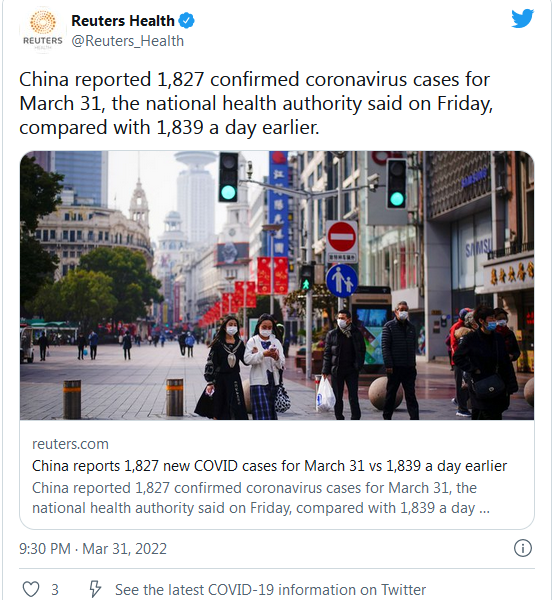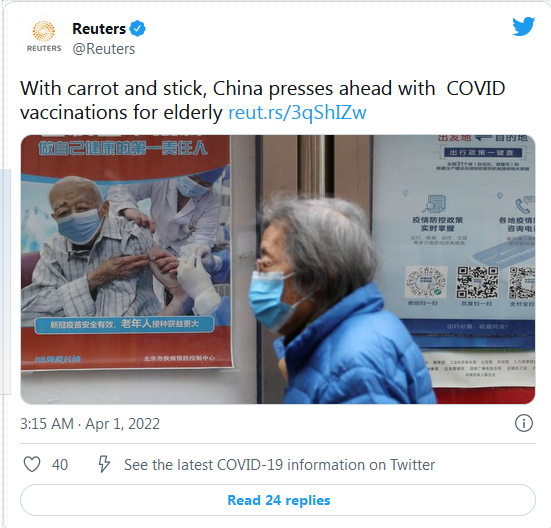 BEIJING, April 1 (Reuters) – In China's southern Guangdong province, a teacher was told by her school that she must somehow find four unvaccinated individuals aged 60 or older and get them to take COVID shots to help boost the district's elderly inoculation rate.

Otherwise, her performance review would be affected…

Because some other individuals in her district had been given similar tasks by their employers, Sherry said she had to offer cash incentives from her own pocket to beat the competition to win over the elderly. She said she had spent nearly 1,000 yuan ($158) in total on two people she managed to get vaccinated.

In the past month, the Omicron variant has dragged the world's most populous nation into its biggest COVID outbreak since it contained the 2020 Wuhan epidemic, even though the numbers are modest by international standards.

There were over 38,000 local symptomatic cases in March, more than four times the number of infections in the whole of 2021. That number did not include those without symptoms, which China classifies separately.

Nevertheless, China is maintaining a policy of curbing transmissions as soon as they emerge and considers its elderly as a weak link, given their low vaccination rates.

Out of the 264 million people aged over 60, about 20%, had not completed their primary vaccination as of March 25. By comparison, the complete vaccination rate for the 1.41 billion population is around 88%…

China is worried about what happened in Hong Kong, where most deaths in its recent COVID outbreak were the elderly. Beijing has said the flare-up in the former British colony is a lesson the mainland should learn from.

Many grassroots leaders have dispatched people to knock on doors to pitch the idea of vaccination to the elderly, keep a record of those yet unvaccinated and their reasons for being so, hold conversations with them to allay concerns about vaccines, and rigorously update how many doses they are short of targets…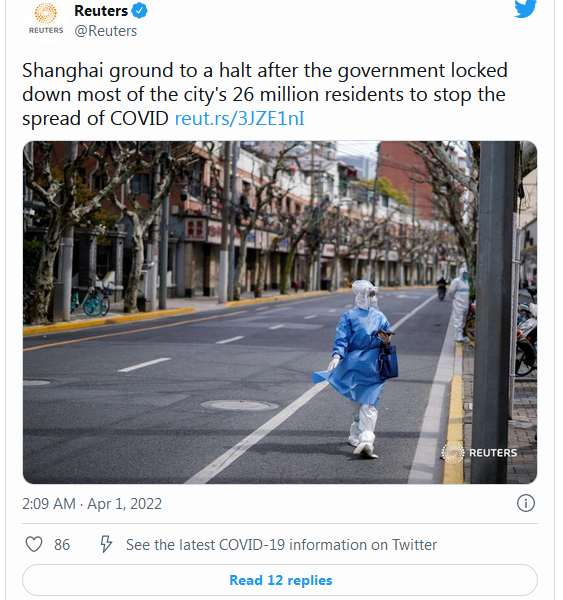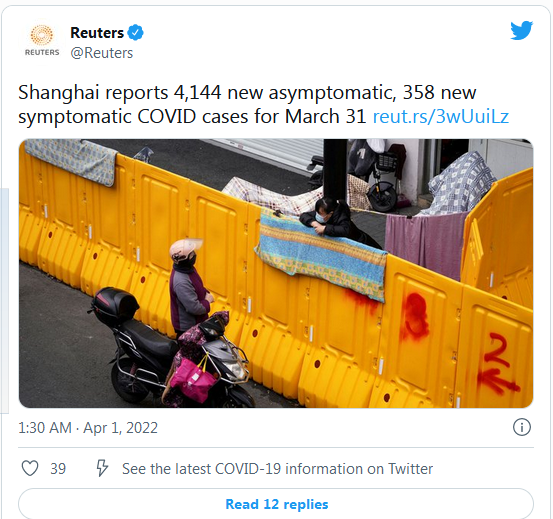 About 16 million residents in Shanghai are being tested for the coronavirus as a staged lockdown shifts to the western half of China's biggest city and financial capital. https://t.co/NzbxwodhwL

— The Associated Press (@AP) April 1, 2022
The BA.2 variant situation in Shanghai is deteriorating with unreported deaths
"Orderlies, nurses and doctors, we're all infected"https://t.co/2jfWOsZENv @xinwenfan

— Eric Topol (@EricTopol) April 1, 2022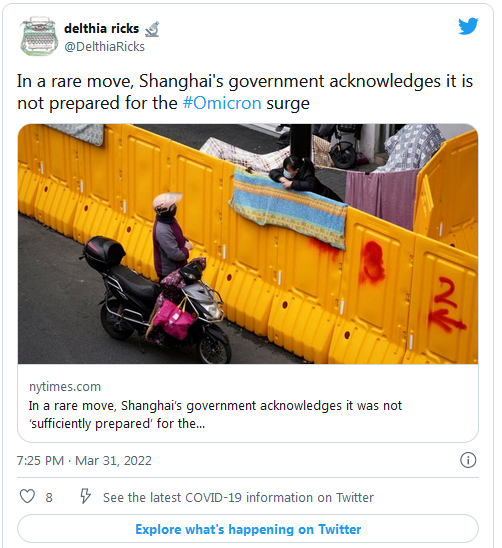 'Bloomberg News in China / President, Shanghai Foreign Correspondents Club':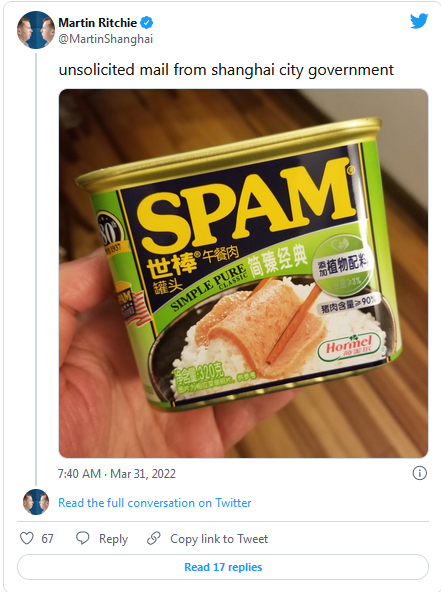 Per @SCMPNews on #Coronavirus #HongKong "#Omicron causes 7 Xs more deaths among hospitalized children than #influenza ."
• 15% of children hospitalized w/#Omicron BA.2 had neurological complications
• 0.35% fatality ratehttps://t.co/8L6SVIIMGs

— Laurie Garrett (@Laurie_Garrett) March 31, 2022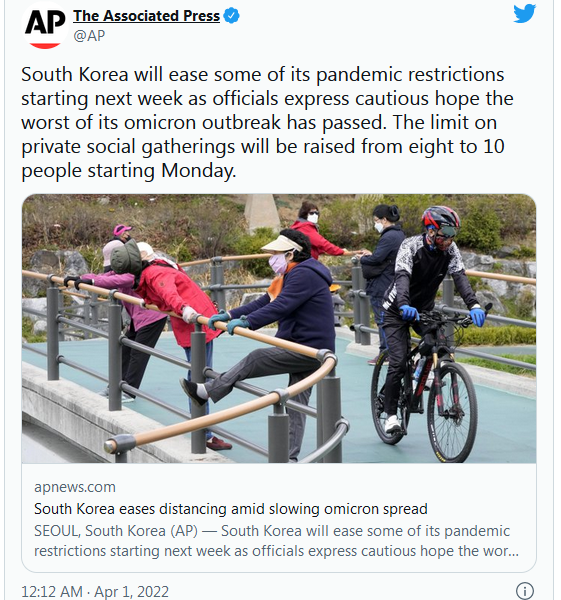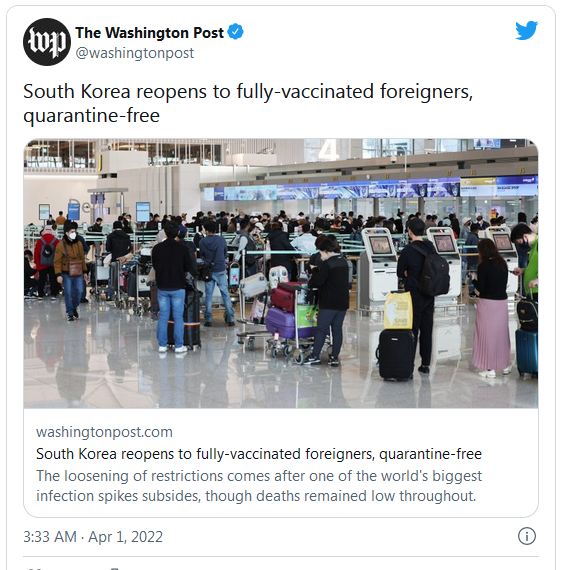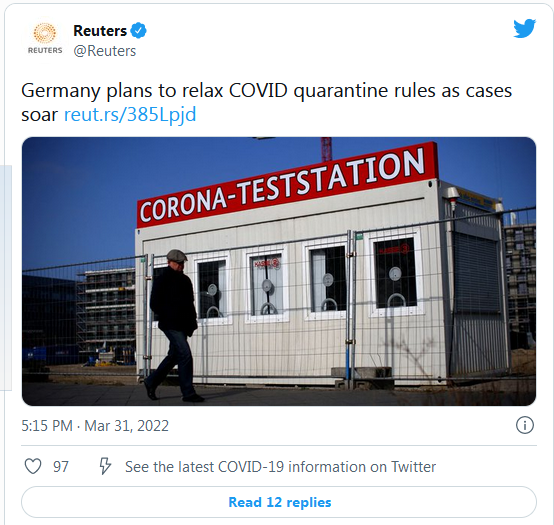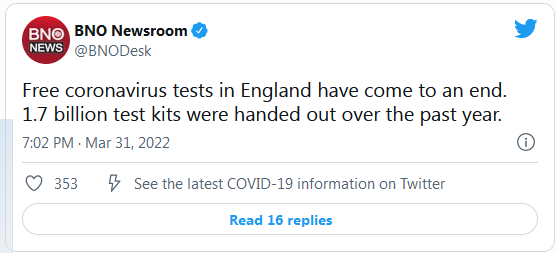 ======
Analysis: Governments want COVID vaccine developers to aim higher in hunt for better shots https://t.co/smwFEp8guz

— Reuters Health (@Reuters_Health) March 31, 2022
Diabetes risk rises after Covid, according to a massive study. Even mild SARSCoV2 infections can amplify a person's chance of developing diabetes, especially for those already susceptible to the disease https://t.co/uTvtFVAsxd

— delthia ricks ? (@DelthiaRicks) March 31, 2022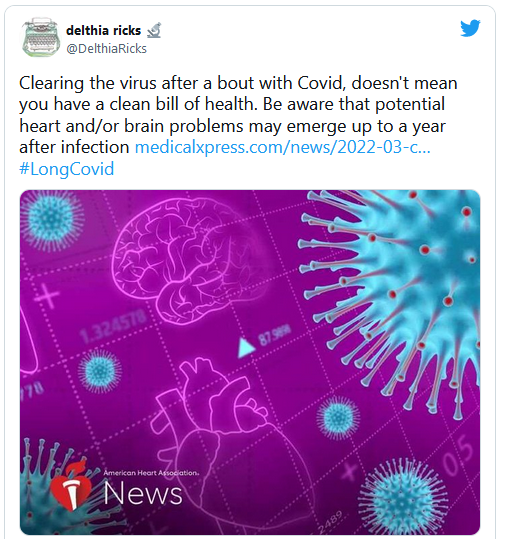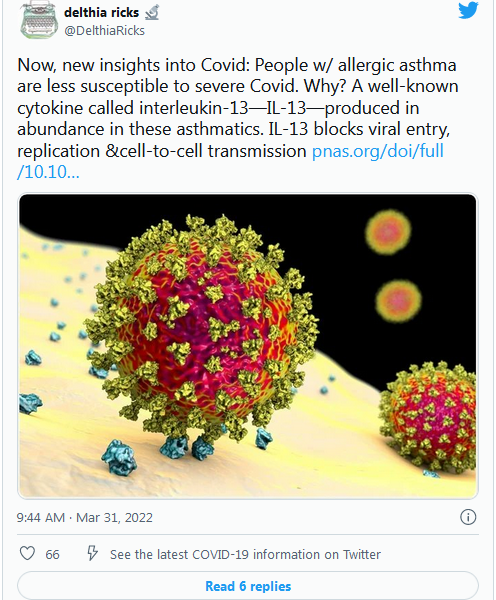 Should I get a 2nd booster?
A much more difficult decision than the 1st booster.
Review of the data and my recommendationshttps://t.co/Ni6O3Dux8L pic.twitter.com/uXr8Zs2RRQ

— Eric Topol (@EricTopol) March 31, 2022
======
The high rate of coronavirus infection, hospitalization and death among Black Americans has prompted concern over what will likely be the next crisis: a prevalence of long COVID-19 in the Black community. https://t.co/QHSRRGdE3b

— The Seattle Times (@seattletimes) March 30, 2022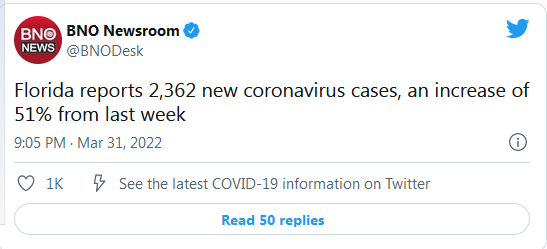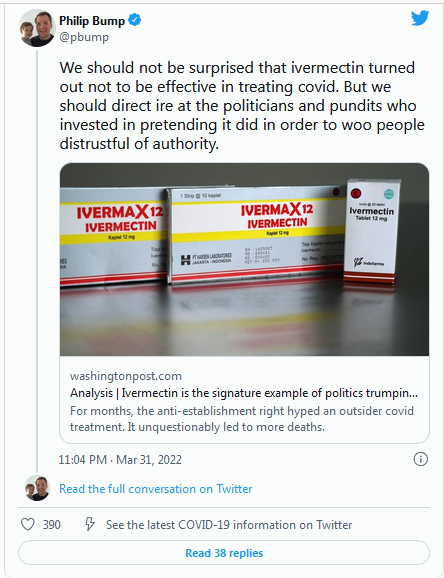 And yet the conspiracists are *not* going away anytime soon…