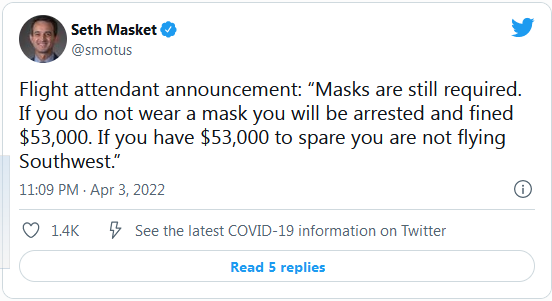 The Senate strikes a deal to provide $10 billion for Covid funding after Democrats dropped a last-minute attempt to include global vaccination funds in the bill https://t.co/TIx1NGSmsI via @bpolitics @Alexruoff

— Erik Wasson (@elwasson) April 4, 2022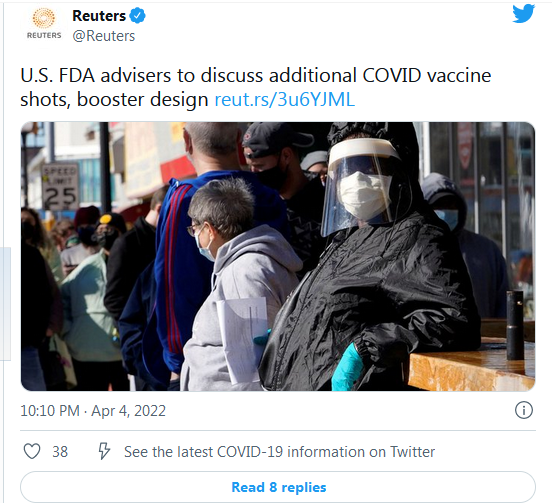 The U.S. Food and Drug Administration's expert advisers will discuss the timing of additional COVID-19 vaccine boosters and the people eligible for the extra shots in a meeting later this week, the health agency said on Monday.

The independent advisers will also discuss at the April 6 meeting the FDA's role in how future versions of COVID vaccines are created to help fight new variants.

It could be similar to the current process of selecting the composition of the seasonal flu shot, where regulators pick the strain to use for the coming year's vaccines, FDA staff said in briefing documents ahead of the meeting…

"The greatest concern many of us have is the acceptability of continuing boosters," Schaffner said.

The FDA's staff said on Monday that new variants are often more infectious, transmissible and distinct from earlier virus strains.

"The accumulating data suggest that the composition of vaccines may need to be updated at some point to ensure the high level of efficacy demonstrated in the early vaccine clinical trials," FDA staff said in briefing documents ahead of the April 6 meeting.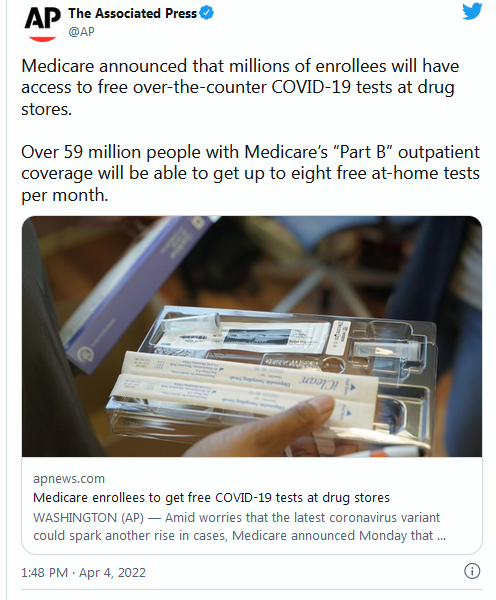 ======
China's population is not fully vaccinated, has only been exposed to the now-extinct 2019 Wuhan strain of #SARSCoV2 and got a vax that is useless against #Omicron .
So this is very worrying. pic.twitter.com/pTvPwLLuSa

— Laurie Garrett (@Laurie_Garrett) April 4, 2022
"The city, which is grappling with a record number of daily Covid cases, has become the biggest — and potentially costliest — example of China's insistence on adhering to its strict elimination strategy" | Analysis https://t.co/YZtNBLB7cG

— CNN (@CNN) April 4, 2022
Thousands of healthcare workers arrive in Shanghai to carry out mass COVID testing of the city's 26 million residents. Some residents were awoken before dawn by hammering on their front doors to be swabbed for the virus https://t.co/9NPtB1zix5 pic.twitter.com/JTgrAwqXXw

— Reuters (@Reuters) April 4, 2022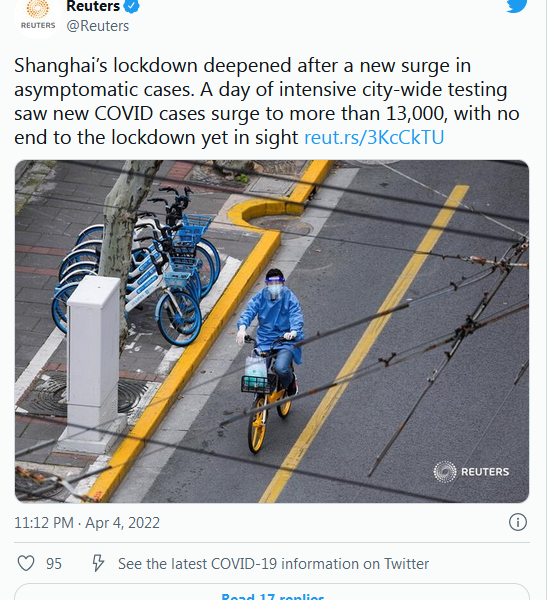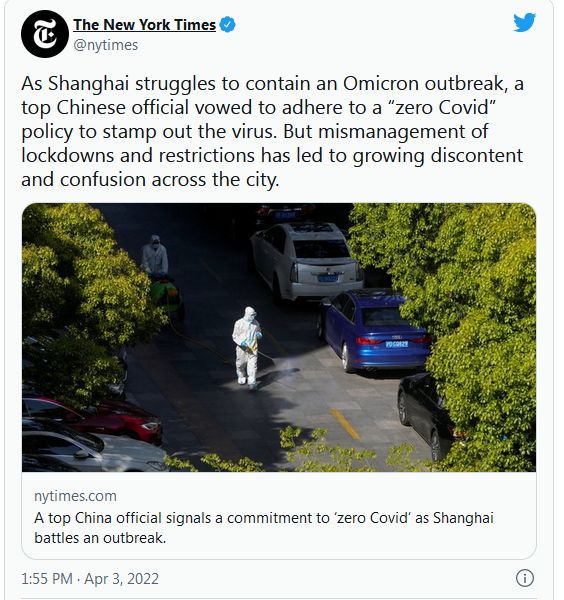 … [M]ismanagement of lockdowns and other restrictions have led to growing discontent and confusion across the city. Social media posts expressing anger, desperation and frustration have flooded the Chinese internet. Residents have been unable to get help for life-threatening situations through official channels. Patients could not secure their regular medical assistance. Infected parents have been separated from their toddlers. And residents locked indoors scrambled to find essential supplies.

Many have wondered why infected residents must go to isolation centers instead of isolating at home. Ms. Sun's instructions offered little hope that Covid policies in the city would relax anytime soon. Instead she called for officials to do a better job meeting residents' basic needs even under lockdowns.

"It is an arduous task and huge challenge to combat the Omicron variant while maintaining the normal operation of core functions in a megacity," she said.

With Shanghai being a critical economic and industrial hub, Ms. Sun stressed the strict implementation for factory bubbles for key industries, a "closed loop" system that is similar to the one used during the recent Olympic Games, to ensure their normal operations and the stability of supply and industrial chain.

Shanghai's health commission on Sunday reported 8,226 confirmed new cases, of which 7,788 were asymptomatic. The city has seen a tenfold increase in daily new cases, from just 758 cases two weeks ago. Over 30,000 cases were identified in the last month.

On Sunday, the city stepped up its testing efforts by ordering all citizens to conduct their own rapid tests before the city carried out another round of mass P.C.R. testing the next day…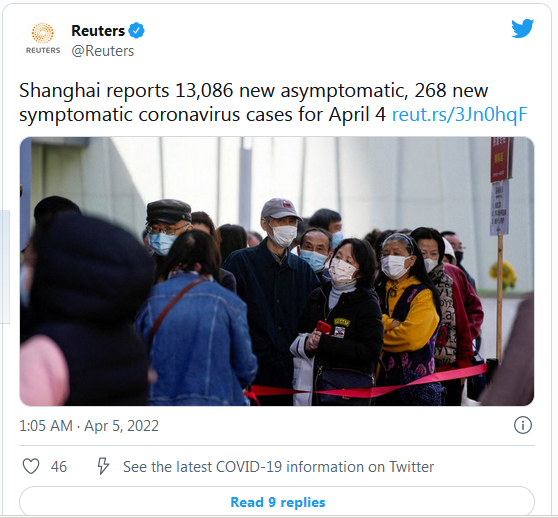 Hungry residents in Shanghai break out of their compound to go food shopping. I'm seeing more and more chaotic and disorderly videos like this every day. pic.twitter.com/EvCcyK6U2d

— Cameron Wilson ??? (@CameronWEF) April 3, 2022
Shanghai is traumatising itself. https://t.co/qhAtsJYQzY

— Drew Thompson 唐安竹 (@TangAnZhu) April 5, 2022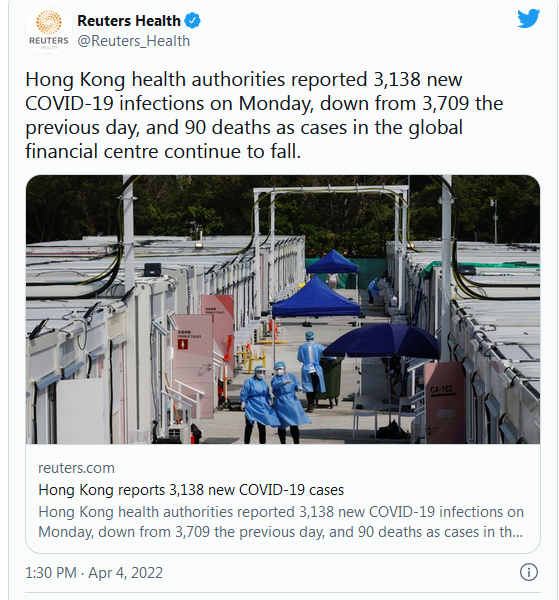 Smart #pandemic governance: #Bangladesh ??takes advantage of a lull in new #COVID19 cases to #vaccinate 12 million people in 3 days, using #vaccines donated by the USA?? to #COVAX . @gavi https://t.co/KfeoINDwDF

— Laurie Garrett (@Laurie_Garrett) April 4, 2022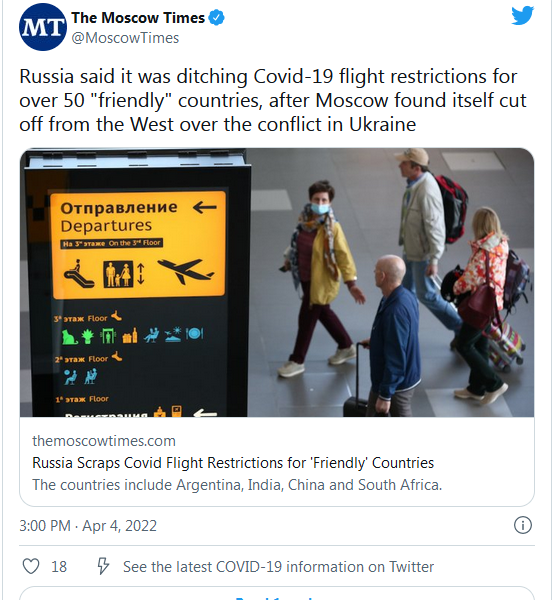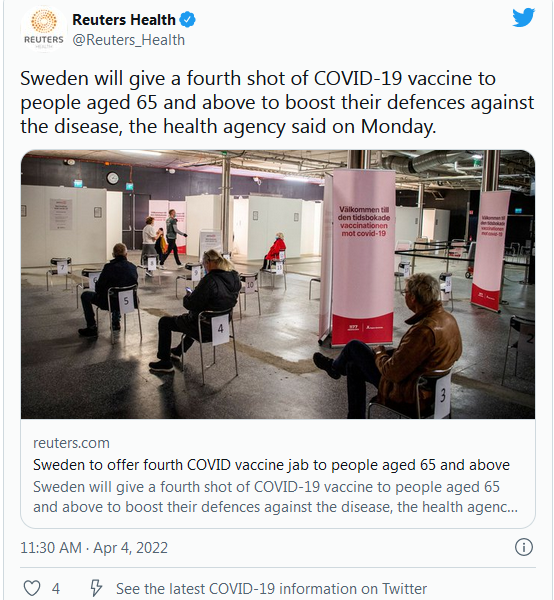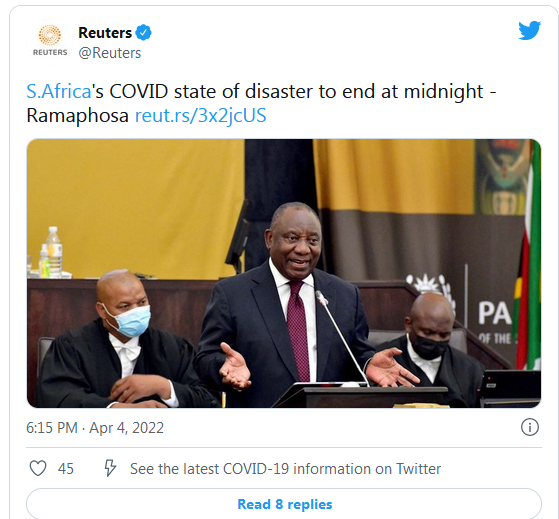 Hello Canada! I know that many of us have moved into the what pandemic? phase of the pandemic. Less testing. Fewer (if any) precautions.

Unfortunately for us, pandemics aren't impacted by whether people care about them or not. https://t.co/LYAIqU4P8g

— Dr. Angela Rasmussen (@angie_rasmussen) April 4, 2022
======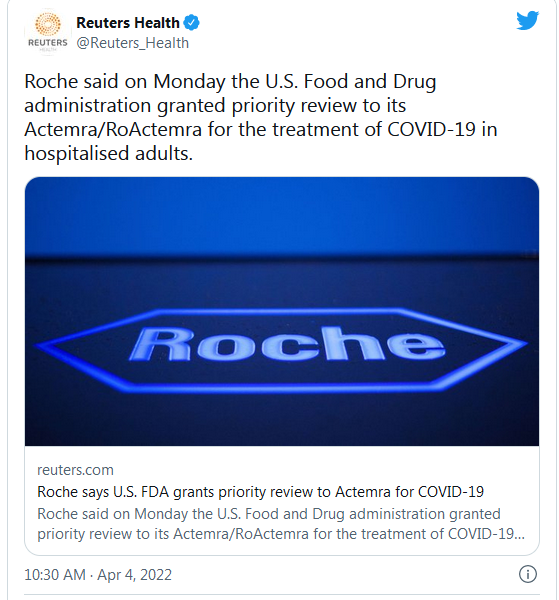 In the lab: New study is uncovering why #LongCovid causes pain. Some people w/ LongCovid have various forms of pain. Mt. Sinai study in NYC. Team found infection leaves a gene expression signature in the dorsal root ganglia even after the virus clears https://t.co/URaBPswQu7

— delthia ricks ? (@DelthiaRicks) April 4, 2022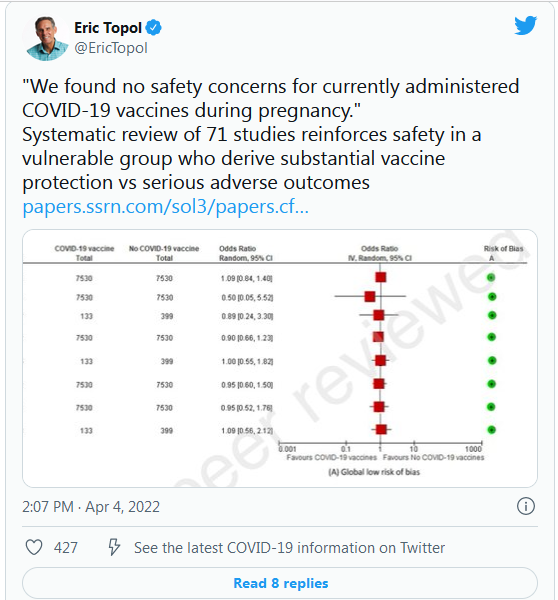 ======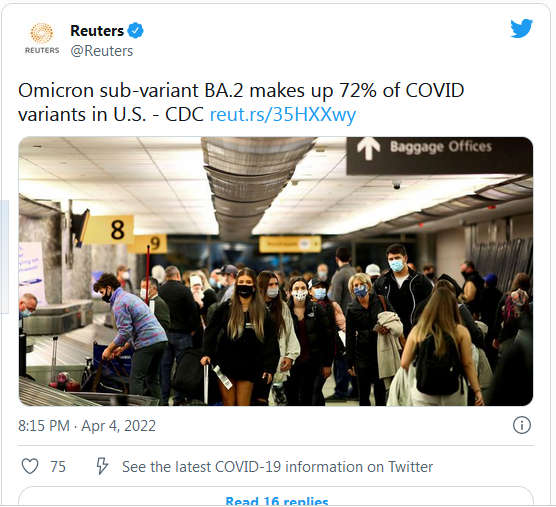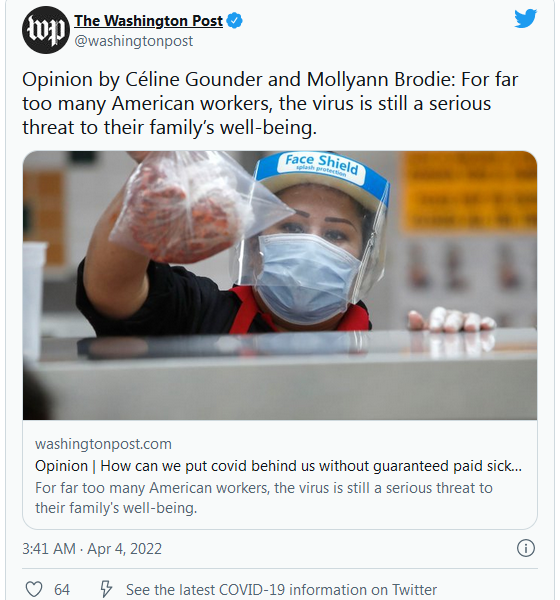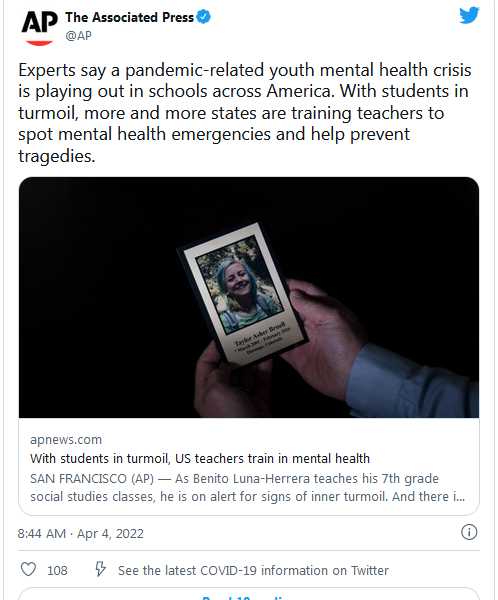 … Since the pandemic started, experts have warned of a mental health crisis facing American children. That is now playing out at schools in the form of increased childhood depression, anxiety, panic attacks, eating disorders, fights and thoughts of suicide at alarming levels, according to interviews with teachers, administrators, education officials and mental health experts.

In low-income areas, where adverse childhood experiences were high before the pandemic, the crisis is even more acute and compounded by a shortage of school staff and mental health professionals.

Luna-Herrera, who teaches in a high poverty area of the Mojave Desert, is among a small but growing number of California teachers to take a course called Youth Mental Health First Aid. It teaches adults how to spot warning signs of mental health risks and substance abuse in children, and how to prevent a tragedy.

The California Department of Education funds the program for any school district requesting it, and the pandemic has accelerated moves to make such courses a requirement. The training program is operated by the National Council for Mental Wellbeing and available in every state.

"I don't want to read about another teenager where there were warning signs and we looked the other way," said Sen. Anthony Portantino, author of a bill that would require all California middle and high schools to train at least 75% of employees in behavioral health. "Teachers and school staff are on the front lines of a crisis, and need to be trained to spot students who are suffering."…
the cynicism and irresponsibility of people who rode the horse paste train for subscribers and clout only to quietly abandon it when it turned out to be total bullshit is really breathtaking https://t.co/QRYi5Z21mE pic.twitter.com/3Auf35BRmS

— ryan cooper (@ryanlcooper) April 4, 2022