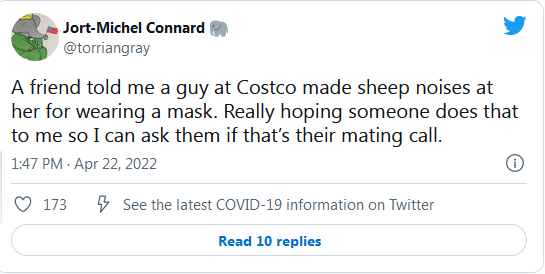 A quarter of US Covid deaths were likely preventable w/ vaccination. New analysis from Peterson Center on Healthcare & Kaiser Family Fdn report from 6/2021—the point when every American adult had access to Covid vaccines— +234k unvaccinated people died https://t.co/eT9SeBzsVz

— delthia ricks ? (@DelthiaRicks) April 23, 2022
======
The Drive to Vaccinate the World Against #COVID19 Is Losing Steam.

Rates are stalling in most low-income countries well short of @WHO's goal to immunize 70% of people in every country. Experts fear the momentum is gone.https://t.co/UD5cDxxR9E

— MicrobesInfect (@MicrobesInfect) April 23, 2022
Shanghai fences up COVID-hit buildings, fuelling fresh outcry https://t.co/CHMSR8xNcD pic.twitter.com/m04rKhM3R4

— Reuters (@Reuters) April 24, 2022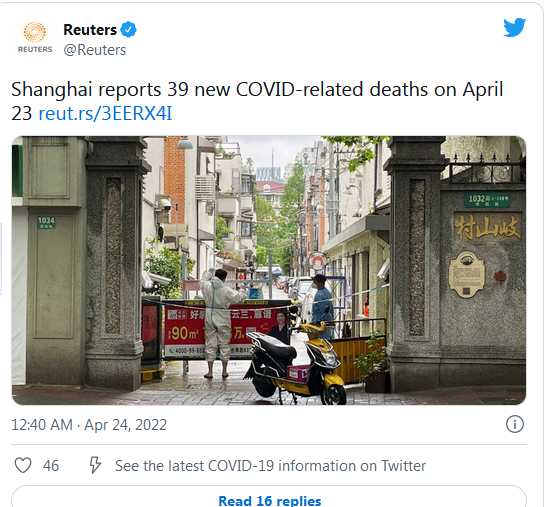 So one bit of nuance that's been left out of the discussion is Shanghai is not about rich or poor- Shanghai is about Shanghaiese, and waidi. One has a local hukou, the other is from elsewhere and has limited access to local services- and is treated like shit by Shanghaiese. EG: pic.twitter.com/FDxUrqtEqg

— Naomi Wu 机械妖姬 (@RealSexyCyborg) April 23, 2022
Hukou is the document that gives you local residency, access to local social services, hospitals, and education, and is probably one of the top 3 issues that most Chinese feel needs to be resolved- and it's being worked on, it's just not there yet.

If you are born with a hukou for a first-tier city- that's some serious privilege. Better schools, better healthcare, better jobs- if you have a rural hukou, yeah you can work your way up, but it's hard mode. Shanghai is a very desirable hukou and they look down on everyone else.

There have been constant reports from the beginning of Shanghaiese being prioritized for food, access to medical services, better quarantine facilities- and non-local hukou (waidi) people being subject to far worse. Expats to all intents and purposes are treated like Shanghaiese.

Expats, not being subject to the hukou system generally underestimate the extent it influences life for us and so have not been covering it much. They exist in a weird sort-of-privileged-while-not-being-fully-accepted-and-only-allowed-as-kind-of-guest-workers kind of grey area.

One of the big problems is expats largely interact with middle-class Chinese- and so report what those voices say. I'm guilty of the same. Most VPN users- middle class, well-educated Chinese. And- let's face it, China gives most of us a pretty decent life, we're the "haves".

This is not to say they would be telling you about how they are yearning for democracy- the opposite most are fiercely nationalistic, but the long and the short of it is the people who are really, really getting the shit end of the stick in Shanghai, you aren't hearing from them.
A video that has gone viral showing the impact of the prolonged coronavirus lockdown on Shanghai's residents has been taken down by China's censors, triggering an online backlash. https://t.co/RBabCLZSOU

— SBS News (@SBSNews) April 24, 2022
This is the video everyone on WeChat has gone out of their way to keep alive today. It's a collage of audio snippets circulating online lately, each recorded by a hurting civilian in Shanghai's lockdown purgatory. An unprecedented strong public grievances. https://t.co/w8F8chAypQ

— Caiwei Chen (@CaiweiC) April 22, 2022
(The other one is Eritrea)
North Korea is one of the only nations that has not administered any coronavirus vaccines https://t.co/wmWCIsWSDc

— The Washington Post (@washingtonpost) April 24, 2022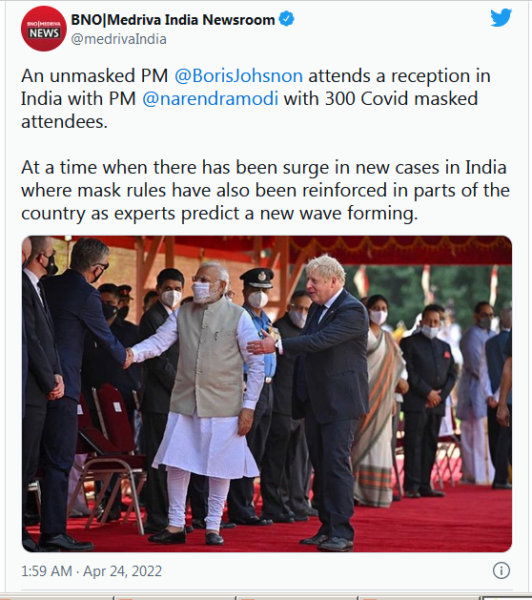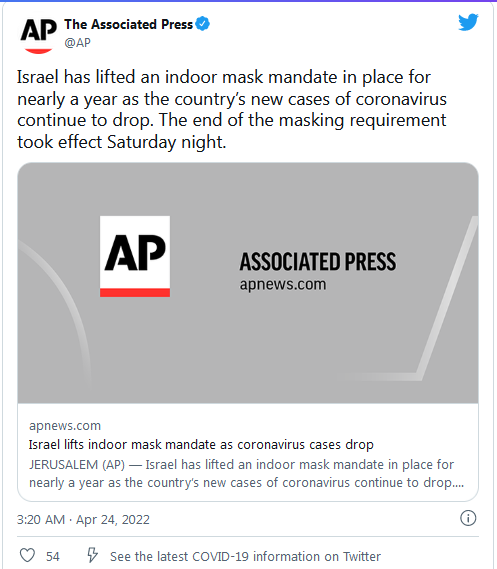 ???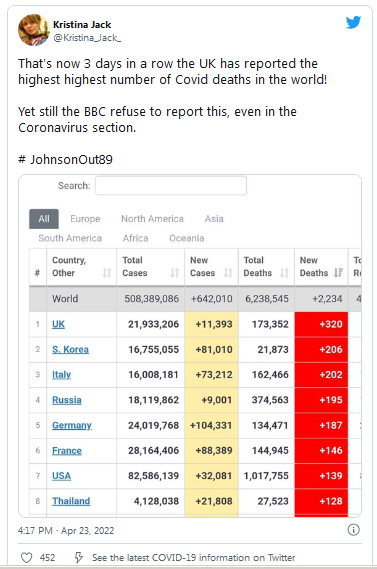 ======
? @LancetGH #ECCMID2022
Large study from Chile in > 4 million vaccinees supports mix-and-match added protection after Coronavac with booster of either Pfizer or AZ vs hospitalization, ICU or deathhttps://t.co/fQDsHyM2jx by @rafael_araos and colleagues pic.twitter.com/CLCjbpv53H

— Eric Topol (@EricTopol) April 23, 2022
Another problem connected with #Covid: Sleep disturbances. Research in the journal Neuroscience and Behavioral Physiology indicates that parts of the brain controlling sleep are affected even after the infection is cleared https://t.co/wKrMyLFN5i pic.twitter.com/6XTsfpaCrT

— delthia ricks ? (@DelthiaRicks) April 23, 2022
======
Joanne Daniels-Finegold, a 69-year-old wheelchair user with asthma, kidney problems and a blood-clotting disorder, rides the bus to go to the grocery store, the doctor and work.

She now must take the risk without the protection of a mandatory mask policy. https://t.co/oePkeKTlLX

— The Washington Post (@washingtonpost) April 23, 2022
In unionized nursing homes across the US, residents were significantly less likely to be infected with and die from COVID-19 according to new research by @AdamDean34 @jamiekmccallum @simkimmel @atheendar pic.twitter.com/11QliOyfXw

— Ben Zipperer (@benzipperer) April 20, 2022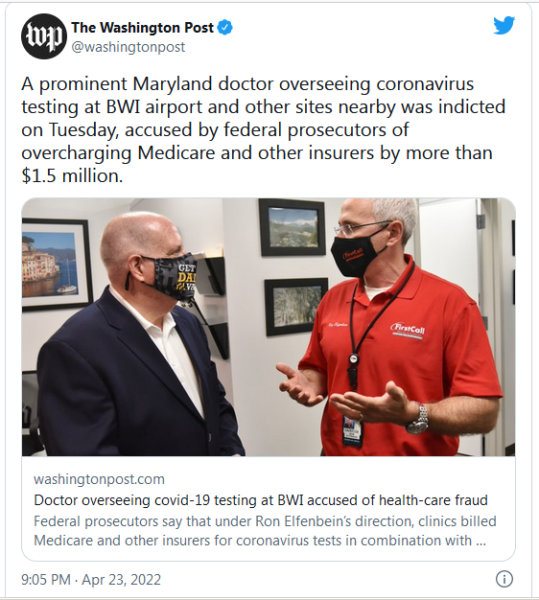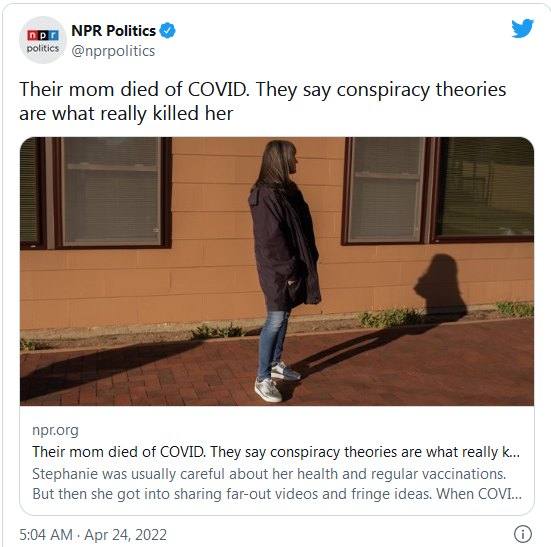 Heartbreaking:
… Much of the public conversation around misinformation focuses on fact-checking and flagging false posts online. But these methods don't provide much help for people like Stephanie, says Sander van der Linden, a professor of social psychology at the University of Cambridge in the U.K.

"Most people who are really into disinformation and conspiracy theories don't believe in a single conspiracy theory," he says. Rather, they're drawn into a self-reinforcing conspiratorial worldview in which conspiracies build on one another. While the theories can seem disparate, they often have unifying themes: They feed distrust in sources of authority; they claim insider knowledge that makes the believer feel valuable; and frequently, that knowledge includes a secret plan to defeat the forces of evil.

Van der Linden says there are three major reasons why people are drawn into this world in the first place: fear and anxiety about the future, a desire to have a simple explanation for complex or seemingly random events, and the social support that communities around conspiracy theories can provide.

While it's impossible to say exactly what drove Stephanie, her daughters identify several things that seem to roughly correspond to those broad categories of motivations. First, they say Stephanie suffered from a lot of anxiety throughout her life. With her tennis days behind her, much of her self-esteem now lay with her astrology work and her spiritual group. And that group was clearly playing the role of echo chamber, reinforcing her ideas and beliefs.

Benscoter thinks the pandemic has also pushed many people further into the shadows of conspiracies. "The pandemic increases fear, and fear is a really hard emotion. And isolation is a really hard place to be," she says.

Benscoter herself is a former cult member. She says the conspiracy narratives provide reassurance. Even if the facts seem crazy, they can provide emotional stability. Speaking of her own past, she says these tales gave clarity because they turned complex problems into simple questions of good versus evil.

"It feels so good; I never felt so secure. I mean I knew what was right and wrong. There was no question," she says…

… [S]he still thinks about the people who make the paranoia-laced videos that her mother consumed day after day. She understands that something inside her mother drew her to those voices, but Laurie still sees Stephanie mainly as a victim of the grifters and attention-seekers who generate many hours of falsehoods every day to grab money, likes and shares.

"Whoever is creating all this content, is on some level waging a war — here in America — inside of every family," she says. "I think people need to wake up to that."