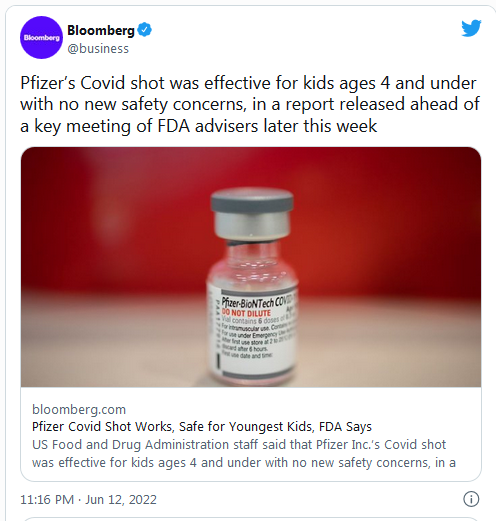 US Food and Drug Administration staff said that Pfizer Inc.'s Covid shot was effective for kids ages 4 and under with no new safety concerns, in a report released ahead of a key meeting of FDA advisers later this week.

The advisers will meet starting Tuesday for two days to discuss mRNA vaccines in kids. Pfizer's application for clearance in young kids from 6 months through 4 years will be discussed on Wednesday, in conjunction with Moderna's application to have its shot cleared for kids ages 6 months through 5 years.

According to the staff report, which was posted on the FDA website on Sunday, the "available data support the effectiveness" of the Pfizer Inc.-BioNTech SE vaccine in kids ages 6 months to 4 years…

The FDA staff report for the Moderna vaccine in kids ages 6 months to 17 years old was posted on Friday and also said it was effective in these age groups without significant unexpected side effects.

The FDA's Vaccines and Related Biological Products Advisory Committee will meet on Wednesday to evaluate data for both vaccines in the youngest kids and hear presentations from the companies and health officials. The group, made up of outside scientific experts, will then make a recommendation on whether to grant authorization for the shots…

Covid vaccines for the youngest kids are expected to be rolled out as early as June 21, the Biden administration announced earlier this month. The government has a supply of 10 million doses of vaccines from both Pfizer and Moderna ready to go as soon as the FDA and the Centers for Disease Control and Prevention give the green light.

======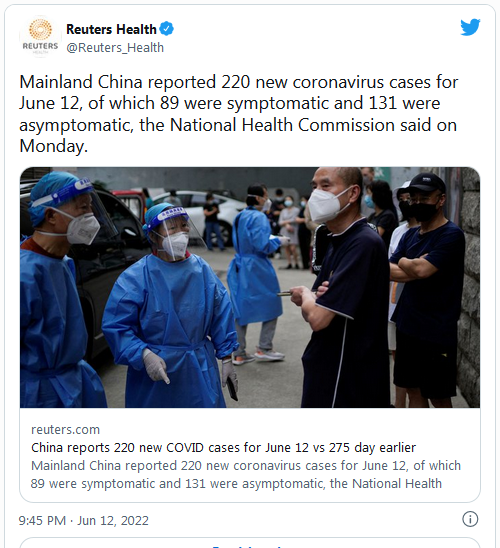 Beijing has put school online in one of its major districts amid a new COVID-19 outbreak linked to a nightclub. A total of 166 cases have been linked to the Heaven Supermarket club in the downtown Gongti nightlife area of China's capital. https://t.co/pY1rBznjfE

— The Associated Press (@AP) June 13, 2022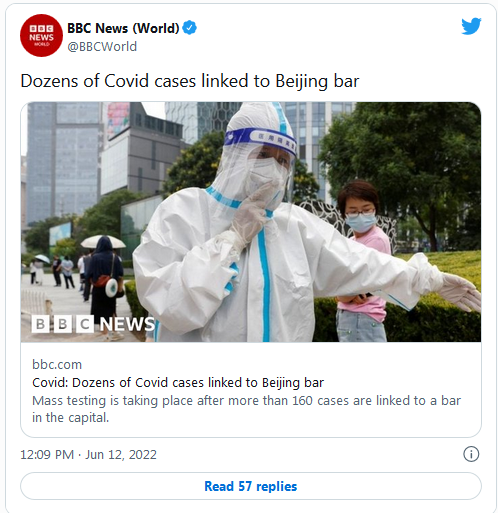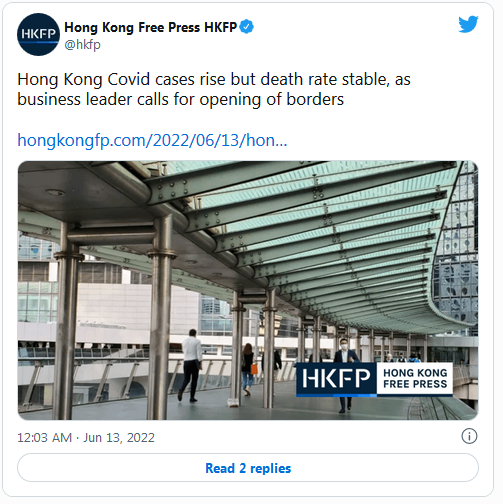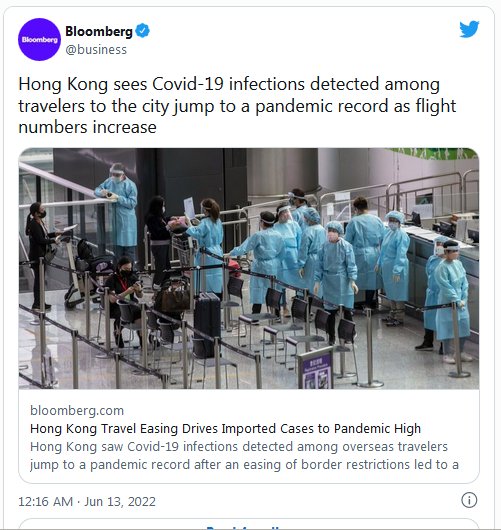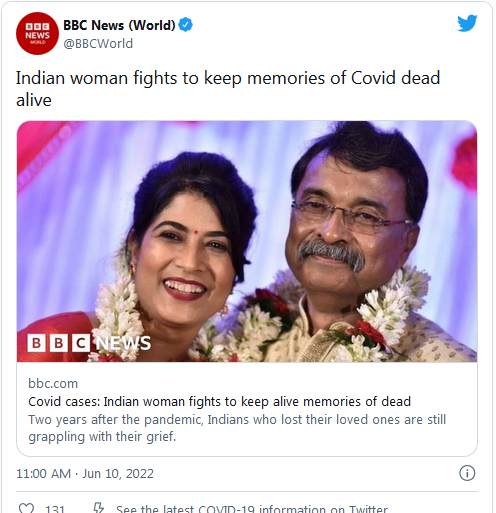 Heartbreaking:
More than half a million people have officially died so far because of Covid-19 in India – the WHO reckons the actual toll could be nearly 10 times higher. More than two years since the pandemic began, many are still grappling with their losses, and a memorial to mourn people lost to the virus has met with a surprisingly underwhelming response. Is India in a haste to bury the memories of the pandemic?…

Ms Chaudhuri is writing a memoir about her three-decade-long marriage and how the virus upended her family. And she's trying to raise interest in a memorial for the Indians who have officially died of the pandemic so far.

"People seem to be forgetting the horrors of the pandemic. They think what happened was destiny. A memorial for the victims is important. It offers a closure of sorts," Ms Chaudhuri says.

In February, she contributed some memories of her husband to a virtual memorial, launched by a group of doctors and social workers and the only one of its sort in India.

"It feels like someone has plunged a knife in my throat, such that neither can I live with it, nor can I die," she wrote.

A year on, only 300-odd Indians who died in the pandemic are listed in the memorial. In February, organisers sent Right to Information (RTI) requests to India's 29 states to provides names of people for whom government compensation had been sought after death due to Covid-19. Only 11 states responded, providing just 182 names.

"Even getting the names of the dead is an ordeal. I think we want to forget quickly. It could be due to fatigue or an attitude of 'what's gone is gone'," says Dr Abhijit Chowdhury, who initiated the memorial. "Are our memories short-lived or do we live in denial?"

It is difficult to say. Millions of Indians are still mourning the loss of loved ones, many of which were premature and sudden. The collapse of the health system – shortage of hospital beds, essential medicines, even oxygen – during the pandemic meant many deaths were preventable. People died in isolation; and families could not attend funerals because of lockdown protocols.

To many grieving kin, India appears to be in haste to move past the crisis by denying that there had been substantial undercounting of the dead. "Denial makes forgetting easier," Dr Chowdhury says…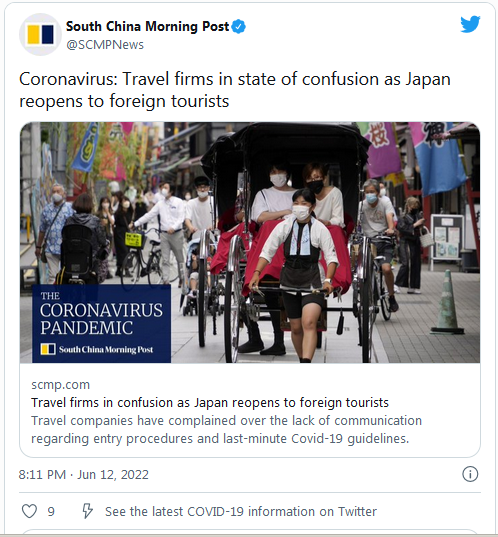 ======
Sharing is caring:
With so few places mandating masks, is there still a point in covering up?

The short answer, experts say, is a resounding yes. The Star breaks down your burning questions about how to navigate this barefaced new world.https://t.co/qOxskOug1u

— Toronto Star (@TorontoStar) June 11, 2022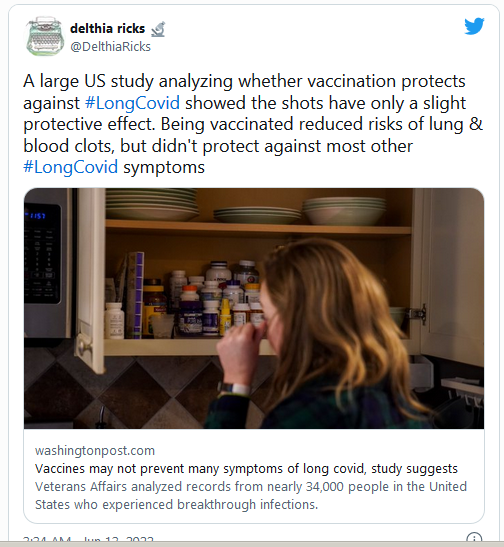 Many politicians, public health officials, and individuals are choosing simply to "move on."

That's not a plan, that's the absence of a plan.https://t.co/syfUHChSU5

— Sandbird (@Sandbird_) June 7, 2022
======