The sentencing hearing for the shooter in the Marjory Stoneman Douglas High School massacre in Parkland, Florida is ongoing this week. The shooter, Nikolas Cruz, pleaded guilty to the murders, so the trial is to determine whether he'll spend the rest of his life in jail or be executed for the crimes. In Florida, death sentences require a unanimous verdict.
Cruz committed the murders with an AR-15 on February 14, 2018. He was 19 at the time and a former student. He is now 23 but still looks like a kid to me. (Perhaps because he's about the same age as MY kid, whose adulthood I outwardly respect but secretly do not accept.) It's fairly rare for a school shooter to be tried in court; most kill themselves or are killed by the police.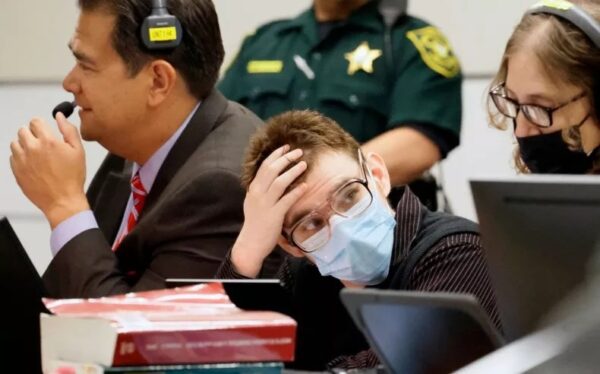 Cruz randomly murdered 14 students, a teacher who was trying to lead students to safety in his classroom, and the school athletic director and a football coach, who ran into the building to try to save students. The armed school resource officer took cover outside as the shooting unfolded. An additional 17 students were shot and injured. All of this happened within six minutes on three floors of one building.
I'm against the death penalty in every case, including this one. If Cruz had killed or injured my kid, I'm sure I'd have an entirely different view, and I expect the parents and families of those killed and injured at MSDHS are hoping for a unanimous verdict of death. It's perfectly understandable.
Cruz had been a troubled mess for many years. Law enforcement missed so many red flags. Cruz caused so many unendurable losses, and some of the victims and families have channeled their rage and sorrow into gun safety activism, including students Cameron Kasky, David Hogg and X (formerly Emma) González, and also Fred Guttenberg, whose 14-year-old daughter Jaimie was among the victims.
All school shootings are horrific, but for me, this case has been haunting from the beginning. I wrote about it here a couple of days after it happened, believing it might finally change the thinking on guns, even just a little. It did, a little. The wingnut-dominated Florida statehouse and then-Governor Rick Scott did what was previously unthinkable and enacted new gun restrictions. Not enough. But not nothing either.
Anyway, I doubt they will, but I hope the jury spares the shooter's life. And I hope everyone involved, even him, finds a measure of peace. Cruz is responsible for the horrors he visited on that school, all the lives he took and all the pain he caused. But America gave him the gun that made such a deadly rampage possible. This country — our sick gun culture — is an accessory.
Open thread.