Pfizer Inc and German partner BioNTech said on Monday they had sought U.S. authorization for a COVID-19 vaccine booster retooled to target the Omicron variant, and would have doses available to ship immediately after regulatory clearance. https://t.co/I7JZUfHjWs

— Reuters Health (@Reuters_Health) August 22, 2022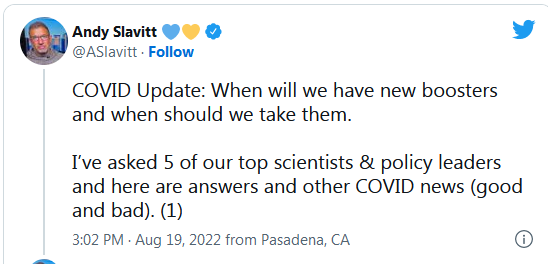 From a longer thread:
The new boosters are bivalent vaccines. Ancestral strain plus Omicron. The idea is broad protection from a virus that is strayed quite a lot. (2)

Pfizer's vaccine will be ready first— the first week to 10 days of September is the best estimate.

Moderna will follow the first week in October. (3)

Should you wait to get them?

Unless you are high risk and unboosted this year, it makes sense to wait the few weeks until they are available. Special circumstances like travel might cause you not to. (4)…

How effective can we expect these vaccines to be? All we have is lab work not real world evidence. The FDA tells me that will be a big focus this time around which will serve us well in the future.

Against BA.5 (90% of cases), the expectation is a strong antibody response.(10)…

The bad news I alluded to?

These are the last vaccines that will be free unless Congress changes.

And it will be the drug companies that will set the price & insurance companies that decide how much we pay. (13)…
Read the whole thread here.
Building the ship while sailing it: Pfizer has asked @US_FDA to authorize its updated Covid boosters. The Biden administration wants to start using said boosters next month. The human trials of said boosters haven't yet started. @matthewherper explains. https://t.co/ZLuIlz3PDz

— Helen Branswell 🇺🇦 (@HelenBranswell) August 22, 2022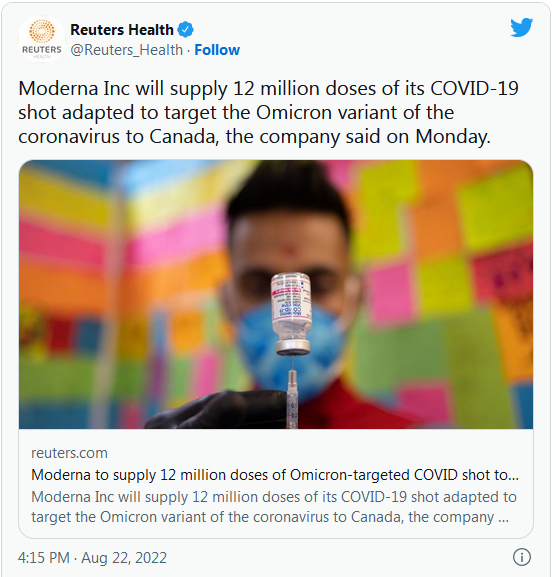 (link)


(link)
Dr. Anthony Fauci, the top U.S. infectious disease official, announced he is stepping down in December https://t.co/BshC1mdyrm pic.twitter.com/6RdRInGhs7

— Reuters (@Reuters) August 23, 2022
=======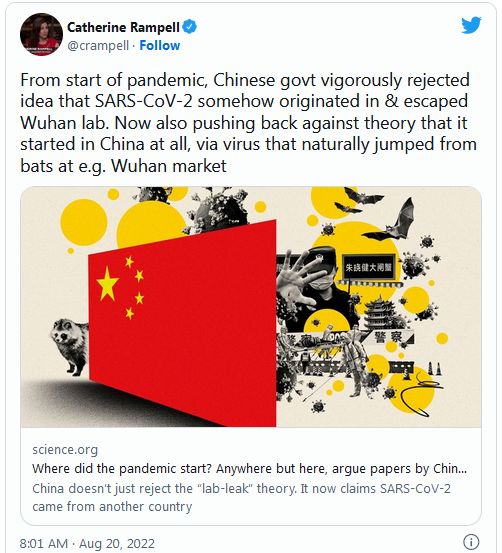 Well worth reading:
When Alice Hughes downloaded a preprint from the server Research Square in September 2021, she could hardly believe her eyes. The study described a massive effort to survey bat viruses in China, in search of clues to the origins of the COVID-19 pandemic. A team of 21 researchers from the country's leading academic institutions had trapped more than 17,000 bats, from the subtropical south to the frigid northeast, and tested them for relatives of SARS-CoV-2.

The number they found: zero…

"I don't believe it for a second," says Hughes, a conservation biologist who's now at Hong Kong University. Between May 2019 and November 2020, she had done her own survey of 342 bats in the Xishuangbanna Tropical Botanical Garden, a branch of the Chinese Academy of Sciences (CAS) in Yunnan province where she worked at the time. As her team reported in Cell in June 2021, it found four viruses related to SARS-CoV-2 in the garden, which is about three times the size of New York City's Central Park…

But the paper meshed with a growing political reality in China. From the start of the pandemic, the Chinese government—like many foreign researchers—has vigorously rejected the idea that SARS-CoV-2 somehow originated in the Wuhan Institute of Virology (WIV) and escaped. But over the past 2 years, it has also started to push back against what many regard as the only plausible alternative scenario: The pandemic started in China with a virus that naturally jumped from bats to an "intermediate" species and then to humans—most likely at the Huanan Seafood Market in Wuhan.

Beijing was open to the idea at first. But today it points to myriad ways SARS-CoV-2 could have arrived in Wuhan from abroad, borne by contaminated frozen food or infected foreigners—perhaps at the Military World Games in Wuhan, in October 2019—or released accidentally by a U.S. military lab located more than 12,000 kilometers from Wuhan. Its goal is to avoid being blamed for the pandemic in any way, says Filippa Lentzos, a sociologist at King's College London who studies biological threats and health security. "China just doesn't want to look bad," she says. "They need to maintain an image of control and competence. And that is what goes through everything they do."

The idea of a pandemic origin outside China is preposterous to many scientists, regardless of their position on whether the virus started with a lab leak or a natural jump from animals. There's simply no way SARS-CoV-2 could have come from some foreign place to Wuhan and triggered an explosive outbreak there without first racing through humans at the site of its origin. "The idea that the pandemic didn't originate in China is inconsistent with so many other things," says Jesse Bloom, a virologist at the Fred Hutchinson Cancer Research Center who has argued for more intensive studies of the WIV lab accident scenario. "When you eliminate the absurd, it's Wuhan," says virologist Gregory Towers of University College London, who leans toward a natural origin.

Yet Chinese researchers have published a flurry of papers supporting their government's "anywhere-but-here" position. Multiple studies report finding no signs of SARS-CoV-2–related viruses or antibodies in bats and other wild and captive animals in China. Others offer clues that the virus hitched a ride to China on imported food or its packaging. On the flip side, Chinese researchers are not pursuing—or at least not publishing—obvious efforts to trace the sources of the mammals sold at the Huanan market, which could yield clues to the virus' origins…
This is a good description of how science works: by hard work, systematic analysis, following the data and peer-reviewed publication. The COVID lab leak theory is dead. Here's how we know the virus came from a Wuhan market https://t.co/NTw6IXnJZw via @ConversationEDU

— Prof. Peter Doherty (@ProfPCDoherty) August 19, 2022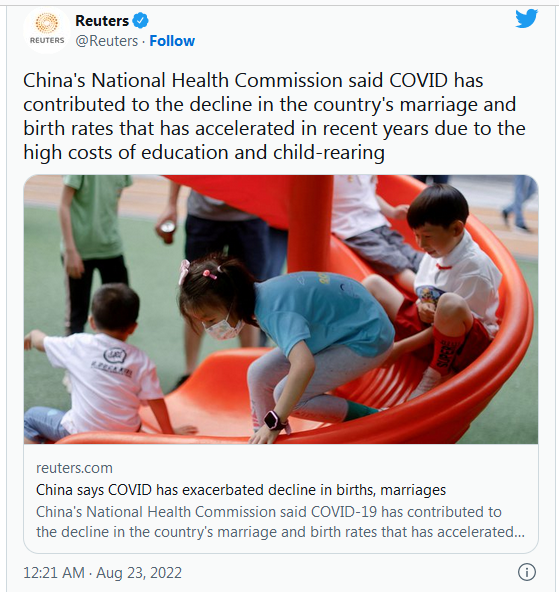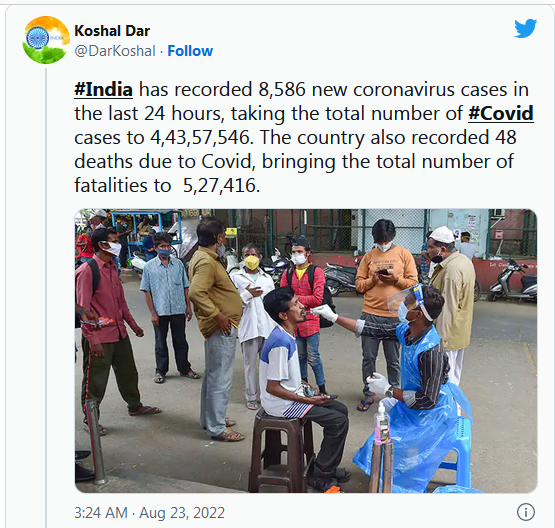 (link)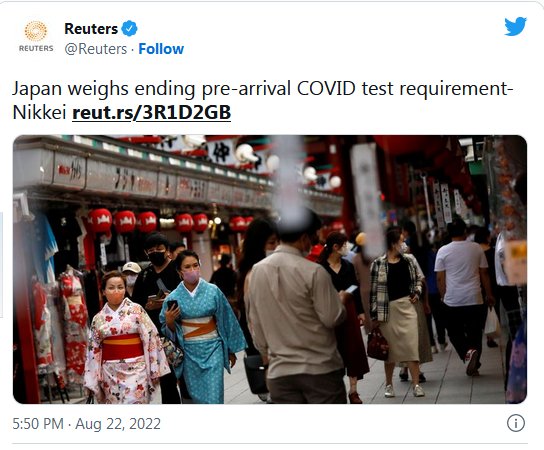 (link)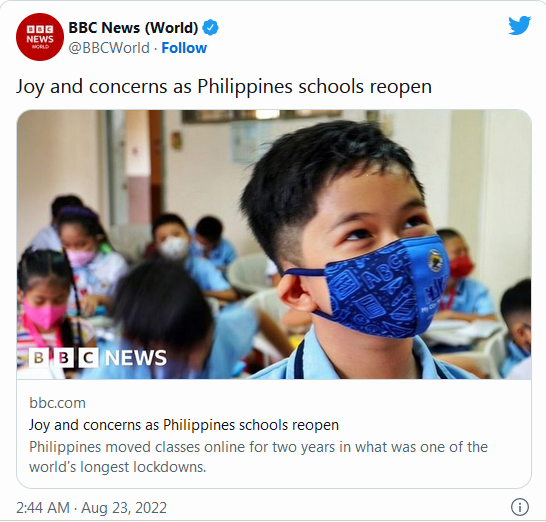 (link)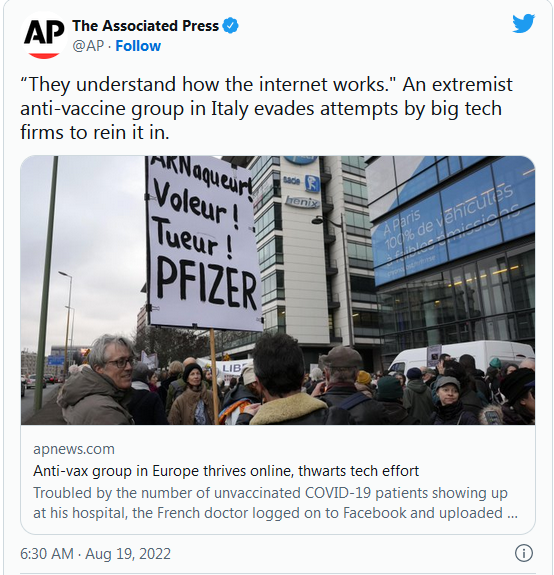 (link)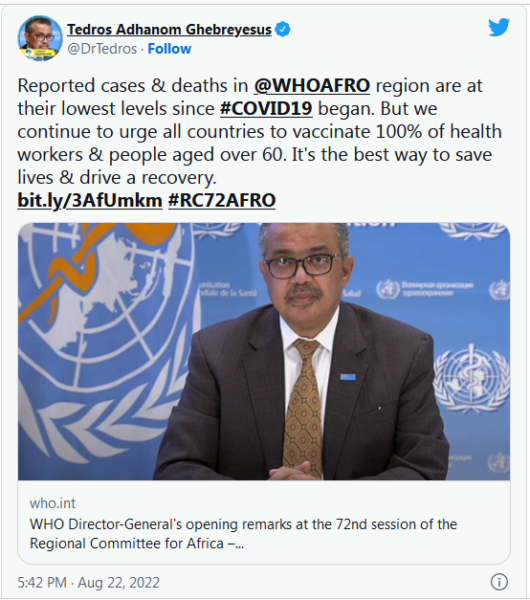 (link)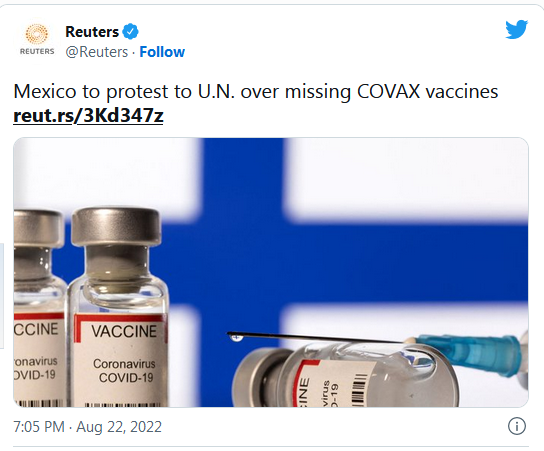 (link)
=======
The U.S. Food and Drug Administration (FDA) has asked Pfizer Inc to test the effects of an additional course of its antiviral Paxlovid among people who experience a rebound in COVID-19 after treatment, the regulator said on Friday. https://t.co/aXlLBLjpTb

— Reuters Health (@Reuters_Health) August 20, 2022
Retrospective analysis (just out in @CIDJournal) of Paxlovid Rx in vaccinated high-risk outpatients shows a strong association between treatment and improved outcomes. Thanks to @SarjuGanatraMD & @SaurabhSDani for leading this interesting study.https://t.co/SKEszJIWlK pic.twitter.com/nuTjQMfGLJ

— Paul Sax (@PaulSaxMD) August 20, 2022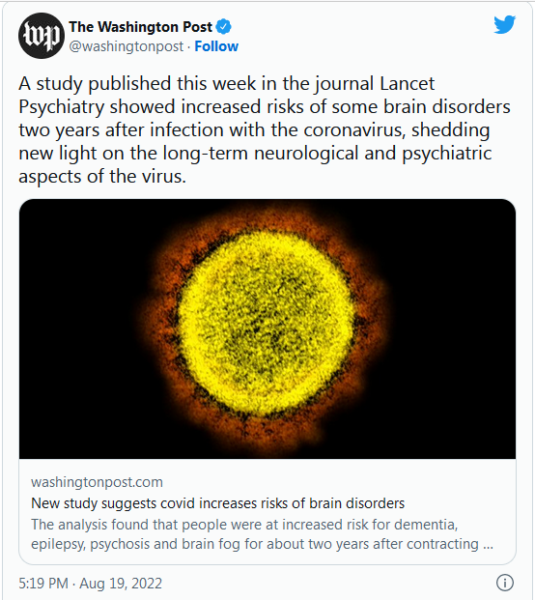 The Lancet study seems to be generating a lot of anxiety on twitter, but keep in mind: The 'increased risks' are large jumps in relatively small actual numbers:
… The study group, which included 185,000 children and 242,000 older adults, revealed that risks differed according to age, with people 65 and older at greatest risk of lasting neuropsychiatric effects.

For people between the ages of 18 and 64, a particularly significant increased risk was of persistent brain fog, affecting 6.4 percent of people who had had covid compared with 5.5 percent in the control group.

The study found that 4.5 percent of older people developed dementia in the two years after infection, compared with 3.3 percent of the control group. That 1.2-point increase in a diagnosis as damaging as dementia is particularly worrisome, the researchers said.

The study's reliance on a trove of de-identified electronic health data raised some cautions, particularly considering the tumultuous time of the pandemic. Tracking long-term outcomes may be hard when patients may have sought care through many different health systems, including some outside the TriNetX network…
There are >118 million Americans age 50+ in the US, a very high proportion left vulnerable
45% haven't had a 1st booster
With current ~500 deaths per day, the CDC should be providing a breakdown by vax/booster status pic.twitter.com/5m5i4fRljU

— Eric Topol (@EricTopol) August 20, 2022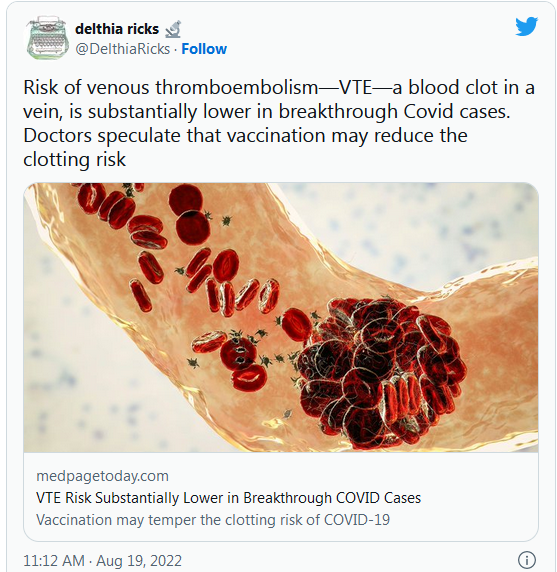 .@US_FDA extends the emergency use authorization for Novavax's Covid vaccine. It can now be be given to tweens & teens 12-17.
It's the first non-mRNA vaccine authorized for use in people under the age of 18 in the US. pic.twitter.com/73wpNAMeFJ

— Helen Branswell 🇺🇦 (@HelenBranswell) August 19, 2022
=======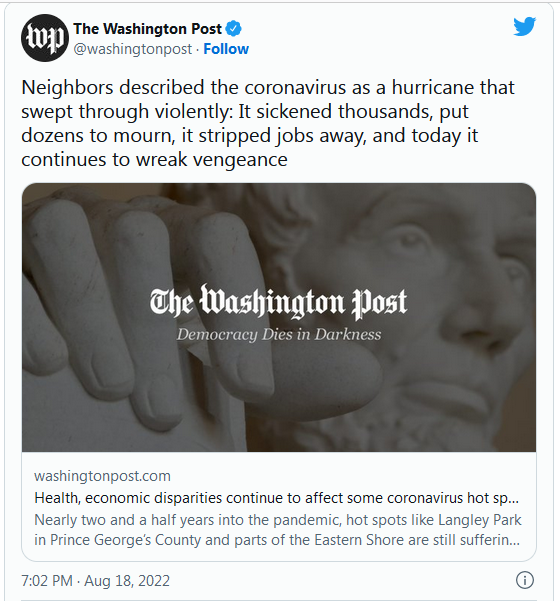 (link)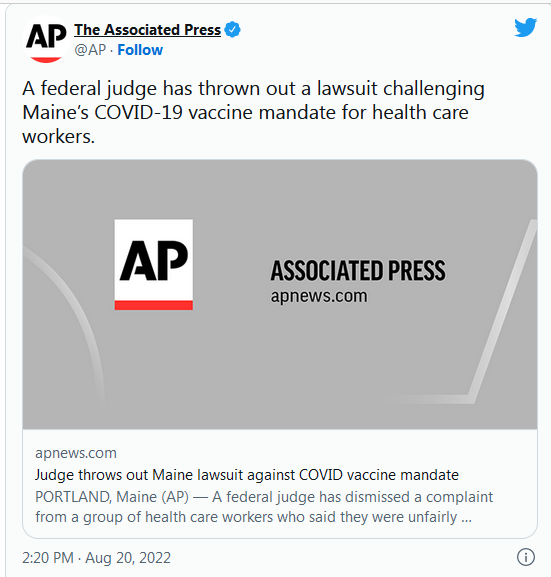 (link)
1) if trump were still president, liberals would have a lot of other more pressing concerns

2) there is no political will — and there is now *significant* political cost — to try to enforce more stringent covid protocols, anywhere in the country. https://t.co/egmMPQMegd

— GONELIKEHELLMACHINE (@golikehellmachi) August 20, 2022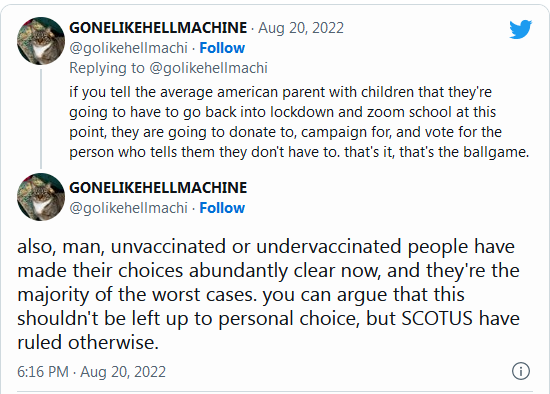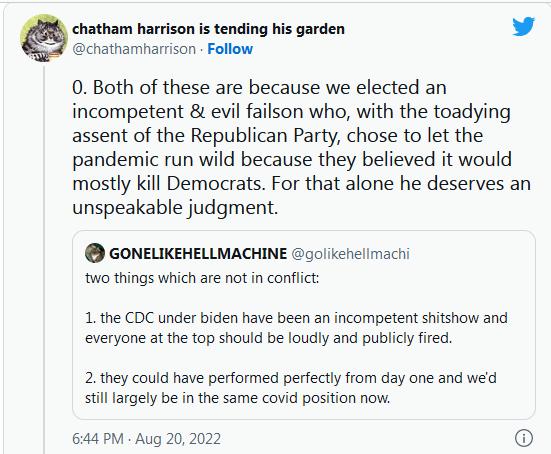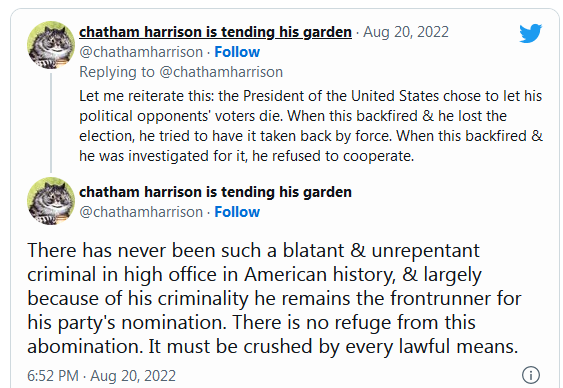 (link)
Tucker Carlson, meanwhile, remains a sociopath:
Carlson is talking about the number of murders in Philadelphia, and suggesting the death toll from Covid was far less.

More ppl died of Covid in Philadelphia in two months in spring 2020 than have been murdered over the past 2 yrs. https://t.co/WqZsCXj8u5

— James Surowiecki (@JamesSurowiecki) August 22, 2022
Reader Interactions