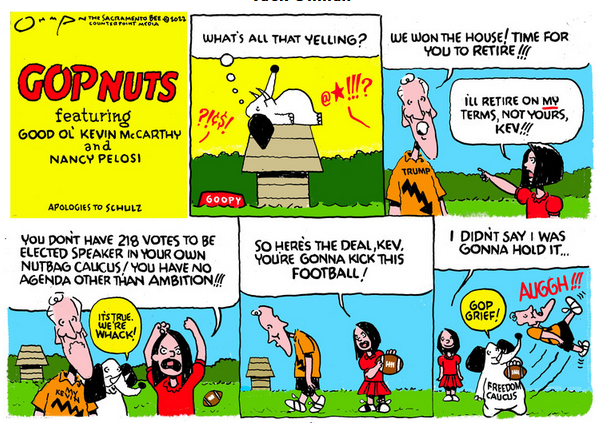 House GOP leader Kevin McCarthy is in the fight of his political life as he seeks enough backing to become the next House speaker. He's grinding through promises and proposals, cajoling and deal-making necessary to win over reluctant colleagues. https://t.co/ww1zJ0Hej9

— The Associated Press (@AP) November 28, 2022

Admittedly, that's a high bar… but right now, the GOP nutballs are fighting to dig that bar into the ground:
… Every new commitment from McCarthy can be seen as a potentially strategic move, intended to quell skeptics on his right flank as he reaches for the speaker's gavel. With a slim House majority in the midterm elections, the GOP leader must solidify his ranks in a sprint for the 218 votes he'll need when the new Congress convenes — each coming at a cost and with no room for error.

"We'll get there," McCarthy said in accepting his party's nomination to run for speaker.

The overtures McCarthy is making, some symbolic, others substantive, provide a snapshot of the speaker hopeful's emerging leadership style. While McCarthy is expected to prevail in his quest for the speaker's gavel, it is destined to come at a political price, setting the tone and tenor of new Congress.

To start, McCarthy has promised to restore committee assignments for far-right Rep. Marjorie Taylor Greene, R-Ga., after she and another right-flank lawmaker were booted by Democrats over incendiary remarks.

And he has vowed to oust Rep. Adam Schiff, D-Calif., and other high-profile Democrats from their committees in a form of political payback, setting up a divisive House action early in the new Congress.

McCarthy has assured that under his leadership, the House will remove the metal detectors that were installed to prevent firearms in the House chamber; end COVID-era protocols that allowed lawmakers to vote by proxy; and fully reopen the Capitol's limited visitor access since the Jan. 6, 2021, insurrection by supporters of the former president, Donald Trump.

And in a dramatic nod to the far-right, McCarthy has threatened an impeachment investigation against Homeland Security secretary Alejandro Mayorkas unless he resigns over the department's handling of the U.S.'s southern border with Mexico…

After pushing his party to victory in the midterm elections, McCarthy won the nod from a majority of his colleagues nominating him to run for speaker. But the 188-31 vote among Republicans showed the shortfall he must overcome. When the new Congress convenes in January, the whole House, Republicans and Democrats, will vote on speaker and McCarthy's party will need to stick together with their slim majority for him to prevail. Otherwise, a different Republican could emerge as a compromise candidate…
Schiff on CNN on Kevin McCarthy threatening to kick him off the intel committee: "McCarthy's problem is not with what I said about Russia. McCarthy's problem is he can't get to 218 without Marjorie Taylor Greene, Paul Gosar, and Matt Gaetz, and so he will do whatever they ask." pic.twitter.com/AR5nntoNYK

— Aaron Rupar (@atrupar) November 27, 2022
Kevin McCarthy's odds of becoming House Speaker "seem to be dropping every day." (via @MaddowBlog) https://t.co/vz0rvS1T3M

— MSNBC (@MSNBC) November 28, 2022
If Kevin McCarthy cannot denounce Trump dining with a White Supremacist then we are in for a hell of a ride if McCarthy becomes Speaker. The lunatics in his Conference will run the Congress. What will it be, Kevin?

— Rep. Eric Swalwell (@RepSwalwell) November 26, 2022
I think there's a real chance McCarthy comes to the House floor, hat in hand like a broken-down vaudevillian, and begs. Or he tries to walk like a man for once in his life and dares them to vote against. Either way it will be a disgrace.

— Richard M. Nixon (@dick_nixon) November 23, 2022
And just this weekend, the WSJ was so hopeful!
Nancy Pelosi knocked Republicans off committees. Now comes GOP payback.https://t.co/5d3c5GFQYC

— Wall Street Journal Opinion (@WSJopinion) November 26, 2022
GOP House leader Kevin McCarthy may or may not have the votes to be the next Speaker of the House, but he's already playing by current Speaker Nancy Pelosi's rules. To wit, he's promised to kick three Democrats off committees the way the Pelosi Democrats kicked off two Republicans in the current Congress.

Democrats ousted GOP Reps. Paul Gosar and Marjorie Taylor Greene from their committees in an unprecedented move after they made offensive comments. Both of those Members do more to harm the image of Republicans than they do Democrats, but they were elected in 2020. We warned Democrats that Republicans would return the disfavor when they took power, and here we are.

Mr. McCarthy says he'll move to have the House strip Reps. Adam Schiff, Eric Swalwell and Ilhan Omar of their committee assignments for various actions or statements. Mr. Schiff in particular deserves censure for turning the Intelligence Committee into a partisan operation. He also lied multiple times in public about the evidence of collusion with Russia by the Trump campaign, and his deception received media attention because of his intelligence post.

Mr. Swalwell had a relationship with a Chinese spy, while Mr. McCarthy accuses Ms. Omar of making anti-Semitic comments. All three are embarrassments as well, but then voters keep electing them too.

Republicans believe that if they don't play tit-for-tat like this, Democrats will feel empowered to keep escalating. Maybe if Democrats get the same ill treatment, the GOP thinks, Democrats will revert to better form the next time they're in the majority…
"He's going to be led around on a leash," Kinzinger said on CNN of McCarthy and the right flank

— Manu Raju (@mkraju) November 16, 2022
America: enough with the crazy people

Republicans: https://t.co/S96fdTbR6k

— Panda Parody Bernstein (@J4Years) November 15, 2022