On the Road is a weekday feature spotlighting reader photo submissions.
From the exotic to the familiar, whether you're traveling or in your own backyard, we would love to see the world through your eyes.
This morning we have a set of great Christmas pics from cope!  (Thought I had better belatedly clarify since apparently "cope" doesn't necessarily jump out as a nym!)
My stepdad took lots and lots of pictures when we were growing up.  He only took slides, though, so after a single viewing, they pretty much disappeared into a closet.  Over the past couple of years, I took it upon myself to scan all his slides and turn them into digital slideshows complete with opening and closing credits and accompanying songs of the period.  Some of the slides were, after more than fifty years, in sad shape and my scanning and editing software could only do so much but there you go.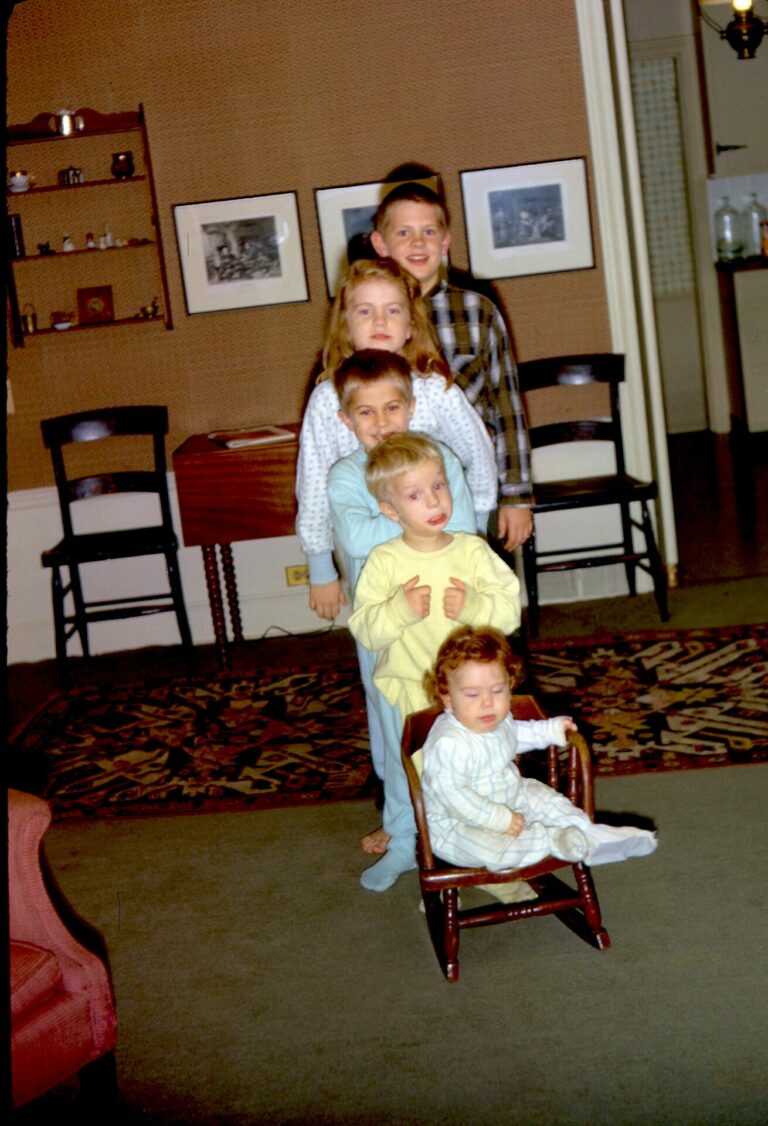 Northbook, Illinois
This is my cohort, my brothers and sisters in arms. I am the oldest. As I keep blathering about, my wife and I are moving back to Colorado after thirty three years in Florida.  The five of us will all be living within fifteen minutes of each other. That small rocking chair is already packed up, ready to go.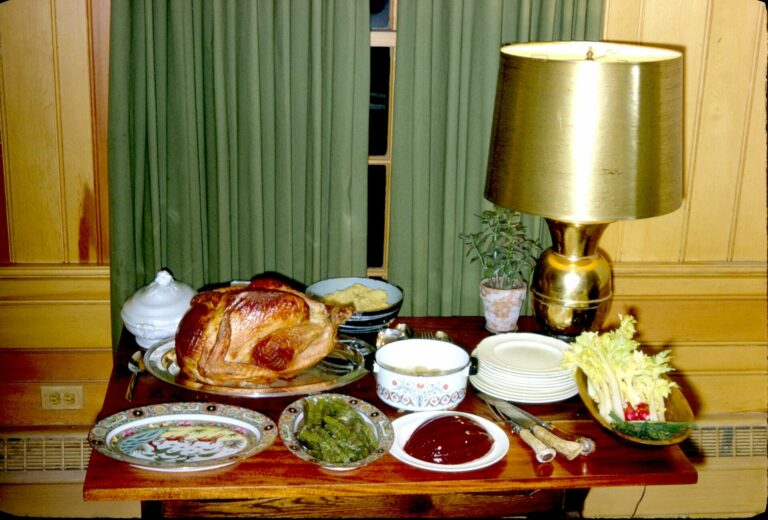 Northbrook, Illinois
Christmas dinner, ready to be attacked by five hungry kids, parents, grandparents and anybody lucky enough to be visiting.
Northbook, Illinois
My two brothers sporting the most fashionable in cowboy gear.  My older brother is brandishing a Mattel Shootin' Shell Pistol. These toy guns actually shot a small projectile our of a spring-loaded casing and were highly accurate to a distance of up to a foot. No eyes were shot out.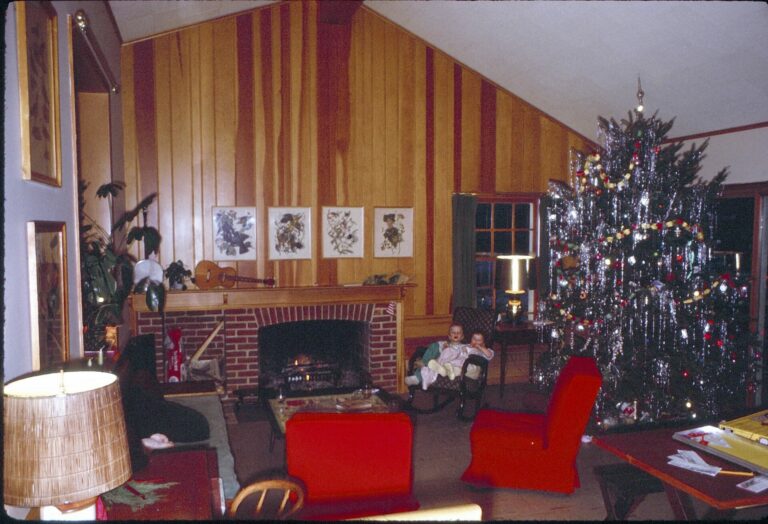 Northbrook, Illinois
The end of the long day.  With my mom's spittoon lamp on the table behind them, my banjo and my sister's guitar on the mantle and the Audubon prints on the wall, the two youngest try to stay awake and make the magic day last forever.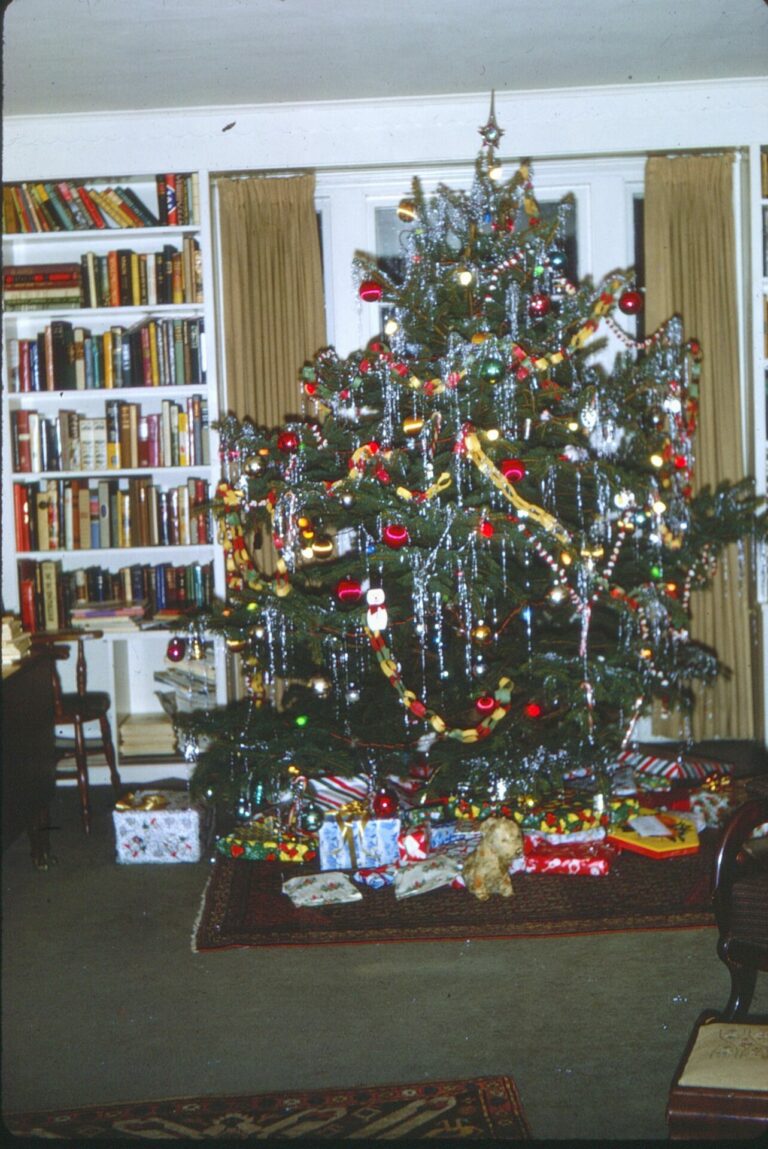 Northbrook, Illinois
I'm not sure why but this particular Christmas, we put the tree up in a different room.  The rather sad stuffed dog had been my mother's when she was little and it had a spot under the tree every year when we were growing up.  One of my sisters has it.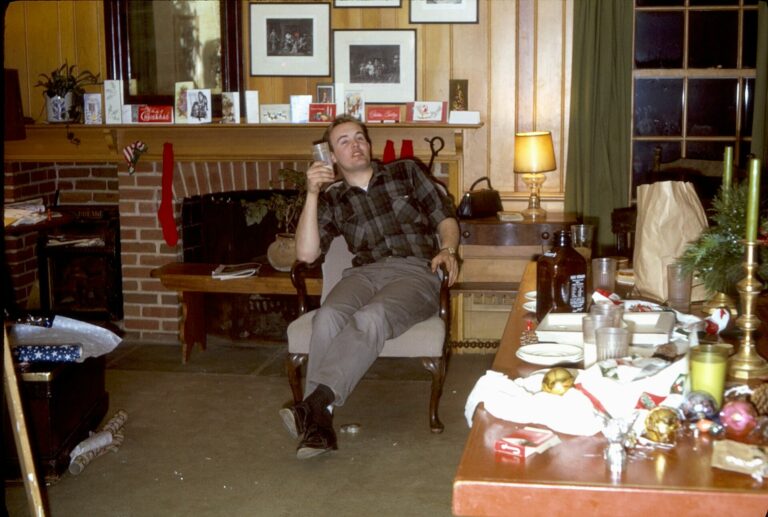 Northbrook, Illinois
For several years when we were kids, one of our Christmas Eve traditions was a visit from this guy. He worked in the local family-owned grocery/hardware shop where my parents shopped. He would come over every Christmas Eve to direct our efforts decorating the tree, drink eggnog and schmooze with my folks. "Let's get organized" was his trademark phrase. When I tried to track him down recently, I learned that he had run afoul of the law in his business dealings (buying, selling, authenticating and appraising antiques) and apparently spent some time in a federal slammer.  Some time after release, sadly, he died.