President Biden will end the U.S. #Covid emergencies May 11. He told Congress the two nat'l Covid responses—the nat'l emergency & the public health emergency—will end in May. The move restructures the U.S. response to accepting Covid as an endemic threat https://t.co/mUZLGg5nWP

— delthia ricks 🔬 (@DelthiaRicks) January 31, 2023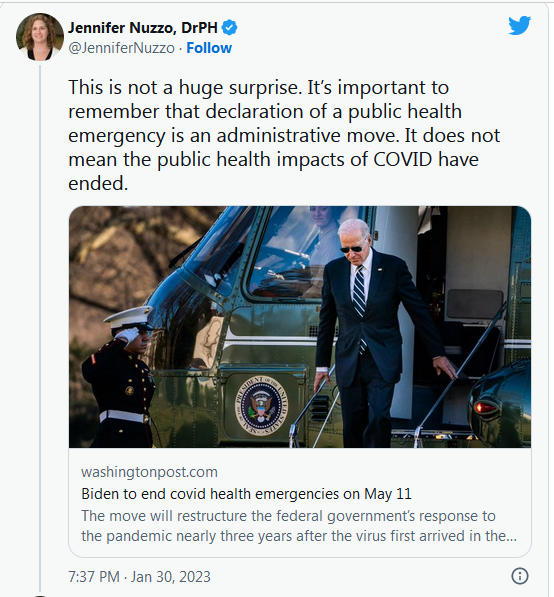 This @ThinkGlobalHlth piece is a great explainer on the legal ramifications of public health emergency declarations. https://t.co/pf7axxXTi9

— Jennifer Nuzzo, DrPH (@JenniferNuzzo) January 31, 2023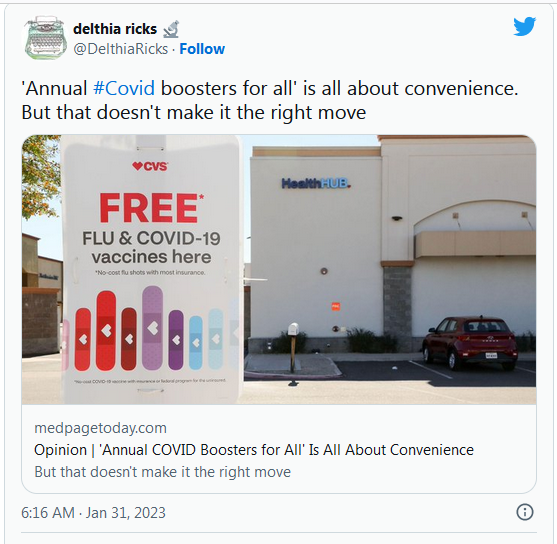 IMO, Dr. Adalja is extremely over-optimistic about the percentage of people at most risk from Covid who have access to a medical system that can, or will, hand-tailor vaccine recommendations to their personal needs:
… The federal government's recommendations for successive rounds of boosting has been confusing for even those steeped in the field. An evidence-based, predictable schedule is needed. However, that approach should not be forced into a one-size- (or even two-size)-fits-all paradigm. COVID-19 boosting schedules should be exclusively targeted to actual risk of severe disease, not convenience or simplicity of message…

As the risk for severe COVID-19 is not uniform, the benefits of current vaccines are not uniform. Some people may require zero boosters because their risk of severe disease is low; the higher risk may require one, two, or more boosters at certain intervals. However, such a schedule must be made with evidence at hand — better evidence than guided the switch to the bivalent boosters, which are likely not more effective or cost effective than the original boosters.

Even when it comes to those at high risk for severe COVID, high-risk people are not homogenous. A person with isolated hypertension is very different than someone with multiple comorbid conditions, who is also different than someone who has had a bone marrow transplant. Each may have different vaccination needs. I could envision some being vaccinated based on antibody titers or some other biomarker, as is the case with certain other vaccines (e.g., hepatitis B).

An optimized schedule is not a fruitless task and the lackluster booster uptake opens in a new tab or window — even among the high risk — should not dissuade the adoption of a proper schedule for boosting based on risk factors. The professional societies of physicians who care for the varied groups of the high risk — from diabetic individuals to people living with HIV to transplant patients — would be best suited to develop such schedules reflecting unique risk profiles amongst their patients.

Ultimately, we should seek better vaccines that are more efficacious and durable in the prevention of infection from all SARS-CoV-2 variants.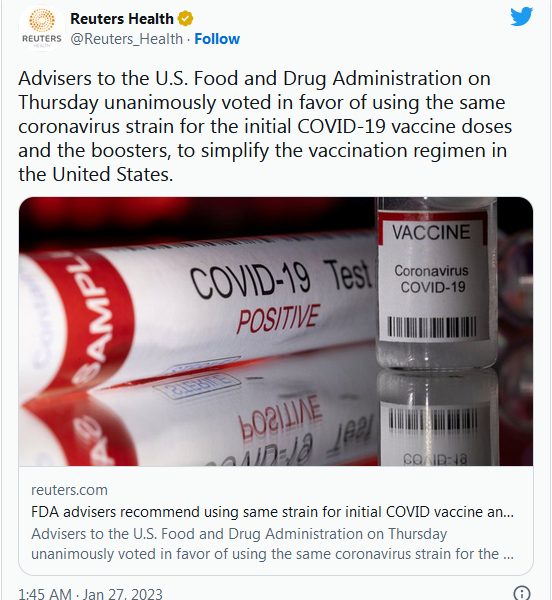 (link)
Updated @CDCgov data on bivalent booster, age groups and deaths
Overall 91% reduction of deaths across all age groups vs unvaccinated, less (80%) without bivalent booster
The absolute reduction increases w/ age; relative reduction is consistent across ageshttps://t.co/HGyjNwUveD pic.twitter.com/N6FNccaBuZ

— Eric Topol (@EricTopol) January 30, 2023
======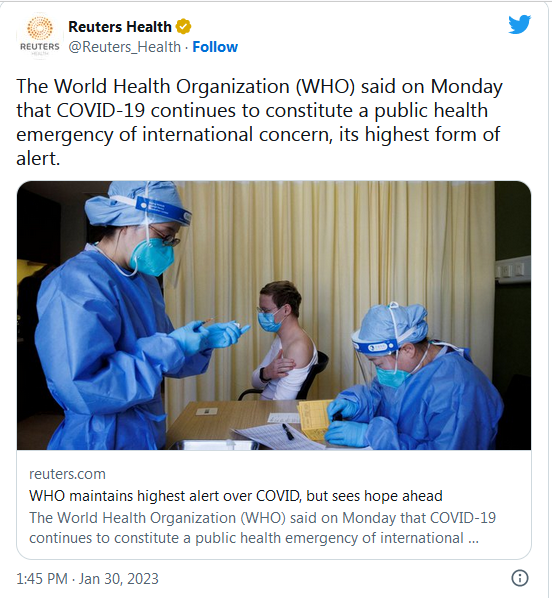 … The pandemic was likely in a "transition point" that continues to need careful management to "mitigate the potential negative consequences", the agency added in a statement.

It is three years since the WHO first declared that COVID represented a global health emergency. More than 6.8 million people have died during the outbreak, which has touched every country on Earth, ravaging communities and economies.

However, the advent of vaccines and treatments has changed the pandemic situation considerably since 2020, and WHO Director-General Tedros Adhanom Ghebreyesus has said he hopes to see an end to the emergency this year, particularly if access to the counter-measures can be improved globally…

Advisers to the WHO expert committee on the pandemic's status told Reuters in December that it was likely not the moment to end the emergency given the uncertainty over the wave of infections in China after it lifted its strict zero-COVID measures at the end of 2022.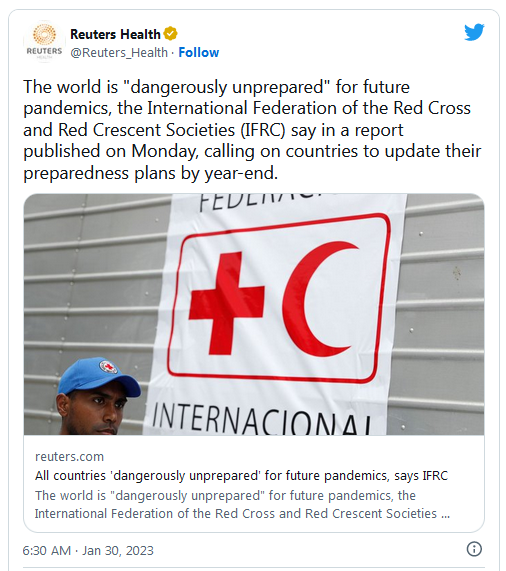 (link)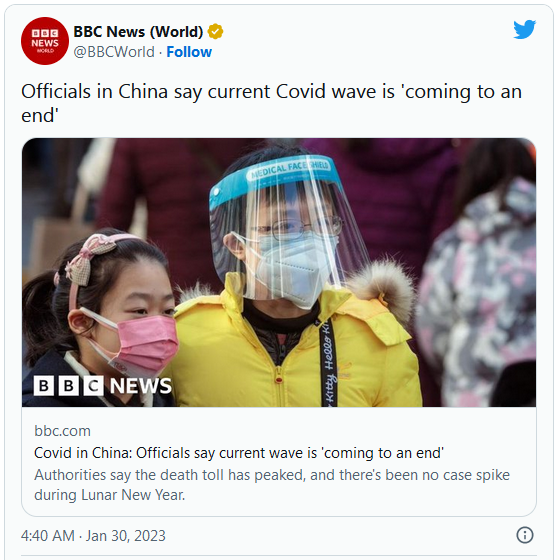 (link)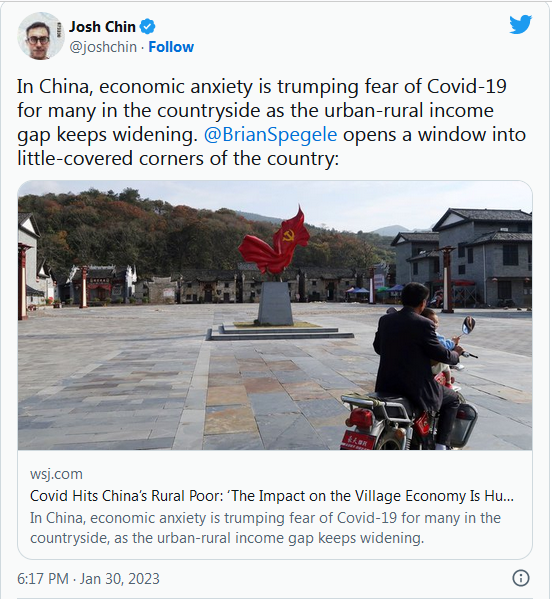 (link)
The first week-long holiday in the Chinese Lunar New Year after China opened up from covid restrictions saw tourist number rebound to 88.6% of the pre-covid 2019 level and tourism spending rebound to 73.1% of 2019, the ministry of culture and tourism estimates. pic.twitter.com/iiqd4SYAe0

— Zichen Wang (@ZichenWanghere) January 27, 2023
After three years of covid, we went deep into rural China for Lunar New Year. Here's the story of what we found & how officials tried to stop us. @cnn https://t.co/Yk5Eua9SeI pic.twitter.com/JvccZHM07E

— Selina Wang (@selinawangtv) January 27, 2023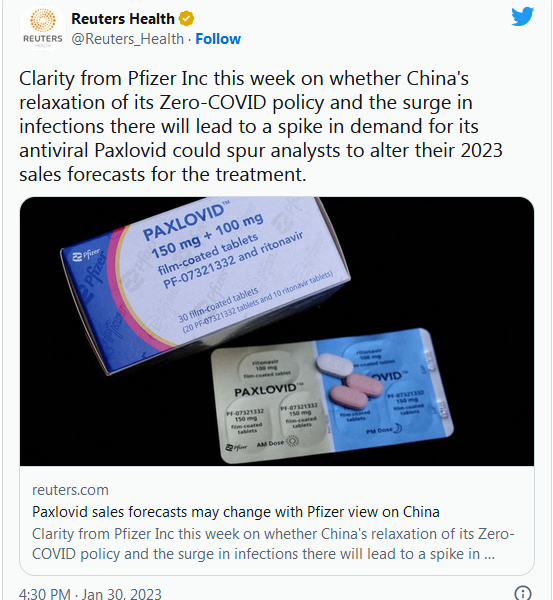 … China was an insignificant market for Paxlovid before the strict infection-control policy was lifted, but Pfizer Chief Executive Albert Bourla said the company has since distributed millions of Paxlovid treatment courses there through a deal with China's Meheco.

Still, the status of deliveries later this year remains unclear. Talks between Pfizer and China's government health insurer bogged down over price, and the drug is only covered by China's broad healthcare insurance plan until late March…

Their current estimates for over $10 billion in 2023 Paxlovid sales is less than half the $22 billion Pfizer is expected to report for 2022, according to Refinitiv data. Growth in China could help offset expected declines elsewhere as many governments have built inventories of the two-drug treatment.

BMO Capital Markets analyst Evan Seigerman has forecast about $8.7 billion in global sales for Paxlovid in 2023, including $1.9 billion from the developed world outside of the United States, Europe and emerging markets, he said in an email, adding that he is hoping for more information…

Pfizer's tiered pricing structure sets the Paxlovid cost based on a country's economy. The U.S. government, for example, has paid over $500 per course. Media reports suggest that the current price per course in China is 1,890 yuan, or around $280.

But China has been asking to pay less. CEO Bourla has said China – the world's second biggest economy – is seeking a lower price than has been offered to lower middle-income countries…

Even without a deal to sell Paxlovid broadly in China, the company can still sell it there on the private market.

Morningstar analyst Damien Conover said there is a lot of private wealth in China to support a higher price with direct purchases by patients.

China is "probably the only region that we're modeling a year-over-year increase in 2023" for Paxlovid, Conover said.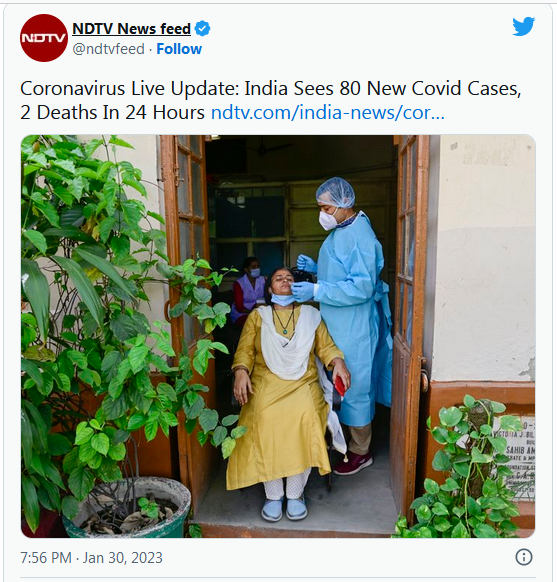 (link)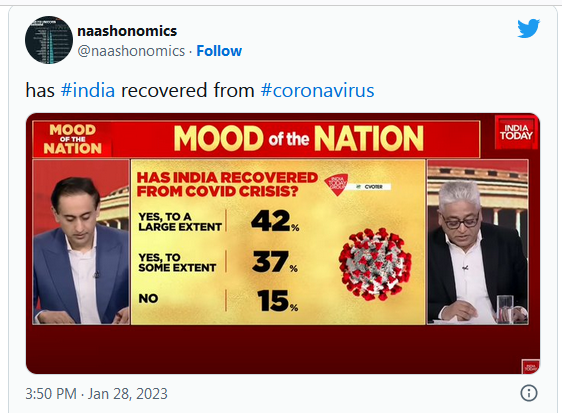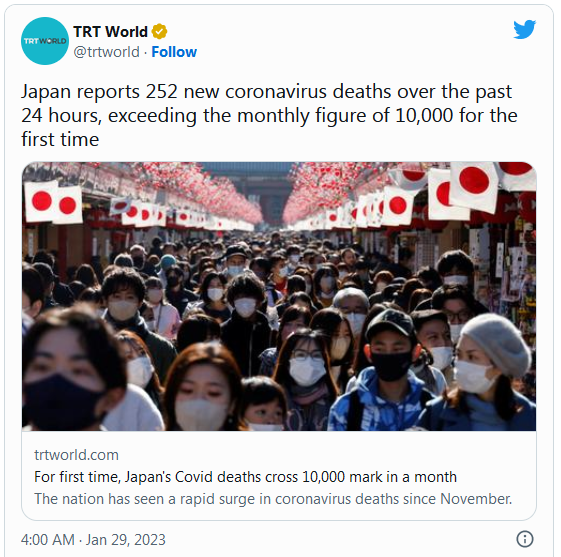 (link)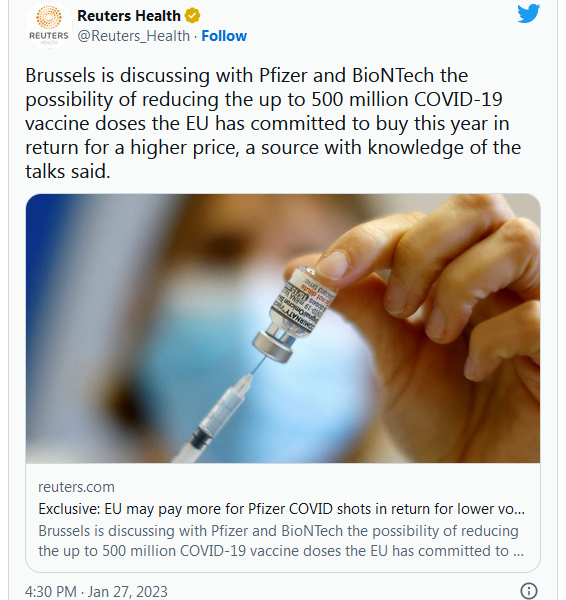 (link)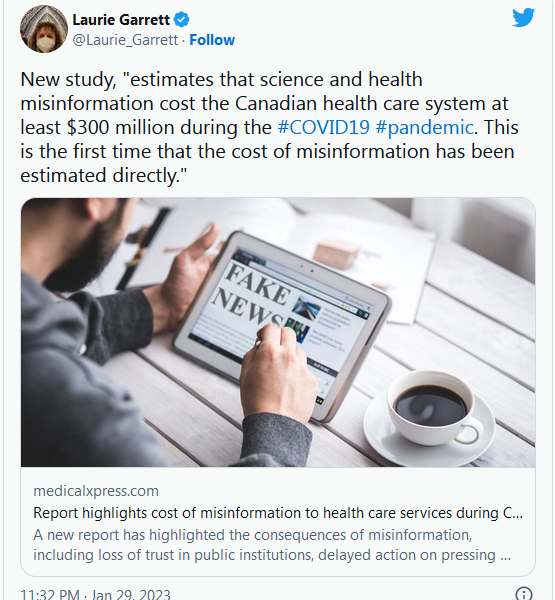 (link)
======
Scientists take a page from SARSCoV2's evolutionary history to develop a *universal vaccine* against all current & future subvariants. The vax is already being tested in animal models. By @DelthiaRicks https://t.co/ykHhyq404d pic.twitter.com/4pBdmqTvS7

— delthia ricks 🔬 (@DelthiaRicks) January 30, 2023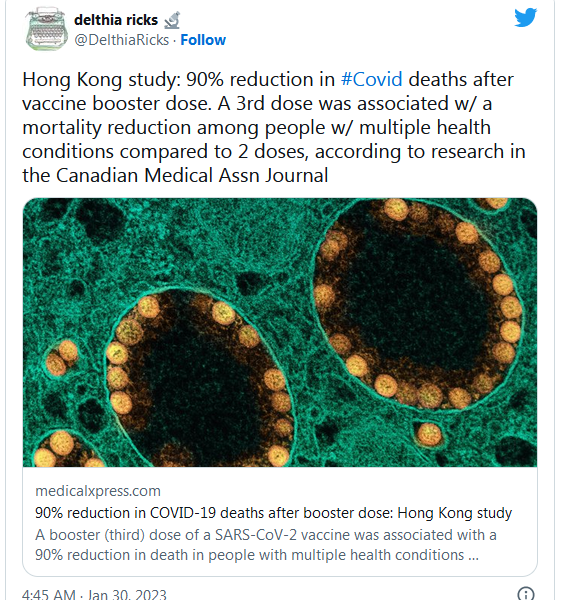 (link)
The best evidence against lab leak is that right wing nat-sec people didn't start pushing it till after the election,

if there was good evidence pompeo or similar would have had access to it

— AH??? (@shishiqiushi) January 28, 2023
'Microclots' could help solve the #LongCOVID puzzle:
"Scientists are starting to detect clots in long #COVID patients' smallest blood vessels—which might help explain the condition's debilitating symptoms."https://t.co/n79lYmplFa

— Laurie Garrett (@Laurie_Garrett) January 30, 2023
"5% of the [U.S.] adult population is struggling with activity limitations from #LongCovid."
https://t.co/bmy0BQVV3Q @KFF @alicelevyburns

— Eric Topol (@EricTopol) January 27, 2023
Unclear why but the percentage of people who've had #COVID & currently report #LongCOVID symptoms is falling, from 19% in Jun'22 to 11% /Jan'23."
So:
– 15% of US adults say they've had long #COVID
– But just 6% have symptoms nowhttps://t.co/cSMcpdN2p3
and https://t.co/QV4ySVqh2z pic.twitter.com/eDF0YoC1EA

— Laurie Garrett (@Laurie_Garrett) January 30, 2023
======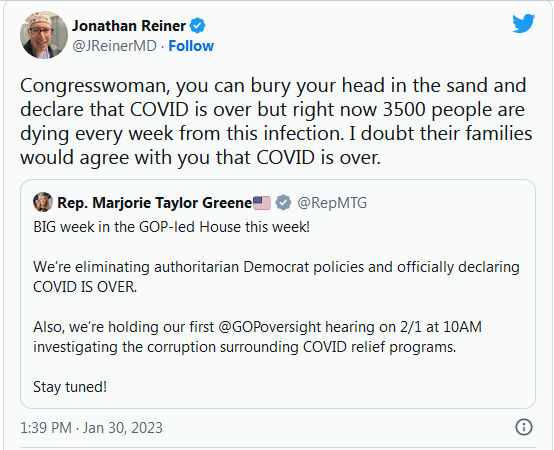 (link)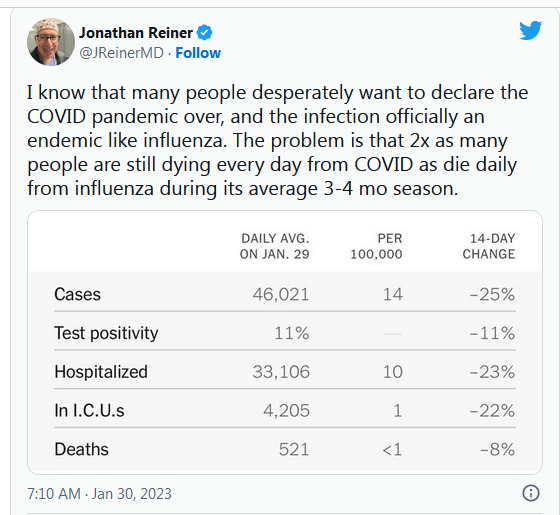 Reminder: if COVID turns out to be a "bioweapon"..then Donald Trump presided over the greatest foreign biological attack in American history and his response was to compliment their leader and sell them all our beef, pork, corn and soybeans. https://t.co/TjjcYU20bP

— Hal Sparks (@HalSparks) January 29, 2023
"In this study, COVID-19 was a leading cause of death among individuals aged 0 to 19 years in the US." @JAMANetworkOpen https://t.co/AWawqJ0KLl by @flaxter and colleagues pic.twitter.com/BIokfnMDez

— Eric Topol (@EricTopol) January 30, 2023
I did not have "Polio isn't that bad" on my 2023 bingo card… https://t.co/LUPVcJTpzw

— ???? snipe, lixo tóxico ????? (@snipeyhead) January 27, 2023
Reader Interactions