Note: Barring another crisis, I'm gonna try dropping back to a once-a-week schedule for these updates. So my next Covid Update will be next Wednesday morning, March 1st.
******
Getting the updated booster is the best way to protect yourself against severe COVID-19 illness.

— nychealthy (@nycHealthy) January 30, 2023
"Underscores the pressing need to invest in health in the US"
Impact of US Covid through May 2022
—over 1 million deaths
—reduced life expectancy by 3.1 years
—economic welfare losses of $3.57 trillion
—untold number of people disabled w/ #LongCovid https://t.co/lLk28muofZ pic.twitter.com/JZFpzQa1Oz

— Eric Topol (@EricTopol) February 23, 2023
======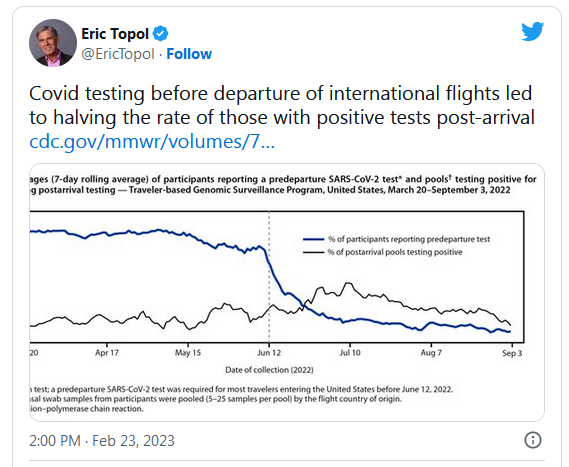 (link)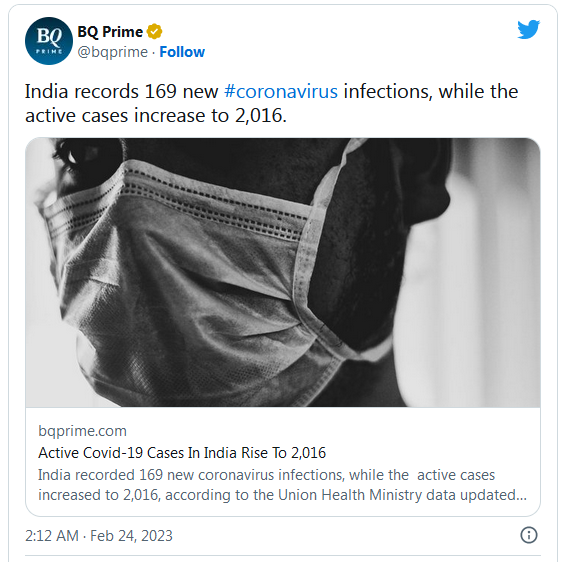 (link)
Japan is considering a fresh coronavirus vaccine rollout from May, starting with the elderly and other vulnerable members of society. https://t.co/PRTfMT0DrO

— The Japan Times (@japantimes) February 24, 2023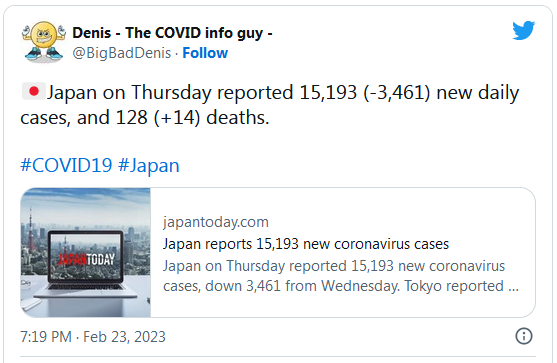 (link)
A Japanese research institute says one in four people continued to experience suspected coronavirus aftereffects even 18 months after infection.https://t.co/GjYPpgX8vS

— NHK WORLD News (@NHKWORLD_News) February 22, 2023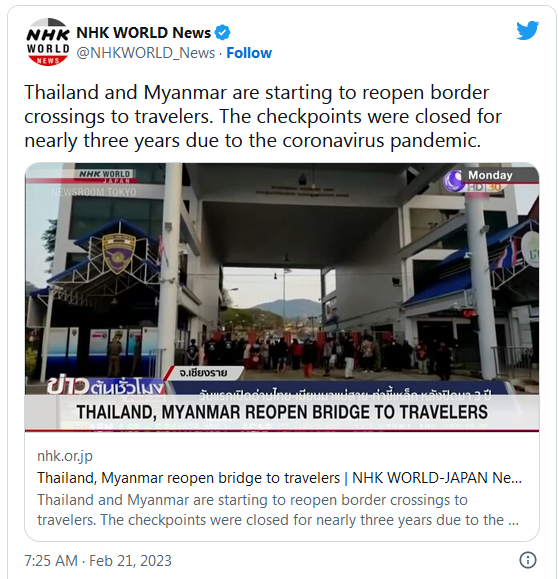 (link)
Australia:
A wave driven by XBB.1.5 "Kraken" is just starting here. The waves from that variant in the US and UK were quite severe. It has high ACE2 binding (similar to XBF), so good at attacking a wide range of organs in it's hosts.

So I expect a similar wave to what we just went through. pic.twitter.com/IeLjpVzCw1

— Mike Honey (@Mike_Honey_) February 22, 2023
Covid in the UK:
Another 1.2 million infected in week up to 7th feb.
Up 20% from previous week

rates highest among secondary school-age children.

The number of hospital patients in England who have tested positive is also continuing to rise.https://t.co/E5qixFecE3

— Dr Claire Taylor (@drclairetaylor) February 19, 2023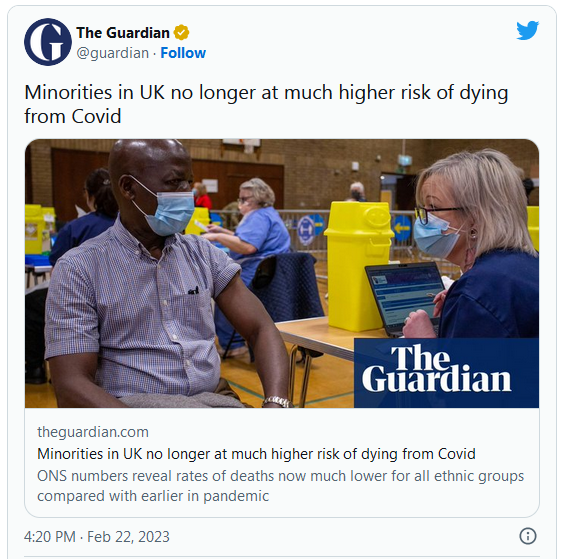 (link)
======
Worldwide we are now in a 100% #Omicron #COVID19 #pandemic . All prior forms of #SARSCoV2 are extinct, except in lab freezers. Dozens of Omicron subvariants are in circulation, some so genetically different that it seems time to use another Greek letter. https://t.co/ghNKq6d5eG pic.twitter.com/7jzvEVtJNl

— Laurie Garrett (@Laurie_Garrett) February 22, 2023
Getting COVID-19 is known to increase a person's long-term risks of having a major cardiovascular event, but being fully or even partially vaccinated appears to bring that risk down, according to a new study.https://t.co/r3gmoI4hw3

— Ars Technica (@arstechnica) February 22, 2023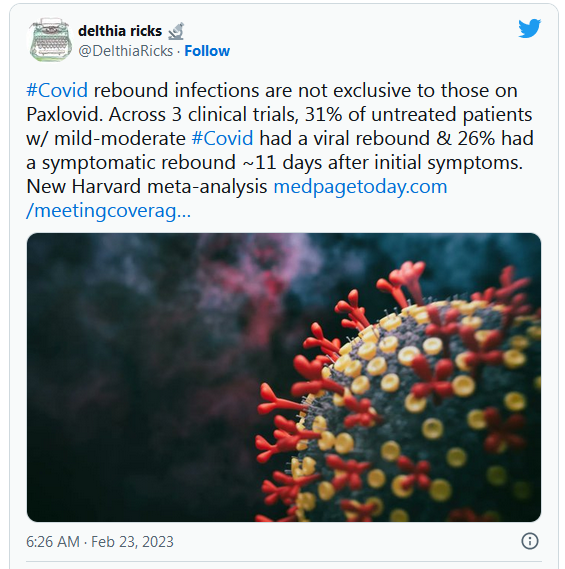 (link)
New study from Japan: Experimental oral antiviral shows promise in #Covid outpatients w/ mild-moderate disease. Symptom resolution was 24.3 hrs earlier for patients receiving 125mg of the drug ensitrelvir compared w/ placebo. Drug may also curb #LongCovid https://t.co/feckl3lwWL pic.twitter.com/mz9X7iknlx

— delthia ricks 🔬 (@DelthiaRicks) February 23, 2023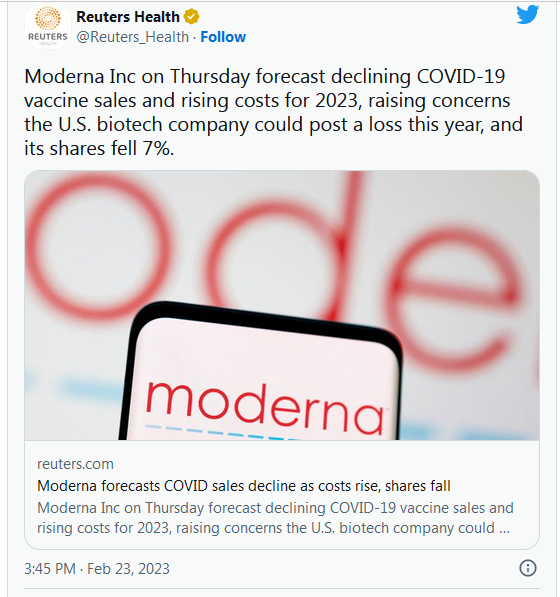 (link)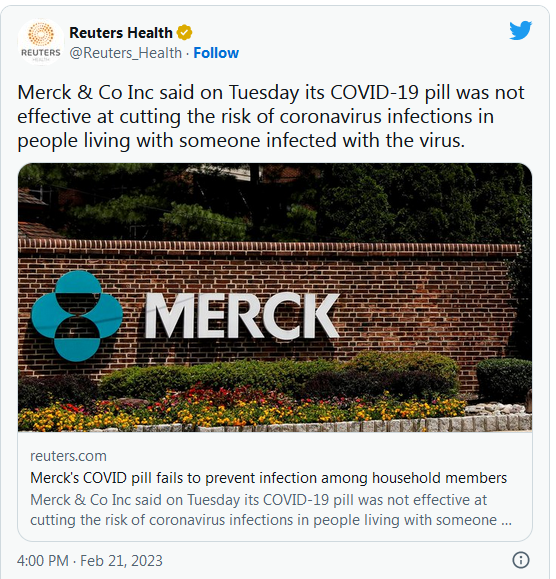 (link)
I finally completed the step-by-step instructions for building a Mini Corsi-Rosenthal Box. Please let me know if you need it translated or adapted for materials available in your country. The PDF is available here: https://t.co/kbAZt7K8fz#CorsiRosenthalBox pic.twitter.com/48WGoTFc9u

— Shiven Taneja (@ShivenTaneja) February 24, 2023
Thread:
New paper prototype of a DIY air purifying lamp!

Inspired by wood-veneer hanging lamps. Uses a Levoit 300s filter, two 140mms fans, warm white LED strip. Exterior frame made of embroidery hoops, paper, waxed canvas and wire, designed by @mbecica 1/ pic.twitter.com/e7wMbt8Vrs

— Kai Chang (@syntagmatic) February 23, 2023
======
yes, most annoying! presented in the N Y Times as if it were a serious consideration of a recent study when it was (yet another) anti-mask/ anti-public health mandate/ anti-Biden propaganda piece. how very easily misled a reader might be, urged to think "masks are useless." https://t.co/mWlfmGRv20

— Joyce Carol Oates (@JoyceCarolOates) February 22, 2023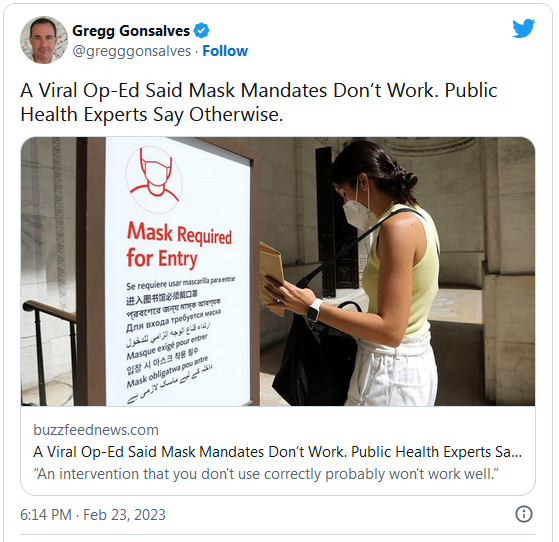 (link)
Celebrity tweets swayed US public opinion toward pandemic efforts, study suggests

Tweets—especially those from vax-skeptic politicians & news anchors—likely influenced the increasingly negative US public attitudes toward efforts to combat #COVID19https://t.co/nWoShNaYCw pic.twitter.com/uo2ZMFWxjY

— CIDRAP (@CIDRAP) February 23, 2023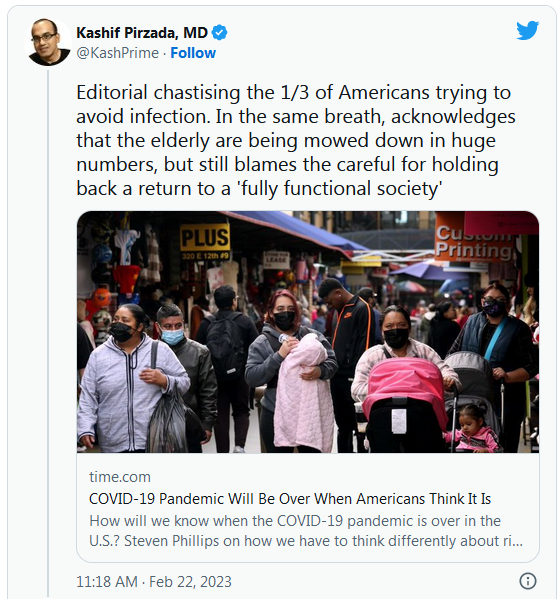 TIME magazine, so not really 'reputable', but the op-ed by Steven Phillips, M.D.,M.P.H., Vice President Science and Strategy, COVID Collaborative and Fellow of the American College of Epidemiology, is every bit that bad:
When will the COVID-19 pandemic end in the U.S.? Is it over when the president says so, by scientific consensus, or when the public thinks so? Historians of pandemics think it's mainly the latter. Although blunting the epidemic curve is a major measurement, the perception of when we can "return to normal" resides largely in the subjective individual human domain. But can we come up with a measurable definition to help track progress and serve as the basis for public policy and awareness of the pandemic's endpoint? That seems an exercise that is vital in this moment of pandemic confusion. Here's my proposed definition: the country will not fully emerge from the COVID-19 pandemic until most people in our diverse nation accept the risk and consequences of exposure to a ubiquitous SARS-CoV-2, the virus that causes COVID-19….

After three years of the imposition, followed by gradual easing, of lockdowns, quarantine, isolation, testing, vaccination and masking, how does the holdout one-third of the country move from the current obsolete but ingrained "avoid exposure" paradigm to an endemic "accept exposure" reality? This not only has significant medical, public and mental health implications; it will also accelerate a return to a fully-functioning and dynamic society.

There are three segments of society—policymakers, experts (scientists, biomedical and public health practitioners), and the media—that form an ecosystem that has played a major interactive role in shaping our current pandemic paradigm. This ecosystem is also the one that could help catalyze and speed a frame-shift.

The U.S. COVID ecosystem is largely playing catch-up with the public rather than leading this transformation. Separately and together it forms powerful networks to enable those with an understandable difficulty of letting go of three years of ingrained avoidance behaviors to cling to their practices.

This collective force still leaves some people suggestible to health alarms fearful, anxious, and confused about how to protect themselves and others in a time of rapid societal transformation.

The U.S. is now at a major pandemic crossroad. "Follow the science" has been a central policy guidepost in the pandemic. Science and public health knowledge and expertise is the conduit to both sound policy and public education through media channels. New courageous "accept exposure" policies, public education and behavior change strategies are needed to capture the benefits of the new paradigm. This could be a major step in bridging our national COVID divide.
I may not fully agree with the doomers, but I can see their perspective:
I think that the increased incidence of large-scale industrial accidents can't be divorced from both Long-COVID-related staffing shortages and Long-COVID-related cognitive issues.

So, probably prep for whatever happens when your local critical infrastructure thing fails badly.

— Naomi Wu 机械妖姬 (@RealSexyCyborg) February 23, 2023