So-called Repub hawks hammered Florida Governor Ron DeSantis last week for characterizing Russia's genocidal war on Ukraine as a "territorial dispute" and for failing to criticize Vladimir Putin in his remarks, which were provided in response to a questionnaire from Tucker Carlson Tonight, cable's #1 rated show for confused and enraged shut-ins whose children no longer speak to them.
Carlson is a tireless advocate for a Putin appeasement strategy, so he was thrilled to have both GOP frontrunners on board. But DeSantis, like many fellow Repubs, including his erstwhile mentor Trump, is a tough-talking bully when strutting in front of wingnut audiences teasing plans to persecute or abandon vulnerable people, but he's a giant chickenshit when taking flak.
This week he sort of walked back the "territorial dispute" remarks and finally mentioned the person responsible for the strife in Eastern Europe during a safe-space interview with Piers Morgan. Here's the account in The Times:
"I think he is a war criminal," Mr. DeSantis said of Mr. Putin, for whom the International Criminal Court issued an arrest warrant related to war crimes. "I don't know about that route," he said of the arrest warrant, "but I do think that he should be held accountable."

To Mr. Morgan, Mr. DeSantis insisted that his comment about a "territorial dispute" had been "mischaracterized," but he acknowledged he could have been clearer.

"Obviously, Russia invaded" in 2022, Mr. DeSantis said. "That was wrong. They invaded Crimea and took that in 2014 — that was wrong."
Incensed by the defection, Carlson snipped angrily:
Just hours after Mr. DeSantis's new comments about Mr. Putin were made public, Mr. Carlson attacked what he said were people who give in to the news media, asserting that they are forced "to repeat whatever childish slogan they've come up with this week." In a mocking voice, he said, "Vladimir Putin is a war criminal."
DeSantis is gutless, so I doubt he'll tell Carlson off. It would be easy enough since Carlson pitched a big fat one right over the plate: "Of course Putin's a war criminal, Tucker, you simpering suck-up to a corrupt, America-hating, civilian-bombing goon." 
He won't say that because he's a chickenshit, but can DeSantis afford to let Trump's latest broadside go unanswered? It came up during the morning thread, and though there's plenty of coverage that partially quotes the statement on the political gossip sites, I can't find a not-Twitter embedded version of the whole statement, so here's an image: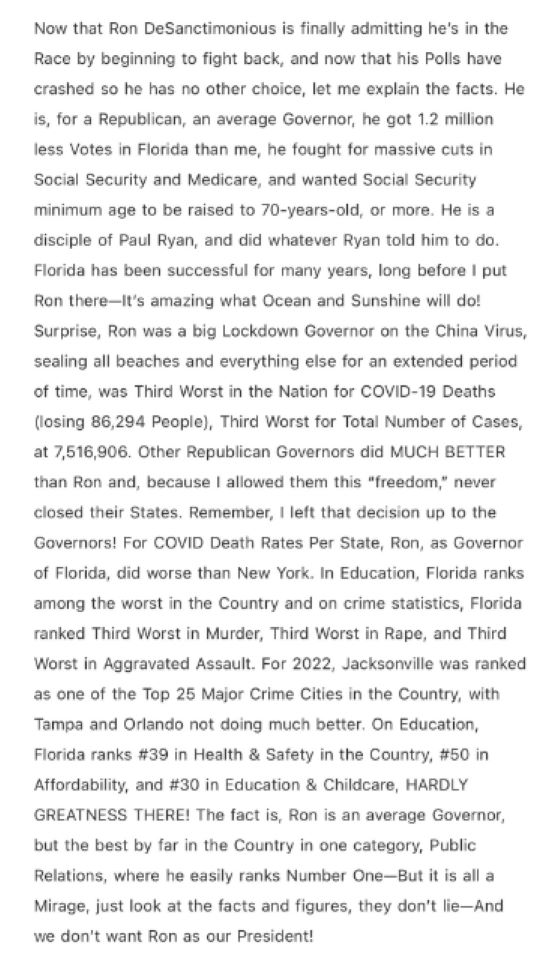 I'm going to go out on a limb here and guess whatever response DeSantis issues will be weak sauce. The opponent, a fellow Repub chickenshit, is perceived to be strong in Repub circles, so DeSantis will throw a weak jab if he bothers to counterpunch. It's a pattern. Even the so-called "attacks" from DeSantis that drew the above smackdown were pretty weak.
That's just how Puss 'n Boots Pinochet rolls unless he's punching down on trans girls or yelling at students about face masks during a pandemic. It looks like Trump will annihilate DeSantis, and not because Trump is strong but because DeSantis is weak.
Open thread.