Medium Cool is a weekly series related to popular culture, mostly film, TV, and books, with some music and games thrown in.  We hope it's a welcome break from the anger, hate, and idiocy we see almost daily from the other side in the political sphere.

Arguments welcomed, opinions respected, fools un-suffered.  We're here every Sunday at 7 pm.
Agatha Christie & Dorothy Sayers, Part IV
by Subaru Diane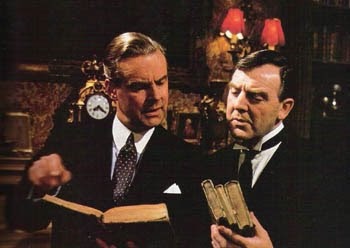 Ian Carmichael as Lord Peter Wimsey and Glyn Houston as his faithful, ingenious, and super-competent manservant Mervyn Bunter.
Let's talk about class tonight: upper class, servant class, professional class, unskilled underclass — all the hierarchies and subdivisions and strata of wealth, position, title, and family, or lack thereof.
Agatha Christie set many of her books — perhaps the majority (I haven't counted) — in lavish country estates, sybaritic resorts, luxurious cruise ships, and perfectly-appointed trains and planes.
As we've discussed previously, her main characters (victims, suspects, and murderers alike) tend to be types — stereotypes, in fact — and they mostly populate the upper and upper-middle classes. The retired Anglo-Indian colonel, the local squire's wife, the tightly-furled lawyer or civil servant, the gold-digging young widow of a minor aristocrat, and the abrasive, abusive "self-made" millionaire are all familiar types in Christie's dramatis personae.
Domestic servants abound, but Christie (through her main characters) more often than not describes them unflatteringly as "somewhat bone-headed," "half-witted but amiable," "rather simple," "distinctly moronic," and (my personal favourite) "frequently adenoidal."
Dorothy L. Sayers made her detective hero a younger brother of the richest peer in England and wealthy enough on his own account that he can afford to collect rare first editions, buy a new Daimler every year or two, keep "the finest soprano in Europe" as his mistress, and disappear on vacation in the wilds of Corsica for months on end. Lord Peter and his noble family unquestionably dwell among the uppermost of the upper classes.
Wimsey's own personal manservant, Mervyn Bunter, is a richly-drawn character with an interesting backstory and a wide range of talents and interests. Further, Wimsey enjoys friendships, or at least cordial acquaintanceships, with an astonishing range of men and women from every conceivable social stratum and background.
From the perspective of a century later, how well did Agatha Christie and Dorothy L. Sayers capture Britain's class system and the social changes that were beginning to upend that system? What is the value for us (liberal egalitarian jackals that we are) in reading and enjoying depictions of these hierarchical, preordained, and often repressive and restrictive lives?
Okay — Class is in session!