Predictions are hard.  (Silently adding especially about the future.)
But I'm gonna make one anyway.  Think of it as a gift to all of you when you can point and laugh if it turns out to be totally wrong!
I think Jack Smith is going to split the baby, in the best possible way.  I don't think there will be one huge case about the MAL documents + Jan 6 + the grifting off the big lie.  I think the various cases will be brought separately, and I think some will be in DC and some will be in FL.  There may even be parts of one of those that are in FL and other parts that are in DC.
As for the documents, I believe that these 3 pieces are considered separate crimes:  taking the documents, retaining the documents, and showing the documents.  I am most certainly not a lawyer, but it seems like they could charge the retaining of documents in FL, for instance, and the taking if documents in DC.
Jack Smith is not stupid, and I don't think for a minute that he will be putting all his eggs in one basket.  And if he did, that basket would certainly not be in FL where the crazy judges and plenty of MAGAs live.  Like me, Jack Smith is a belts and suspenders person.
Somewhat related, regarding the discrepancies in reporting about Meadows, I think we may be seeing some very careful parsing of words.  Could the initial reporting of Meadows pleading guilty to some smaller offenses and getting PARTIAL immunity be true, and have it be true at the same time that "he didn't take a deal"?
It seems to me that the key players are playing it very close to the vest, and they should be.  Jack Smith and company, for sure.  Ditto for Meadows and his attorney, the one attorney who appears to have been involved this high-profile case without losing his credibility and standing in the legal community.
Oh, and totally unrelated, this cartoon from Anne Laurie's thread is exceptionally good, so I will repost it here.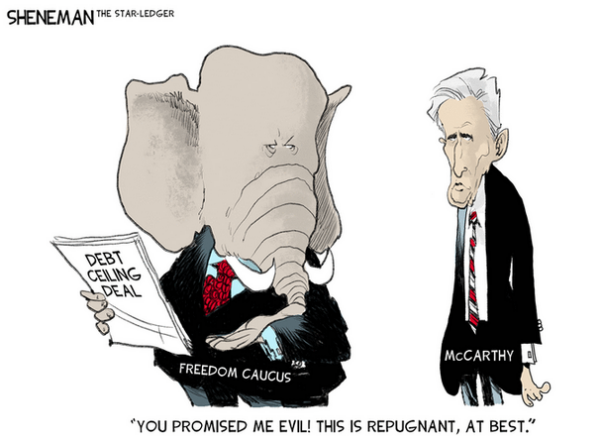 I wonder if the Squeaker is as happy in the position as he thought he would be.  I hope that he is totally miserable every single day, and that he is a living example of be careful what you wish for.
Open thread.