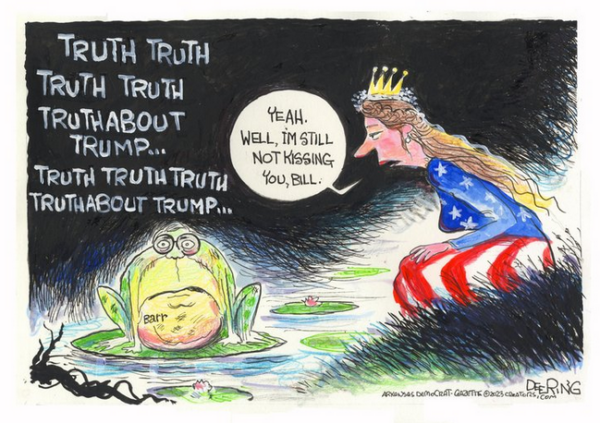 Per The Hill, "Trump, Barr feud reaches fever pitch":
… Barr has been among the most prominent conservatives or former Trump administration officials to publicly criticize their former boss's behavior and vouch for the strength of the federal indictment against him, undercutting defenses offered up by Trump and his allies.

Barr has called special counsel Jack Smith's indictment "damning," dismissed Trump's defenses as "absurd," and compared Trump to a "defiant 9-year-old kid."

In response, Trump has called Barr a "gutless pig," a "RINO," meaning Republican in Name Only, and a "coward," reserving some of his harshest language for the man he once praised as "one of the most respected jurists in the country."

"So nice to see that Sloppy, Low Energy RINO Bill Barr, gets loudly booed and shouted at everywhere he goes! He is sooo bad for America," Trump wrote Tuesday on his Truth Social platform.

Barr served as Trump's attorney general for two years before resigning in December 2020, when he first broke with Trump as the former president pushed claims that the 2020 election was rigged and fraudulent. Barr had declared that the Justice Department he oversaw at the time found no basis to claims of widespread voter fraud that led to Trump's election loss.

In the past year in particular, Barr has emerged as an outspoken critic of his former boss, testifying before the House panel investigating the Jan. 6 riots at the Capitol and becoming one of the most outspoken Republicans regarding the seriousness of the FBI search of Mar-a-Lago last August to retrieve classified documents from Trump's time in the White House…

"I think Barr is trying to cleanse himself of his Trump association, which is not likely to work with anyone who paid attention to what he did for Trump as AG," said Alan Morrison, a law professor at George Washington University. "I also think that he is trying to get Republicans to move away from Trump as the best means of taking the White House in 2024."…
Pretty much!
Bill Barr says classified documents case against Trump "entirely of his own making" https://t.co/5ZRQqJOEUN

— Axios (@axios) June 19, 2023
… What he's saying: "He had no right to those documents," the former Trump administration official told CBS. "The government tried for over a year, quietly and with respect, to get them back, which was essential that they do, and he jerked them around. And he had no legal basis for keeping them."

– "But beyond that, when he faced his subpoena, he didn't raise any legal arguments. He engaged in a course of deceitful conduct, according to the indictment. That was a clear crime if those allegations are true, and was outrageous," added Barr on CBS' "Face the Nation."…

Yes, but: "I don't like the idea of a former president serving time in prison," he said.…
Barr slams Trump's defense in documents case as 'absurd' and 'wacky'https://t.co/mdWzkl0Ykc

— Tommy Lightfoot Garrett (@LightfootInHwd) June 19, 2023
… Barr said that Trump did some good things as president but that he does not believe Trump should continue to be the Republican standard-bearer.

"He will always put his own interests and gratifying his own ego ahead of everything else, including the country's interests," Barr said. "This is a perfect example of that."

Barr, who drifted away from Trump after the deadly Jan. 6, 2021, insurrection at the U.S. Capitol, resigned from Trump's Cabinet in December 2020 amid disagreements with the president over whether to accept the election results.

Barr also said on CBS News that he believes Trump is vulnerable in the Jan. 6 case…
Despite all his repeated criticism of Trump, Barr still says he'll vote for him if he's the Republican nominee.

E.g. (good for @GayleKing to not let go of the question):https://t.co/dEDi7AJVls

Everyone platforming Barr needs to ask: will you vote for Trump if he's the nominee? https://t.co/IlMX9GATyT

— Pete Strzok (@petestrzok) June 18, 2023