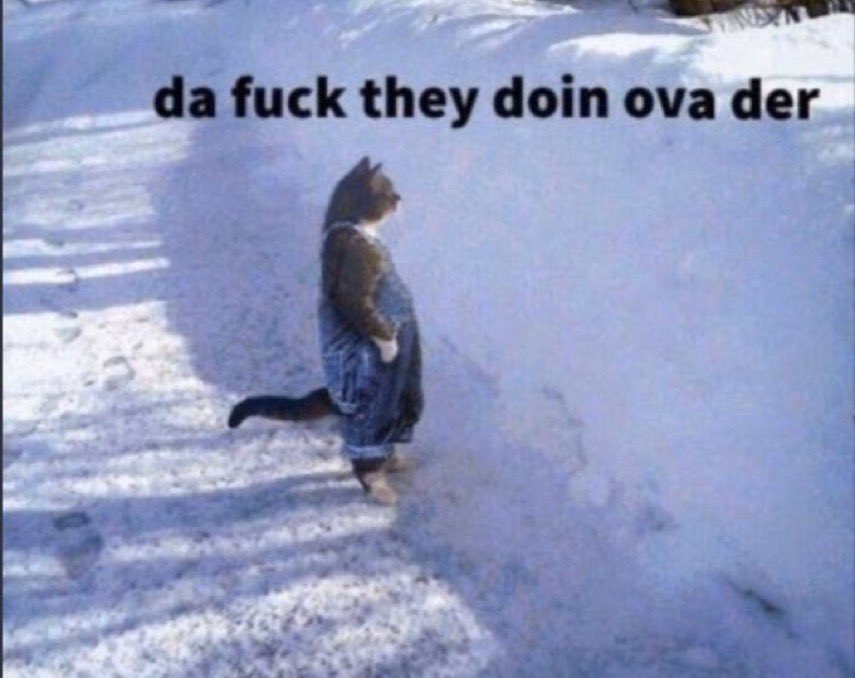 (Obligatory!)
So by now everyone knows it has been a slow news day. My professional opinion at this point is: 🤷🏻‍♂️. We'll get to it after the jump.
Here is President Zelenskyy's address from earlier today. Video below, English transcript after the jump:
May Ukraine's victory and state institutions' successful transformation be best tribute to memory of all our heroes – address of President Volodymyr Zelenskyy

23 June 2023 – 19:39

Dear Ukrainians, I wish you health!

The summary of this busy day.

The meeting based on the results of the London Ukraine Recovery Conference is a powerful event, good gains for our country. The support from the United Kingdom, the United States, and the European Union is crucial. Long-term support programs for the future, for years to come. About five hundred global companies, strong companies, are interested in investing in Ukraine. Clear support for Ukraine's EU membership: we are already perceived as an EU member politically. Separately, we are working on the mechanism for the confiscation of the assets of the terrorist state and its associated persons. I thank everyone who prepared the conference and participated in its work, it is really important.

A very meaningful meeting of the National Security and Defense Council today. I have already reported on it separately. I just held a Supreme Commander-in-Chief's Staff meeting. Justice is also a very important point of our discussion at the Staff meeting. Issues concerning military commission chiefs, in particular the scandal with… a figure in Odesa. This person should definitely not be in the recruitment system of the Armed Forces, it is very unpleasant, frankly immoral, and wrong that this person remained in his position despite everything. I've instructed Commander-in-Chief Zaluzhny to remove this person from his post. And First Deputy Minister of Defense of Ukraine Pavliuk has been instructed to organize an inspection of this entire system of military commissions. It is a pity that the Staff meeting's attention and time now have to be spent on such issues.

Of course, the situation on the front line was discussed in great detail – all the main directions, ammunition supply, artillery… Everything that requires the Staff's attention today. Commanders – Generals Zaluzhny, Syrsky, Tarnavsky, Moskalyov, Vice-Admiral Neizhpapa, General Malyuk, and government officials reported to the meeting. All.

I had the honor to congratulate the officers of our military educational institutions on their graduation… Six higher education institutions at once. Kharkiv National University of the Air Force, Military Institute of Tank Troops of Kharkiv Polytechnic Institute, Military Institute of Taras Shevchenko National University of Kyiv, Kruty Heroes Military Institute of Telecommunications and Informatization, Ukrainian Military Medical Academy and the Department of Military Training of the National University of Life and Environmental Sciences of Ukraine. I thank each and every one who chooses to be a Ukrainian officer, and I wish for two absolutely fundamental things: to destroy the occupiers as much as possible and win as soon as possible.

And two more things.

Today, the Civil Service Day is celebrated in our country. The day of those people without whose integrity there is no effective state. Of course, we still have a lot to do so that the civil service in Ukraine gets closer to the models we are aiming for in our policy. But now I want to thank all our people who, under the existing conditions and with the available resources in the state, are doing everything that depends on them to make the state effective. Thank you! To each and every one! And I congratulate you on the Civil Service Day of Ukraine.

And, of course, the front. Knowing our heroes, and being grateful to them is a must.

Today, I would like to pay particular attention to the soldiers of our 35th Separate Marine Brigade. A brigade that performs extremely difficult tasks. Guys who fight exactly the way Ukrainian soldiers should fight. Senior sailor Viacheslav Imanhulov and junior lieutenant Serhiy Penov – thank you, guys, for your exemplary strength and courage in the battles in Donetsk region. That's what our soldiers, Ukrainian soldiers, need to be. Well done!

And I ask each and every one: please honor the memory of our two paratroopers of the 35th Brigade. Especially brave, especially strong. They gave their lives for our state, for our people right now – in the battles in June, and Ukraine must remember them. Captain Ivan Kotsur… Eternal memory! Senior Lieutenant Oleksandr Kazandzhi… Eternal memory! May Ukraine's victory in this war and the successful transformation of our state institutions into ones as strong and effective as our soldiers are – may this be the best tribute to the memory of all our heroes of different times who fought and died for Ukraine's freedom and strength!

Glory to Ukraine!
I would just like to stipulate at the outset that the whole point of a counteoffensive is NOT to counterattack oneself!
As  I write this Prigozhin, supposedly leading Wagner, has announced that he's moving on Moscow to deal with Minister of Defense Shoigu and the senior military staff/leadership who have failed Russia, the Russian people, and Vladimir Putin with both how they've prosecuted the reinvasion of Ukraine and how they've misled Putin. Not a coup, just a long overdue violent annual performance eval. In response the Fortress Plan – the security crisis action plan for municipal defense – has been activated for Rostov on Don and for Moscow. And the FSB, the Russian successor to the Soviet KGB, has either opened a criminal case or actually charged Prigozhin for violating the laws regarding not disparaging the military during the Special Military Operation and/or calling for armed rebellion. I've also seen reports that the St. Petersburg Police and/or Russian Special Forces have raided Wagner's St. Petersburg offices.
Slow news day, huh?
Let's start with this!
To be clear – so far there is no evidence of anything happening beyond Prigozhin's voice memos and various official statements.

Wheeling the generals out, or mentioning Prigozhin on TV, is highly unusual. That suggests it's serious – whatever *it* is. But we have seen *nothing*

— max seddon (@maxseddon) June 23, 2023
Other than videos and some audio released on social media THERE IS ABSOLUTELY NO EVIDENCE THAT THE RUSSIAN MOD BOMBARDED A WAGNER REAR BASE OR THAT WAGNER, LED BY PRIGOZHIN IS MOVING OUT OF THE DONBAS, THROUGH RUSSIA, AND TOWARDS MOSCOW!!!!!
It's on Russian state TV now, which means it is "real" https://t.co/zMODEfVu9Z

— Brian Whitmore (@PowerVertical) June 23, 2023
Russia's state TV suddenly interrupted its broadcast tonight with a message from the Russian Ministry of Defense rebutting Yevgeny Prigozhin's claims that Russia's military leadership killed a "huge amount" of his forces in strikes.

— Kaitlan Collins (@kaitlancollins) June 23, 2023
❗️New audio statement by Prigozhin (00:03 BST), stating Wagner "crossed state borders in all areas" and is now entering Rostov, promising to "destroy anything standing in their way":

"The current situation: today, we were dealt a missile strike. After this strike, helicopters…

— Dmitri (@wartranslated) June 23, 2023
Here's the full text of the translation in Dmitri's tweet:
❗️New audio statement by Prigozhin (00:03 BST), stating Wagner "crossed state borders in all areas" and is now entering Rostov, promising to "destroy anything standing in their way":

"The current situation: today, we were dealt a missile strike. After this strike, helicopters did their work. Then, artillery.

The orders were coming from the Head of General Staff to destroy PMC Wagner. After a meeting with the Minister of Defence Shoygu where they made this decision – to destroy the rebellious units, who are ready to defend the motherland, but not their asses.

As of now, we've crossed the state borders in all areas. Border guards came towards us and hugged our fighters.

Now, we're entering Rostov. Units of the Ministry of Defence, in fact, the conscripts who were thrown to block our path, moved away.

We do not fight with children. We do not kill children. Shoygu is killing children by throwing untrained soldiers, conscripts included, into the war.

He set up 18-year-old lads against us. They're like children and grandchildren to us. Therefore, these lads will live and return to their mothers.

We only fight with professionals. But if someone stands in our path, we will destroy EVERYTHING in our way.

We lend a hand to anyone. No need to spit in this hand. We are moving forward, going to the end.

Regarding claims regarding the arrest: this brotherhood, this justice, this honour, this conscience is what we have. But when you make these claims, you haven't got these feelings. These feelings are destroyed. Thus, you cannot understand anything but betrayal."
Other than what is being pushed on Russia state owned or controlled media and Prigozhin is pushing on his various social media feeds, there is STILL NO EVIDENCE THAT ANY OF THIS IS ACTUALLY HAPPENING!
Since we have no idea what is actually going on or if anything is actually going on, this analysis by Professor Sam Greene of the Russia Program at Kings College London and the Director of Democratic Resilience at the Center for European Policy Analysis:
I'll start with the most absurd: the idea that Prigozhin is attacking Putin. That story got slightly less absurd with today's video, which seemingly protects Putin but undermines so much of what Putin has said that it still feels like an attack.

It's still absurd, though.

/2

— Sam Greene (@samagreene) June 23, 2023
Moreover, the only direction from which Prigozhin can challenge Putin is from the nationalist right — who won't like the idea that this war is unjustified. It just doesn't compute.

/4

— Sam Greene (@samagreene) June 23, 2023
The most plausible story, for my money, is that Prigozhin himself is trying to undermine Shoigu — at this point, that much should be obvious — and has simply overshot with his rhetoric.

/6

— Sam Greene (@samagreene) June 23, 2023
Having written before about Russian strat-comms trying to create constructive ambiguity, I should be clear: I don't think this is that. The ambiguity this creates isn't constructive.

/8

— Sam Greene (@samagreene) June 23, 2023
Addendum: this makes things more dramatic, but not clearer https://t.co/egZjaaSeaE

— Sam Greene (@samagreene) June 23, 2023
If something is actually happening, here's a great analysis by Tatiana Stanovaya, Senior Fellow at the Carnegie Russia Eurasia Center:
Here are a few insights into the situation surrounding Prigozhin:

1️⃣ For a long time, Prigozhin has been out of direct contact with Putin, yet he's believed he was acting in Putin's interests "by default". His significant contributions in the war enhanced his sense of…

— Tatiana Stanovaya (@Stanovaya) June 23, 2023
Here's the full text of her tweet:
Here are a few insights into the situation surrounding Prigozhin:

1️⃣ For a long time, Prigozhin has been out of direct contact with Putin, yet he's believed he was acting in Putin's interests "by default". His significant contributions in the war enhanced his sense of exclusivity and privilege.

2️⃣ The President's administration maintained the stance that unless explicitly directed, it wasn't feasible to openly confront Prigozhin, despite a strong inclination to do so. In fact, they had even convinced themselves of his usefulness.

3️⃣ As I've previously stated, the atrocities of war can drive people to the brink of sanity. Even the most loyal players, who are dependent on the Kremlin (which doesn't imply complete manageability), can lose their sense of proportion. This is especially true when there appears to be no response to the continual attempts to escalate the situation.

4️⃣ Now that the state has actively engaged, there's no turning back. The termination of Prigozhin and Wagner is imminent. The only possibility now is absolute obliteration, with the degree of resistance from the Wagner group being the only variable. Surovikin was dispatched to convince them to surrender. Confrontation seems totally futile.

5️⃣ The impending end of Wagner has satisfied many in power. He had become excessively anti-state, which is intolerable during a war. However, a significant number of those outside of power now lament the loss of a character like Prigozhin, who had begun to appeal due to his daring and audacity. Consequently, political repercussions are expected.

A crucial point to note is that many within the elite will now personally fault Putin for letting the situation escalate to such extremes and for his lack of a timely, adequate response when to many it was evident that Prigozhin was pushing the limits of Kremlin's tolerance. Therefore, this entire saga is also an undercut to Putin's standing.
Russia's MOD says Ukraine's armed forces have "taken advantage of Prigozhin's provocation to destabilize the situation" and are attacking Russia's invaders along the flanks.https://t.co/mzJYlTQekx

— max seddon (@maxseddon) June 23, 2023
We are watching.

— Defense of Ukraine (@DefenceU) June 23, 2023
Circling back to my professional assessment of 🤷🏻‍♂️, six months or so ago I would have said this was legit. That this was what Prigozhin was trying to leverage Wagner taking Soledar and trying to take Bakhmut was intended to set up. Now, however, I'm not unconvinced that this isn't a well orchestrated deception operation. That it it is a maskirovka intended to divert our attention from something that is or will be happening somewhere else. Meduza is reporting that the video footage of the attacked Wagner camp was staged. This was my take away after watching the video once. The one thing I did not see where blood covered, burned bodies and body parts.
12 minutes ago
The video footage posted by Prigozhin earlier on June 23 that reportedly shows the aftermath of a Russian rocket strike on a Wagner rear camp is almost certainly staged. Here's why:

Whoever is filming doesn't run away from the explosion, as you would expect if they feared more artillery or rocket strikes, but moves toward it.
The people speaking off camera, before they could have gotten any real details about the incident, come to the conclusion that the Ukrainian military "can't get at us" and that only their own "allies" could have carried out the strike.
There's no visible crater in any of the posted footage, or any dirt that a normal explosion would gave scattered. The surrounding vegetation and trees appear essentially unharmed, which rules out a rocket that exploded in the air. Most likely, the explosion was caused by a hand grenade going off under a tent or in one of the camp's numerous structures.
One part of the footage shows two fires burning in a dugout, but the fresh cover of leaves in the dugout is undamaged, and there are no visible artillery casings around.
Prigozhin reported that the strike left a large number of victims, but the footage doesn't show any of them. One clip shows part of a human body, but the color of the dried blood on it suggests that the person died much earlier than when the alleged strike took place.
Prigozhin is in the process of being disappeared from the Russian internet. There are reports that Russian search engine Yandex has also begun filtering out results about him (like his Wikipedia page) https://t.co/637HF3aqhR

— Dmitri Alperovitch (@DAlperovitch) June 24, 2023
Something is clearly going on, but I'm sticking with Peter Pomerantsev's take on modern Russia: Nothing Is True and Everything Is Possible!
Pretty much!
The world's first civil war fought exclusively via voice memos

— Illia Ponomarenko 🇺🇦 (@IAPonomarenko) June 24, 2023
There is this, though:
Bertrand: A US official did tell us that he believes that it is "real" pic.twitter.com/72YKCkEZeg

— Acyn (@Acyn) June 23, 2023
Yes, lots of Russian military equipment is being moved around. Especially in Moscow and Rostov on Don. But we've got no actual visual confirmation that Wagner is on the move to Moscow. So I'll keep watching this and we can revisit tomorrow if we get confirmation of any of this existing outside of Prigozhin's social media accounts, Russia state controlled news media, and various Russian officials official statements and social media feeds.
That's enough for tonight.
Your daily Patron!
Here's a new video from Patron's official TikTok!
Open thread!