Sometimes these days I am very angry & sometimes I am very sad, but what keeps me going is my utter faith in the stupidity of my enemies. Thank you @slate and @jbryanlowder for letting me vent my rigorous, historically-based queer indifference & contempt https://t.co/hHbHbt94Vk

— Hugh Ryan (@Hugh_Ryan) June 23, 2023
It's easy for those of us who can at least pass for 'normal' to say, but I do think Mr. Ryan has a point:
Perhaps you have noticed, of late, that society is "collapsing." That the incoherent babbling of the vicious and insane now dominates prime-time news and every corner of the internet. That both queer acceptance and anti-queer backlash seem to be proliferating in ways that should be impossible, or at the very least should cancel each other out, but are instead turning America into a patchwork quilt of homophobic hellholes and sanctuary jurisdictions, like a thin rainbow sheen floating on a dirty puddle. And that rainbow? It has colors you've never noticed before, representing identities you've never heard of. Look closely; you might even see yourself reflected in it—at least until some jackbooted mouth-breather stomps through it on his way to protest Disney, or drag queens, or his own children, who have long since disowned him.

I sound flip, I know—a touch indifferent to all that unpleasantness. Forgive me: I came of age on a steady diet of bar queens quoting Joan Crawford while they took their triple-drug cocktails. They showed me that indifference has long been a kind of queer armor. The only defense when you can't stop them from hitting you is to never let them see it hurt (then kick 'em in the balls when they get winded). These days, however, my indifference is of a different kind: less aesthetic, more practical. Don't misunderstand: I'm not at all indifferent to the terrible suffering the right is causing for queer people, especially trans people and young people and queer people of color, and those who are all of the above. Quite the contrary. It's just that I know, in my heart of hearts, that our enemies are stupid, and they will fail.

Let me explain. It's my position as a queer historian that's shaped my indifference, and drawing on that background, I'm here to tell you two things. First, you're not crazy. The war for our future is all around us, and it will get worse. We are living in Weimar America (think Cabaret, but without Liza). There is no off-ramp coming. Many people want to exterminate queer communities, or drive us far enough underground that it's functionally the same; vastly more people don't really care but are willing to go along if promised some small measure of security or a return to an imagined time when things were better, whiter, more heterosexual. Radical centrists seem to have taken Martin Luther King's words on the white moderate—the "ally" who is "more devoted to 'order' than to justice," "who constantly says 'I agree with you in the goal you seek, but I can't agree with your methods of direct action' "—as an instructional guide rather than a warning. And reading the news is like looking into the maw of Pandora's box: I'm surprised daily by the innovative cruelties that fascists, the fascist-adjacent, and Republicans in general come up with.

Second thing you should know? Despite all of that, they are going to lose—they have, actually, lost already, irrevocably and permanently. Just as they did last time. This is what I mean by indifference…
Terrible things are happening, and will continue to happen, to particular individuals — and it is very much our task to fight as many of these terrible things as we can. But just as people didn't accept the Dobbs decision and immediately go back to a pre-Roe understanding of how abortion and contraception 'should' work, most people aren't going to blindly accept the right wing's frantic efforts to shove every human into one of two boxes, with a corresponding set of strictly-enforced boundaries. There is only so much toothpaste one can force back into the tube.
===========
'Only the Beginning' thread…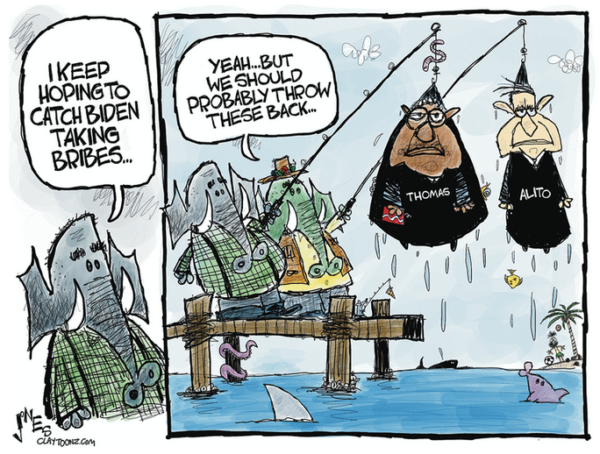 Wait, an Alito free private luxury jet trip to Alaska with Paul Singer, the same Paul Singer who initially funded Fusion GPS's oppo work on Donald Trump?

World sure is funny.

Gift link: https://t.co/dN1PbqTuEz https://t.co/e9u6YucVzj pic.twitter.com/kxLMfVOO3S

— Pete Strzok (@petestrzok) June 20, 2023
How much you wanna bet if you do even the tiniest amount of further digging, you're gonna find that Alito is just CONSTANTLY being showered with cash from these freaks? https://t.co/0UblnTttzF

— The Fig Economy (@figgityfigs) June 23, 2023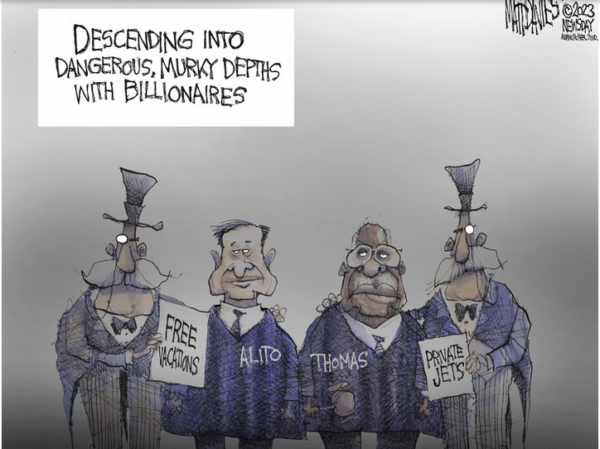 This is such a dumb argument because if other supreme court justices are being bribed I would absolutely like to know about https://t.co/A8rUfYZDim

— your himbo boyfriend (@swolecialism) June 23, 2023
Thinking about that time when Justice Elena Kagan wouldn't let her high school classmates give her lox and bagels, because it is unethical for justices to accept gifts.https://t.co/5GpVXGGy8b

— Ian Millhiser (@imillhiser) June 21, 2023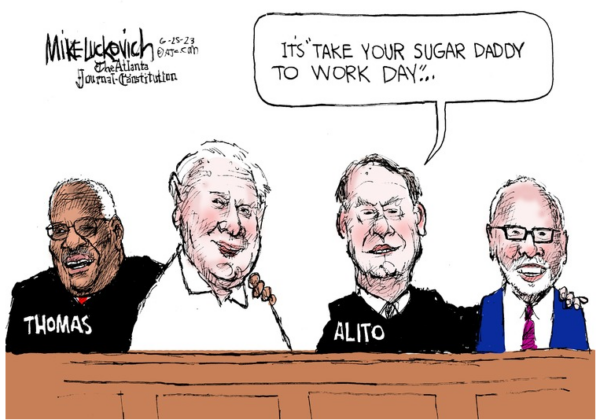 Obviously, Alito does not care about appearing unethical and will not recuse.

But the whole reason why justices aren't supposed to accept corrupt gifts from political donors is so that the courts aren't perceived as rigged and unfair by the people the justices decide to hurt. https://t.co/pFf9zNriRl

— Ian Millhiser (@imillhiser) June 21, 2023
that's because he doesn't believe it, he's telling you (and me, and everyone else in america) to go fuck ourselves. read it again but just replace both sentences with:

FUCK YOURSELVES

WHAT THE FUCK ARE YOU GONNA DO ABOUT IT https://t.co/nbWtdagHzC

— GOLIKEHELLMACHINE (@golikehellmachi) June 21, 2023
one reason we need to improve our margins in the senate is that the behavior will only continue to get worse as long as it goes unpunished. both alito and thomas should be impeached, sanctioned and disbarred. preferably, on television.

— GOLIKEHELLMACHINE (@golikehellmachi) June 21, 2023