NOTE: Next Tuesday is Independence Day, and a lot of people — including, I suspect, many media sources — will be taking the whole week as vacation. So, barring the unforeseen, my next Covid Update will be on Wednesday, July 12. (Probably time for us to start tapering back again, anyways.)
******
Emboldened by the government's recent lifting of the public health emergency, Americans who have tried to be rule-following pandemic citizens for the past three summers are at last abandoning precautions as the coronavirus fades into a background threat. https://t.co/moSJ6mpTms

— The Washington Post (@washingtonpost) June 25, 2023

(Should be paywall-free.) Covid is not 'over', but the attention it draws has been reduced to that of all the other chronic uncertainties of This Modern Life — weird weather events, wildfires, various outbreaks of political insanity… plus the aftereffects of long covid.
Moderna said on Thursday it has completed a submission to the U.S. Food and Drug Administration seeking authorization for its updated COVID-19 vaccine to target the XBB.1.5 subvariant. https://t.co/zJQRYDZYlk

— Reuters Health (@Reuters_Health) June 23, 2023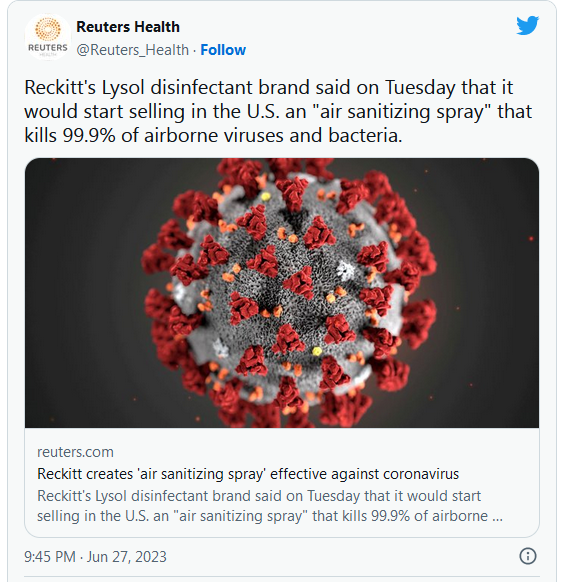 I'm very sensitive to airborne smells, so I'm not gonna be a beta tester, but given our fondness for 'air freshners' there will certainly be a market:
LONDON, June 27 (Reuters) – Reckitt's (RKT.L) Lysol disinfectant brand said on Tuesday that it would start selling in the U.S. an "air sanitizing spray" that kills 99.9% of airborne viruses and bacteria.

The spray, which Reckitt said helps reduce the spread of airborne pathogens such as cold, Influenza and Coronavirus, has been approved by the U.S. Environmental Protection Agency.

During the COVID-19 pandemic, Reckitt, Clorox (CLX.N) and other disinfectant makers benefited from a boom in sales of surface cleaners and wipes. At the time, there were no products suited to sanitizing air, though some anxious consumers took to spraying surface cleaners into their surroundings…

"We have spoken to other regulators, but I'd say at the moment that the prime focus is really making the U.S. a success and (learning) from the U.S. and then how we can take that elsewhere."

The formula contains active molecules that are hygroscopic in nature, which allows the molecules to attach to microorganisms suspended in the air.

Once attached, the molecules break down the structural membrane of the microorganism, leading to its destruction, Reckitt said.
======
Several billions of dollars left in a scheme to deliver COVID-19 vaccines to the world's poorest could be diverted to prepare for other pandemics or to support vaccine manufacturing in Africa, the scheme's partners said. https://t.co/jAlDLxsA8L

— Reuters Health (@Reuters_Health) June 26, 2023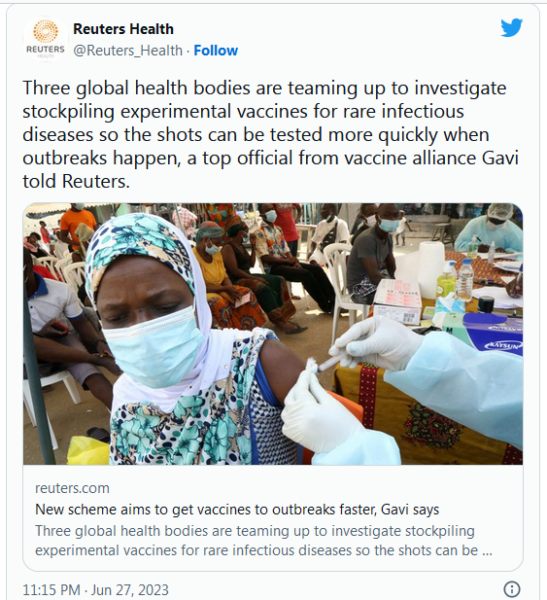 (link)
Status of Global #SARSCoV2 #Genomic #Surveillance | 06/25/2023

Global genomic surveillance is significantly down & decline is accelerated by the end of Global & National Emergency Declaration announcements!

Note: June 2023 data is incomplete
*Reporting delays pic.twitter.com/3U1VFdP5FY

— Raj Rajnarayanan (@RajlabN) June 25, 2023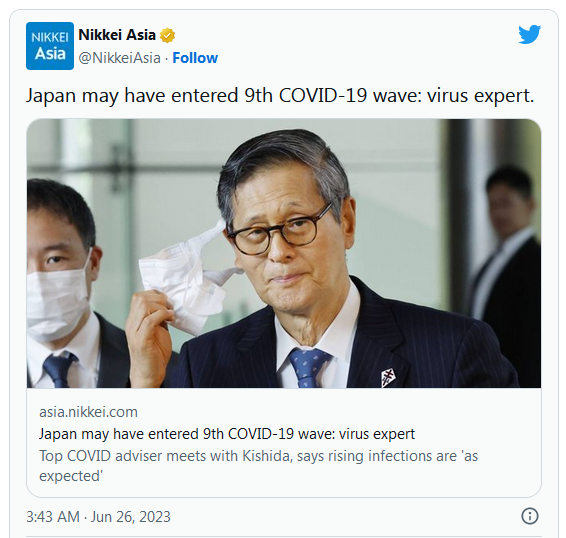 (link)
Japan, Okinawa: More than 700 Covid patients hospitalized.

A total of 10 medical institutions have restricted emergency and general medical care.

"We must assume that the scale of the epidemic will exceed the seventh wave of last year."https://t.co/FFdXIewQCB

— CoronaHeadsUp (@CoronaHeadsUp) June 27, 2023
Australia, Victoria: More than 600 people die after catching Covid in hospital

Health Department data reveals 5,614 people were suspected to have caught COVID while in the state's public hospitals between 2020 and April this year.https://t.co/9sQ9pmdTz2

— CoronaHeadsUp (@CoronaHeadsUp) June 27, 2023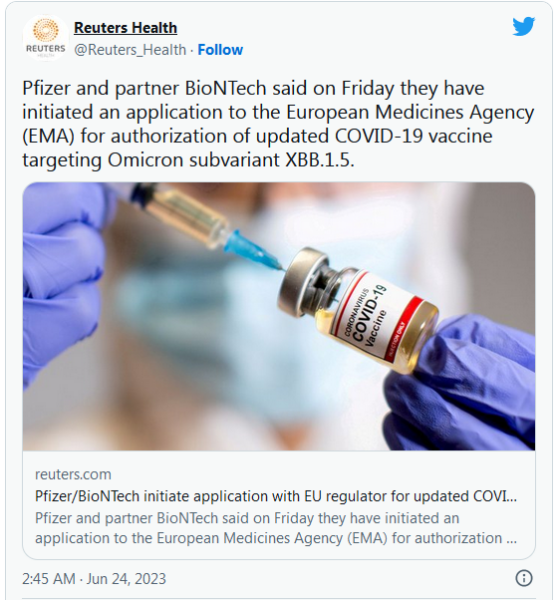 (link)
"Sweden sacrificed its seniors to the pandemic and used its schoolchildren as guinea pigs. Its government plied its people with lies about COVID-19 and even tried to smear its critics." https://t.co/bxrHYdzUmq

— Jonathan Reiner 🟦 (@JReinerMD) June 26, 2023
Britain: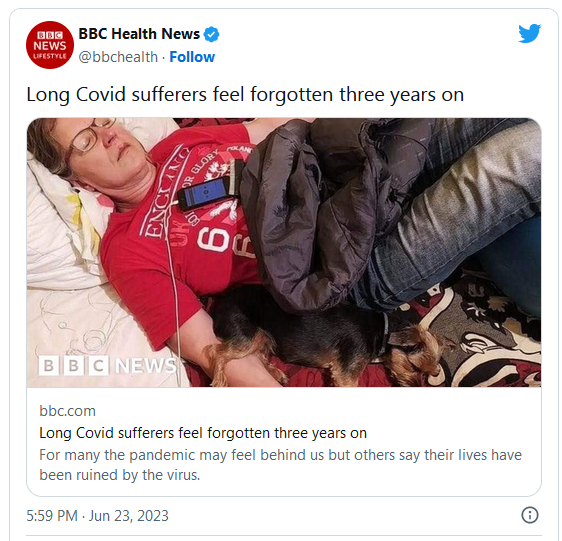 (link)
======
An inhaled Covid vaccine booster was more than 5-fold effective for inducing neutralizing antibodies at 28-days, and more durable at 1-year, than shots, vs Omicron BA.5 in a randomized trialhttps://t.co/yeHxgukgft @TheLancetInfDis pic.twitter.com/drpQuw0yiN

— Eric Topol (@EricTopol) June 27, 2023
Prolonged inflammation, #LongCovid hallmark, was alleviated & inflammatory markers restored to healthy levels, new study reports. Patients given 1 mRNA vax dose at 12 months post #Covid, which incrementally eliminated excess inflammation w/in 24 months https://t.co/m74zjmXgfj

— delthia ricks 🔬 (@DelthiaRicks) June 26, 2023
Study links moderate, severe COVID-19 to chronic pain

26% of patients with non-mild #COVID19 cases report frequent painhttps://t.co/J0UxDhvedN pic.twitter.com/eY6Fcq8Qzl

— CIDRAP (@CIDRAP) June 26, 2023
A new review of current data suggests the persistence of #SARSCoV2 in children & babies. The paper in the Lancel Microbe, isn't a study but an examination of previously conducted research. That said, it's a serious analysis warranting further research https://t.co/2GyHugcC7K pic.twitter.com/3XHE7QF6NJ

— delthia ricks 🔬 (@DelthiaRicks) June 27, 2023
A third of people are Blood Group A. #SARSCoV2 preferentially infects these cells "providing a direct link between ABO blood group expression and [Covid] infection"https://t.co/Ya7bCrTsVb @ASH_hematology pic.twitter.com/GXKkpo6bhs

— Eric Topol (@EricTopol) June 27, 2023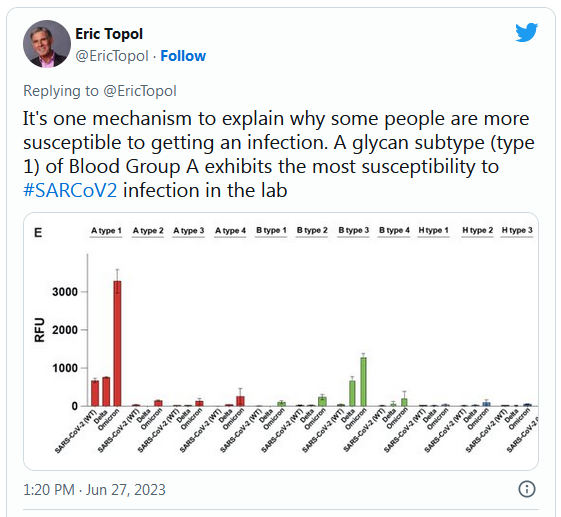 From a wastewater obsessive specialist:
@vinay_kishore Saluti, the unroll you asked for: https://t.co/Y6hMBHE9P6 Have a good day. 🤖

— Thread Reader App (@threadreaderapp) June 24, 2023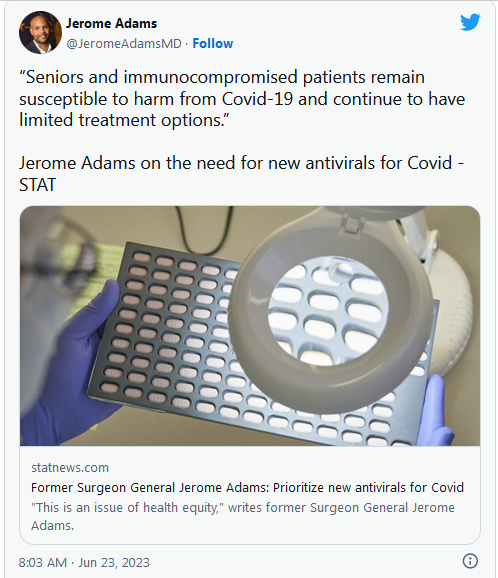 (link)
Ending today, the @theNASEM held 2 days of mtgs on #LongCOVID & the big take-home messages:
-It's FAR more widespread & complex than is generally realized
-Patients experience stigma from MDs & employers
-Doctors can't get reimbursed
-There is no standard of diagnosis or care. pic.twitter.com/In3au6OJFE

— Laurie Garrett (@Laurie_Garrett) June 23, 2023
======
Must-read thread on the ODNI report and what it shows, but more importantly does not show.

At this point, any claim that this report supports a lab origin of SARS-CoV-2 is disinformation. https://t.co/wAgtpxFmHo

— Dr. Angela Rasmussen (@angie_rasmussen) June 26, 2023
@XinWei57337546 Namaste, here is your unroll: https://t.co/ngTDunuq5M Talk to you soon. 🤖

— Thread Reader App (@threadreaderapp) June 25, 2023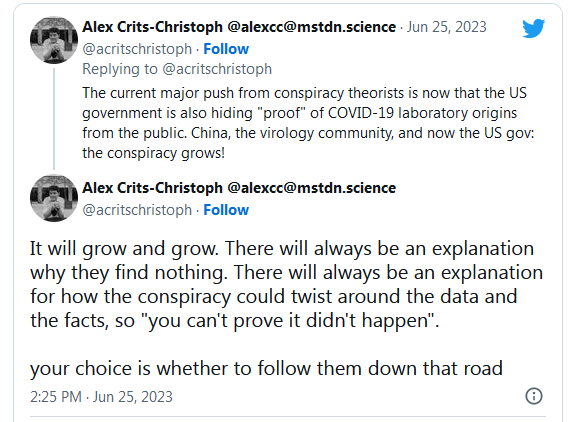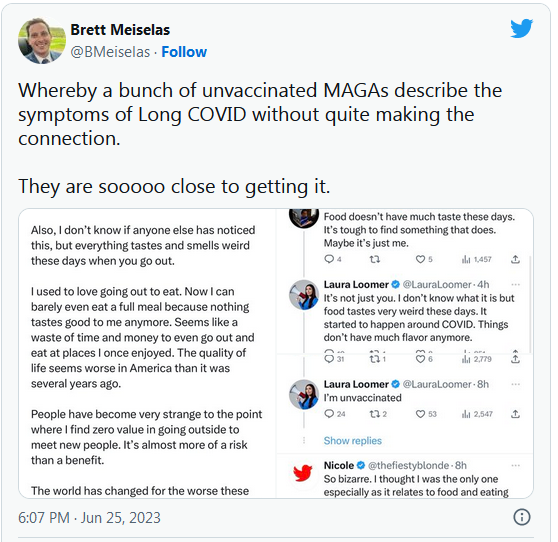 (link)
Excellent summary of the 'lab leak' fabulation — remember, sharing is caring!
🔥🔥🔥
"The lab-leak conspiracy gang has smeared scientists and misled the public into believing a theory that has no factual support whatsoever. They should be ashamed."
https://t.co/Wek1wMNmFY

— Cadhla Firth (@CadhlaFirth) June 26, 2023
Reader Interactions