On the Road is a weekday feature spotlighting reader photo submissions.
From the exotic to the familiar, whether you're traveling or in your own backyard, we would love to see the world through your eyes.
Dagaetch
In 2015 I took a break from real life and traveled for 6 months!
One of the first things I did upon arriving in Hanoi was sign up for a Street Food Tour. Our guide took me and a Canadian woman named Linda around to eight different locations for samples of the various options of Hanoi street food. Please, don't lick your computer screen – it's neither hygienic or tasty.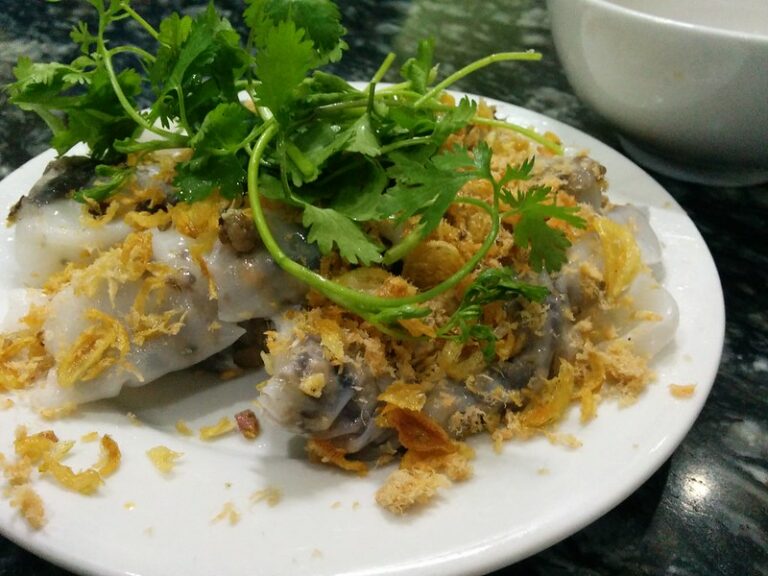 Bánh cuốn, or "rolled cake", was our first stop. A slurry of rice flour and water is poured onto a flat hot surface and spread into a very thin pancake, which cooks through nearly instantly. This is transferred to an off-heat surface, a pre-cooked mixture of pork, mushrooms, and other ingredients is added in small amounts, and the crepe is rolled up into a thin cigar shape. Snipped with scissors into bite-size pieces, it is topped with cilantro and fried shallot before appearing on your table. You take an individual piece in your chopsticks (hopefully getting some of the cilantro and shallots) and dip it into nuoc cham, which is a mixture of fish sauce, sugar, and sometimes chilis (pro-tip: add a minimal amount, they overpower it quickly). This is a wonderful start to our night, as it's a fairly light dish but extremely tasty.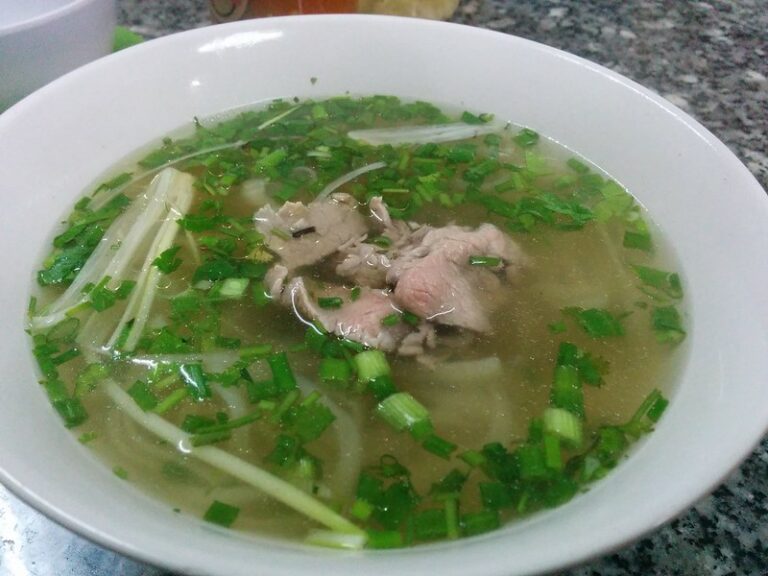 Phở. It's probably one of the first dishes to come to mind when you think of Vietnamese food, and with good reason. It's incredibly common here – nearly every block has at least one pho stall, where you can sit down and slurp a bowl, often for breakfast. One thing I didn't know before coming here was that pho is different in the north of Vietnam from the south. Up north, the broth is lighter, you add vinegar instead of chili sauce (although it's an option), and the herbal accompaniment is limited to spring onion and just a bit of cilantro. Down south, the broth is heavier and slightly thicker, and you usually add a large amount of herbs. The pho is delicious, and I have finished the entire bowl before remembering that we have many more stops to go and I should probably save some room. Oops.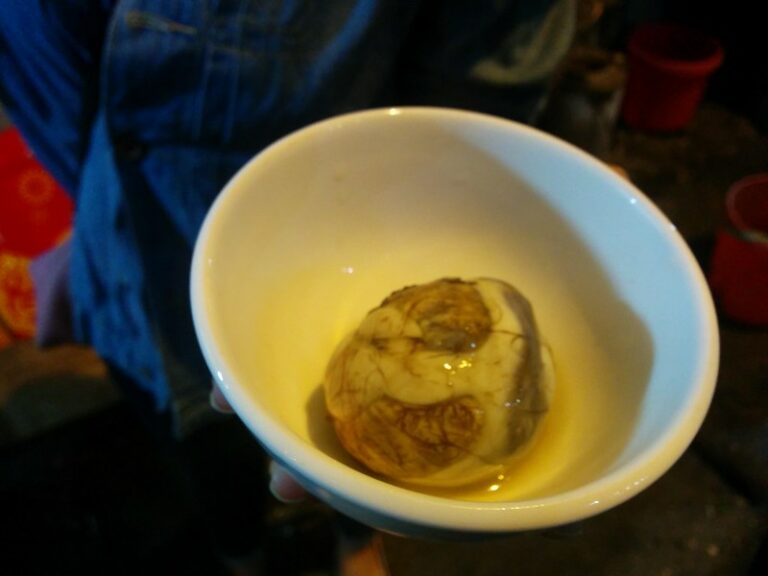 This is the only thing I tried which I didn't enjoy. Balut is "a developing duck embryo that is boiled and eaten in the shell." (1). Yes, you can see the various parts. I figured I'll try almost anything once, but to be honest I kind of regret it. The taste wasn't good, the texture was terrible (I don't like hard-boiled eggs anyway) and you know exactly what your eating. Yeah.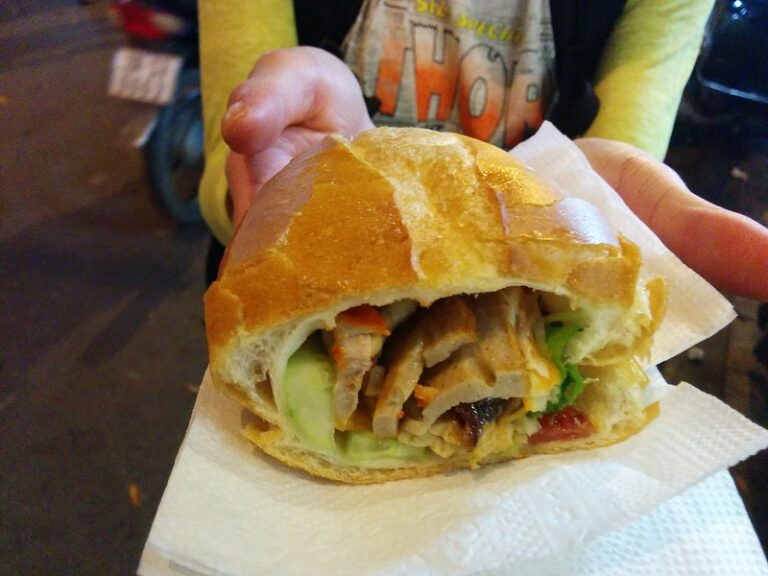 Our guide, whose name I have sadly forgotten, finally stops at a roadside stand for Bánh mì, which I have been salivating over since I first saw it out the taxi window coming from the airport. There are different versions, but the basic one consists of crusty bread, pate, a form of pork, vegetables, and sometimes mayonnaise. It's incredibly tasty – just try it, and if you don't like it, I'll eat it. :-). Also extremely affordable, a decent sandwich costs less than one dollar (at least at 2015 exchange rates).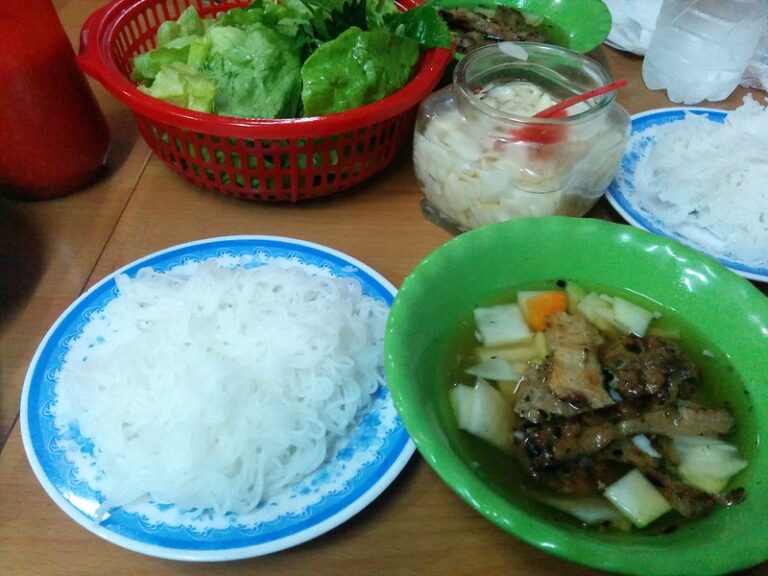 Darn it, I just tried to lick the screen. Bún chả is the other dish you probably think of when it comes to Vietnamese food: rice noodles, barbeque pork, greens and fish sauce. It's incredibly simple and extremely delicious. In the US and in South Vietnam, we usually get this as a single bowl. Here, it comes deconstructed, and you mix to your own personal preference. Tear up some greens and add them to the pork (which is swimming in fish sauce). Add vinegar if you like. Then, take a bunch of noodles in your chopsticks, dunk them in the pork bowl, and slurp. Quickly grab a piece of pork and some greens and shovel into your mouth. There's absolutely no way to eat it politely, and after the first bite, you won't care. It's easily one of my favorite foods. Yet another dish that I basically finish before remembering we're only halfway through the tour. Oh well, I didn't have plans the next day.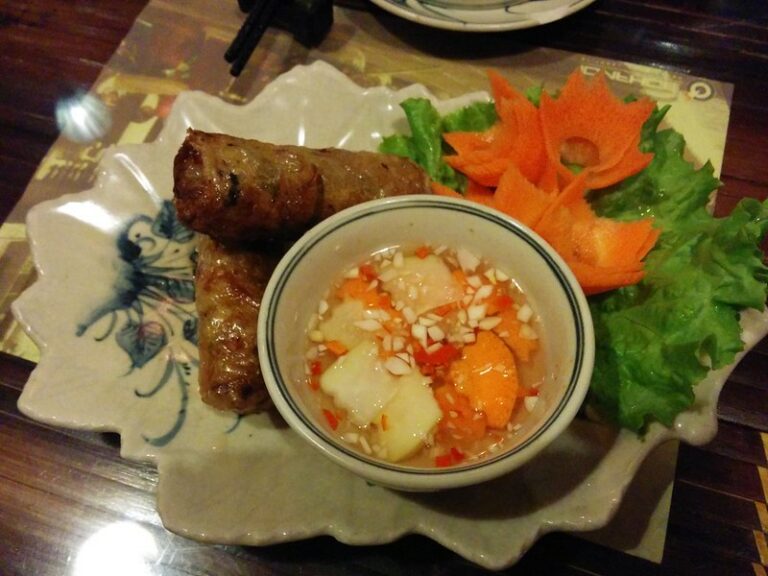 I don't think these really require explanation. A mixture of meat (or not), mushrooms, shredded carrot and onion, seasonings, and rice noodles is wrapped in a rice crepe then deep fried. Dipped in fish sauce, these tasty little bites are found on nearly every set menu in northern Vietnam.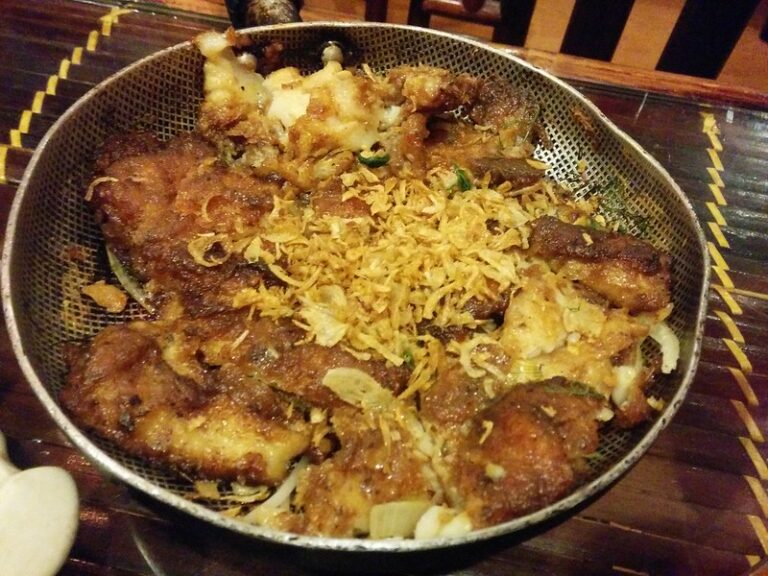 I have forgotten the name of this dish, and Google is failing me. We decided it was snakehead fish, which is marinated in ginger and lemongrass, then fried until fairly crispy. You add it to a very thin rice crepe along with noodles and vegetables, then roll tightly. Dip in fish sauce. It's actually very tasty, not fishy at all. I'm not much of a seafood guy, but this was good!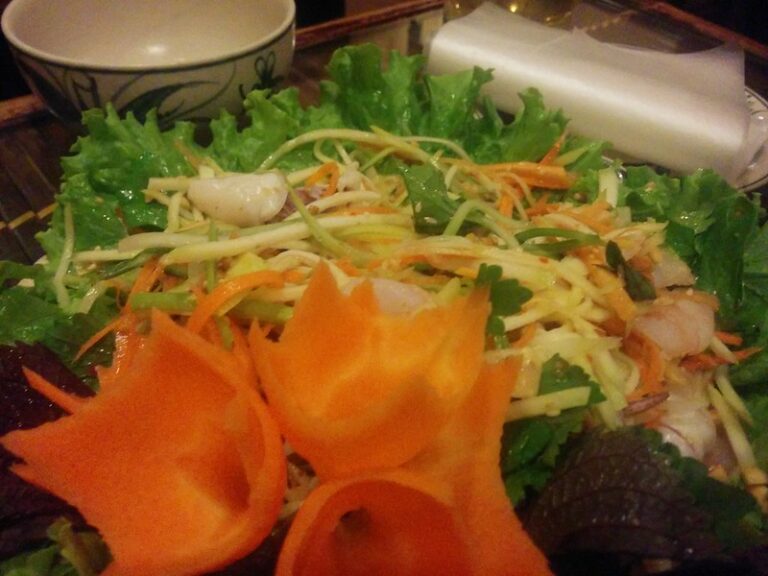 A lighter dish, this mango salad accompanied the fish wraps above. Slivered mango and some other vegetables are lightly dressed. I expected this to be like the Thai papaya salad I had enjoyed, but it's really not similar – no spice, and the dressing is much lighter. Very tasty, but at this point I'm practically unable to eat more.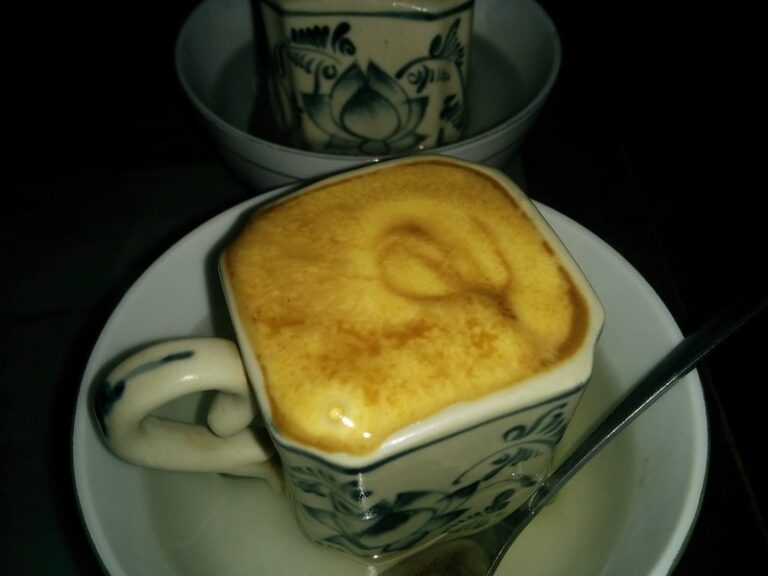 We end the evening with an egg coffee. This is a delightful drink, where eggs are whipped (I assume with sugar and possibly coffee grounds) and then used as a topping over strong coffee. It tastes remarkably like a marshmallow, if marshmallows were liquid and flavored of coffee. I actually preferred this to the regular desserts. Amusing side note: our guide said that she had taken us to the shop where this drink was invented, and it was by the guy who was sitting at the counter over there. We turn and look, and this Vietnamese man who looked like he was born at the age of 80 is sitting there just staring at us. I felt the urge to apologize for entering his shop without permission or something, it was kind of strange.