On the Road is a weekday feature spotlighting reader photo submissions.
From the exotic to the familiar, whether you're traveling or in your own backyard, we would love to see the world through your eyes.
Dagaetch
In 2015 I took a break from real life and traveled for 6 months!
After several delightful days in Laos, I flew to Hanoi. Vietnam ended up being my second favorite destination of the entire trip. In addition to the food (coming next post!), as a country, I experienced an…energy to the people. I had some great conversations with strangers, felt very encouraged and positive about most of the people I met, and really just had a fantastic time.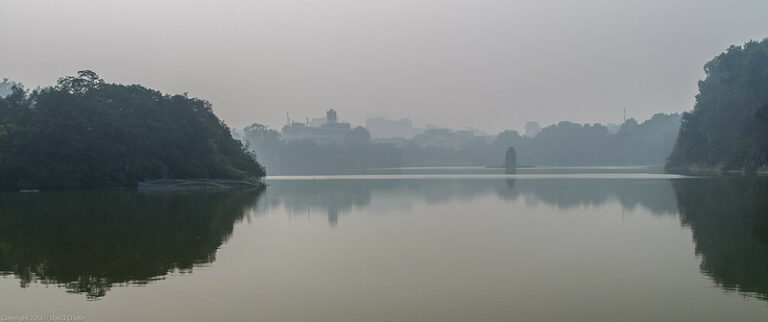 Hanoi, Vietnam
Hanoi is a fascinating, intense, and somewhat overwhelming city. The capital of Vietnam, tourists will spend much of their time in the Old Quarter, with small streets, old buildings, and enough noise and traffic to shock your senses. Outside of this area the city seems to be like any other, with office buildings and people living their lives. The Old Quarter is heavily focused on tourist activity, with countless souvenir shops and cheap knock-off goods. However, it is also home to the vast majority of tourist housing, and the best food in town.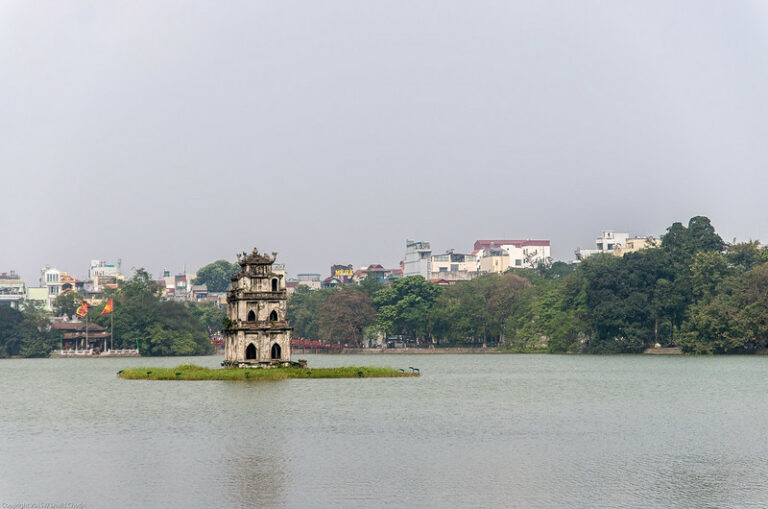 Hanoi, Vietnam
Hanoi traffic was like nothing I had ever seen before – most intersections don't have lights, but even those that do are generally only advisory. Most cars and bikes simply continue at their preferred speed, honking horns and weaving through the oncoming and crossing traffic. It's fairly terrifying to see, and even scarier to find your way through. My internal monologue while walking around went something like this: "AAAAHHHHH ooh that smells good AAAAAHHHHHH mmm noodles AAAAHHHHHHH I want some of that AAAAHHHHHHH". You get the idea. Crossing streets is not for the faint of heart; you basically have to ignore any self preservation instincts you may have and walk out into traffic. Don't show fear – they can sense it. But I survived, and in an odd sense, it was somewhat exhilarating.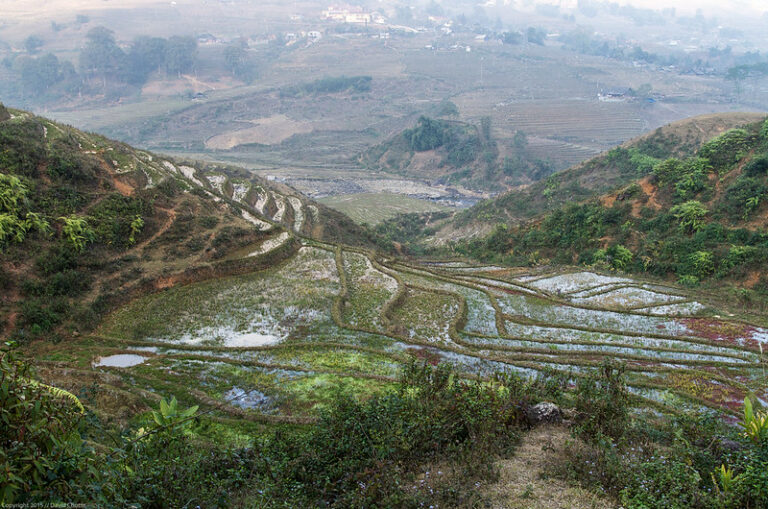 Sa Pa, Vietnam
Sa Pa (or Sapa) is a smallish town slash region in the far north of Vietnam. Home to many different hill tribes, it became something of a resort destination during the French Colonial period, and after 30 to 40 years of neglect, has now become one again. There is a large agricultural base in the region, with terraced rice patties visible in any given direction. It's an open question to me, however, whether agriculture or tourism makes up the majority of the area's activity. The town of Sa Pa itself is almost completely focused on tourism: there's only a few main streets, and they consist of restaurants, travel agencies to arrange tours, knock-off clothing stores, and souvenir shops. Members of the local hill tribes walk the streets with baskets of goods to sell, and they could give a lesson to the pushiest salesperson you've ever met before. The word "no" apparently doesn't translate.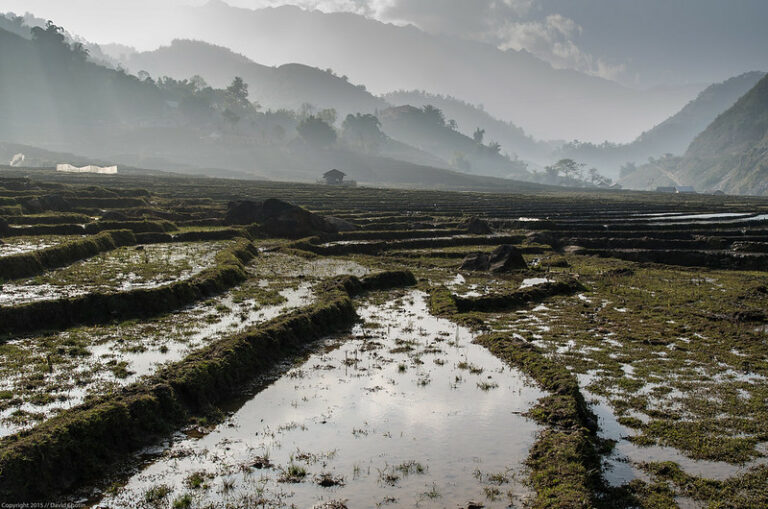 Sa Pa, Vietnam
I joined a guided trek through the hillside with an overnight home stay. We walked through some planting fields, a little bit through a village, and then into the wilderness. It ended up being much more of a hike than I was expecting – there was some definite scrambling over rocks and one solid slip in the mud for me. All told, it was about three hours of hiking, some beautiful scenery, and great exercise. Upon arrival at the home stay, we were provided a delicious meal which our hosts joined us for, and there were several rounds of toasts in several different languages, all with homemade rice wine. After the first three or four shots, it really doesn't taste that bad *grin*. Post dinner we all sat around a brazier filled with hot coals as the weather had turned cold, and just chatted for several hours. It was really wonderful – there was our Vietnamese tour guide, two women from England, a Russian, a German, and me (American). This was one of my favorite parts of traveling, meeting people from everywhere.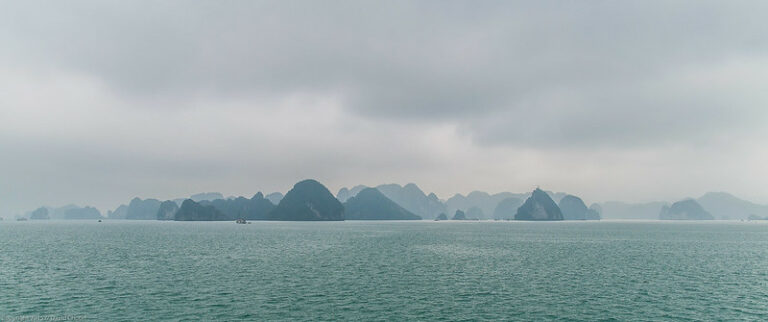 Ha Long Bay, Vietnam
Practically the first question you are asked by other travelers in Vietnam, or travel professionals, is "Have you been to Ha Long Bay?". One of the premier destinations in northern Vietnam, the bay is filled with somewhere around 2,000 limestone karsts, which jut out of the water much like icebergs. Local legend has it that when Vietnam was faced with an invading navy long ago, dragons came out of the sky and defended the land. After the war was won, the dragons stayed, creating the rock formations. Archaeological evidence, while less entertaining, demonstrates that the bay has been forming for over twenty million years. Various civilizations have left markers in the bay, some as long as 20,000 years ago. More recently, the bay was named a UNESCO World Heritage Site, and attempts are being made by the Vietnamese government and people to protect the bay and clean it up.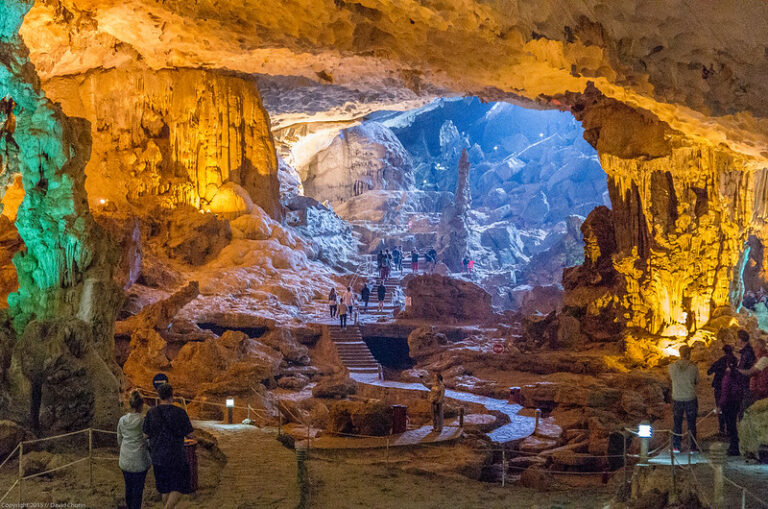 Ha Long Bay, Vietnam
We spent some time cruising through the karsts before arriving at Surprise Cave (surprise!). This is a massive cave system inside one of the islets. For many years long ago, it was used by the fishermen on the bay as a place of shelter during typhoons. Also as a fun aside – the driving rules, or lack thereof, seem to apply on water as well as on land. Not enough space at a dock for your boat? Throw out some tires and go right in, the other boats will make some room. It certainly makes for some interesting moments: "He can't make it in there….he's trying anyway…oh god…well, some fresh paint will cover that." But these boats are there to work, not look pretty, so I guess it makes sense in a way.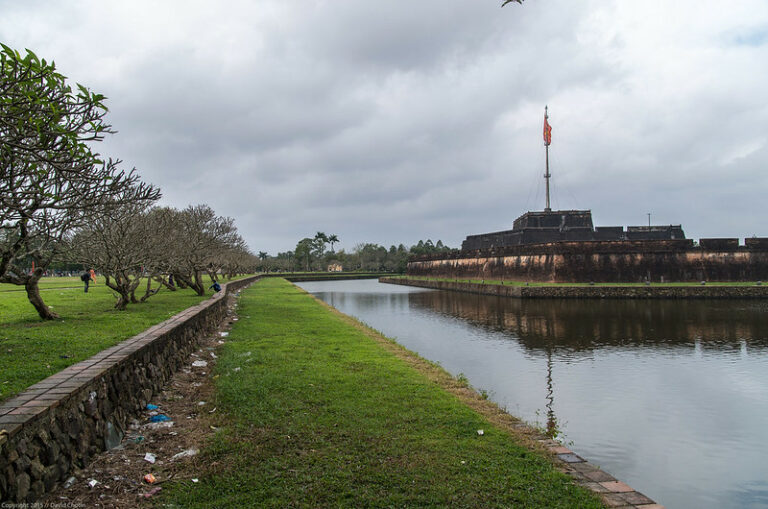 Hue, Vietnam
Hue is the former capital of Vietnam, from the early 1800's to the mid 1900's. The Citadel was where the Emperor and his family, and the seat of government. It's interesting to walk around, as some of the buildings have been preserved and repaired, while others have come apart and only show hints of their former stature. In some places, you can see bullet holes from the battles fought here. There is a video recreation and tour of what the complex was like when it was freshly built, which gives you an idea of the grandeur that was once there. Walking around the site is peaceful and interesting, and well worth a morning.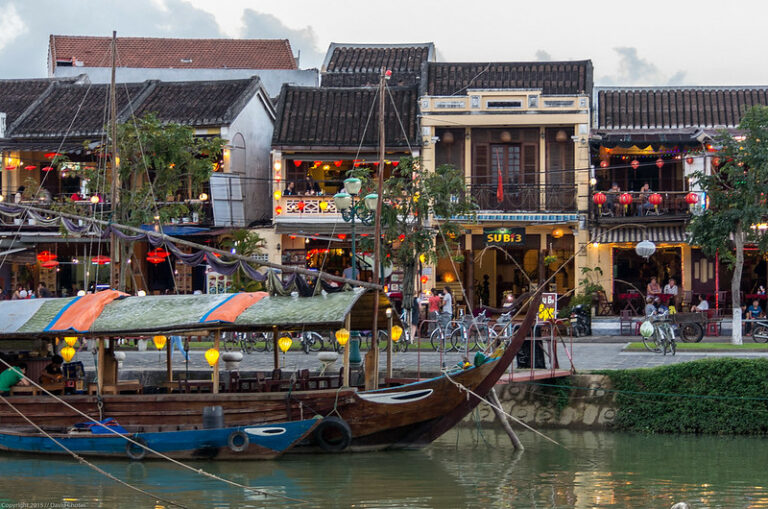 Hoi An, Vietnam
Hoi An is very touristy, with many restaurants and bars, in addition to the tailoring shops they are famous for. This was a rest stop for me, after ~6 weeks of non-stop tourism. So I spent many hours sitting, reading, and sipping beverages of various sorts (who knew watermelon juice was so addictive). I also met a family friend who lived there for coffee and then for lunch a few days later, which was very nice. It was interesting to hear his perspective on living in Vietnam, and to ask some of the questions I had been wondering about. For example: the tuk-tuk drivers everywhere? Apparently, the locals don't walk. As in, if it's more than a block away, they get the motorbike.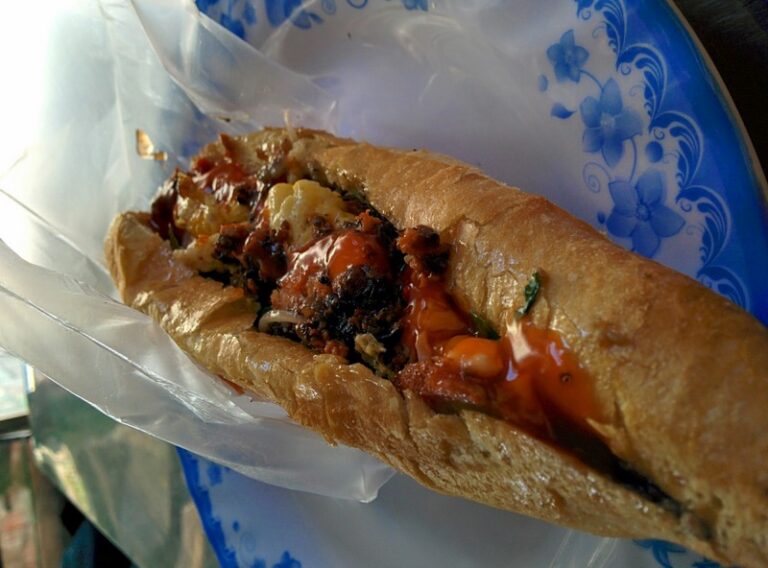 Hoi An, Vietnam
I continued to eat extraordinarily well. One of my favorite items was from the Banh Mi Queen. This is a street stall run by a woman who was approximately 173 years old, has one expression on her face no matter what you say or do, and makes the most delicious sandwiches you've ever tasted. Seriously, I ordered one, ate it, and then ordered another. Then I came back the next day. It was amazing.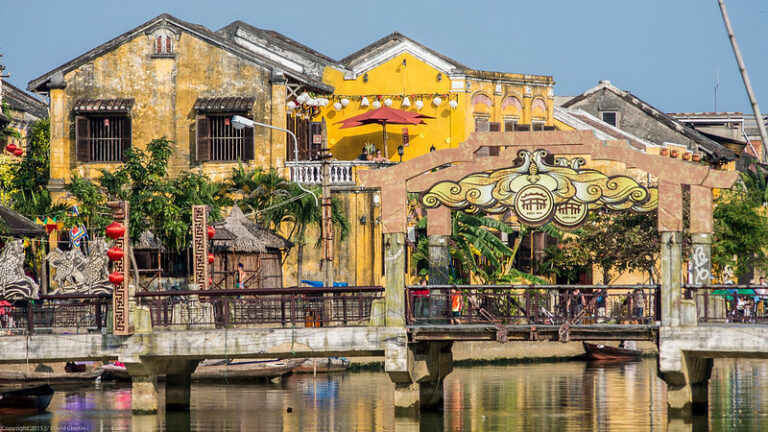 Hoi An, Vietnam
Another picture of the city, because it was very pretty. I'm going to make an observation here that could be completely wrong, based as it is on very limited exposure and time, but I feel so strongly that it's worth mentioning. Vietnam, for all of its faults, seemed to me to be trying harder than the other countries in the area. As in, they are spending a significant amount of money on infrastructure, trying to form an economy that isn't solely based on tourism and agriculture (though it still was at the time), and the people just generally seem more optimistic about the future than in other places. I met a young man in Saigon who I spent an hour talking to, and he was explaining how school worked, he wanted to visit the US for advanced schooling, start a company building things, etc. Contrast that with the man I was talking with in Cambodia who basically said "The entire government is corrupt, what can I do" (he's not wrong unfortunately). I'm not saying that anyone should go out and invest their life savings or anything, it was just something that I kept reflecting on.