The Florida Democratic Party is holding its annual leadership conference this weekend at the fabulous Fontainebleau Hotel on Miami Beach, a location immortalized in the 1964 James Bond film Goldfinger.
As folks who follow Florida politics are aware, FL Dems have been a hot mess for more than two decades. Steve Schale wrote a pretty good explainer of how that came to be. For what it's worth, I don't agree with Schale on every point, and I think some of his analysis is self-serving.
But while it's important to pinpoint the exact cause of a catastrophic crash, the gist in Schale's account is mostly correct. The party definitely crashed, and there were lots of contributing factors. ("This is supposed to be a happy occasion! Let's not bicker about who killed whom…")
Anyhoo, after the latest electoral wipeout in 2022, the party's incumbent leaders resigned in the time-honored manner, and following a contentious scrum, former ag commish and second-place 2022 gubernatorial primary finisher Nikki Fried was elected party chair.
Lots of folks are suspicious of Fried, a former pot lobbyist, and I understand why. But I found her "try something new" pitch persuasive in the 2022 primary and in her campaign for party chair. Desperate times, desperate measures, etc.
As noted here before, Fried takes an activist approach. She got arrested this spring while protesting the statehouse passage of the 6-week abortion ban and was filmed getting cuffed by the police while wearing a T-shirt with the slogan "JUST F*CKING VOTE!"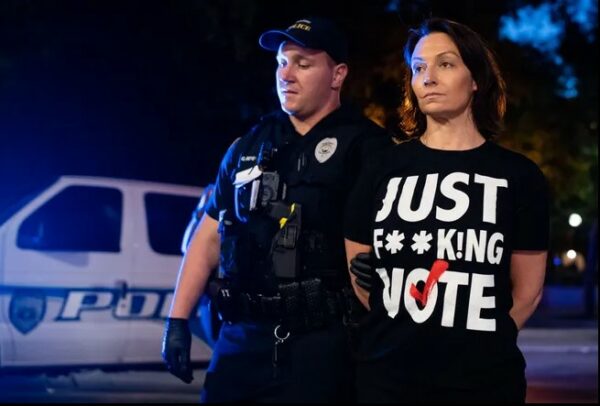 Fried continued that JUST F*CKING VOTE theme at the Fontainebleau yesterday: (Orlando Sentinel)
In Fried's view, DeSantis didn't win by 19 points last year. "Florida Democrats lost by 19 points. And that is really on us," she said.

DeSantis' vote total didn't increase substantially from 2018, she said. But Democratic turnout collapsed, and the party's nominee Charlie Crist (who had defeated Fried in the for the nomination) received far fewer votes than the 2018 Democratic candidate.
Well, she's right about that. We can piss and moan about stupid voters who require inspiration to show up when a monster like DeSantis is in office, and I'll agree with every word of that, but if we want to erase that L, we've got to do what it takes to get them to the polls. Full stop.
According to The Sentinel, Fried also threw out the usual conference format, which has featured side gatherings of individual constituent groups on the first day, and mixed it up instead so different groups could learn from each other. There was talk about how to juice youth turnout, how to appeal to voters given the state's complex demographics, etc.
Will the gathering at the Fontainebleau help Dems figure out how to more effectively oppose the man backed by the state's many Bond villains — the highly subsidized Governor Oddjob — and defeat the many other evil creatures who are making life in the state increasingly intolerable? I have no freaking clue. But maybe they chose the right setting to hatch that plan.
Open thread!
PS: The Fontainebleau really is something special — it's got a 1950s glamor that's hard to capture in words. I helped a friend organize another friend's birthday debauchery event there several years ago and was bowled over! And I'm usually not easy to impress! You shouldn't give Florida your tourism dollars right now if you can avoid it, but if you can't, you could do worse than the Fontainebleau.
PPS: It occurs to me that the glamor of Fontainebleau embodies a style that Trump tries and fails to achieve in his gold-plated South Florida dump. Whereas Trump hired a designer who vomited Liberace-themed schlock all over the good bones of the former Marjorie Merriweather Post estate, aiming for Versailles but achieving only tackiness, the Fontainebleau actually pulls it off!