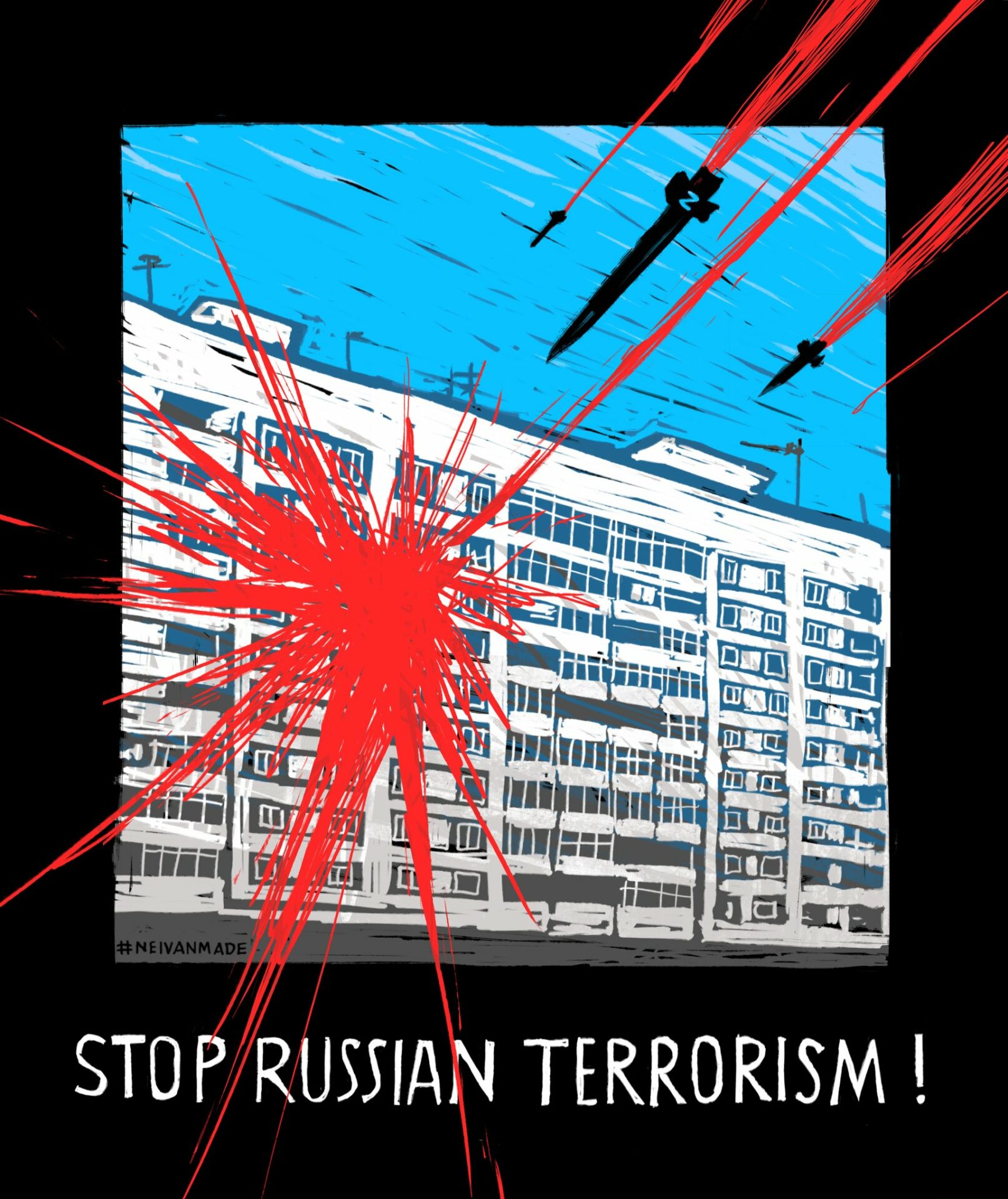 (Image by NEIVANMADE)
Here is President Zelenskyy's address from earlier today. Video below, English transcript after the jump.
We value every life, remember history and defend freedom together – address by the President of Ukraine

9 July 2023 – 17:04

I wish you health, fellow Ukrainians!

Today I am in Lutsk with the team.

In the morning I met with Mr. President of Poland Duda. A conversation with him. A prayer service. There were representatives of all denominations and religious communities… In the Lutsk church. Together with Andrzej, we honored the memory of all the victims in Volyn. We value every life, remember history, and defend freedom together.

Here in Lutsk, in Lubart's castle, I held a long meeting today on the situation in the region – security, the situation on the border, the situation in the border areas of neighboring Belarus… The priority is to reinforce each region, our entire northern border. There were reports from the military, law enforcers, and local authorities. We analyzed the training and supply of our Defense and Security Forces and relevant units in Volyn. There was a report on the social situation in the region, the needs of people. Energy, water supply, budgetary support – both for people and for the social sphere. The state of the shelters. Jobs in the region. The state supports and will continue to support as much as possible. And I am grateful to everyone here in Lutsk, to everyone in other cities and communities of the region where IDPs have been accommodated, where people help in the treatment and rehabilitation of our warriors… Thank you!

The frontline, our active actions.

This week we have a lot to be grateful for to the warriors of our 3rd separate assault brigade, the 24th separate mechanized brigade, the paratroopers of the "Eightieth"… Well done, warriors!

In the Tavria direction, as always, the paratroopers of the "Seventy-Ninth", the artillerymen of the 55th separate brigade "Zaporizhzhia Sich", the 74th separate reconnaissance battalion and the 59th separate motorized infantry brigade distinguished themselves with power, courage and accuracy… I want to thank you!

I would like to mention a warrior of the Zaporizhzhia Sich brigade, Major Volodymyr Honcharov. Thank you, Volodymyr! Sailor Serhiy Komar – 35th separate marine brigade – thank you, Serhiy! Soldier Oleksiy Labenets, a rifleman of the security battalion of the 15th transport aviation brigade. Thank you, Oleksiy! Artillerymen of the "Magura", the 47th separate mechanized brigade – Major Anton

Cherevko and Senior Lieutenant Vasyl Abramiv. Thank you, guys!

Thank you to everyone who is fighting and working for Ukraine! Thank you to everyone in the world who helps!

Thank you, Lutsk, for this day!

Glory to Ukraine!
The war is to be over with justice and peace and with us regaining our territorial integrity. Why? Because the end of the hot stage of the war and freezing the conflict would not mean the end of the war.

Why is it still not obvious to everyone? pic.twitter.com/yKsrJiAuoE

— Maria Avdeeva (@maria_avdv) July 9, 2023
President Biden sat down for an interview with documented plagiarist and fabulist Fareed Zakaria of CNN ahead of the NATO summit in Vilnius. In regard to documented plagiarist and fabulist Fareed Zakaria's question regarding NATO membership for Ukraine, it would have been better to have said we're in the middle of very delicate and important negotiations with our allies and partners including Ukraine, I'm not going to make those discussions public, but I will say we are committed to Ukraine's liberation and safety. Instead we got this:
EXCLUSIVE: Biden says Ukraine is not yet ready for NATO membership, saying the war with Russia must end before the alliance can consider adding Kyiv to its ranks. https://t.co/iNx84Zc7r4 pic.twitter.com/z0Ejf6SZlU

— CNN (@CNN) July 9, 2023
From The Financial Times:
The US and Germany are under intense pressure from other allies to show greater support for Ukraine's eventual membership of Nato, just days before the military alliance's leaders meet in Lithuania.

Washington and Berlin have backed a form of words for the summit's concluding statement that does not fully endorse a "pathway" to Nato membership, let alone invite Kyiv to join once the war is over — as demanded by Ukraine's staunchest supporters in eastern Europe.

Other members of the alliance were caught off-guard by the "conservative" US and German stance, officials briefed on the talks told the Financial Times.

On Sunday US president Joe Biden doused Kyiv's hopes of a breakthrough on membership, saying he did not think Ukraine was ready.

"I think we have to lay out a rational path for Ukraine to be able to qualify to get into Nato," Biden told CNN. It was "premature" to "call for a vote . . . now", he added "because there's other qualifications that need to be met, including democratisation and some of those issues".

Ukraine's president Volodymyr Zelenskyy is invited to the summit, which will take place in Vilnius on Tuesday and Wednesday. He has threatened not to attend if Nato does not signal concrete progress from a 2008 statement that merely said Ukraine "would become" a member.

Zelenskyy told ABC on Sunday: "It's all a matter of political will just to find the proper wording and invite Ukraine."

The differences threaten to overshadow progress on separate long-term security assurances for Kyiv. The UK, France, Germany, the US and other allies are aiming to announce a broad agreement at the summit, two officials briefed on the plans told the FT.

The proposal would create a multilateral framework under which countries could set up bilateral pledges of military and financial support. However, it could be delayed until after the summit, they added.

Negotiations on Sunday among Nato ambassadors failed to reach a compromise on the text of the leaders' statement, officials said, adding that it was likely the leaders themselves would finalise it at the summit.

"[The majority] wants to have this notion of a political decision in the communique," said one person briefed on the negotiations. "The others worry about automaticity."

Those pushing for a clear pathway for Kyiv's membership argue that anything less would imply Nato was ignoring Ukraine's pleas for postwar protection under the alliance's Article 5 mutual-defence clause, and would help Russian leader Vladimir Putin achieve one of his stated goals of the invasion: to block the country's entry to the alliance.

But opponents, led by Germany and the US, say Nato cannot agree to anything that appears to suggest Ukraine is on an inevitable path to membership without first meeting rigorous standards on governance, military standards and weaponry, and that the alliance cannot commit to anything without knowing how the war will end, or when.

"Holding Nato together is really critical," Biden told CNN. "I don't think there is unanimity in Nato about whether or not to bring Ukraine into the Nato family now, at this moment, in the middle of a war."

US national security adviser Jake Sullivan told reporters on Sunday travelling with the president en route to London that Ukraine's Nato allies will discuss "where we go from here" with respect to reforms required of Kyiv to eventually join the alliance.

"There's work being done on the Nato communique, on the language relative to Ukraine's desire to seek membership in Nato. I think we will see the allies come to consensus on that as we head into Vilnius and it will among other things talk about a process for continuing to work through those reforms," he said.
All this does is further encourage Putin in his genocidal quest to take Ukraine. It functionally cedes control over the decision making regarding who gets to join NATO to Putin. As we've seen in 2008 and 2014 was that he was able to basically set conditions fifteen and nine years in advance to prevent states from being considered for NATO admission by creating contested borders with and frozen conflicts inside Georgia and Ukraine by invading under cover of protecting ethnic Russian communities in both countries. Before anyone starts, I am well aware that Ukraine has a lot of post-war work to do to meet all the other necessary standards. Georgia is even farther behind. But parts of the reason they are both where they are politically, economically, and socially is because Putin was able to exercise control over their politics, government, governance, economics, political economy, and society by scarfing pieces up. You cannot honestly tell me with a straight face that Hungary, Turkey, or even Poland are really in full compliance with all the political, economic, and social reforms that are being cited as the reasons for why it is premature to formally announce that Ukraine will join NATO and delineate an exception to policy process to do so.
The same mistakes, which empower and encourage Putin and demoralize our allies and partners, and more importantly the Ukrainians, keep being repeated over and over and over again.
Here's some reactions from within Ukraine. First from Olena Halushka, a board member of the Anti-Corruption Action Center and co-founder of the International Centre for Ukrainian Victory:
10 reasons Ukraine should get an invitation to NATO in Vilnius:
1) russia is provoked by weakness, not strength. Time for NATO to act firmly;
2) ending of the gray zones policies which failed to ensure sustainable peace in Europe;
3) ending of actual russian veto over NATO… pic.twitter.com/FzZgCUL3wK

— Olena Halushka (@OlenaHalushka) July 9, 2023
Here's the full text of her tweet:
10 reasons Ukraine should get an invitation to NATO in Vilnius:
1) russia is provoked by weakness, not strength. Time for NATO to act firmly;
2) ending of the gray zones policies which failed to ensure sustainable peace in Europe;
3) ending of actual russian veto over NATO enlargement, incl via waging wars/occupying parts of other states;
4) Ukraine's resistance is effectively protecting NATO's eastern flank and prevents russia from attacking other states;
5) practically, the invitation isn't changing much for NATO, it *doesn't trigger article 5*, while gives Ukraine many practical tools, incl for security and defence reforms advocacy;
6) Ukraine's interoperability with NATO advanced significantly over the last year. Moreover, Ukraine tests modern NATO weapons in action;
7) a message to encourage Ukraine's defenders amidst the ongoing difficult counteroffensive;
8) a message to millions of refugees to plan their lives long-term in Ukraine;
9) a message to Western businesses who consider investing in Ukraine's recovery to get prepared;
10) clear statement that Ukraine's NATO membership won't be a bargaining chip w terrorist putin.
Feel free to add more in the replies
#UkraineNATOnow
Alyona Getmanchuk, the Director of the New Europe Center in Kyiv, has published this response via op-ed at The New York Times: (emphasis mine)
KYIV, Ukraine — For decades, discussions about whether or not Ukraine should be admitted to NATO have revolved around the risks — to both Ukraine and member nations — of Ukraine being in the alliance. And at the core of those risks had been one overriding fear: that Ukraine's membership might push President Vladimir Putin of Russia into a corner, prompting him to escalate his war.

The question of Ukraine's potential NATO membership has been revived once again as the bloc's summit in Vilnius, Lithuania, approaches this week, and Ukraine has stated its ambition to the leaders gathering there to be granted a political invitation to join.

To be clear, Ukraine is not asking for immediate NATO membership. The Ukrainian president, Volodymyr Zelensky now acknowledges that it should join after the war ends, and doesn't want to drag NATO members into its war with Russia by invoking Article 5 of the North Atlantic Treaty. What Ukraine wants is a political invitation that will end the so-called "strategic ambiguity" at play since the 2008 NATO summit in Bucharest, Romania, where the alliance decided Ukraine should eventually become a member but offered no clear path for it to do so. By giving Ukraine a destination but no itinerary, NATO left the nation uniquely vulnerable and ultimately opened the door for Mr. Putin's invasions.

Now, as in previous years, the hand-wringing over the attendant risks of inviting Ukraine into NATO has cropped up again. And again, it is focused on the danger of further provoking Mr. Putin.

But for the 78 percent of Ukrainians who have close relatives or friends who have been killed or wounded in Mr. Putin's war, and for those who suffer from continuous Russian missile and drone strikes, this argument sounds ridiculous.

And any thought of keeping Ukraine out of NATO to forestall further Russian aggression makes no sense. Mr. Putin threatened to dip into his nuclear arsenal long before Ukraine requested a political invitation at Vilnius, and he will continue to do so regardless of whatever decision is made there. Perhaps more to the point, nobody is more reluctant to escalate Russia's war against Ukraine into World War III than Mr. Putin himself. The Russian Army has no chance in a military confrontation with NATO; it is barely coping with the armed forces of Ukraine.

So what about the risks of not inviting Ukraine to join NATO?

Anything except a political invitation for Ukraine at Vilnius will surely be perceived by Mr. Putin as a victory, allowing him to retain his de facto veto on the process of NATO enlargement and giving him confirmation that his policy of waging wars and occupying other countries to prevent them from joining works. As long as Ukraine remains in NATO limbo, Putin will attack Ukraine again and again with the hope of creating a new Russian Empire. There is no better insurance for Ukraine against new attacks than the guarantee of future NATO membership.

Further delaying the decision will also have a negative impact on the democratic transformations underway inside Ukraine. While Ukraine is required to conduct some of these reforms as part of its accession to the European Union, such as strengthening its judiciary and anti-corruption measures, others, like moving Ukraine's military under civilian control, are more likely to succeed if they are included as a precondition to joining NATO. If that process stalls, NATO might face the reality of a million-strong army operating indefinitely outside full democratic civilian control. The army, which is emerging as one of the strongest at the European continent and the only one with recent battlefield experience fighting Russia, should be a part of the collective security structure, not acting alone.

Finally, should NATO members fail to act this week on Ukraine, the alliance will be discredited in the eyes of Ukrainians and millions of other residents of NATO member states who support inviting Ukraine to join. According to a recent opinion poll, 70 percent of Americans, 56 percent of the French and 55 percent of Dutch citizens who expressed opinions on Ukraine's NATO membership support the idea of inviting Ukraine into NATO in Vilnius this week, even if some of them would prefer actual accession to happen after the war.

Maintaining the status quo will send the wrong signal to the Ukrainian mothers of teenage boys, who are frightened about having to send their sons into a series of endless conflicts with Russia. It would demotivate Ukrainian soldiers who are already fighting in extremely difficult conditions to liberate Ukrainian land. It would scare away investors who might be interested in participating in Ukraine's postwar reconstruction. And it would discourage the millions of Ukrainian refugees who consider a commitment on Ukraine's future membership as the only solid precondition for them to consider returning home.

Some reluctant NATO leaders might say that they don't have anything against Ukraine's invitation to the alliance in general, but the timing is not right. But is there any such thing as perfect timing? Next year, at the Washington NATO summit while the United States is in the midst of a presidential campaign? That seems doubtful.

Ukraine's bid for NATO membership will not go away. Ukraine will be knocking at NATO's door again and again to remind Western capitals that it was precisely their fear of escalation from Putin's side that led to Europe's largest war since World War II.

America put an end to Mr. Putin's plans to recreate a Russian empire by helping Ukraine to defend itself. Now it's time to bury Moscow's imperialist dreams. There is no better way to do it than by granting Ukraine a political invitation to join NATO in Vilnius now.
I cannot speak and will not speak for the Ukrainians, but I am demoralized by the US national command authority's reasoning and actions regarding this matter.
Bakhmut:
BAKHMUT /1700 UTC 9 JUL/ UKR forces conducted offensive ops N of Soledar; frontline sources report that UKR units are in contact 2.5 Km north of Soledar.  Contact is also ongoing to the W & E of Yakolivka. UKR forces continue to be engaged on the hilltops overlooking the… pic.twitter.com/9OrQw2BAxs

— Chuck Pfarrer | Indications & Warnings | (@ChuckPfarrer) July 9, 2023
BAKHMUT /1700 UTC 9 JUL/ UKR forces conducted offensive ops N of Soledar; frontline sources report that UKR units are in contact 2.5 Km north of Soledar.  Contact is also ongoing to the W & E of Yakolivka. UKR forces continue to be engaged on the hilltops overlooking the village of Klischiivka.
Video of the launch of the Javelin ATGM on the Russian T-80 (the same as in post attached). By the Poltava detachment "Centuria"https://t.co/NJBVg68zev https://t.co/skfwTWOK3o pic.twitter.com/duxbdYIyyb

— Special Kherson Cat 🐈🇺🇦 (@bayraktar_1love) July 9, 2023
Here's the machine translation of the original tweet:
Two shots from "NLAW" and "Javelin", and a T-80 Podor tank — for scrap metal. Aiming work of soldiers of the 3rd company of the anti-tank battalion of the Third Separate Assault Brigade of the Armed Forces of Ukraine. The outskirts of Bakhmut.
Blessed are Saints Javelin and NLAW.
Velyka Novosilka:
VELYKA NOVOSILKA /0145 UTC 9 JUL/ RU platoon / company sized elements conducted offensive ops east and west of the T-05-18 HWY. UKR forces remain in control of Rivnopil, but imagery suggests that RU forces advanced to reoccupy Pryiutne. UKR was also in contact W of… pic.twitter.com/WXY5vvfuHV

— Chuck Pfarrer | Indications & Warnings | (@ChuckPfarrer) July 9, 2023
VELYKA NOVOSILKA /0145 UTC 9 JUL/ RU platoon / company sized elements conducted offensive ops east and west of the T-05-18 HWY. UKR forces remain in control of Rivnopil, but imagery suggests that RU forces advanced to reoccupy Pryiutne. UKR was also in contact W of Starornnaiorske. On the other side of the T-05-18 HWY, UKR broke up a Russian probe SE of Blahodatne.
Vinnystsya Oblast:
My Mom's village in Vinnytsya oblast greets a fallen soldier, Roman Tsymbal.

Eternal glory to Ukraine's defender! #StandWithUkraine pic.twitter.com/V0BQaEL4W3

— olexander scherba🇺🇦 (@olex_scherba) July 9, 2023
Zarichne:
Reportedly strikes on Russian hangars somewhere near Zarichne. https://t.co/VEj1WNw30A pic.twitter.com/bT95xzD5sH

— Special Kherson Cat 🐈🇺🇦 (@bayraktar_1love) July 9, 2023
Avdiivka:
/2. At the end of the video, approximately 5-6 different destroyed Russian IFVs and 1 tank are shown. pic.twitter.com/64pOT6YsaI

— Special Kherson Cat 🐈🇺🇦 (@bayraktar_1love) July 9, 2023
Russian occupied Crimea:
/2. Traces of activity of Russian air defense in the area of ​​the Crimean bridge. Russian media claim that the S-200 missile was intercepted pic.twitter.com/bzSXZWPSFL

— Special Kherson Cat 🐈🇺🇦 (@bayraktar_1love) July 9, 2023
DaVinci's Wolves have put a captured Russian thermobaric system to good use!
The trophy russian Heavy Flamethrower System TOS-1A Solntsepyok is currently in service with the 67th Mechanized Brigade. Solar inferno for the occupiers on Ukrainian land.

📸 @libkos pic.twitter.com/lUk9XEMHZP

— Defense of Ukraine (@DefenceU) July 9, 2023
When it comes to thermobaric weapons, it's a game two can play pic.twitter.com/KfUsKwwbCA

— Illia Ponomarenko 🇺🇦 (@IAPonomarenko) July 9, 2023
More footages of the captured Russian TOS-1A "Solntsepyok" in service with the famous Ukrainian unit "Da Vinci Wolves", 67 brigade
More footages on the unit's official instagram profile – https://t.co/qRLiONd6Bm pic.twitter.com/pmhnoZyllx

— Special Kherson Cat 🐈🇺🇦 (@bayraktar_1love) July 9, 2023
Ukrainska Pravda has reported that according to The Wall Street Journal, Poland has quietly delivered a dozen or so Soviet produced Mi-24 Hind attack helicopters to Ukraine.
Poland has recently handed over about a dozen Soviet-made Mi-24 attack helicopters to Ukraine.

Source: The Wall Street Journal, citing their sources familiar with the matter, as reported by European Pravda

Details: The news agency reported that the transfer of the helicopters from Poland had not been publicly announced.

Meanwhile, according to the report, Ukraine's air fleet remains small compared to that of Russia. Ukrainian aircraft also have less advanced guidance and protection systems.

The article says that Ukraine is making limited use of aircraft in order not to lose them.

Background: 

It has been reported that Czechia would provide Ukraine with additional attack helicopters. Last year, the country already supplied Ukraine with such aircraft.
In return, the country agreed to receive helicopters from the United States.
This morning, in the comments to last night's post (did I mention that time travel gives me nose bleeds?), commenter AndoChronic asked:
Saw this article. Not sure what I think of it. Thoughts Adam?
For those not getting out of the boat, the article was published at Salon, is republished by agreement at MSN, and is by Chris Hedges. Most of it is based on a misreading of the factual material he links to in support of his argument that Ukraine's entire defense against Russia's genocidal re-invasion is a lie cooked up somewhere in the Washington, DC beltway or something and that the war was caused because of NATO expansion in the 00s. I'm not going to summarize any more of that tripe because it is factually and historically incorrect and it denies agency to everyone – the former Soviet states that sought NATO membership, the EU, NATO member states, Russia, Ukraine – except for the United States. That's just not logically sustainable. He does, however, make one good point without intending to:
The playbook the pimps of war use to lure us into one military fiasco after another, including Vietnam, Afghanistan, Iraq, Libya, Syria and now Ukraine, does not change. Freedom and democracy are threatened. Evil must be vanquished. Human rights must be protected. The fate of Europe and NATO, along with a "rules-based international order" is at stake. Victory is assured.
Specifically:
Freedom and democracy are threatened. Evil must be vanquished. Human rights must be protected. The fate of Europe and NATO, along with a "rules-based international order" is at stake.
Victory is never assured, but there are ways to maximize the chances of achieving it. That said, in this case freedom, or rather liberty, and democracy are threatened. I don't think anyone at this point is really going to try to argue with a straight face that Putin isn't a tremendously bad actor even if we leave the judgement of whether he's actually evil to the philosophers. Human rights not only must, but should be protected. Frankly, the need to do this does not excuse all the bad policies, strategies, planning, and implementation that brought us the failures in Vietnam, Afghanistan, Iraq, and Libya. The Syria strategy was working until the Trump administration first warped it and then scrapped it all together once again abandoning our Kurdish allies. And, as I wrote about last night, without Ukraine's stalwart defense against Russia's genocidal re-invasion, the Russian military would now be perched on the borders of Poland, Romania, Hungary, Slovakia,  and Moldova. So yes, the fate of at least eastern Europe and the eastern members of NATO along with a rules based international order are, in fact, at stake.
That's enough for tonight.
Your daily Patron!
Here's more on Patron, his team of Chernihiv sappers, and the attack on Balaklia.
From the Balaklian municipal government's Telegram channel: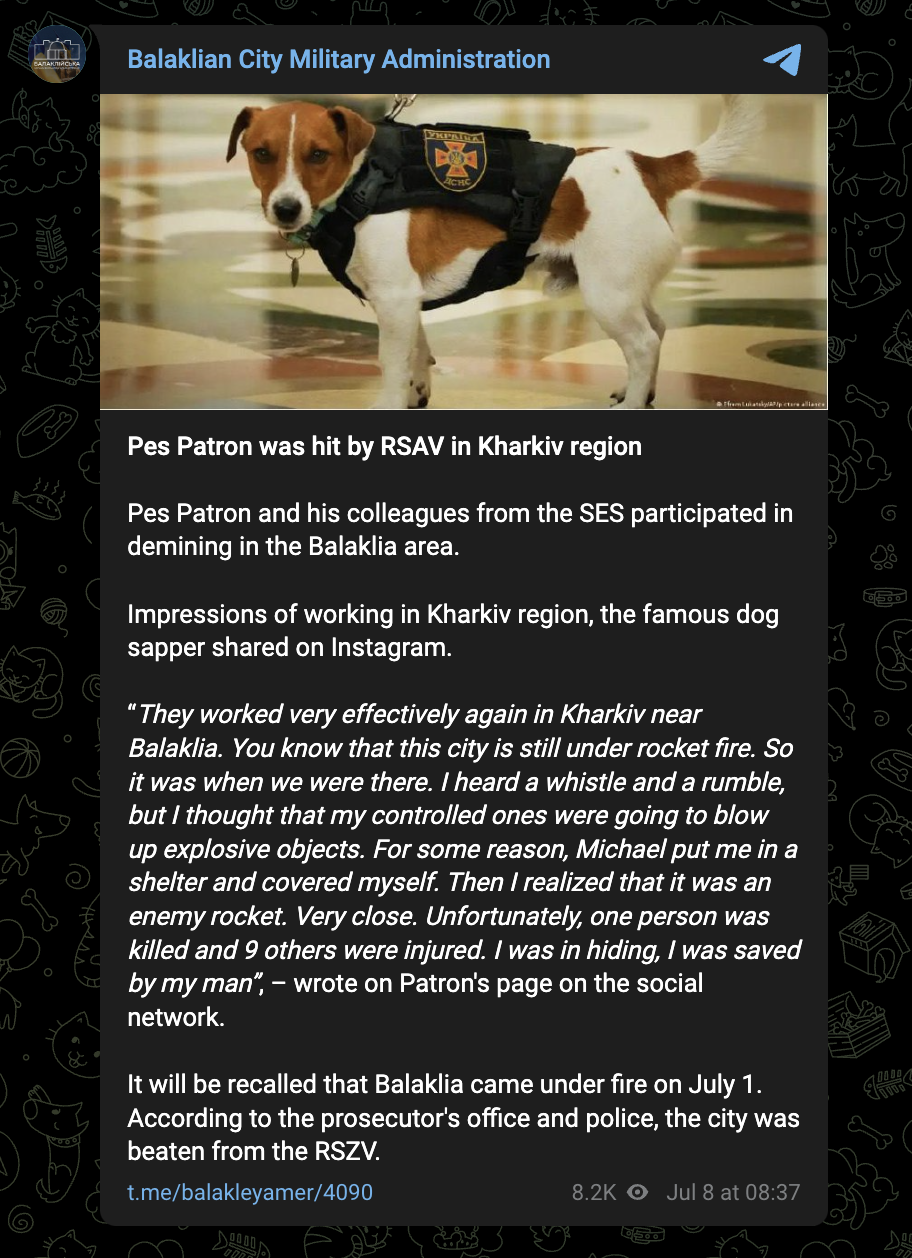 More details from Espresso News:
"We worked very effectively again in the Kharkiv region near Balakliya. This town is still suffering from rocket attacks. It was the same when we were there. I heard a whistle and a rumble, but I thought it was my colleagues who were going to detonate explosives. But for some reason, Mykhailo (the owner – ed.) quickly moved me to a shelter and covered me with his body. I realized it was a Russian rocket. Very close," Patron wrote on his social media page.

On June 5, the Russian occupation army attacked Balakliya with Smerch MLRS. According to the head of the regional administration, Oleh Syniehubov, 1 person was killed and 9 others were injured.

Patron noted that his team has already returned home unharmed. And he once again emphasized how important it is to stay in shelters during an air raid alert and take your pets there.

Originally adopted as a companion dog, Patron ("bullet" in Ukrainian – ed.) is now a celebrity service dog who works with the State Emergency Service of Ukraine.

In the first months since the start of the Russian invasion, he helped to find more than 200 explosive devices.

Last year he was awarded a medal by President Zelenskyy. The dog has also become a symbol of Ukraine's resistance against Russia.
Perhaps a new alternative verse to the US Navy hymn?
Eternal Deity, strong to save,

Those whose tails do bravely wave,

Who root and dig tenaciously,

And love cheese and rubber duckies.
It may need some work…
And a new video from Patron's official TikTok!
@patron__dsns

Коли ти серйозний пес, але тренд зняти всеодно хочеться😅
Here the machine translation of the caption:
When you're a serious dog, but you still want to shoot the trend 😅
Open thread!