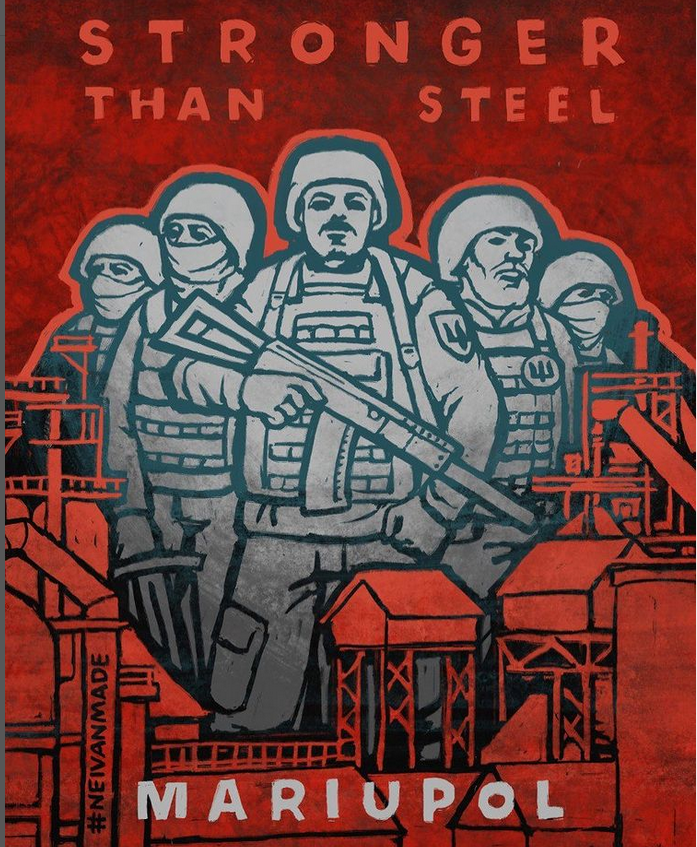 (Image by NEIVANMADE)
The Azovstal defenders who had been paroled to Turkiye have been brought home!
.@ZelenskyyUa
We are returning home from Türkiye and bringing our heroes home.
Ukrainian soldiers Denys Prokopenko, Svyatoslav Palamar, Serhiy Volynsky, Oleh Khomenko, Denys Shleha. They will finally be with their relatives.
Glory to Ukraine!#Azovstal pic.twitter.com/QaKozSBe6W

— Defense of Ukraine (@DefenceU) July 8, 2023
Here's the announcement of who was repatriated:
According to the negotiations with the Turkish side, Ukraine returned to their homeland the military – defenders of Azovstal: Commander of the Azov special operations unit of the National Guard, Hero of Ukraine Denys Prokopenko, his deputy Svyatoslav Palamar, acting Commander of the 36th Separate Marine Brigade Serhiy Volynsky, Senior Officer of the Azov unit Oleh Khomenko and Commander of the 12th Brigade of the National Guard Denys Shleha.

The soldiers were in Türkiye after being released from Russian captivity.

President Volodymyr Zelenskyy met the defenders at the Istanbul airport and congratulated them on their return.

"I congratulate you! You are our heroes. I am very glad of your return to your homeland. Glory to Ukraine!" the Head of State said.

On the plane, Zelenskyy talked with the defenders of Azovstal and thanked them for their courage and resilience.
Unfortunately over 700 of their Soldiers, Marines, Territorial Guardsmen, and police officers are still in Russian captivity:
Lest we forget that some 700 Azovstal garrison members are still in Russian captivity

— Illia Ponomarenko 🇺🇦 (@IAPonomarenko) July 8, 2023
Erdogan's releasing these gentlemen is further evidence of the ongoing damage that continues to ripple outward from Prigozhin's revolt. While I'm sure the negotiations to accomplish this return have been ongoing and underway for a while, Putin's loss of face as a result of the events of 23 to 25 June most likely contributed to finalizing the deal.
President Zelenskyy went to Snake Island this morning where he paid respects to those who defended it and to those gave their last full measure there. His address today was made from there. Video below, English transcript after the jump.
Snake Island. The free island of free Ukraine – address of President on the morning of the 500th day of the war

8 July 2023 – 09:34

Dear Ukrainians, I wish you good health!

Today, we are on Snake Island – on our Snake Island, which will never be conquered by the occupier, like the whole of Ukraine because we are a country of the brave.

Today, we honored here our Ukrainian heroes – all the soldiers who fought for this island, who liberated it. And although this is a small piece of land in the middle of our Black Sea, it is a great proof that Ukraine will regain every bit of its territory.

I want to thank – from here, from this place of victory – each of our soldiers for these 500 days.

Our Armed Forces, our intelligence, the National Guard, our border guards, the Security Service of Ukraine, the National Police, our liaison officers, our people… I thank you! Thank you to everyone who fights for Ukraine!

And let the freedom that all our heroes of different times wanted for Ukraine and that must be won right now be a tribute to all those who gave their lives for Ukraine. We will definitely win! For sure!

Glory to Ukraine!

We are moving forward. Thank you to every one!
If anyone was looking for an indicator that the Russians do not have control of this part of the Black Sea, this trip to Snake Island was it.
Minister of Defense Reznikov's statement really sums it up:
500 days defending the Eastern flank of NATO.
Ukraine holds strong. Ukraine will win.
🇺🇦 pic.twitter.com/jJtek18ho7

— Oleksii Reznikov (@oleksiireznikov) July 8, 2023
This is reality that the leaders of the NATO member states need to get their heads around. Right now Ukraine is the only thing standing between Russia's military perching on the border of NATO members Romania, Poland, Slovakia, and Hungary, as well as Moldova rather than just threatening it with Transnistria. European and trans-Atlantic foreign, defense, security, and economic policy looks much different without Ukraine's staunch defense against Russia's genocidal re-invasion. The leaders of NATO member states need come to terms with this and decide if they're going to recognize and formalize this reality or they're going to diminish the alliance and demoralize not only the Ukrainians, but NATO's eastern European members.
Kherson City:
KHERSON CITY/ 2100 UTC 8 JUL/ A UKR bridgehead has been expanded east to the rail trestle and south to the limits of Oleshky. UKR forces destroyed a Russian main battle tank during contact on 8 JUL. UKR artillery is targeting RU troops, armor and logistics as they approach… pic.twitter.com/AYcDWwcYB6

— Chuck Pfarrer | Indications & Warnings | (@ChuckPfarrer) July 8, 2023
KHERSON CITY/ 2100 UTC 8 JUL/ A UKR bridgehead has been expanded east to the rail trestle and south to the limits of Oleshky. UKR forces destroyed a Russian main battle tank during contact on 8 JUL. UKR artillery is targeting RU troops, armor and logistics as they approach Kherson. Contact continues along the M-14 HWY axis.
Bakhmut:
Two Ukrainian 155-mm self-propelled guns Bohdana 2023 year of production and one older modification of Bohdana operating on Bakhmut front.
Full video- https://t.co/Jh4RElo35zhttps://t.co/m4trpRagGH pic.twitter.com/j3QhHPaLn1

— Special Kherson Cat 🐈🇺🇦 (@bayraktar_1love) July 8, 2023
Here's a machine translation of the summary from below the video:
Artillerymen of the 57th Separate Motorized Infantry Brigade named after Cossack Ataman Kostya Gordienko are firing daily to accelerate the infantry offensive towards Bakhmut with Ukrainian 155mm NATO-standard 2C22 Bogdan artillery.

According to the howitzer commander, Dmitry, the radius of the howitzer is 43 kilometers.

However, the more shells from Western partners, the better the counteroffensive will be accelerated, and the cluster munitions promised by the United States will help his soldiers achieve their goals faster.

This video is published solely for documentary purposes to convey the truth about the war in Ukraine.

Video: AP
Strikes (possibly with JDAM-ER) on Russian positions in Paraskoviivka near Bakhmut. Video by the 77th brigade of Ukraine. pic.twitter.com/4jZ3PDxPc3

— Special Kherson Cat 🐈🇺🇦 (@bayraktar_1love) July 8, 2023
/3. The same place was used by Russians as a base back in March https://t.co/kh48AUrmO7

— Special Kherson Cat 🐈🇺🇦 (@bayraktar_1love) July 8, 2023
Lviv:
Thousands of people gathered in Lviv to greet Zelensky and Azovstal defenders. What a day. pic.twitter.com/1Av7y6VyWP

— Maria Avdeeva (@maria_avdv) July 8, 2023
Lyman, Dontesk Oblast:
Another crime of the terrorist state.
Around 10 a.m., russians shelled the residential quarters of Lyman in Donetsk region with multiple rocket launchers. At least 6 civilians were killed, and 5 are currently known to be injured.
Rescue operations are ongoing.

— Defense of Ukraine (@DefenceU) July 8, 2023
Here's a thread from former US Navy Explosive Ordnance Device (EOD) specialist and current NY Times reporter regarding the cluster munitions the US is sending to Ukraine:
This dud rate stands in contrast with the 2.35% rate claimed by the Pentagon, which is based on tests under optimal conditions at a proving ground in Yuma, Ariz., where the impact area is flat hard-packed ground devoid of vegetation.

— John Ismay (@johnismay) July 8, 2023
Trees, shrubs and fences can also snag DPICMs before they can hit the ground, leaving them hanging until something — or someone — accidentally knocks them free to hit the ground, where they can detonate as intended.

— John Ismay (@johnismay) July 8, 2023
The U.S. will likely send hundreds of thousands of these M864 shells to Ukraine in the coming months.

— John Ismay (@johnismay) July 8, 2023
Last night in comments Anonymous at Work asked:
Adam,

Thanks for the update and information on the cluster munitions.  Given how insanely banned they are internationally, and the anti-Biden sentiment among Republicans, any chance the US will sign on after RU is driven from Ukraine?  Or will the "Biden did a thing, we will now oppose it" caucus in the US Senate go away?

I presume, as with the Convention on Land Mines, the US wants a carve out for South Korea as its primary objection (another non-signatory).
The domestic politics in the US will remain the domestic politics in the US. The most recent polling/political surveying I've seen indicated we're back to an overall solid majority of Americans supporting the Ukrainians and this includes the numbers among the GOP moving back up in the support Ukraine direction. But the usual suspects on both sides will use this as a way to try to attack Biden from both the right and the left.
As to carves out on the international agreements regarding the use of cluster munitions to be similar to those the US seeks on the Convention on Land Mines, my take here is that it doesn't matter. None of these treaties will ever pass the Senate again. The Law of the Sea Treaty, which was almost completely negotiated under the Bush 41 administration and then finished by the Clinton administration, has been DOA in the Senate because it was the Clinton administration – a Democratic administration – that sent it to the Senate for ratification. All you need to know about how this stuff has worked since the 1990s is the ongoing attack on US national security by Senator Tuberville who is holding up all the senior uniformed and civilian nominations for the Services and DOD because Secretary Austin issued guidance after the Dobbs decision that the military would cover the costs to transport uniformed personnel in need of female reproductive health care to a state where it was legal if it could not be performed on the base medical facility. Frankly, I doubt that a treaty negotiated by a Republican president and sent to the Senate could actually clear the 2/3rds vote threshold with the current, let alone a potential future, GOP Senate caucus.
That's enough for today.
Your daily Patron!
I am going to be very honest here, I live in dread of the day when I get to this section and I have to include something like this:
You could see on the news that I was under fire. It happened on June 5, but the journalists wrote only now. I am alive and well. It was Russian rockets that killed 2 people and injured 9 in Balaklia. I was moved to a shelter, and it saved my life. #500dayofwar pic.twitter.com/clTwKxiTBT

— Patron (@PatronDsns) July 8, 2023
Patron the dog came under fire during demining in the Balaklia district, the Balaklia City Military Administration reported.

The rescuers moved the dog to the shelter in time. pic.twitter.com/knNPNwufyr

— UNITED24.media (@United24media) July 8, 2023
Fortunately, the little guy is okay, but honestly I dread the day when I might have to include something different in this portion of the update.
A new video from Patron's official TikTok:
Open thread!