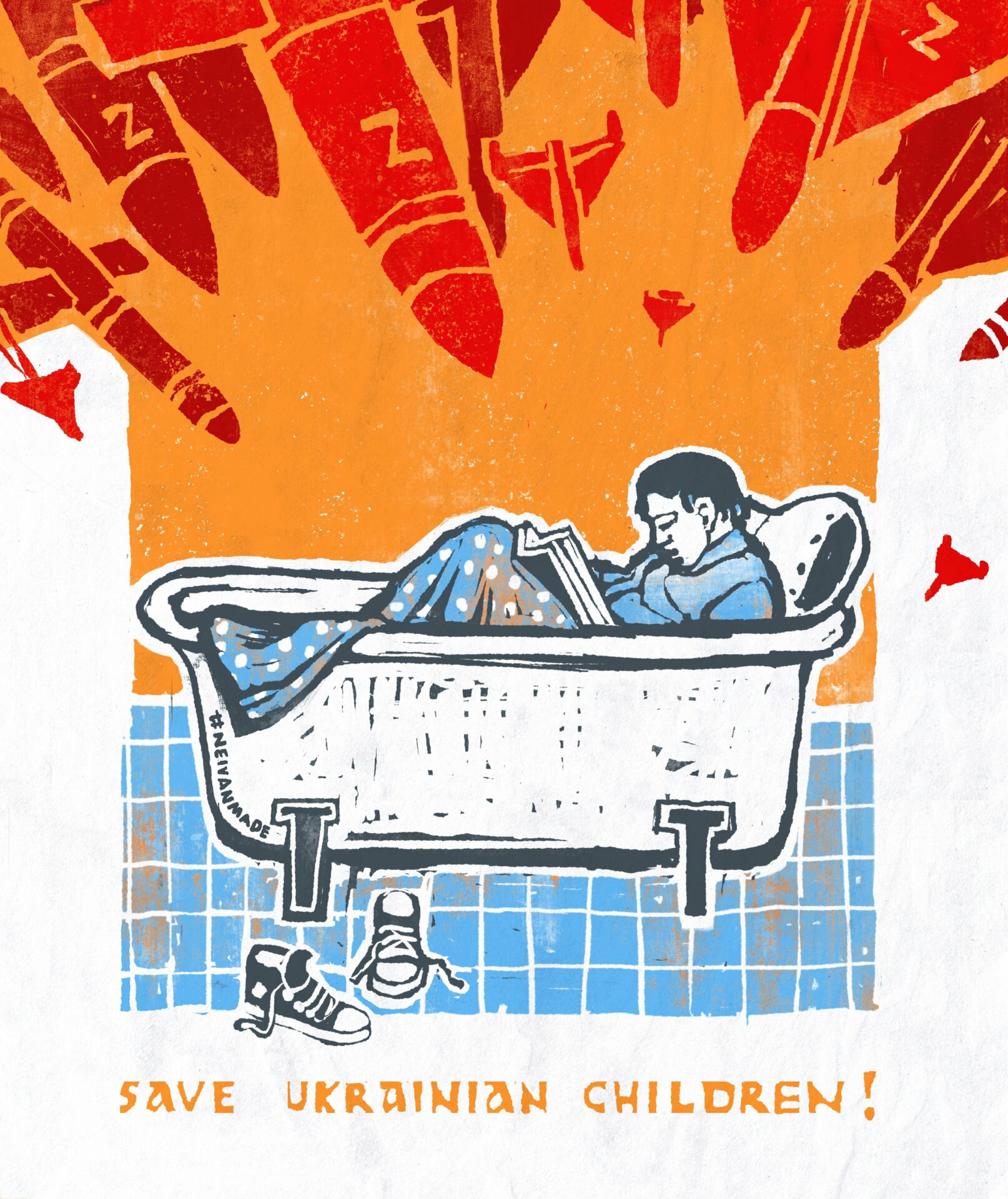 (Image by NEIVANMADE)
Нашим героям потрібні власні безпілотники! Долучайтесь до збору!https://t.co/RmGRu0wRdz#NEIVANMADE #Azov #ЗСУ #StandWithUkraine pic.twitter.com/SjsPV1QjMq

— NEIVANMADE (@neivanmade) July 19, 2023
Here is the machine translation of his tweet:
Our heroes need their own drones! Please join the collection!
Here is President Zelenskyy's address from earlier today. Video below, English transcript after the jump.
Inspection of "military commissariats" continues: responsibility for violation is inevitable – address of President of Ukraine

22 July 2023 – 21:15

Dear Ukrainians, I wish you good health!

Report for this day.

First. Law enforcement officers informed me today about the situation with the former military commissar in Odesa. He was notified of suspicion based on the facts of illegal enrichment and violation of the order of military service. Logically, this story was not supposed to end with just the dismissal. The State Bureau of Investigation, the Prosecutor General's Office continue the necessary investigative and procedural actions. All details that can be made public will be presented to the public by law enforcement officers. And in general, the inspection of territorial recruitment centers, i.e. "military commissariats", continues. And every such "cabinet" violation somewhere in the military hierarchy, any attempt to somehow get rich there humiliates our warriors, our heroes. Liability for violations is inevitable.

Second. Today, the procedure regarding one of the systemic banks, which belonged to Russian oligarchs, ended. Now, it has public management. The rights of depositors and the resilience of the banking sector are guaranteed. In the future, this bank will operate as usual. I thank the team of the National Bank of Ukraine, the Cabinet of Ministers, and the Deposit Guarantee Fund for the quick and effective steps within the legal procedure. Another asset of the Russian oligarchs, who still continue to work within the system existing in Russia, is under the control of our state.

Third. I spoke with NATO Secretary General Jens Stoltenberg. The topic is obvious. This is the implementation of the agreements we reached at the Alliance summit in Vilnius. The priority is unchanged: it is the fastest possible accession to NATO when security conditions allow. Only this will reliably guarantee security and peace for the whole of Europe. We also talked about the current security situation, in particular, about Russian aggressive steps in the Black Sea. Any destabilization in this region and the disruption of our export routes will mean problems with corresponding consequences for everyone in the world. The price crisis is the least of the possible consequences.

We discussed with Mr. Stoltenberg our steps to unblock and ensure the stable operation of the grain corridor. In our cooperation, we have moved to a new, higher level – the level of the Ukraine-NATO Council. And this mechanism can work. I turned to Jens with a proposal to urgently convene such a meeting of the Council for appropriate crisis consultations. The meeting will take place in a few days. We can overcome the security crisis in the Black Sea.

Fourth. I want to thank all the countries that this week adopted new decisions in support of our state, our people, our military, and all citizens.

The Republic of Korea announced an increase in aid to Ukraine. Thank you!

Azerbaijan – humanitarian assistance in the field of energy and demining. Thank you!

Sweden – approved program to help us rebuild. Strategy until 2027. Thank you very much!

Japan – an agreement was signed between the World Bank and Ukraine on a $1.5 billion loan under Japanese guarantees. Thank you!

Australia, Canada, the United Kingdom, the United States – sanctions against persons associated with aggression. Thank you!

The United States – defense aid package. Artillery, rounds, air defense – all that we need now. Thank you!

Germany – a new defense supply for our warriors: tanks, artillery rounds, equipment. Grateful!

And, of course, our warriors. Everyone who is currently in battle, on combat posts, and on combat missions. Thank you! Thank you that our forces are increasing the pressure on the occupiers daily. Today, I would like to especially mention our national guardsmen – warriors of the 15th operation brigade named after the Hero of Ukraine Bohdan Zavada. They are very powerfully destroying Russian evil in the South of our country. Thanks, guys, for every countered attack and for your progress! Glory to you!

Separately, I want to note today the warriors of the Defense Intelligence, our intelligence unit – Tymur's unit. Very cool, guys! Well done! Thank you!

Glory to everyone who makes Ukraine stronger!

Glory to Ukraine!
F-16s for #UAarmy!

Art by Nikita Titov pic.twitter.com/ve5KetkjcV

— Defense of Ukraine (@DefenceU) July 22, 2023
From The Drive's The War Room:
It appears that Ukraine is getting closer to obtaining F-16 Vipers it has long requested.

National security adviser Jake Sullivan said on Friday the U.S. is "moving rapidly" to get F-16s to Ukraine.

The Biden administration expects American-made F-16 fighter jets will arrive in Ukraine near the end of this year, a top spokesperson said, signaling that U.S. officials are feeling a new sense of urgency to deliver the warplanes as quickly as possible. https://t.co/WYzW0DvYWw

— Lara Seligman (@laraseligman) July 21, 2023

"We are going to push as fast as possible," Sullivan said during remarks at the Aspen Security Forum in Aspen, Colo, according to Politico.

"Now look, the F-16s will get there probably towards the end of the year," John Kirby, National Security Council spokesman, told Fox News on Thursday. "But it's not our assessment that the F-16s alone would be enough to turn the tide here."

Ukraine and 11 other nations have formalized a plan to train pilots, maintainers and support staff to operate F-16s, Ukrainian Defense Minister Oleksii Reznikov announced Tuesday in a Tweet. You can read more about that in our story here and regarding which nations might be able to provide Ukraine with those jets here.
Volume up!
Da-da-da, da, da, da, da, da, da@Eminem

Art by Instagram/vladislav__trotsenko pic.twitter.com/5QF5vgy2LO

— Defense of Ukraine (@DefenceU) July 22, 2023
WARNING!!! WARNING!!! INTENSE COMBAT FOOTAGE!!! WARNING!!! WARNING!!!
This is how it's done: an assault on enemy positions by the Presidential Brigade. pic.twitter.com/MoZexB5JHI

— Defense of Ukraine (@DefenceU) July 22, 2023
ALL CLEAR!!!
Odesa:
Aftermath of a recent Russian missile attack on Ukrainian peas and barley storage in Odessa.
More photos-https://t.co/XqRZUc8J1N pic.twitter.com/ceShpYlSZI

— Special Kherson Cat 🐈🇺🇦 (@bayraktar_1love) July 22, 2023
Russia is under the delusion that an imminent famine caused by them will lift sanctions and pave the way for friendship with the world. But friendship cannot be imposed. Famine will only serve to deepen animosity and further isolate Russia. https://t.co/DNMn3B6NPU

— Tymofiy Mylovanov (@Mylovanov) July 21, 2023
As I wrote last night, this is the play. Create a global food crisis, but one that hits especially hard in the global south and in the periphery between north and south. Then leverage the crisis that Russia created for Russia's own advantage.
Kreminna Axis:
KREMINNA AXIS /2115 UTC 21 JUL/ RU renewed offensives across the C-131306 Rd axis at Makiivka & Nevske: these attacks were broken up by UKR forces. Supported by air strikes, Russian VDV and mechanized units staged assaults against Dibrova & Serebryansk Forest; these attacks were… pic.twitter.com/r1X4l2O5SK

— Chuck Pfarrer | Indications & Warnings | (@ChuckPfarrer) July 21, 2023
KREMINNA AXIS /2115 UTC 21 JUL/ RU renewed offensives across the C-131306 Rd axis at Makiivka & Nevske: these attacks were broken up by UKR forces. Supported by air strikes, Russian VDV and mechanized units staged assaults against Dibrova & Serebryansk Forest; these attacks were also repelled.
Simferopol and Otyabr'skoye, Crimea:
Appears Ukrainian forces launched a drone strike on an airfield & oil depot outside of Simferopol in Russian-occupied Crimea. Videos posted to local Telegram channels show explosions & smoke billowing from area. Kremlin-installed authorities said Crimea bridge was briefly closed. pic.twitter.com/oXAa2c1vkg

— Christopher Miller (@ChristopherJM) July 22, 2023
Explosions, as well as secondary explosions, were heard by locals near Oktyabr'skoye, Crimea. Reportedly somewhere from the direction of the local airfield. Russians claim that there was a drone attack. ~175-180km from the front line. pic.twitter.com/RiaROpQCXF

— Special Kherson Cat 🐈🇺🇦 (@bayraktar_1love) July 22, 2023
/3.presumably oil depot which is on fire in Oktyabyrskke. Judging by the footage filmed from the local train station. @GeoConfirmed
(45.2872644, 34.1275628) pic.twitter.com/eFYzr6YRC1

— Special Kherson Cat 🐈🇺🇦 (@bayraktar_1love) July 22, 2023
/4.1. Geolocation by @NickOuden of the video above helps to confirm that detonation is happening somewhere in the airfield direction. (45.2936091, 34.1235647) https://t.co/cOdBGrKSa3 pic.twitter.com/ZTX6zquHRj

— Special Kherson Cat 🐈🇺🇦 (@bayraktar_1love) July 22, 2023
After explosions, a fire started on the Elevatorna railway station in the Octiabrskoe village of Crimea, a local resident reported to Suspilne, sharing a video. pic.twitter.com/mT2ga18E6o

— Euromaidan Press (@EuromaidanPress) July 22, 2023
From EuroMaidan Press:
As a result of an attack by Ukrainian drones on the Krasnogvardeiskyi district, a detonation occurred in an ammunition warehouse, Russian-installed head of Crimea Sergei Aksionov said.

Occupation authorities decided to evacuate people within a radius of 5 kilometers from the site of the emergency.

"To minimize risks, it was also decided to suspend traffic on the Crimean railway," Aksionov added.

After explosions, a fire started on the Elevatorna railway station in the Octiabrskoe village of Crimea, local resident reported to Suspilne, sharing video.

Russian telegram channels speculate that Storm Shadow missiles could be involved in the attack.

"An oil storage facility and an ammunition warehouse of the Black Sea Fleet were hit: a large fire broke out in the area of the incident, local residents reported the sounds of a secondary detonation," Russian Telegram Channel Emergency Incidents in Sevastopol informed, referring to locals.
Donetsk and Luhansk Oblasts:
Near Lysychansk (Luhansk Oblast), Russian forces added new trenches and barriers along roads leading toward the city. (2/4) pic.twitter.com/t4wjynRm6p

— Brady Africk (@bradyafr) July 22, 2023
Check out an interactive map and satellite imagery of Russia's defenses in and around Ukraine at the link below. (4/4) https://t.co/JGlYbCrrUE

— Brady Africk (@bradyafr) July 22, 2023
Kapytolyika, Karkhiv Oblast:
The butcher's bill sometimes only have a single item on them.
"It is unclear, precisely what impelled the occupiers to kill Vakulenko. But his unapologetic, unconcealed adherence to an idea of 🇺🇦, his shelves of 🇺🇦 books, his patriotic tattoos, his refusal to speak Russian: all of this likely made him a target"https://t.co/suBoAcdupE

— Andrew Chakhoyan 🇺🇦 (@ChakhoyanAndrew) July 22, 2023
Charlotte Higgins at The Guardian:
Kapytolivka is a village of low, scattered cottages, just beyond the south-eastern tip of the Ukrainian town of Izium. The last house in the village is a simple white building with a corrugated iron roof, a chimney, and a front garden planted with a vine and roses. On 22 March 2022 it would have been a pretty spot, but for the armoured personnel carrier that the Russians had parked right outside. By then, Kapytolivka had been under occupation for a fortnight. Russian soldiers had taken over the houses of those who had fled; they had looted the shop, and stolen any cars they could find.

That day, a military car pulled up at the cottage. Earlier, the Russian occupiers had arrested one of the men who lived here and his autistic son: the 49-year-old writer Volodymyr Vakulenko and 13-year-old Vitaliy, who had not spoken a word for weeks. Now, a couple of hours later, the pair were being returned to the home they shared with the author's father, also called Volodymyr Vakulenko.

The soldiers who brought them back started searching "from attic to basement, every square centimetre of the house", as Olena Ihnatenko, the writer's mother, a warm, auburn-haired woman, tells me a year later. We are speaking in the village house she is borrowing from friends. Unlike her own modern apartment, also in Kapytolivka, the cottage can be heated by firewood when the power cuts out. Which it does now, abruptly silencing the cartoons Vitaliy has been watching in the next room, and making audible the dull boom of distant artillery.

Watching her son's house turned upside down, Ihnatenko found herself thinking of the Gestapo. What were the Russians searching for? She couldn't imagine. In Vakulenko's room there was just his computer; shelves filled with Ukrainian literature, including copies of his own books; framed certificates on the wall marking his success in literary competitions; and, because he loved growing things, three potted plants neatly lined up on the windowsill. A knife – but that was just some souvenir. Then again, his Ukrainian-language books would have been enough to arouse suspicion; so, too, his patriotic tattoos. And then there were his mobiles, one of whose ringtones, uncompromisingly, was the popular Ukrainian anthem Putin Is a Dickhead.

Not that Vakulenko and his son were remotely threatening figures. The author of children's stories including Daddy's Book, a volume of jolly illustrated animal poems, was not a robust man. He had suffered a head injury in the pro-Europe Maidan protests of 2013-14 and had been injured, too, during his military service decades ago. Blue-eyed, wiry and slight, with his hair shaved at the sides and back, leaving a Cossack-style ponytail, he had become painfully thin during the six weeks since full-scale invasion, and his mother was worried about that, too. There had been little to eat – aside from the potatoes he'd dug up from the garden and the contents of the few tins he'd managed to buy in Izium before the tanks trundled in. She turned to the soldier she reckoned to be the senior officer. "Can't you see the boy is disabled and the father's not in good health?" she asked. "Don't worry," he replied. "We've brought them back. We won't take them again."

As the soldiers finally prepared to leave, Vakulenko asked for the return of his documents and phones, confiscated earlier by the five men who had showed up to arrest him. Vakulenko Sr later tells me that he reckoned, by their accents, that these men were separatists from the so-called Luhansk People's Republic, illegally annexed from Ukraine by Russia in 2014. They had arrived in the wake of the main army echelon, and had their own base in the village. One of them, a man with a reddish beard, had the call sign Bes, Russian for "demon".

"Don't worry, you'll get your phones and papers back today or tomorrow," the soldier reassured the writer.

When Ihnatenko tells me this part of her story, she stops and says: "'Today or tomorrow.' I heard that phrase so many times, when I was looking for my son. 'Today or tomorrow' – that's what they always said."

The soldiers finally left the house. Vakulenko told his parents he had been taken to a "special department" set up near the village school, where he had been beaten in the groin. The soldiers had told him: "Don't get upset."

The next day, 23 March, slipped by. But the day after that, Ihnatenko's ex-husband, Vakulenko Sr, returned to her flat with the news that their son had been taken again – and Vitaliy this time left at home. She ran to what she believed was the Russian command post in the village. The same man who two days ago had told Vakulenko he'd get his documents back "today or tomorrow" greeted her, smiling. "Calm down. Why are you getting so het up? He'll be brought home either tonight or tomorrow evening. Go and take care of Vitaliy."

Her son was not brought home that night, or the next day, or the day after. It didn't take his parents long to figure out that the reason for his initial release was likely because the soldiers weren't interested in young Vitaliy. As the days slid into weeks, the weeks into months, Ihnatenko became increasingly terrified. People were being arrested and released. Or sometimes not released; sometimes killed. She and Vakulenko Sr followed the trail of every rumour. She demanded answers from the military in the village. They filed a missing person report. None of the family had a car, so she hired one to reach an administrative office in Izium. She tried, too, to get to a school in the town where she had heard people were being held, but she was turned back at a checkpoint. Some newly arrived Russian military said maybe he was being held in Olenivka – a prison in the so-called Donetsk People's Republic. But that was bombed in July, killing 53 Ukrainian POWs. Others said maybe he was in prison in Belgorod, over the Russian border. The family's lives became a cycle of hope and dread.

"Something happened to me that I cannot convey to you," she tells me. "I had a realisation, suddenly, that he was no longer among the living. But I tried to suppress those thoughts." She pauses. "You know, I sometimes felt like I wanted to fall upon the road and hit my head against it, just hit it and hit it, and then I would raise my head and Volodya would be standing in front of me."

Her son never did stand in front of her again. His corpse was found six months later in a mass grave outside Izium. He had been killed by two bullets from a semi-automatic Makarov pistol. But before he was abducted for the second and last time on 24 March, he did something important: he buried a diary in the back garden, beneath a stand of cherry saplings he'd planted. Six months afterwards, on 10 September, the Russians were driven out of the Izium area by a Ukrainian counteroffensive. And a fortnight after that, on 24 September, the Ukrainian novelist Victoria Amelina dug the diary up.
Much, much, much more at the link!
Working on this piece on Volodymyr Vakulenko broke my heart multiple times, but never so much as the day I finished writing it. https://t.co/fyr9wrrukG

— Charlotte Higgins (@chiggi) July 22, 2023
And sometimes they have just a handful.
Absolutely frankly: I can't scroll my Facebook newsfeed anymore. Just this morning alone, 5 posts in a row are posts about deaths. 5 different people. 5 tragedies for each family. These are soldiers on the front lines, these are civilians under attack. Unbearable.

— Anastasia Magazova 🌻 (@a_magazova) July 22, 2023
Russia, most likely Shoigu, Gerasimov, and the FSB, declare war on the Telegram milbloggers via Russian TV propagandists:
Russian officials are cracking down on "turbo-patriots", volunteers and other "fascist scum", as claimed in Solovyev's live show, following the arrest of Girkin. The host of the show says it's time to "clear this space, only run fundraisers officially".

This messaging is… pic.twitter.com/9eqmXOP3Ni

— Dmitri (@wartranslated) July 22, 2023
Russian officials are cracking down on "turbo-patriots", volunteers and other "fascist scum", as claimed in Solovyev's live show, following the arrest of Girkin. The host of the show says it's time to "clear this space, only run fundraisers officially".

This messaging is important as it could be interpreted as a "declaration of war" against all those endless Telegram admins and volunteers who raised funds for the Russian army but allowed themselves to criticise the authorities over the past 1,5 years.

Transcript of the bit:

"Who are you?

All these Strelkov-Girkins, Gubarevs, Podolyakas, Montyans? Who are you to be pointing to us what Putin, MoD, and others should be like? Who are you?

We already survived Navalny, Yashin, and other scum. And we will survive you, believe me. We have a very strong immunity.

But the question is, who are you? I realise that Navalny's network didn't go anywhere. And the smelly fascists are hiding in holes. All this scum, the Black Hundreders, monarchists, all this badly smelling mess with a very strong inclination towards fascism.

They all exist, including Navalnists, and as soon as something catches fire they come for the smell.

You know, as soon as a compost pile appears, the flies are already there, yelling "Shame, shame!", coming out to the protest events. Who are you to call for protests in Moscow?

Look at their telegram channels – half of them are hohols [Ukrainians]. What's happening in their comments? It's just beautiful.

I think that what's happening now is very characteristic. I think they all need to get ready. All the people in this network, the patriotic-literature gopniks, they need to watch carefully. I'd recommend them to visit a solicitor and just in case organise their property: "In case if I'm [arrested]…" and so on.

Or maybe buy tickets, somewhere to Tbilisi. It's just the right time. Because the clearing of the space is beginning.

And they think they have the right! Strelkov was arrested, but he's a "patriot"! Do patriots have indulgences? Can they throw mud at anyone they want?

They're not defending Strelkov, they're defending themselves and their fundraisers. It might soon end and even Kashevarova [Russian female blogger] will be washing toilets in Duma. The only thing she knows how to do and always did. And offer tea: "Hello, please, it's warm".

That's all they know how to do. They didn't become the Counts of Monte Cristo, they'll have to retrain, to not even become site managers but site cleaning managers.

I emphasise again – we need a total clearing, brutal military censorship. Any fundraisers only via state resources.

But again – get ready, all the graphomaniacs and mediocrities, lovers of military coups, Maidans and all that. We won't allow a Maidan.
More examples of Russian sanctions evasion:
Ukraine's military gave us access to one of the Russian cruise missiles they shot down so we could see the American microchips inside its guidance system. Find out which companies made them in our @pulitzercenter-supported @newshour investigation. https://t.co/gcJwrbSngk

— Simon Ostrovsky (@SimonOstrovsky) July 21, 2023
That's enough for tonight.
Your daily Patron!
I auctioned off the patches I wore in the first months of the war. It is the auction of my friend @ptuxerman and @razomforukraine for the Ukrainian heroes. Learn more and place your bid here: https://t.co/e4gFib2Y8n

Videohttps://t.co/SEFIPNzQl3 pic.twitter.com/wbpAdXPiaT

— Patron (@PatronDsns) July 22, 2023
And a new video from Patron's official TikTok!
@patron__dsns

Морозиво – моя друга слабкість після качечок, напевно 🤭🍦
Here's the machine translation of the caption:
Ice cream is my second weakness after ducks, I guess 🤭🍦
Open thread!