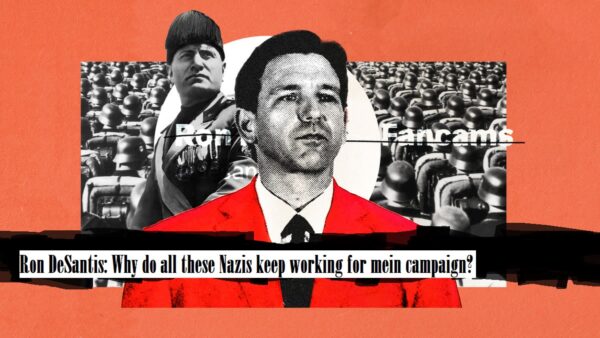 As y'all know, I despise Ron DeSantis to the depths of my soul, maybe even more than I abhor his former mentor/current tormenter the orange fart cloud. So I'm following accounts of the DeSantis campaign struggles with an unseemly amount of glee. I beg your forgiveness!
Josh Marshall has an update at TPM under a promising title: "GOPers Hit the Half-Drowned Ron with Their Paddles as He Struggles to Climb Back in the Campaign Boat." (Sounds like Marshall loathes the schmuck almost as much as I do.) The "Dead Bounce Ron Daily Update" begins as follows:
In today's episode of the ongoing collapse of the DeSantis campaign, we have a new moment which we might see as the severed segments of Dead Bounce Ron roiling and twitching around, much like a worm that has been cut into pieces but continues to wiggle and move about almost as if nothing had happened. Yesterday in response to a question about ersatz candidate Robert F. Kennedy Jr., DeSantis said that while he wouldn't choose Kennedy as his vice president, he would consider him to run the FDA or CDC.

This is of course a ridiculously inane suggestion. But the key is that it was immediately attacked even by many of DeSantis's erstwhile allies or the kinds of Republicans he needs to gain the support of to remain in the race.
As Marshall notes, Repubs see RFK Jr. as a ratfuck opportunity. No one is seriously considering putting that lunatic in charge of a lemonade stand, let alone a federal agency. So, that was a dumb self-own by DeSantis and an opportunity for rivals to attack him.
Also, Nazi eruptions in a campaign are a bad look, even for Repubs, especially outside of districts like those repped by MTG and Gosar. It's not like Repubs are sincerely horrified, but a parade of overt fascists is embarrassing for those who are still pretending their party isn't a gr0yper cesspool.
Also? DeSantis just sucks at being a human being and even more at being a presidential candidate, and that perception is snowballing among people he needs to win over NOW:
Meanwhile, DeSantis reportedly crashed and burned on a fundraising jaunt through the Hamptons, according to The New York Post, even as RFK Jr. made bank on Hamptons Republicans eager to fund his trolling operation. According to the Post, DeSantis was reduced to cutting the minimum contribution in half — essentially offering discount fundraisers — and ended up having to scrap two events for lack of interest.

Of course, it's the Post. So who knows? But why spoil a good story?
The loser stench is growing, and the first GOP debate takes place less than a month from today, dog help us. DeSantis better hope to sweet merciful Christ that Trump shows up at the debate (he won't). Because otherwise, his fellow aspirants will aim their piñata bats at the maggoty meatball in their midst.
Open thread.