It has been eleven (11) days since this article ran https://t.co/ZPrlCD3Mzp pic.twitter.com/YU2smsd4cY

— Martha Lincoln (@heavyredaction) July 29, 2023
The pandemic might officially be over, but the endemic effects will be with us for a long time to come. Some good news, though:
New research reveals that #Covid vaccination reduces *severity and mortality* after breakthrough infections. Study is the largest of its kind & answers a long-persistent question—whether vaccination reduces sickness & mortality after #SARSCoV2 infection https://t.co/z9XJt3EuPp

— delthia ricks 🔬 (@DelthiaRicks) August 2, 2023
"The increases vary around the country, with the virus appearing to be spreading the most in the southeast" – shocking! – "and the least in the Midwest….But overall, the numbers remain very low — far lower than in the last three summers."https://t.co/cR2cIHk20n

— Tom Nichols (@RadioFreeTom) July 31, 2023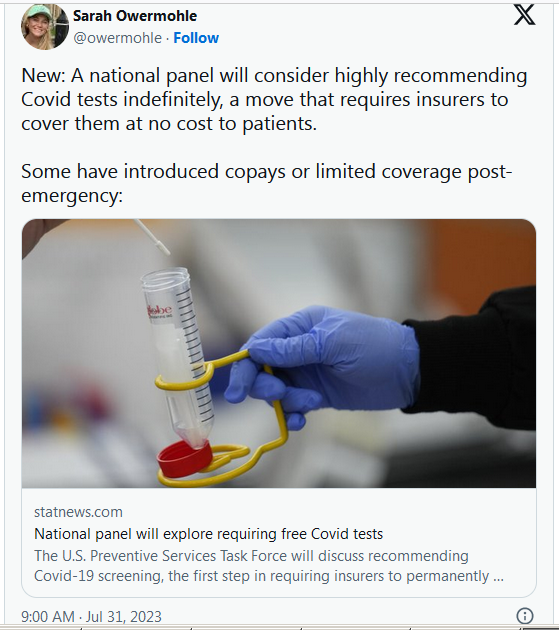 (link)

(link)
======
WHO: Global Covid hotspots to 27th July 2023

"The highest numbers of new 28-day deaths were reported from Brazil, Australia, Russia, Peru, and South Korea. https://t.co/esKbnnhYFt pic.twitter.com/ofVZlG4Fg9

— CoronaHeadsUp (@CoronaHeadsUp) July 29, 2023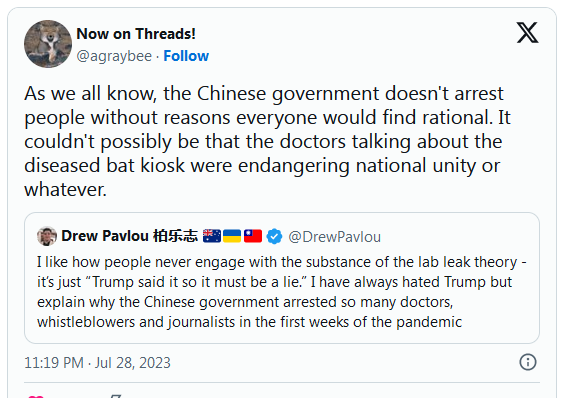 (link)
A Japanese health ministry panel recommended approval for Daiichi Sankyo's mRNA-based COVID-19 vaccine in what would be the nation's first home-grown shot for the coronavirus. https://t.co/JuRBaFrM99

— Reuters Health (@Reuters_Health) August 1, 2023
Indonesia:
"A new #Covid variant found in Asia is the most mutated version of the virus yet, according to scientists.
It has 113 mutations, 37 of which affect the spike protein – the part used by the virus to latch on to humans.
The new strain has been labelled the 'most extreme.'" https://t.co/tEWtloci9m

— Laurie Garrett (@Laurie_Garrett) July 29, 2023
Vietnam jails 50 in mass bribery trial over Covid-19 flights https://t.co/CIYTCOBq9o

— BBC Health News (@bbchealth) July 28, 2023
Russia: SARS-CoV-2 Recombination and Coinfection Events Identified in Clinical Samples.

"The results obtained are the first evidence of the spread of recombinant variants of SARS-CoV-2 in Russia."

*Covers period 2/2020 to 3/2022*https://t.co/kUdGy5kbjp

— CoronaHeadsUp (@CoronaHeadsUp) August 1, 2023
Scandinavia:
@PaulSchleifer Salam, here is your unroll: https://t.co/7uRvz4S6qa See you soon. 🤖

— Thread Reader App (@threadreaderapp) August 1, 2023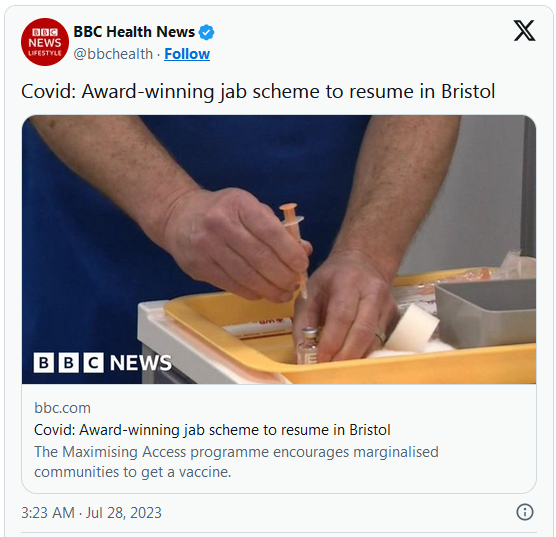 (link)
More than three years after the COVID-19 pandemic that took tens of thousands of Canadian lives, a group of the country's top medical experts have published a scathing indictment of Canada's COVID response.

Listen to the @StarThisMatters episode in full: https://t.co/IND9s5QVX2

— Toronto Star (@TorontoStar) August 1, 2023
======
The U.S. National Institutes of Health (NIH) said on Monday that it had launched mid-stage clinical trials to test at least four treatments, including Pfizer's Paxlovid, in patients with symptoms of long COVID. https://t.co/eJJx0JNKdo

— Reuters Health (@Reuters_Health) August 1, 2023
On the new #LongCovid trials @Nature https://t.co/OGv8FlYMqA by @maxdkozlov

— Eric Topol (@EricTopol) August 1, 2023
A common gene variant explains why some people are asymptomatic after infection w/ #SARSCoV2, a study has found. Gene carriers were >2x as likely to remain asymptomatic after infection. And those w/2 copies of the gene were >8x as likely to be asymptomatic https://t.co/9IGxrosd2g pic.twitter.com/eC4IsKU5Ms

— delthia ricks ?? (@DelthiaRicks) July 24, 2023
??I wrote about what "fatigue" really means for people with long COVID and ME/CFS, and why this profoundly debilitating symptom is so often misunderstood and trivialized.

(This piece also covers PEM.) 1/https://t.co/oFWb6Flyh0

— Ed Yong isn't really here (@edyong209) July 27, 2023

(link)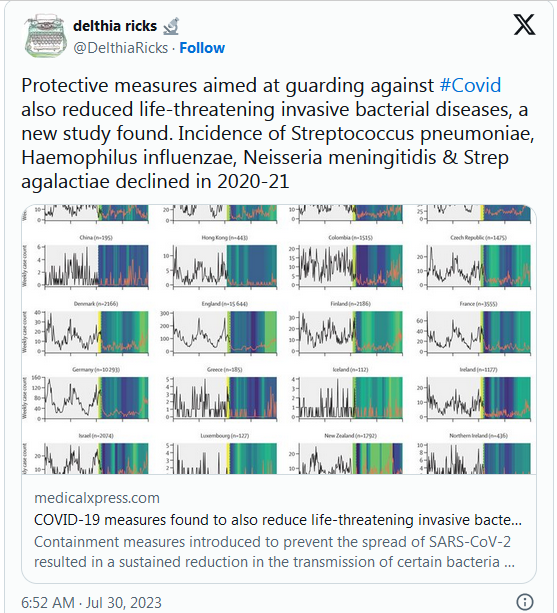 (link)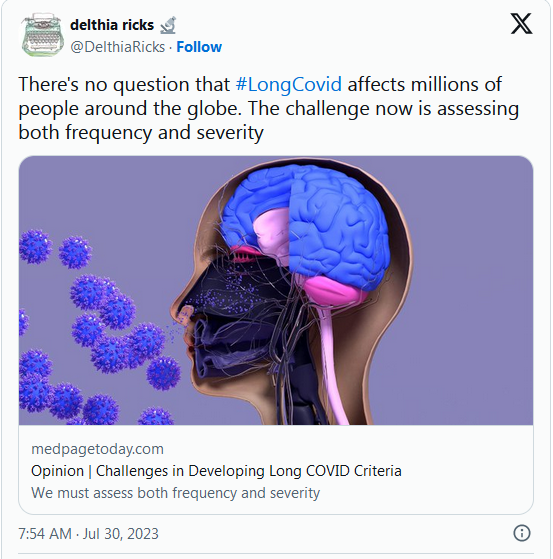 (link)
Cognitive deficits were detectable ~2 years after #SARSCoV2 infection in some people w/ #LongCovid. Cognitive impairment has been reported after many types of infection, including SARS2. What's still unclear is whether these cognitive deficits improve https://t.co/5Q9SrjPMts pic.twitter.com/RyYgWfe9LX

— delthia ricks 🔬 (@DelthiaRicks) July 29, 2023
======
Two months ago there were claims of a spike of infections ocurring in NYC. @EricTopol and I pushed back on that. It wasn't happening.

This is what the start of a new uptick/wave of infections looks like.https://t.co/MYrndGs4xG pic.twitter.com/EeOyoy4MBx

— JWeiland (@JPWeiland) August 1, 2023
Two things about COVID can be true at this stage:

-A "wall of immunity" will undoubtedly provide a bulwark against future variants and surges.

-This wall of immunity has been constructed at an unnecessarily high cost in death and disability in the US.https://t.co/Ayu99XWtEx

— Anne Sosin (@asosin) August 1, 2023
After the Covid vaccine came out, the adjusted excess death rate in Ohio and Florida was 43% higher among Republican voters compared with Democratic voters, this study found. There was no such gap based on political party before the vaccine. https://t.co/UqFZqVlY74

— Benjamin Ryan (@benryanwriter) August 1, 2023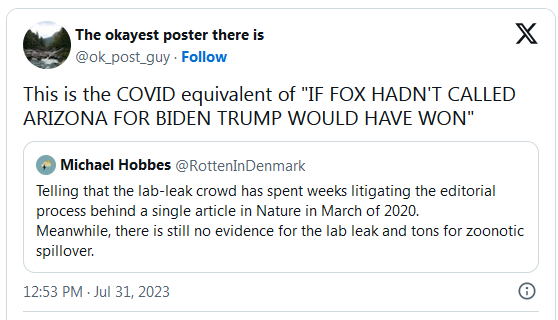 (link)
Seems like a win-'win'!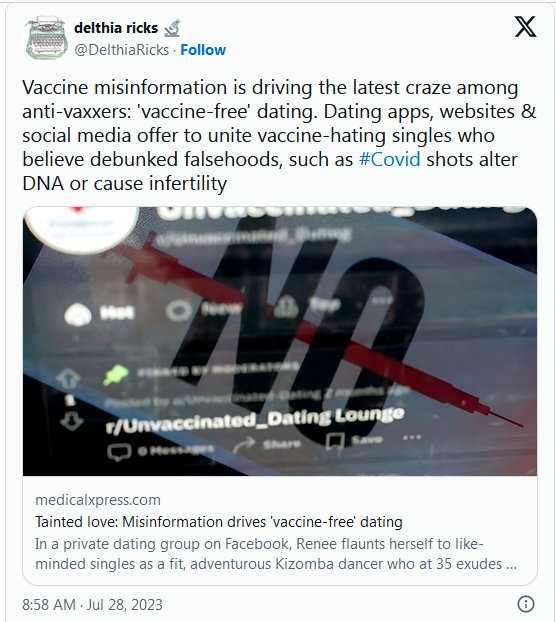 (link)
Idiocracy, now an instruction manual…
Members of an antivax group wonder why they keep getting sick with a cough and fever

Is it from vaccines shedding onto them, chemtrails in the skies, or not drinking enough urine? pic.twitter.com/lpdXicSZ8L

— Bad Vaccine Takes (@BadVaccineTakes) July 31, 2023
Reader Interactions