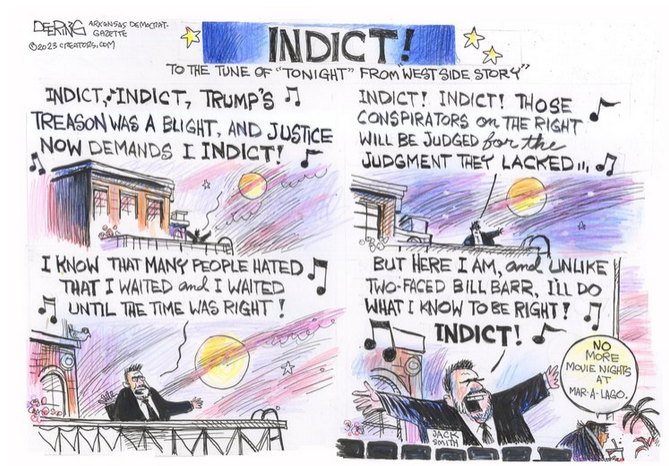 As expected, Jack Smith is present in the courtroom for Trump's arraignment. This is the second time they've been face-to-face as Trump has been attacking him as "deranged," a "crackhead" and implying he had something to do with cocaine found at the White House.

— Kaitlan Collins (@kaitlancollins) August 3, 2023
Per the Washington Post, "Assailed by Trump, special counsel Jack Smith lets indictments speak for him" [unpaywalled 'gift' link]:
… While Smith has remained taciturn, a picture of the prosecutor has emerged through his work and court filings, which included charges filed against Trump in early June in the documents case and charges filed Tuesday in the 2020 election case. Together, the efforts reveal a prosecutor meticulously assembling two high-stakes cases with scope and speed, according to a review of his work and interviews with legal analysts.

"He's obviously methodical, he's obviously thorough, but he's also just efficient," said Lauren Ouziel, a former federal prosecutor in Manhattan and Philadelphia who is now a law professor at Temple University. "He's not dillydallying. He's taking the time he needs, but no more."…

Attorney General Merrick Garland, who named Smith special counsel last year to take over the two Trump cases, pointed to the fact that Trump and President Biden were both seeking the presidency again in 2024. Since his appointment, Smith has been the focus of online threats and criticism, and he receives protection from a security detail…

Even though Trump has been charged, key elements of Smith's work still remain unknown. Prosecutors could have additional evidence beyond what is included in an indictment, for instance.

Smith also mentioned Tuesday that the investigation of other people is ongoing. The indictment unsealed that day mentions six unnamed co-conspirators — most of whom are identifiable through other public information, but none of whom were charged so far, though that could change.
"These are 'speaking indictments,'" Ouziel, the professor, said. "But in an important sense, the government is not really going to speak. They're not really going to put their money where their mouth is until it's time to go to trial and actually present the evidence."…

Smith's refusal to engage with Trump's rhetoric is how prosecutors are supposed to act, legal experts said.

Prosecutors "make their cases in court," Kay L. Levine, a law professor and associate dean for research at Emory University's law school, said in an interview before the latest indictment. "They don't make their cases in the court of public opinion."

"He seems like he is immune to getting baited into any kind of public debate about the case or what the case is going to be about," Levine said of Smith. "When he has the evidence, he gets the indictment and goes forward."…

"He's speaking through the documents he's filing in court," Litt said, "and that's what a prosecutor's supposed to do."
Much more detail at the link!
Special counsel Jack Smith has turned into an online phenomenon, portrayed by a set of liberals as Trump's worst nightmare in everything from memes to throw pillows. Nightly reports ??https://t.co/41kzhHKP9h

— POLITICO (@politico) August 2, 2023
Tiger Beat on the Potomac isn't sure whether to be snarky, or jealous:
For years, there has been palpable desperation on the left for Trump to get punished for a crime — any crime.

Now, after special counsel Jack Smith brought four charges against former President Donald Trump on Tuesday stemming from the Jan. 6 attack, liberals who have long been praying for Trump's downfall have found their hero.

Within hours of the latest indictment, Smith was an online phenomenon, portrayed as the left's avenging angel and Trump's worst nightmare.

The legion of Trump haters have been looking to Smith for salvation since Attorney General Merrick Garland appointed him as special counsel in November. On X, the website formerly known as Twitter, the fan account @7Veritas4 — with a display name of "Jack E. Smith" and a header photo of Smith replicated in dark sunglasses — has racked up over 300,000 followers. In recent days, the account has been posting GIFs from the film Inglourious Basterds, with Smith's head superimposed onto a menacing character known for killing Nazis called the "Bear Jew," along with Game of Thrones images of dragons descending on cities, ready to wreak havoc. Countless accounts online have display names like "Jack Smith Fan Club President;" take a look at the hashtag "jacksmithisahero" on TikTok and it's more of the same…
I can't wait til Jack Smith gets to the members of Congress who tried to help Defendant Trump with his coup 🤞🏼🙏🏼#TrumpArraignment pic.twitter.com/y05nU8KDqH

— PCali68 💙🌊🟧 (@SCRCali68) August 3, 2023