Ex-X: After only 3 nights, the 'X' sign on top of Twitter's headquarters in San Francisco that pulsated light right into nearby apartments has been taken down. https://t.co/Mg2qXwkqyX pic.twitter.com/nYsVWsUc7c

— ABC7 News (@abc7newsbayarea) July 31, 2023
It was supposed to earn him a ton of free media this week… and then Jack Smith set everyone talking about some boring political crap that no real Master of the Universe would ever even notice. Tough week, Elon!
it basically served its function to distract the press from the fact he coddled a right winger who shared child abuse imagery https://t.co/fhEpLTeoGF

— Karl Bode (@KarlBode) July 31, 2023
looks like the X logo that was erected above X / Twitter HQ has been removed

the SF Department of Buildings just uploaded nearly two dozens more complaints it received about it re: unsafe strobes, sandbags holding it up, lighting starting to "droop" off https://t.co/KEntuAzSM9 pic.twitter.com/oGrgTaZ7Hw

— Matt Binder (@MattBinder) July 31, 2023
Yeah? Well, we can't *make* him go away!…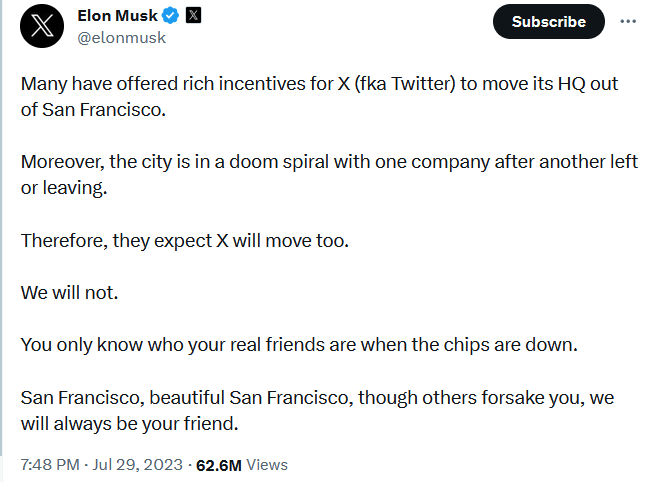 — Paul Leigh -Some Rascal on the Internet ?????????? (@Pleightx) July 31, 2023
Speaking of failed branding exercises…
I've heard/read multiple anecdotes from Tesla and SpaceX employees who say those companies have firm systems in place to make sure none of Musk's decisions are enacted, and I 100% believe them. https://t.co/nN3behvMnl

— Now on Threads! (@agraybee) July 31, 2023
But it's a dope joke! Are you saying dope jokes aren't automatically funny?!?
One striking thing about Elon is that he's bumblingly inept at using one of the first human technologies, language. He just apes what he thinks the kool kidz are saying, and in his case, he thinks Nazi nudniks are cool. Words turn to slimy garbage in his mouth. https://t.co/ptQ2zaTfQG

— Steve Silberman (@stevesilberman) July 31, 2023
Blaze your glory! pic.twitter.com/lmGZefVccG

— Daily Trix (@DailyTrix) August 1, 2023
Weird hunch it'll be back to Twitter in eighteen months.

— Mike Stuchbery ???? (@MikeStuchbery_) July 31, 2023