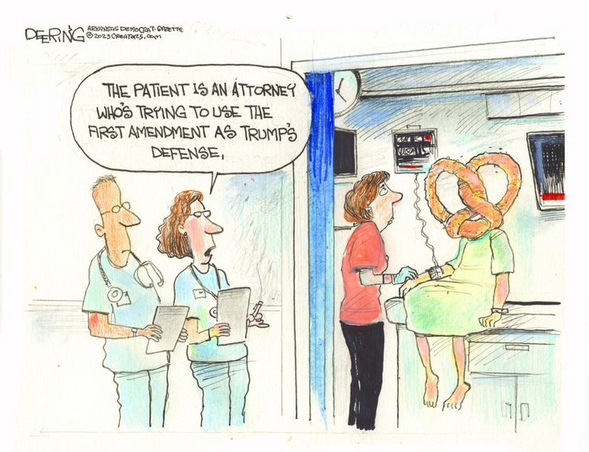 (John Deering via GoComics.com)

Every little Repub legal mind wants a turn in the spotlight, for some reason…
As "aspirational ask" enters the same lexicon as "I am not a crook" John Lauro turns himself into a laughing stock. https://t.co/IQ33WkFMEK

— Jon Cryer (@MrJonCryer) August 6, 2023
technically the constitution doesn't let you be a dictator https://t.co/tfN1cxdjul

— gdp breatharian (@revhowardarson) August 6, 2023
Holy hell the cables.

I BEG of you to consult the journalists who've seen this litigated 100s of times already on Jan6. Have @ryanjreilly explain how badly THIS VERY SAME claim went in 100s of other Jan6 trials.

Trump is no different. He's really not. https://t.co/kufr6fPRrU

— emptywheel (@emptywheel) August 6, 2023
The "diverse" population of West Virginia is 92.08% white. pic.twitter.com/xroF2AI7wj

— Andrew Wortman ?? (@AmoneyResists) August 6, 2023
John Eastman Comes Clean: Hell Yes We Were Trying to Overthrow the Government https://t.co/KaZafXY0aB via @TPM

— Josh Marshall (@joshtpm) August 5, 2023

Mr. Charles Pierce, at Esquire, "John Eastman Is a Clear and Present Danger":
John Eastman would like you to know that he's not just some guy with a law degree and a cowboy hat, and no idea what to do with either one. No, he's a true patriot who has brought his watering can to the tree of liberty, and who is now planning to order a sweet tea from Starbucks and throw it into Boston Harbor. Josh Kovensky of TPM flagged this extended exercise in Bunker Hill cosplay from Eastman to an interviewer from the Claremont Institute (Motto: Heritage's Bargain Bin.) And can we please now stop hearing from everyone who drank from the same kegs as Eastman when they were all in law school about what a good guy he once was. It doesn't matter any more. He's the guy who tried to overthrow the government, and he's not shy about saying so. From TPM:

Klingenstein asked Eastman whether he would have acted in the same way in 1960 as he did in 2020, referencing the belief on the right that John F. Kennedy stole that year's election from Richard Nixon. Eastman replied no, and added that the stakes of 2020 represented an "existential threat to the very survivability, not just of our nation, but of the example that our nation, properly understood, provides to the world." The Trump 2020 lawyer went on to reference the Declaration of Independence, saying that "our founders lay this case out." "There's actually a provision in the Declaration of Independence that a people will suffer abuses while they remain sufferable, tolerable while they remain tolerable," he said. "At some point abuses become so intolerable that it becomes not only their right but their duty to alter or abolish the existing government."

Because Donald Fcking Trump lost an election? Some gears have slipped upstairs, I'm thinking…

I seem to remember something in the Declaration about "light and transient causes." Josh Marshall reminds us that the Declaration of Independence is not a legal document. The Constitution is. And he lines up Abraham Lincoln to explain the difference between a constitutional right and a revolutionary one. In his first inaugural address, Lincoln said, "This country, with its institutions, belongs to the people who inhabit it. Whenever they shall grow weary of the existing Government, they can exercise their constitutional right of amending it or their revolutionary right to dismember or overthrow it." In any case, John Eastman is a clear and present danger. Hunter's laptop is a light and transient cause. Also a herring so red you can see it from the moon.
clearly a principled objection to prosecuting political opposition, no matter the merits of the case, from Mr Lock Her Up https://t.co/CAUmuzIYHN

— post malone ergo propter malone (@PropterMalone) August 5, 2023
If this is the legal defense that Trump's middle class supporters are paying for, in the millions, I think they should demand their money back. https://t.co/Q7LMq4xT41

— davidrlurie (@davidrlurie) August 3, 2023
Jonathan Turley is Mike Lindell with tenure. https://t.co/SfXJA0qDjV

— Marc E. Elias (@marceelias) August 5, 2023
Senator…thank you https://t.co/SBtQP1PtGW pic.twitter.com/02UOFFrEmG

— First generation home renter (@InternetHippo) August 7, 2023
If Trump is convicted his supporters will be aggrieved! Buddy, they already are. They're mewling pissbabies who are furious that black people have some rights. There is no appeasing them.

— Jean-Michel Connard ?? (@torriangray) August 3, 2023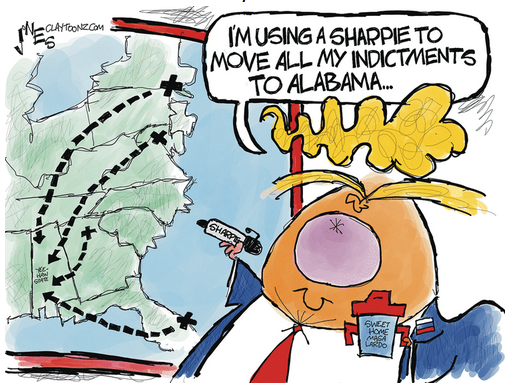 (Clay Jones via GoComics.com)