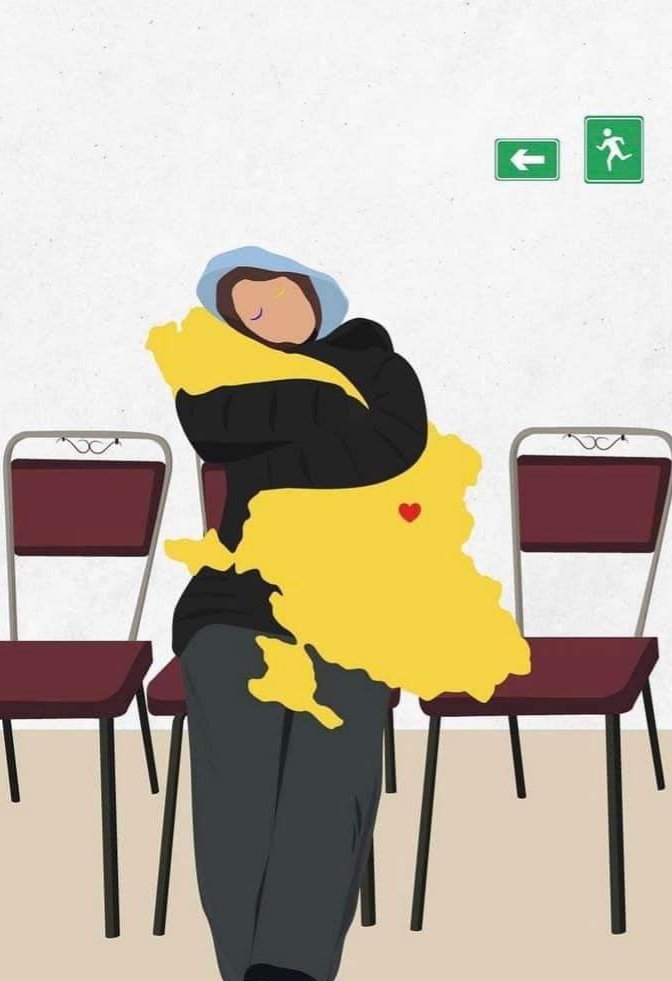 A few times over the past several months I've included videos and descriptions about a Ukrainian Non-Commissioned Officer with the call sign Lightning. Ukraine's Lightning will strike no more:
She was assigned the call sign "Lightning" because she could come to the aid of soldiers as quickly as a bullet or a fragment of a projectile.
Sergeant Daria Filipyeva was killed in the line of duty. She was awarded a "Steel Cross" by our Commander-in-Chief.
Dasha, a bright and… pic.twitter.com/Wg7bcv7Fv5

— Defense of Ukraine (@DefenceU) August 8, 2023
She was assigned the call sign "Lightning" because she could come to the aid of soldiers as quickly as a bullet or a fragment of a projectile.
Sergeant Daria Filipyeva was killed in the line of duty. She was awarded a "Steel Cross" by our Commander-in-Chief.
Dasha, a bright and creative individual, could not stand by and watch others defend their native land. She saved dozens of lives on the battlefield, like an angel. Her light will continue to shine from the sky forever.
Here is President Zelenskyy's address from earlier today. Video below, English transcript after the jump.
Step by step, we are making de-occupation of Crimea more and more achievable and well-thought-out – address by the President of Ukraine

8 August 2023 – 22:43

Fellow Ukrainians!

This afternoon, rescue operations in Pokrovsk, Donetsk region, after yesterday's missile attack by Russian terrorists have been completed. Nine people were killed. My condolences to the families and friends. 82 people were wounded. Everyone is being provided with the necessary assistance. Among the wounded are two children, boys, one of them is in serious condition. His name is Mykyta, he is only 11 years old, he is a 6th grade pupil. I wish a speedy recovery to everyone who suffered from this yet another Russian atrocity. There were several missile strikes. The second strike took place when the rescue operation began. This is a deliberate decision of the terrorists to cause the greatest pain and damage. And Russia will bear maximum responsibility for this – no matter how the events unfold, there must be sentences against the terrorists.

Today I would like to recognize the participants of this rescue operation in Pokrovsk. Those who proved themselves most active in helping people. These are civil protection service Senior Lieutenants Andriy Samusin and Oleksandr Shylo, and civil protection service Colonel Vyacheslav Filiushyn. National Police officers Lieutenant Oleksandr Chivenkov and Lieutenant Colonel Volodymyr Nikulin. I am especially grateful to all the medics working for people in Pokrovsk and other cities of Donetsk region, and today I would like to recognize feldsher of Myrnohrad Kateryna Zhelezniak and surgeon of Pokrovsk hospital Ihor Klimov. Thank you! I am grateful to everyone who saves lives and eliminates the consequences of Russian strikes.

Today I spoke with Prime Minister of the Netherlands Mark Rutte, and the key issue in our conversation was the protection of people, protection from Russian occupiers. We discussed in detail how to reinforce our warriors on the frontline and provide greater security to our cities and villages, to our entire land. We are preparing new defense packages, and I am grateful to Mark personally and to everyone in the Netherlands – each and every one who stands with Ukraine. We are preparing to upgrade our aviation with modern aircraft, and it is the Netherlands that can become a leader in the issue of F-16s for Ukraine. It is important that the Netherlands acceded to the G7 declaration on security guarantees for our country, and we discussed how these guarantees can be specified at the bilateral level. In addition, I invited Mark, Mr. Prime Minister, to participate in the Crimea Platform Summit at the level of leaders, which will take place on August 23.

Today, I also held a meeting on the content of our return policy, specifically regarding Crimea and its reintegration. It is obvious that after the liberation of Crimea from occupation, economic opportunities, personal security for people, and a sense of real freedom, which has not been there since 2014, will return there. But all of this should not be just abstract – every detail of the de-occupation of Crimea should have a specific meaning. How exactly normal life returns. What exactly this means for Crimea and for all our people. This should be clear to everyone. Step by step, we are making the de-occupation of Crimea more and more achievable and well-thought-out.

Today I also held a meeting on the new educational season – September 1 will come soon. Parents and teachers have questions. There are various security and preparatory nuances. The meeting was attended by Prime Minister Denys Shmyhal, Deputy Prime Minister Mykhailo Fedorov, Minister of Internal Affairs Ihor Klymenko, Minister of Education and Science Oksen Lisovyi, and their plans were presented. The content is obvious: preparation of shelters, provision of textbooks, financial and organizational resources that are needed and which the state can help with. Government officials will soon present the relevant details.

And one more thing. Today, I had the honor to congratulate our warriors-signallers on their professional day and awarded the best of them. 24 people who serve Ukraine in different units and at different levels. Serve as efficiently as it is necessary. The Signal and Cyber Security Troops of Ukraine are not often talked about. But all types and branches of the troops depend on them, on the quality of their work. Because communication is one of the key resources.

And I thank everyone who serves our country well and works for the state efficiently. There must always be a result for Ukraine. Every day at the front and in the rear… Every such day – with results – brings our victory closer. Like today – with a law enforcement result for Ukraine. For the cleaning of Ukraine. We all know that our state must change, must undergo transformation. And this means that those who work for their own benefit, not for the sake of Ukraine, will not be in public office or MPs of Ukraine. Every such dealmaker will at least stand trial.

Glory to all who fight for Ukraine!

Glory to Ukraine!
Pokrovsk:
Pokrovsk: view from the window.
Viacheslav Ratynskyi / Reuters pic.twitter.com/w3eMih09LV

— Defense of Ukraine (@DefenceU) August 8, 2023
'These attacks are meant to silence people'#Ukrainecast speaks to the FT's Christopher Miller about Russia's 'double tap' missile attacks, following its latest strike on the Ukrainian town of Pokrovsk…

— BBC Sounds (@BBCSounds) August 8, 2023
The Druzhba (meaning "friendship") was one of only a handful of hotels still operating in the Ukrainian-controlled part of Donetsk region and was considered by many as being a safe distance from the front line. @IKoshiw on the latest. Death toll: 7.https://t.co/EDI3AECKO7

— Christopher Miller (@ChristopherJM) August 8, 2023
From The Financial Times:
Russian missiles struck residential areas and a hotel popular with journalists in the eastern Ukrainian town of Pokrovsk on Monday, killing at least seven people and injuring dozens.

The Druzhba was one of only a handful of hotels still operating in the Ukrainian-controlled part of Donetsk region and was considered by many as being a safe distance from the front line.

Ukrainian authorities on Tuesday morning said seven people had been killed, including five civilians, and 67 people had been injured. Interior minister Ihor Klymenko said some of the rescuers were hit by a second round of missiles as they arrived at the scene to help extract victims from the debris.

Klymenko said search and rescue operations were resuming on Tuesday after being suspended at night "due to the high threat of repeated shelling".

Images from the first attack, 40 minutes before the strike on the hotel, show civilians dressed in summer clothing trying to sift through the rubble of a damaged apartment block and loading the injured into ambulances.

The town has been hit intermittently since start of the full-scale invasion but never on this scale. Considered a safe distance from the frontline by many, at 41 miles from any active fighting, the hotel was often fully booked, as was the restaurant next door, one of the few that stayed open throughout the invasion. It was the main place where journalists, soldiers and volunteers would come to rest after a day in the field.

Images from Tuesday morning show that one side of the hotel, including several floors, was taken out in the attack. All the hotel windows appear to have been blown out. A rocket also smashed through the top of a nearby residential building.

The attack is reminiscent of one on a restaurant in neighbouring Kramatorsk in late June when 11 people were killed and more than 60 injured as they sat down to dinner. Both attacks make the prospect of staying in the region more difficult for journalists, aid workers and volunteers.

The hotel in Pokrovsk is the sixth hotel destroyed in the Ukrainian-controlled part of Donetsk region since the invasion began. Now just three establishments remain.
More at the link!
7 dead, 67 injured in Pokrovsk (in Donbas) as a result of a Russian missile strike.
The hellscape of Russian liberation. pic.twitter.com/MSHw5GbLOz

— Illia Ponomarenko 🇺🇦 (@IAPonomarenko) August 8, 2023
Which makes this the theater of the absurd!
This is just ridiculous. https://t.co/pzhe3C74R5

— Illia Ponomarenko 🇺🇦 (@IAPonomarenko) August 8, 2023
Especially given this reporting from CNN:
Weeks into Ukraine's highly anticipated counteroffensive, Western officials describe increasingly "sobering" assessments about Ukrainian forces' ability to retake significant territory, four senior US and western officials briefed on the latest intelligence told CNN.

"They're still going to see, for the next couple of weeks, if there is a chance of making some progress. But for them to really make progress that would change the balance of this conflict, I think, it's extremely, highly unlikely," a senior western diplomat told CNN.

"Our briefings are sobering. We're reminded of the challenges they face," said Rep. Mike Quigley, an Illinois Democrat who recently returned from meetings in Europe with US commanders training Ukrainian armored forces. "This is the most difficult time of the war."

The primary challenge for Ukrainian forces is the continued difficulty of breaking through Russia's multi-layered defensive lines in the eastern and southern parts of the country, which are marked by tens of thousands of mines and vast networks of trenches. Ukrainian forces have incurred staggering losses there, leading Ukrainian commanders to hold back some units to regroup and reduce casualties.

"Russians have a number of defensive lines and they [Ukrainian forces] haven't really gone through the first line," said a senior Western diplomat. "Even if they would keep on fighting for the next several weeks, if they haven't been able to make more breakthroughs throughout these last seven, eight weeks, what is the likelihood that they will suddenly, with more depleted forces, make them? Because the conditions are so hard."

A senior US official said the US recognizes the difficulties Ukrainian forces are facing, though retains hope for renewed progress.

"We all recognize this is going harder and slower than anyone would like – including the Ukrainians – but we still believe there's time and space for them to be able make progress," this official said.

Multiple officials said the approach of fall, when weather and fighting conditions are expected to worsen, gives Ukrainian forces a limited window to push forward.

In addition, Western officials say the slow progress has exposed the difficulty of transforming Ukrainian forces into combined mechanized fighting units, sometimes with as few as eight weeks of training on western-supplied tanks and other new weapons systems. The lack of progress on the ground is one reason Ukrainian forces have been striking more often inside Russian territory "to try and show Russian vulnerability," said a senior US military official.

Ukraine's armed forces chief, Gen. Valerii Zaluzhnyi, told US Chairman of the Joint Chiefs of Staff Gen. Mark Milley that Ukrainian forces are step by step creating conditions for advancing. Zaluzhnyi added that he had told Milley that Ukraine's defenses were steadfast.

"Our soldiers are doing their best. The enemy is conducting active assault actions in a number of directions, but is not succeeding," Zaluzhnyi told Milley, according to a read out issued by the Ukrainian government.

Talking about the situation in the south, where Ukrainian forces have struggled to gain ground, Zaluzhnyi said, "Heavy fighting continues, Ukrainian troops step by step continue to create conditions for advancing. The initiative is on our side."

These latest assessments represent a marked change from the optimism at the start of the counteroffensive. These officials say those expectations were "unrealistic" and are now contributing to pressure on Ukraine from some in the West to begin peace negotiations, including considering the possibility of territorial concessions.

"Putin is waiting for this. He can sacrifice bodies and buy time," Quigley said.

Some officials fear the widening gap between expectations and results will spark a "blame game" among Ukrainian officials and their western supporters, which may create divisions within the alliance which has remained largely intact nearly two years into the war.

"The problem, of course, here is the prospect of the blame game that the Ukrainians would then blame it on us," said a senior western diplomat.
More at the link!
I will remind everyone, again, not that you aren't tracking, but we are expecting – and specifically our leaders and decision makers are expecting – that Ukraine make significant progress fighting under conditions that the US would never, ever fight under. No air superiority. No proper amount of ammo in reserve. Crowdsourcing everything from medical kits to technical vehicles to drones. The Ukrainians have fought the Russians to a standstill and are making hard, but incremental progress while doing a DIY interstate war. While the US and allied leadership hems and haws and trickles out the aid – in some cases for good reason because we don't have it – and then tut tut at the Ukrainians. When the US or NATO allies are willing to fight the Russians or the PRC the way the Ukrainians are being forced to fight the Russians, then they can complain about lack of progress. I remind everyone that the US was strategically defeated in both Iraq and Afghanistan by irregular forces with largely limited material. We are really in no position to judge.
'The UK's elections watchdog has revealed it has been the victim of a "complex cyber-attack" potentially affecting millions of voters…unspecified "hostile actors" had managed to gain access to copies of the electoral registers, from August 2021.' https://t.co/wBVrLXWA6W

— Shashank Joshi (@shashj) August 8, 2023
Relatedly: it's not an "attack", unless the intruders also disrupted or damaged the data or the networks. It's an intrusion. The distinction matters because implicit (and habitual) analogy to armed attack is fundamentally misleading. https://t.co/lKBz0yPmKV

— Shashank Joshi (@shashj) August 8, 2023
Image that, Russians attacking an electoral commission. Who would have ever imagined? Eez a puzzlement!
Here's that polling I mentioned in comments from the Reagan Foundation:
75% of Americans say it's important to the United States that Ukraine wins the war against Russian aggression, including bipartisan supermajorities of Democrats (86%) and Republicans (71%) https://t.co/sVUa3foWFh

— Melinda Haring (@melindaharing) August 7, 2023
The excerpts regardging Ukraine:
Three-quarters of Americans say that it is important to the United States that Ukraine wins the war against Russian aggression, including bipartisan supermajorities of Democrats (86%) and Republicans (71%). Independents lag significantly behind partisans at 58%. Americans are less sure of who is currently winning the war between Russia and Ukraine, with 31% saying Ukraine, 27% saying Russia, 25% saying neither, and 17% saying that they do not know.

Overall, a strong majority (59%) of Americans support sending U.S. military aid to Ukraine, including 75% of Democrats and 50% of Republicans (with 41% opposed). Again, Independents are significantly less likely than partisans to support Ukraine aid, with 39% in favor and 39% opposed. Among Ukraine aid supporters, the most compelling reason is that standing up to Russian aggression in Ukraine will discourage Russia from invading other neighboring countries (37%). Nearly as many (30%) said the best reason for continued aid was that it is important to help protect freedom of people and sovereignty of counties wherever we can. Support for Ukraine aid has not wavered since the November 2022 Reagan National Defense Survey, which found that 57% of Americans supported aid.

Minority Opposition to Aid: Less than a third (30%) of Americans oppose sending U.S. miliary aid to Ukraine, including 41% of Republicans, 39% of Independents, and 17% of Democrats. This is consistent with our November 2022 data, which found 33% of Americans opposed to Ukraine aid. The most compelling reason to oppose aid is that we have too many unmet needs here at home to be sending billions of dollars to Ukraine, with 57% of those opposed citing this reason. The prospect of comprehensive auditing and accounting measures to ensure that the Ukrainians are using U.S. aid appropriately did not build much support among those opposed to aid. Over half (56%) said it would make no difference, while only about a quarter (27%) said it would make them more supportive of sending aid.

Worth the Cost: When asked if U.S. aid to Ukraine has been worth the cost, initially, half (50%) said yes, while 35% said no. But with a little more information, those numbers moved significantly. Respondents were told that the United States has spent roughly $24 billion on military aid to Ukraine (3% of the U.S. military's own budget), that Ukraine remains in control of roughly 83% of its territory, and that the war has severely degraded Russia's military power and its ability to threaten NATO allies. After learning this, the number who said U.S. aid has been worth the cost jumped to 64%, including 77% of Democrats (+12),
59% of Republicans (+18), and 46% of Independents (+5). Only 28% maintained that US aid has not been worth the cost. This demonstrates that there exists a reservoir of support among the American people across party lines for assisting the Ukrainians in their fight for freedom. Leaders can tap into that reservoir by educating their fellow Americans and providing them with the context and details of U.S. support for the Ukrainians' defense— and its effects.
That's enough for tonight.
Your daily Patron!
A new video from Patron's official TikTok!
@patron__dsns

Ось як насправді створюється кожна серія мультику «Пес Патрон»! Як вам процес?😯🪄✨
Here's the machine translation of the caption:
Here's how each episode of the Patron Dog cartoon is actually created! How do you like the process? 😯🪄✨
Open thread!