Trump's not the only coup plotter who's crabby about Operation Find Out. Last month, Michigan statehouse Rep. Matt Maddock (R) held a "Free The 16 Electors Poolside Party!" fundraiser at his home. It was to benefit the 16 fake Trump electors who were criminally charged in July by MI AG Dana Nessel. Maddock's wife, former MI GOP co-chair Meshawn Maddock, is one of them.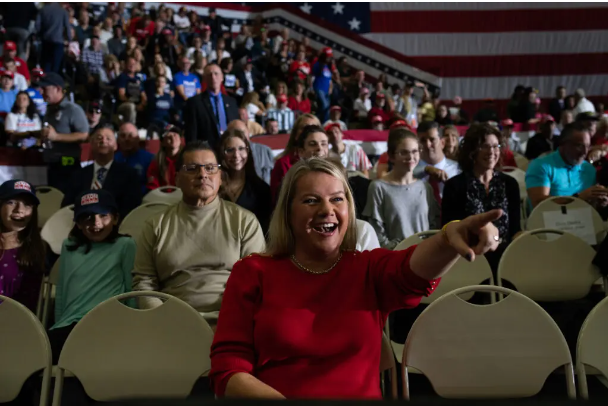 The pool party turned into a pity party when Matt Maddock spoke to the crowd, according to audio obtained exclusively by The Messenger:
"If the government continues to weaponize these departments against conservatives and the citizens that are then the taxpayers, you know what's going to happen to this country," Matt Maddock asks… After attendees at the event shout possibilities, Maddock answers his own question: "Someone's going to get so pissed off, they're going to shoot someone. That's what's going to happen. Or we're going have a civil war or some sort of revolution. That's where this is, where this is going."
(An aside — why do these shitheads assume they're the only ones who pay taxes? The only people who actually don't pay taxes are Repub megadonors!)
Anyhoo, Maddock's whiny meeping was followed by a brief moment of clarity:
If that happens, it's conservatives – like the people at the pool party – who are "going to get squashed," he added.
Well, it's good he realizes that. What the dingus doesn't say is that there's already a Trumpenproletariat body count, i.e., people inspired to act out violently on Trump's behalf who are now dead.
There was the deluded MAGA rioter who was gunned down by a cop while trying to breach a barricade in the Capitol Building. The armed fool in the Midwest who attacked a local FBI office after the agency searched Trump's Florida dump last year, who subsequently died in a hail of police bullets.
Just this week, an online loud-mouth in Provo who repeatedly made graphic threats and publicly shared preparations to assassinate the president during a local visit died in a police raid, and his neighbors were all like OMG, how could you send a SWAT team after this elderly ward brother?
There's a simple solution to this crisis. The Trump cultists can just stop making violent threats, taking violent actions and trying to illegally overthrow the government in a fit of pique when they lose elections.
All free speech rights remain in effect — float around on your pool noodles complaining about Biden, Whitmer, Nessel, the DOJ, etc., until the goddamn pool freezes over — we don't give a shit! Just don't try to invalidate legal votes or violently overthrow the government.
I dunno guys, seems pretty simple to me. Open thread.