In case you missed it, this is chilling:
 Eric Meyer, publisher of the Marion County Record, answers questions in his newspaper office Friday after police seized computers, servers, cellphones and other items. He says he doesn't know how they will get the newspaper out on Tuesday, but, "We will publish something." (Sam Bailey/Kansas Reflector)

MARION — In an unprecedented raid Friday, local law enforcement seized computers, cellphones and reporting materials from the Marion County Record office, the newspaper's reporters, and the publisher's home.

Eric Meyer, owner and publisher of the newspaper, said police were motivated by a confidential source who leaked sensitive documents to the newspaper, and the message was clear: "Mind your own business or we're going to step on you."

The city's entire five-officer police force and two sheriff's deputies took "everything we have," Meyer said, and it wasn't clear how the newspaper staff would take the weekly publication to press Tuesday night.

The raid followed news stories about a restaurant owner who kicked reporters out of a meeting last week with U.S. Rep. Jake LaTurner, and revelations about the restaurant owner's lack of a driver's license and conviction for drunken driving.

Meyer said he had never heard of police raiding a newspaper office during his 20 years at the Milwaukee Journal or 26 years teaching journalism at the University of Illinois.

"It's going to have a chilling effect on us even tackling issues," Meyer said, as well as "a chilling effect on people giving us information."

The search warrant, signed by Marion County District Court Magistrate Judge Laura Viar, appears to violate federal law that provides protections against searching and seizing materials from journalists. The law requires law enforcement to subpoena materials instead. Viar didn't respond to a request to comment for this story or explain why she would authorize a potentially illegal raid.  Read more here
===========
It is not hyperbole to say that this attack on the people's right to know appears to have killed the Marion County Record's Joan Meyer. From Melinda Henneberger: https://t.co/EqU8bElgLo

— The Kansas City Star (@KCStar) August 13, 2023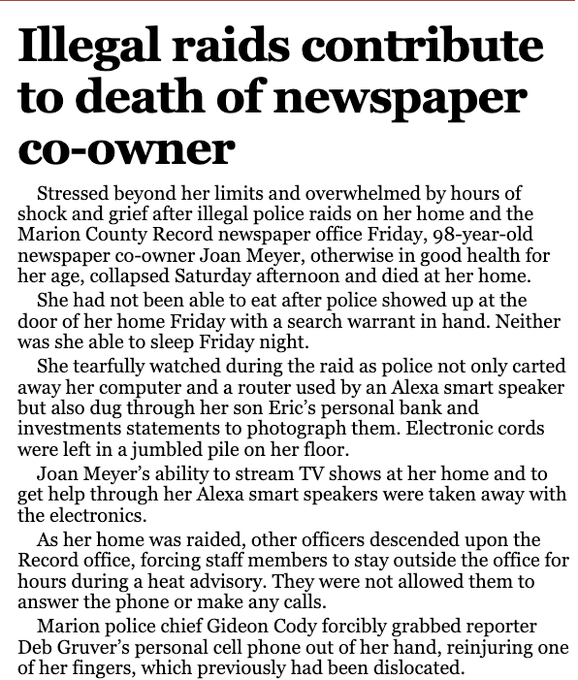 Here's a paywall-free version of my column about the police raid on the Marion County Record newspaper. #ksleg https://t.co/gIBGF1ezTs

— Joel Mathis (@joelmmathis) August 12, 2023
Back in the 1990s, on my very first day at my very first newspaper job, my boss — a sometimes-crusty, often-jolly Battle of the Bulge veteran by the name of Bill Meyer — told me to call up a local businessman who was, rumor had it, about to open a new branch of a popular chain restaurant in our small central Kansas town.

"Ask him when it's going to open," Bill told me. "And ask him if he's going to serve beer."

It wasn't an idle question. The businessman owned another restaurant from the same franchise the next town over, in a small Mennonite community, and certainly no beer was served there.

So I did what I was told. I called the businessman. I asked him about his new restaurant. And, finally — not thinking much of it — asked him the final question: Would the new establishment serve beer?

There was a long silence on the phone.

"What kind of reporter are you anyway?" he sputtered. "What do you think you're doing asking questions like that?" If memory serves, he then hung up on me. It was an unexpectedly fractious start to my journalism career.

The paper where I had just started? The Marion County Record.

You've probably heard of the newspaper by now. It was raided Friday by the Marion police, many of its computers and all the other stuff its staff uses to, well, put out the newspaper, were hauled away with no guarantee of their quick or safe return.

"We're going to have to reinvent the wheel to put out this week's paper," Eric Meyer, Bill's son, told me on Friday after news of the raid became public and very quickly went viral nationally.

We're not entirely sure of the reasons behind the raid. Marion's police chief wasn't taking questions, at least initially. But the apparent cause — unsurprisingly to me, given my own first-day memories of the paper — had something to do with the paper's unpublished investigation of a liquor license for a catering business.

The mixture of alcohol, business and journalism in Marion has always been touchy, apparently.

Since we don't know the full details behind the raid, though, I'm not going to get into all the nitty-gritty. Bill, who died in 2006, wouldn't want me to write without having a firm command of all the facts.

But it's scary when police raid a newspaper. It looks and smells like a threat to the First Amendment. Investigators had better have a damned good — even extraordinary — justification for the search warrant. God help them otherwise.

I do want you to know about the Marion County Record, though.

It's one of those small town newspapers that serves as both the backbone of its community, and of the journalism profession at large. I wasn't the only young reporter to get my start there: Bill — a member of the Kansas Newspaper Hall of Fame and a KU alum who had the Jayhawk fight song played at his funeral — regularly hosted summer interns from the university, sending them back out into the world after a few months of doing everything: Taking pictures, writing features, covering city council meetings, you name it. It was an immersive education.

Sometimes, the paper threw elbows. Bill once told me about coming into work to find a bullet hole in his office window.

Small town journalism is a delicate balance, though. Everybody knows everybody. You can't hide from the people you write about. When the paper ran a rather prominent correction about an error I'd made, I was razzed on the streets of Marion for a solid week.

A few years before he passed, Bill called me to talk about maybe coming back to town. It's a nice community, he told me, a place where you can serve that community and make a comfortable living.

He loved the town. And he loved the newspaper. Rural Kansas and community journalism both face brisk headwinds these days. The two situations are probably related. Whatever the outcome of this ugly mess, Marion and its newspaper will still need each other to survive.
===========
I think the best thing we can do to help this small paper get through this  is to subscribe (here).
Personally, I think Police Chief Gideon Cody, Magistrate Judge Laura Viar, and drunk driver Kari Newell are about to go through some things.
(note: the dying bird is randomly NOT supplying the full tweet, so you may have to click through to see images. Apologies).