I know my posts have been few and far between the past two weeks, and it's because I am working through some shit and dealing with a lot of stuff. However, I give you this gift: The Altitude Birdie Cafe: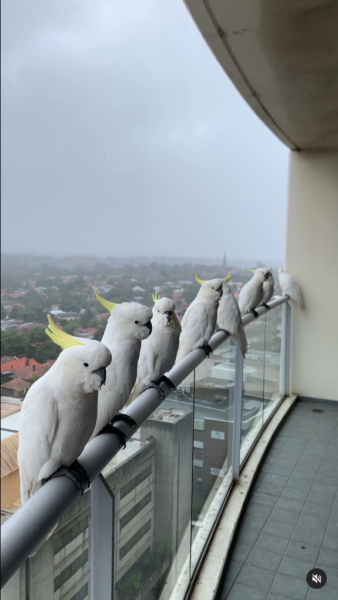 Apparently a woman in Australia a while back moved into a new apartment in a high rise building, and one day she was sitting on the patio and a Cockatoo flew up. It hung out for a while, and she gave it a nut. Cockatoo's are smart, so it came back for more. And then it kept coming back, and started bringing friends. She fed them treats, too.
And now, every day, starting at 3 o'clock in the afternoon, she has a constant stream of Cockatoos and Lorikeets who come and visit her and she feeds them a metric ton of almonds because they are good for the birds and the least messy nut out there. She has to be careful to close the patio door, or they just come into her house en masse. She has name them all, and one in particular is her BFF and comes in and hangs out with her and has house privileges.
You are welcome.