On the Road is a weekday feature spotlighting reader photo submissions.
From the exotic to the familiar, whether you're traveling or in your own backyard, we would love to see the world through your eyes.
Dagaetch
At this point I don't know how much more there is to say about New Zealand, I'm mostly just "look, pretty!". But that was the largest part of my experience. I poked my head in various museums and cultural landmarks, wandered a few cities, and met some people (mostly other travelers). But my memories are largely about the scenery. And that was fairly intentional. Pretty scenery is my happy place, so when I'm traveling for myself, that's what I'm going to gravitate towards.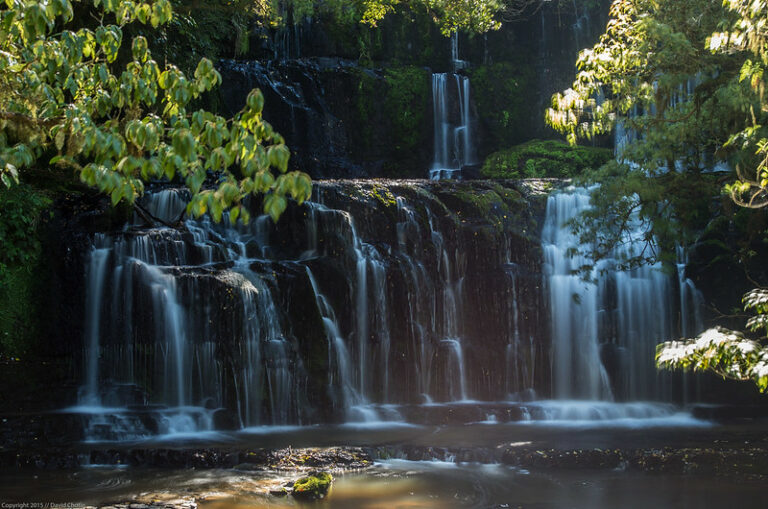 Purakaunui Falls, Catlins, NZ
More waterfalls! If my Google Maps timeline is correct, this is Purakaunui Falls. I do remember that that it was a short walk from the car park, and about 5 minutes after I took this photo, the sun moved and the scene was ruined (in a photographic sense). It was also a surprisingly crowded place, and this is one of the few frames I have without a person in view.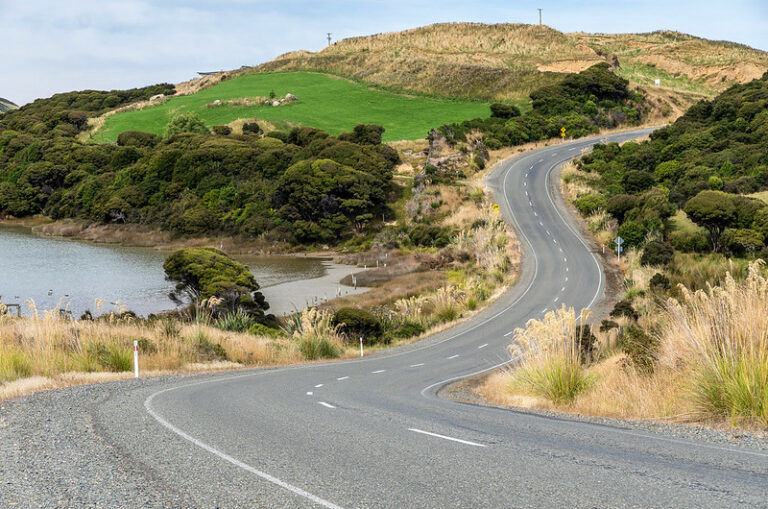 somewhere, NZ
I mentioned in another post how I like including roads in some images. They do add something visually, but I feel that there's also an emotional component. The road is the journey. You may not know where it leads, but hopefully, you're looking forward to finding out.

somewhere, NZ
Another absolutely epic vista. Scenes like this transport me back in time a bit. I can imagine an era before rapid communication, when you would walk out to the end of this peninsula and stare at the sea, wondering about the fate of a loved one who was on a journey.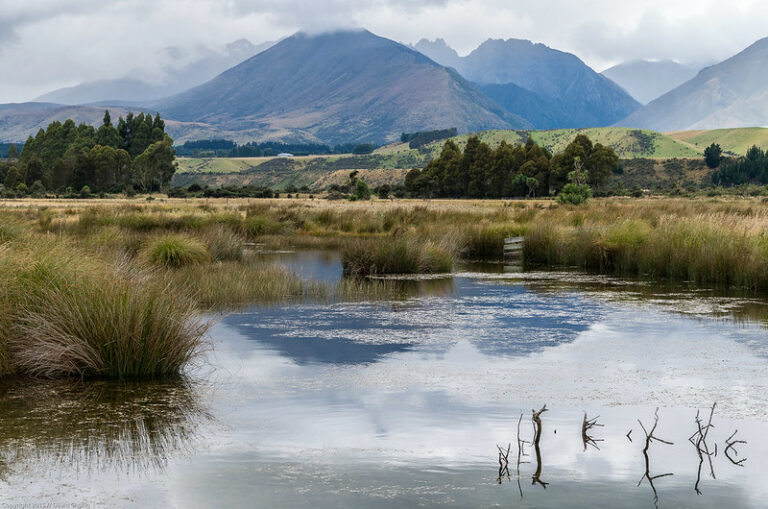 Rakatu Wetlands, NZ
This was in the Rakatu Wetlands. This was yet another day where I had picked up a hitchhiker, and if my memory is correct, after we had been talking about a shared love of nature, they suggested that we stop for a hike here, which I was happy to do. A truly wonderful spot. I think there were some wooden trails that we had to stay on, in order to protect the landscape.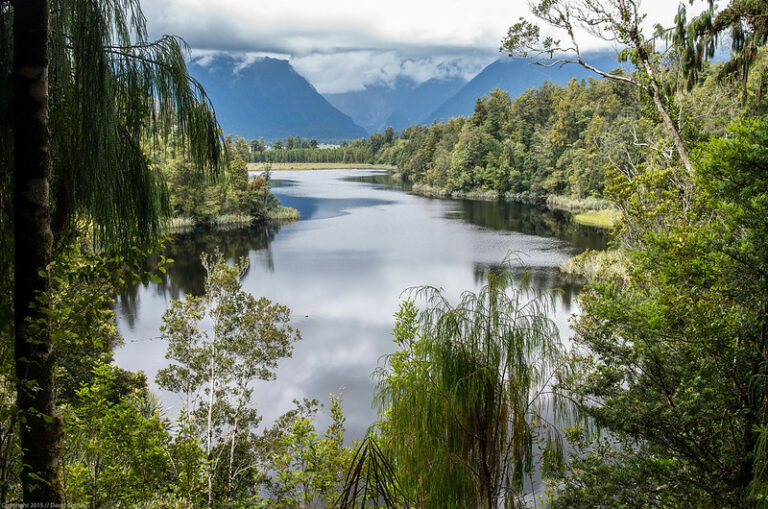 Lake Matheson, NZ
Further up the West Coast of the South Island, I had booked a trip to heli-hike on Fox Glacier. The day I was supposed to go, the weather was unpleasant, so the company offered me either a refund or a rebooking to the following day. I had the time and took the rebooking, which left me a rainy day and no plans. I wandered over to the nearby Lake Matheson and walked all the way around it through a drizzle. Still a very enjoyable day.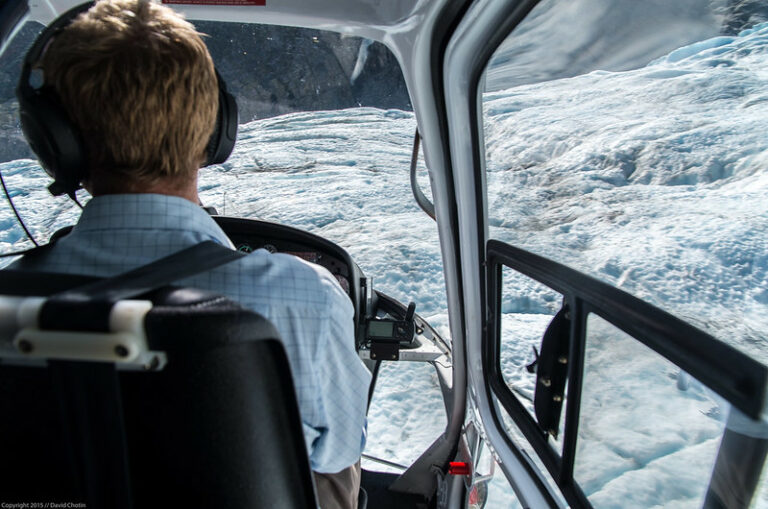 Fox Glacier, NZ
Weather the following day was delightful and the hike was a go! This was my first time in a helicopter. It's a brief ride; some of the crew go up there early to clear off a spot for the helo to land, bring gear, etc. I was given a set of crampons among other things.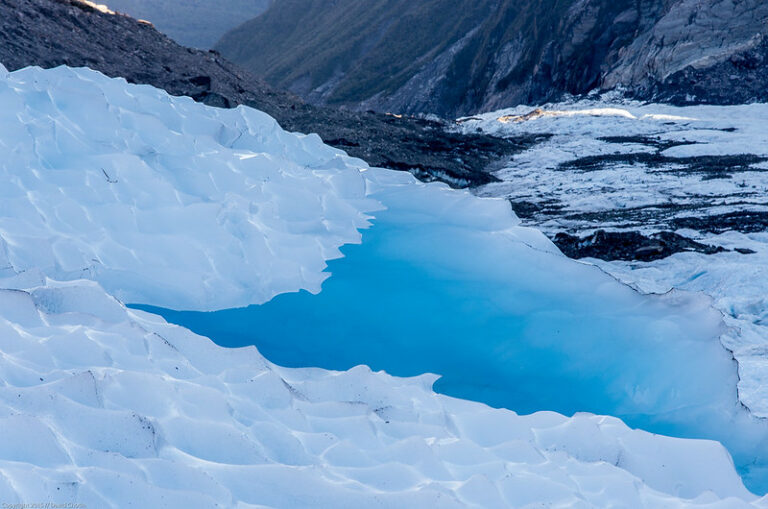 Fox Glacier, NZ
Fox Glacier is constantly evolving. What you see one day may not be there the next. There are some spots where the ice is melting; and others where a cave opens up, and you can walk through the ice. It was fascinating and a ton of fun. For the majority of our 3 hours, the sun was behind the mountains so there was no glare.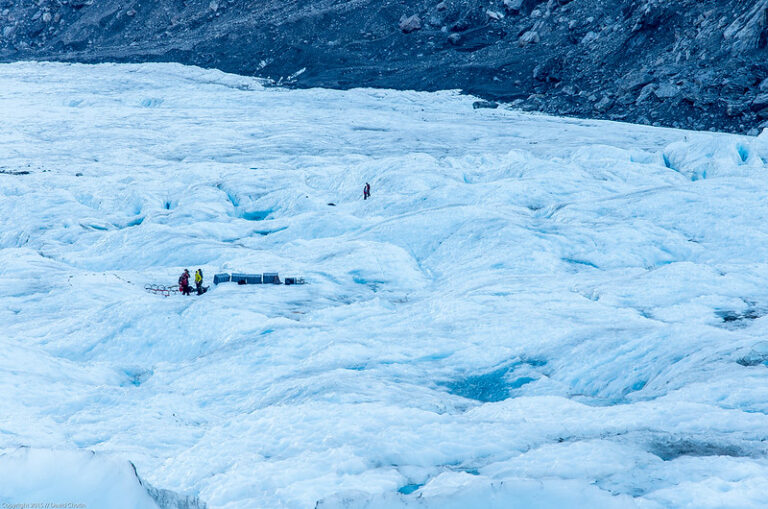 Fox Glacier, NZ
To provide a sense of scale. This was the company crew, setting up a different landing site for the afternoon tour.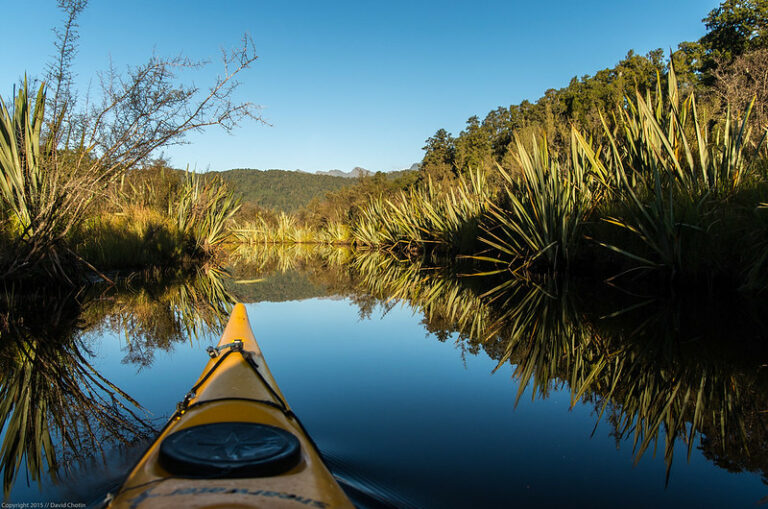 Lake Mapourika, NZ
I hadn't scheduled it intentionally, but following my morning of hiking a glacier, I spent the evening kayaking on Lake Mapourika. We paddled around for nearly three hours, first crossing the lake and then going around a little nature preserve area. It was really pretty; the water was perfectly still until we passed through it, so there were some nice reflections, and it was just interesting. This is an area that is being used to protect some endangered species, which had been successful to date. I have to admit, just floating around in a kayak looking at pretty scenery is not a hardship. We headed back to shore as the sun finally went behind the mountains, tired and a little cold, but having had a good time.