Mitch McConnell looks like a medieval artist's depiction of the Black Death. Here's why that's a problem for Joe Biden.

— Not up for trouble, please stop asking (@agraybee) September 7, 2023
Senate Minority Leader Mitch McConnell says he has no plans to retire early and has reminded his colleagues of his unparalleled fundraising prowess amid recent questions about his freeze-ups. https://t.co/dTaac0nlfj

— Axios (@axios) September 7, 2023
… Between the lines: McConnell claimed that he's had no freeze-up incidents beyond the two documented on camera.

= Now that he's back in D.C., he'll repeatedly be on camera during long work days.
President Biden and McConnell were born in the same year

Biden is clearly still fit mentally and physically

McConnell is not

Age is a red herring and was always just a cudgel to go after POTUS

Republicans and many in the media are sad their go to criticism is in tatters https://t.co/omlEw8ktZT

— Qondi (@QondiNtini) September 7, 2023
No they don't, most elected Republicans(especially those in the senate) have rallied behind McConnell in the last few weeks defending his health.

But it's nice to make shit up I guess, right?

— Hewie (@dahughjestanus) September 7, 2023
McConnell tries to downplay questions about his health pic.twitter.com/JQCiwRuLr9

— Aaron Rupar (@atrupar) September 6, 2023
NEW: During a closed door lunch, McConnell went over his health history & said he was given a "clean bill of health" by doctors, per Sen. Kennedy. And McConnell told GOP members he has only experienced freezing episodes twice — and they just happened to be in front of cameras.

— Melanie Zanona (@MZanona) September 6, 2023
In his first press conference since freezing for the second time, McConnell says that Biden "has been too slow" in giving more aide to Ukraine. pic.twitter.com/J53oyAMrpl

— Greg Price (@greg_price11) September 6, 2023
Response from 'Ex-Newsmax & Ex-OANN WH Correspondent. Named Top 10 Twitter Influencer' with 625,000 followers: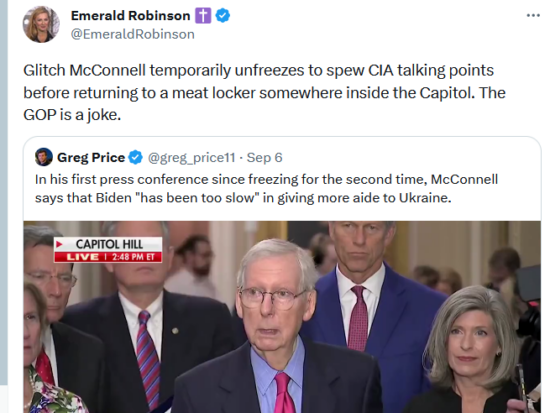 When discussing buzzards in the GOP, Little Prince Rand will not be out-media'd:
Sen. Rand Paul does not buy the "dehydration" explanation for Mitch McConnell's "freezing" event.

"I think it's an inadequate explanation to say this is dehydration… Well, I practiced medicine 25 years and it doesn't look like dehydration to me, it looks like a focal… pic.twitter.com/dNp65GeHbs

— Kyle Becker (@kylenabecker) September 6, 2023
Knife in back. Twist to come. https://t.co/PBx03JbSXf

— David Corn (@DavidCornDC) September 5, 2023
2/ Piece is also good reminder that Rand Paul is unquestionably the biggest raging cock in American politics, almost regardless of where you stand in politics. He and his dad both OG white supremacists but at least the dad had a congenial personality.

— Josh Marshall (@joshtpm) September 6, 2023
But Josh 'Hawlin' Arse' Hawley is a real contendah!
Hawley: I did not vote for Mitch McConnell for leader. He is not my choice for leader. I think we need a change. pic.twitter.com/Y2dWbYTPox

— Acyn (@Acyn) September 7, 2023
Excellent annotations from Jim Newell, at Slate:
… Some context is useful here. When Florida Sen. Rick Scott challenged McConnell for the leadership position late last year, Hawley was in Scott's corner. And he reiterated that a number of times to reporters on Tuesday. When I asked Hawley whether it was time for McConnell to step aside as leader given his health issues, he said, "You'll have to ask somebody who voted for him."

In a shocking correlation, it's the Senate Republicans who've had antagonistic or frosty relationships with McConnell in recent years who seem most concerned about his recent health issues hampering his ability to stay on as leader. But that's always been a small bloc. McConnell fended off Scott's leadership challenge last year by a 37-to-10 vote. And those 37 senators, along with several of the 10, are still in lockstep behind McConnell's leadership.

Utah Sen. Mitt Romney won the planned response of the day.

"We might lose from Mitch McConnell 20 seconds a day," he told reporters, "but the other 86,380 seconds are pretty darn good."…

Texas Sen. Ted Cruz, who's had a long up-and-down but more frequently down relationship with McConnell, offered a Cruzian master class in prepared ambiguity.

"The health scares he's had were frightening," Cruz said when I asked how concerned he was about McConnell's leadership ability. "But age comes for us all, and Mitch is stubborn as a mule, and he's tough. And so he's been in my prayers in recent weeks." (Stubborn as a mule: It works as both a compliment and a dig.)…

There had been some chatter last week from Senate Republicans about calling for a "special meeting" to discuss McConnell's health. Since Senate Republicans already have three meetings a week in a format known as "lunch," calling for a "special meeting" would've served little other purpose than to embarrass the man.

No such special meeting materialized. McConnell did, however, use the first 10 or so minutes of Wednesday's lunch to give a personal status update. For someone so thoroughly disgusted at ever having to talk about his health, this mustn't have been easy for him. But it appeared to have done the trick…

The most interesting part of Republicans' lunch, though, may not have been what McConnell said or reiterated. It was the sequencing of lunch speakers. (If you've followed McConnell's meticulous planning over the years, this seemed far from a coincidence.) As soon as McConnell finished speaking, Steven Law—a former McConnell aide and the chief of the "McConnell-aligned" super PAC the Senate Leadership Fund—"made a presentation about McConnell fundraising," per Punchbowl News.

In other words: There was a reminder that McConnell controls the money…
The Pitchbot finds it unnecessary to gloss further:
'The Devil They Know': McConnell's Health Issues Worry Democrats – The New York Times https://t.co/soyD5qISHY

— New York Times Pitchbot (@DougJBalloon) September 7, 2023
And before y'all start getting bright ideas…
I keep seeing this idea. This is not legal.

Kentucky law mandates that if McConnell retires, Beshear picks someone from a list of 3, selected by the Republicans. And he is required to do this within 21 days. He does not have the ability to appoint a RINO, a Dem, or nobody. https://t.co/taK11km77t pic.twitter.com/jQbgzlXKM5

— Lakshya Jain (@lxeagle17) September 5, 2023