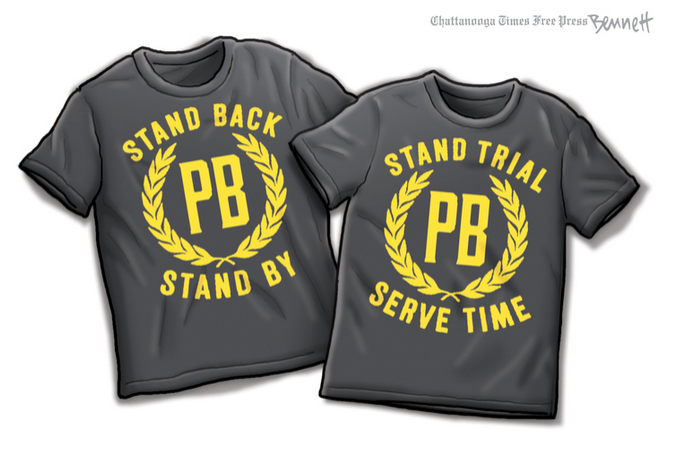 (Clay Bennett via GoComics.com)
Khalid Sheikh Muhammed wasn't even in New York on 9/11

He was in Pakistan.

But none of that matters https://t.co/K9GzQNFNhh

— The okayest poster there is (@ok_post_guy) September 6, 2023
Story in the NYTimes, "Seeking Link to Trump, Prosecutors Questioned Proud Boys Leader":
Last October, a few months before he went to trial on sedition charges linked to the attack on the Capitol on Jan. 6, 2021, Enrique Tarrio, the former leader of the Proud Boys, got an invitation: The federal prosecutors in charge of his case asked him and his lawyers to sit down for a meeting.

During that meeting, Mr. Tarrio recounted on Friday in a phone interview from jail, the prosecutors told him that they believed he had communicated in the run-up to the riot with President Donald J. Trump through at least three intermediaries.

The prosecutors, Mr. Tarrio said, offered him leniency if he could corroborate their theory.

Mr. Tarrio said he told them they were wrong. And the discussion with prosecutors — which took place in Miami, Mr. Tarrio's hometown — apparently went nowhere. Mr. Tarrio was later convicted of seditious conspiracy in federal court in Washington and was sentenced on Tuesday to 22 years in prison.

But his account of his interaction with the Justice Department suggests that prosecutors took extraordinary steps in seeking out evidence of ties between Mr. Trump and the Proud Boys, the far-right group that was instrumental to the violence that erupted at the Capitol. To have approached Mr. Tarrio soon before his trial in search of information that could implicate the former president shows the government's interest in connections between Mr. Trump and the extremists at the center of the riot…
Of course, there is now a Great Flapping on right-wing media, insisting that Tarrio is 'being punished for refusing to lie about President Trump.' I personally doubt TFG masterminded the insurrection — even if he had that much focus, he would never have been able to bring himself to conspire with grubby, low-level People Like That — but it's pretty clear he was more than happy to be the beneficiary of other GOP criminals' earnest efforts. And since Tarrio, as the Brits would put it, has form as an informant, I assume his jailhouse interview (with, AFAICT, Gateway Pundit, aka The Dumbest Man on the Internet) is intended to cover his own hide while simultaneously signalling to his coconspirators not yet under carceral supervision.

Latinos always out ahead of everyone! #SoProud pic.twitter.com/7thq2VOuia

— Lalo Alcaraz (@laloalcaraz) September 5, 2023
WHAT ARE YOU GOING TO DO
STAB ME https://t.co/WlfCWRWMTW

— Jean-Michel Connard ?? (@torriangray) September 6, 2023
The coolest thing your lawyer can say right before you go to jail https://t.co/A7Zsbqz9cD

— elle hardy (@ellehardy) September 6, 2023
Reminder: Before Tarrio became the Proud Boys leader, he used to snitch to the Feds that helped prosecute 13 people on federal charges in 2014 so he could get his own 2014 fraud case sentence reduced. https://t.co/9tlYm5iPCr

— José (@josecanyousee) September 5, 2023
A photo thread for no reason pic.twitter.com/IFTfwiU51R

— Tim Dickinson (@7im) May 4, 2023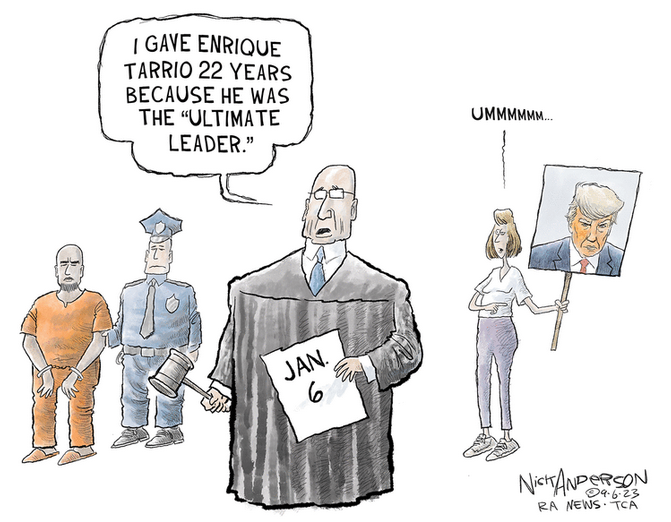 (Nick Anderson via GoComics.com)